Best Technology Equipment for a Classroom that's Awesome
Hello again! I have done extensive research on many kinds of technology for the classroom and made a comprehensive list for my readers. I hope it will be helpful. I'm sure you are already using some of the devices, as I am, but some are still on my wish list and not yet in my classroom. Read through the list to see what you have and what you would like to have, or bookmark it for future reference.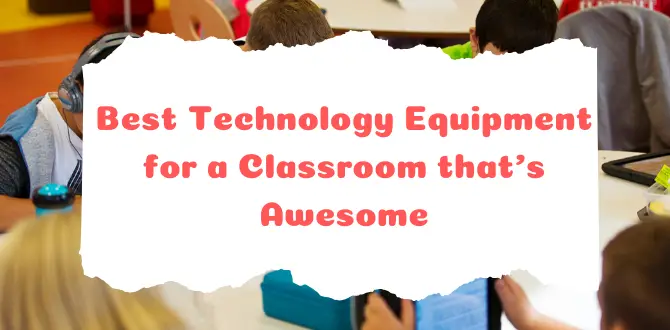 1. Smartboards
Smartboards are interactive whiteboards with a touch screen. They were introduced in 1991 for business presentations where the speaker could control Windows-based applications. Today, smartboards are cool classroom technology devices that give teachers and students a more flexible way to present lessons than with a computer and projector.
The difference is with a smartboard, functions as a touch screen and the images projected onto it can be manipulated with a stylus or a finger. You can click on buttons, drop and drag items, highlight text, change colors and draw.
Learn about the best smartboards →
2. Laptops and Chromebooks
A chromebook is a device that performs several tasks using the Google Chrome browser with data and applications stored in the cloud and not on the device.
Laptops are commonly used in schools and are much more convenient for teachers and students than desktops. First, they take up less room to store, can be charged and used without a power source and are easy to pass around from student to student.
Learn about the best Chromebooks  →
Learn about the best laptops →
3. Tablets
Also called a tablet computer, tablets are extremely useful educational gadgets in the classroom for younger children. They are small enough for a child to hold in his or her lap and have touch screens for easy manipulation of data with a finger.
Many children have one at home, so they know how to use them. They have seven-inch screens and usually Wi-Fi connectivity. The keyboard is virtual and accessed on the screen, although you can get tablets with actual keyboards. Tablets also have cases that can fold to mount the tablet on a table. In my classroom, my tablets have heavy-duty protection that makes them easy to hold and safe if dropped.
Learn about the best tablets for classroom use →
4. Computer Speakers
Computer speakers are one of the best tech assets in a classroom along with voice amplifiers. For learning a spoken language, clear sound is essential, and for everything else, it's great to be sure every child can hear the lesson, music or video. Some speakers are designed to be connected to a computer to amplify the audio, and some are made to connect to any type of sound system. Many speakers have batteries, so you can take them outdoors for games or field trips.
Be sure to choose the right size and power for your needs. Some are cinema-quality and some are suitable for smaller classrooms.
Learn about the best computer speakers for the classroom →
5. Headphones
Headphones are also a valuable technology gadget for learning. Students can have a private lesson or several students can be connected to an audio device to listen to a story for comprehension or vocabulary building. They are also useful when you need to work with a small group or individual you can give the rest of the class other work.
Headphones should be soft and comfortable for young children and block all ambient noise. They are very useful for holding students' attention and getting them to focus.
Learn about the best headphones for students →
6. Voice Amplifiers
These tech tools can be very helpful for teachers. Voice amplifiers allow us to speak in a normal voice and for everyone in the class to hear. Most of us spend a lot of time speaking in a raised voice to hold the attention of the children in the back of the room.
Voice amplifiers change all of that. They can be very small and worn on your belt or around your neck or they can be larger and sit on a desk. You can get wired or wireless according to your needs and some have batteries so you can take them outdoors.
Learn about the best voice amplifiers for teachers →
7. Listening Centers
Listening centers are an obvious choice for a classroom, but many teachers don't think of them when they choose technological devices for teaching. Listening centers allow several students to hear the same audio without disturbing the whole class.
Children can use listening centers in their spare time or as a reward when their work is finished. They are invaluable for learning languages and correct pronunciation. Children can follow along in a book while they listen to it being read. The number of outlets for headphones varies. PCs may be listening centers as well as tablets, laptops and CD players.
Learn about the best listening centers for classroom →
8. Video Cameras
Video cameras allow teachers to give the same lecture or demonstration several times a day without strain or stress on their throat. If a student misses a lesson, the teacher can send the video of that day's lesson, so he or she gets the benefit of being there. Cameras are not intended to replace the teacher. You may be present at the time of the demonstration to answer questions or pause and discuss parts of the lecture.
Cameras also allow students to view skit practice, sporting events or music lessons to get a better idea of how to improve. Remember, a picture, especially a video, is worth a thousand words.
Learn about the best cameras for recording classroom lectures →
9. Voice Recorders
Voice recorders have many functions for better classroom teaching. Starting with pronunciation and fluency, they are essential for learning a language. If students need to make an oral presentation or a speech, voice recorders are invaluable. Until they hear themselves, they may not realize how choppy their narrations are.
Teachers also benefit from recording a lesson in advance. It can be posted on a website or sent to students to assist with their homework. Older students may like to create their own class podcast about whatever interests them. It may be about climate change, sporting events, historical events or current affairs.
Learn about the best voice recorders for classroom lectures →
10. Air Purifiers
Air purifiers in a crowded classroom not only help remove odors and pollutants but may remove air-borne bacteria and viruses. This could reduce the spread of contagious diseases and reduce absenteeism. Good indoor air quality helps keep students alert and increases concentration and memory. The same can be said for you. Breathing clean air at least during your working hours will also have a positive effect on your health. According to the CDC, asthma and other related respiratory problems are the leading cause of absenteeism in schools. Improving indoor air can help reduce it.
11. iPad and Tablet Charging Stations
If you use tablets or iPads in your classroom, and most of us do, you understand the time-consuming difficulty of messy cables and of keeping them charged and ready for use every day. Charging stations solve both problems. They hold the devices and have short wires for charging and it is all in one unit. They come in various sizes and some even charge laptops.
A charging station is a safe place to store the devices, and even the youngest students understand this. No more searching for iPads that have been left under cushions, on shelves or even on the floor. Some charging stations can hole up to 30 devices and some hold only seven to 10.
Learn about the best iPad charging stations →
12. Digital Microscopes
I found digital microscopes are one of the most useful devices in my classroom. Whenever I decide to use it, all the students are interested and pay close attention. It is fascinating to see hair, textiles, leaves, pond water and hundreds of other things through a microscope. It is even more exciting when the magnified image is projected on a monitor so everyone can see clearly at the same time. Especially for younger children, it's difficult to look through a microscope and understand what they see.
With a digital microscope, the teacher can point to the image and explain what the children are seeing. It also allows the students to ask questions they may not think of if they have seen a tiny image they don't understand.
Learn about the best digital microscopes for classroom use →
13. Chick Egg Incubators
Chick hatching is one of the most satisfying activities you can have in your elementary classroom. The magic of watching chicks break out of their shells and start to interact with the wide world is an eye-opening experience for everyone.
There are several types of incubators for chick hatching. As the mother hen keeps watch over her eggs, she is constantly pushing and adjusting their position. This is necessary so they don't stick to the inside of the eggshell. Some incubators turn the eggs automatically and some require manual turning. The incubator keeps the eggs at the right temperature. After hatching, you will need a protected place with food and water called a brooder where the chicks will live for about two weeks until they can fend for themselves.
Learn about the best classroom incubators →
14. Printers
I don't need to tell you the importance of this kind of equipment for teachers. A printer needs to be durable enough to produce thousands of activity sheets, photographs, instructions, stories, and much more to make your lessons interesting, entertaining and effective.
If you teach elementary school you may want a color printer, but for a high school class, a black and white printer may be sufficient. A printer is not the place to buy the second best. It will cause you more grief than spending a little more on a really good piece of equipment.
Learn about the best printers for teachers →
15. 3D Printers
3D printers are especially useful for teaching math and science. They are so much fun to use and make learning come alive.
For students, designing and measuring whatever they want to print is so much more fun when they know they can create a 3D image. For example, print a castle and the surrounding areas when you discuss medieval history and make some catapults and siege machines. Other examples are to print relief maps for geography lessons or make 3D models for geometry or finding volume. In one school, the children designed and created insects and other animals. Your students will surely suggest more applications.
Learn about the best 3D printers for schools →
16. Projectors
Projectors have many uses in the classroom. They allow you to show videos, slides and PowerPoints on a large screen and can be used with the right software to make any board a smartboard. This dramatically changes the impact lessons have on students. Imagine using Google Earth to study geography and history or studying a foreign language by connecting with someone online in the country where the language is spoken.
Whatever you do, projectors make it easier for the whole class to see. You can find inexpensive simple projectors as well as high-tech multimedia projectors and choose the type that best suits your classroom situation.
Learn about the best school projectors →
17. Document Cameras
A document camera is another cool classroom technology tool. It is a great way to display documents or pages from books on a screen. They allow you to make one assignment available to the whole class. This promotes discussion, interaction and holds students' attention better than staring at a page on their desks.
A document camera is useful for discussing charts and images. It's much easier to use than transparencies and requires no special types of slides. As with most technology for the classroom, there are many different models of document cameras, and you should look at several before selecting one.
18. Scanners
Scanners change hardcopy images into files a computer can read and display. They are connected to a computer, and, like a copier, you put a page or photo on the light table and close the lid. The scanner will transfer the image to a computer, so you can save it in a file or email it to someone. They are useful for teachers because there are many images teachers find that they would like to share with their class, but want to avoid making multiple hard copies. A scanned document or photo can be sent to a website or email address for individual use. Scanners come is high and low-resolution models. If you plan to scan photographs, I recommend getting a high-resolution scanner. If you only plan to scan print documents, a low-resolution scanner may be enough.
19. Laminators
Laminators have been preserving documents for decades, but today they are small and easy to use, so you can keep one in your classroom and protect all of your documents, photos, certificates, children's work and anything else that will fit in your small, portable laminator.
There are two types of lamination, hot and cold. A hot laminator uses heat from rollers to adhere the film to the document. The adhesive on the pouch where you insert your document only activates inside the laminator. Cold laminators require sticky adhesive on the pouch which is sealed with cold pressure from the rollers. The latest technology in laminators practically guarantees a perfect lamination. Most of them come with corner clippers and some have paper cutters for trimming the edges, so you don't need a separate cutter. If you put the pouch and document in a bit crooked, the machine will still give you a good laminated product.
Learn about the best laminators →
Final Thoughts
You may think of other technology classroom supplies or uses for the ones I mentioned. Please put your ideas in the comments below, so we can all benefit from your experience.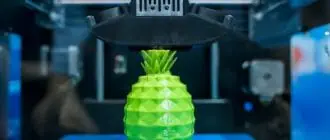 3D printers are amazing machines that can create three-dimensional objects from digital models. But