I'm happy to see you again, and today I'm giving you the benefit of all my research on one of the best teaching aids I've used. Teachers have started videoing classroom lectures and lessons that their students can access outside the class. This is great for distance learning and students who miss class, but I found many other benefits for educators and learners.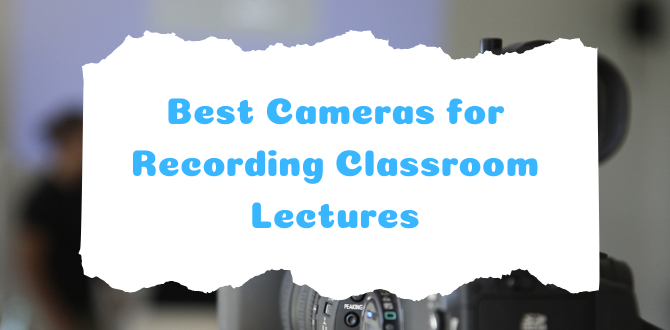 Check out this YouTube video to get more reasons why lecture capture is a great idea.
Enter the video camera. A good camera gives a high-quality product. Poor resolution and low-quality visuals are not going to benefit anyone. In this blog post, I'm suggesting some of the best cameras for recording lectures in and outside the classroom to help you get started with lecture capture.
Best cameras for recording classroom lectures:
Different Types of Cameras
Most of the work is done before you even start if you choose the right video gear. You'll find cameras that are better for a talking head video and others that may be more suitable when you want to include visuals such as writing on a whiteboard or demonstrating an experiment or art project during the lesson. Here are a few of the best classroom video recording devices I found when I was doing my research.
This is a black, high-definition webcam with autofocus for good quality talking head videos. Talking head videos are mainly useful for older students because they can be boring for younger ones. But they're great for stopping and starting the lecture to repeat something the students missed or to find the answer to a question. The microphone on this LifeCam cancels ambient noise, so the speech quality is very clear. It can be used with a notebook or desktop PC.
Goodies I found:
Flexible stand
Aluminum body
High-precision glass element lens
Best for webinars, video conferencing and other kinds of online teaching. Also, this camera perfectly suites for recording talking-head video lectures.
This camera records full 1080p HD videos. It's good for lectures where you need to use a whiteboard and it has a 4X digital zoom so you can take close-ups when you need to show a demonstration. Recording from home is one of the biggest benefits I've found. It allows you to create lessons at any time of the day or night whether you are home sick, on vacation or just get the urge to record your next brilliant idea for your class.
Goodies I found:
Can be used with a PC or Mac
Has a 90-degree extended view with pan
Compatible with Skype, so you can give a live lecture from home while recording it
USB connection
Best for training videos you may want to capture at home. This device is very convenient when you need to record a lesson or talking head at your convenience during vacation or at night. The pan allows you to utilize a larger stage area, which is convenient for demonstrations.
This is a handy little camera with lots of accessories. It's versatile and easy to use for recording lessons at home or recording events and recitals. This is a good choice if you want to let your students make videos to show the class. The zoom allows you to get close-ups from any point in a large room or auditorium. It doesn't require conversion to post videos on your website or social media site.
Goodies I found:
Photo/video quality tripod
Extra battery
Touch panel display
Fast and slow-motion recording
57x advanced zoom and SuperRange O.I.S.
Best for: This camera has a long battery life and can record for 8 hours, so it's a great choice if you're interested in longer lecture capture, especially if a whiteboard is needed.
It is also good for music and theater students to record their rehearsals to view later.
This camera gives movie-quality videos that look professional when you post them online, so your students can access your lectures whenever they want. The high-dynamic range feature modifies highlights and shadows for clear images. It can be connected to a smartphone as a sub camera.
Goodies I found:
Remote control viewing
Wi-Fi functions for real-time broadcasting
20x Optical Zoom with a 4-drive lens system
High dynamic range
Best for: This is a high-quality camera for long video recording. It's perfect for capturing  in-class lectures and broadcasting them to a YouTube channel. If you are a new parent, this device can be used as a baby monitor when you're not recording lessons.
This camera gives a very high-quality picture suitable for uploading to YouTube or social media sites. The new image sensor provides excellent color in just about any type of light. This is best if you have a long detailed lecture where you need to demonstrate experiments and the students need to stop and go to follow steps or complicated explanations.
Goodies I found:
3.5-inch OLED Viewscreen
Wide DR Gamma (600%)
Easily portable
Excellent color quality
HD Zoom lens
Best for interviews, presentations, and lectures in large classrooms. This is the device you want if you need to give a long lecture to a large audience.
This is a professional-grade camera and very useful if you record theater or music rehearsals or performances. It works in quick and slow motion, which is handy for demonstrations. For ordinary classroom lessons, you may not need such a high-grade machine, but if your visuals need to be precise, this is the type you want.
Goodies I found:
Clear visuals in a wide range of shooting conditions
High-sensitivity and high-resolution lens
Simultaneous relay and recording
Discrete manual focus
Best for. This is a professional school video camera that is perfect for creating high-quality video lectures. It is also best to record meetings and school events in large classrooms and halls.
This is the camera you want if you plan to let your students make videos of experiments, rehearsals or demonstrations. It senses movement and stabilized automatically for exceptionally smooth results.
Goodies I found:
Waterproof
Receives voice commands to take photos or start recording
Live streaming and recording
Best for teachers who need to record classes outdoors, PE lessons and different kinds of experiential learning activities. This is a great companion for all your activities as you can capture any lesson with a short command.
Other Devices for Recording Lectures
Simply buying a camera and starting to record will not give you satisfaction with the final product. The process of lecture recording setup can't be taken lightly. To produce a high-quality video, it's important to get the right equipment that works well with the camera you choose. That way, you can count on excellent sound, steady picture quality, good graphics for demonstrations and a professional video that you can use for years.
Tripod
The most obvious use of a tripod is to hold a heavy camera for long periods and stability. When you use a tripod, you need to take time to plan your shot, get the horizon level accurate and arrange the background. For example, if the lecture needs a whiteboard or to show demonstrations on a table, with a tripod, you can plan how to film these in advance to give a more professional result. A talking head may need a lamp, vase of flowers, potted plant or a solid color and the lighting needs to be arranged accordingly.
If you want a heavy, professional-quality camera, this is a good choice for your tripod. It offers a lot of options for perspective on the subject. It has a 3-way head for tilt and swivel motion and portrait or landscape options. You will need to take time to learn about all the features to get the advantages it offers for a professional video.
This tripod is a good choice if you have a small camera or are using a smartphone. You can sit at your desk or even your sofa at home and record a lesson or lecture. It collapses quickly for easy packing if you need to travel to different venues. However, this device may not be the best option if you want to film demonstrations or have a whiteboard included in the frame.
Memory Cards
Memory cards, as the name suggests, store information. Also called flash cards, they're used in cameras, phones and other hand-held devices. Memory cards have a reduced chance of mechanical problems because they use solid-state media technology, which is different from traditional hard drives. If you're shooting outdoors or at different locations such as recording a lecture while visiting an art gallery or museum you will most likely not be near your computer. This is when your memory card will be very handy.
The most commonly used memory cards are:
SmartMedia
CompactFlash (CF) card
Memory Stick
Secure Digital (SD) card
MultiMediaCard (MMC)
Here are my memory card picks:
This memory card is great for small to medium-sized digital camcorders. It gives high-quality video with smaller devices. The card is comparable to larger more professional cards for a lower price.
For cameras that support micro SD cards, this one is a great back-up tool. It can be set to move files automatically from your device to the memory card. It's a very small, thin card that fits a smartphone as well as tablet and computer. This card will back-up everything and allow you to create lectures or lessons while you are traveling or visiting museums or other places that you want your class to see while you are giving a running commentary.
Here are two questions about memory cards that may concern you:
1. How many minutes of video can be stored on a SanDisk memory device (Source: SanDisk website)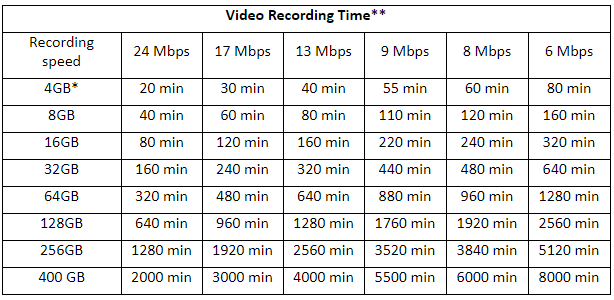 2. How much HD video content (720p and 1080p) that can be stored on a 128GB memory card?
It depends on the type of camera, frame rate, codec and compression. A general rule is about 4.44 hours of content or approximately for a 128GB card.
It's a common mistake to think you have a loud, clear voice and don't need a microphone to ensure all your students hear your lecture. First of all, you can't assume that all your students can hear well. They may not want to disclose to the whole school that they are a bit hearing impaired. Using a microphone should solve this problem. In addition, classrooms may have good or bad acoustics and there may be traffic or playground sounds from outside that interfere with the sound of your voice. Using a good-quality microphone as oppose to the one built in to your device will ensure your lecture has clear, crisp sound without ambient noise.
This microphone is compatible with a wide variety of cameras. It has sensitivity mode that you can adjust if you're in a noisy environment to block ambient noise or for a quiet atmosphere at home when you are recording a lecture. It's always better to use a tripod if you can, but this mic will also block the jitter nose from camera movement. It's for providing a video lecture with excellent sound, reducing the noise of the surrounding environment and supports all cameras that come with 3.5mm (TRS) audio input jack.
A lavalier mic allows for hands-free action when recording a lecture or demonstration. It's on a lavaliere that you wear around your neck. Other types are called clip mic, lapel mic, neck mic and collar mic. They're mainly used for TV shows, music concerts and theater productions. I recommend this type of mic because there's no need for a big mic in front of your face, and the built-in microphones on devices often don't give very good sound quality. A lavaliere mic is essential if you plan to use a whiteboard, do an experiment or make a demonstration.
With this lavalier mic, you'll feel free to move around the staging area while recording a video lecture. This is a high-quality product for hands-free lectures and lessons. For instance, art and craft demonstrations, science experiments and equations on a whiteboard are examples of lectures that require hands-free application. You'll have good sound quality for 100 feet without distortion or feedback.
A card reader is an electronic device that reads information such as your video and transfers it to a portable memory storage device to make it easy for you to download to your computer.
This card reader allows you to easily transfer you videos to your laptop or PC. The dual aspect allows you to read and write on two cards so you don't have to continuously plug and unplug. It transfers data fast and is compatible with 2.0 USB ports. The two main advantages of this device is speed of transfer and dual use. If you are making a whole library of video lectures and demonstrations, it would be good to add this to your list of requirements. It will help you keep track of multiple items.
A presenter is also called a presenter pen, presenter remote and wireless presenter. It helps make a video lecture more engaging and professional and will enhance any presentation. It can be used to emphasize facts, fade the visual during the times you want to speak and point to the things you want to highlight. Some presenters can be programmed to give reminders when you want to move the presentation along. This helps limit digressions and maintain timeframes.
This is a great presenter for managing presentations from the other side of the room. You can walk around the room and still control the information being presented. For a video lecture, a presenter allows you to control the video by wireless remote, so you can start and stop it as needed. It also has a powerful laser pointer to help highlight facts and figures you want your students to remember.
Tips on how to Record Video Lectures in the Classroom
Lecture capture has become hugely popular for high school and university teachers who have to give the same lecture multiple times. There are best practices for creating an engaging video lecture and if you follow them, you'll have a good chance at getting better results and holding the attention of your students. Here are a few tips and things to do before turning on your classroom video recording devices.
Make sure you have the right gear for your presentation. You should be able to find what you need in the list above. Keep in mind if you aim is a talking head video or if you need a whiteboard or place on the staging area for demonstrations. Always test your gear before you start.
If PowerPoint slides are a part of your presentation, experts recommend that you make sure they have just the basic information and do not have cramped, hard-to-read paragraphs. It's better to use a sans serif font for clarity.
Check the background. It should not distract from your message. Bookshelves are a popular background as is a solid color. You can hang a bed sheet if you're filming at home. If you're filming in your classroom, be sure to choose an uncomplicated background that will not detract from your face. You don't want your lecture photobombed by dogs playing on the grass outside a window.
Make sure you wear something simple and plain that doesn't have a design. A pale blue top is good. Stripes and checks tend to get messy in a video. Jewelry can also be glaring and distracting. Make sure you hair looks nice and your face isn't too shiny. It'is human nature for people who are observing a lecture, even in person, to mentally comment on hair styles, clothing, jewelry and other personal things. The solution is to keep them to a minimum by having a bland appearance.
I recommend you rehearse your video lecture at least once before the final copy. Just like a rough draft of an essay or book is essential, rehearsal is important. You can tape it and watch it to see what works and what is distracting. If you can do it in front of a volunteer, so much the better.
Speak loudly, clearly, slowly and confidently. Combined, these techniques add up to self-confidence. Don't forget to smile.
If you make a mistake, pause and start from where you left off. You can edit out the mistakes, uhms and forgetful moments later.
Once you have prepared the background and are wearing the right clothes, set the camera on the tripod so that it is at eye level. If you are sitting down, you may have the small tripod on your desk or a table. If you are standing, the camera may need to be on a shelf or tripod that has adjustable legs for height.
Your head should either be in the middle of the frame or on one side if you want to show a whiteboard.
Always keep in mind the age of your students. If you are making a craft video for third graders, it will be livelier than a talking head video for a college lecture. In addition, be conscious of the speed of your voice. Slow is always better because it's easier for students, especially the young ones, to follow. If it seems unnaturally slow, you can speed up the audio when you edit.
Conclusion
Lecture capture is becoming popular not just for distance learners, but also for classroom learning. It allows course material to be accessed outside the classroom and is a real boon for students who miss classes.
One thing that impressed me about my attempts at lecture capturing is the chance to make it perfect. You may tell jokes, get inspired during a lecture and digress with a funny story or just deliver the information better at some times than others. If you're careful about your clothing and background, you can edit together the good parts and create one lecture that includes all your best deliveries. It's an extremely useful tool if you have to take a day off but don't want to slow the momentum of your class.
You can get many more excellent tips from my article about how to make video lectures.