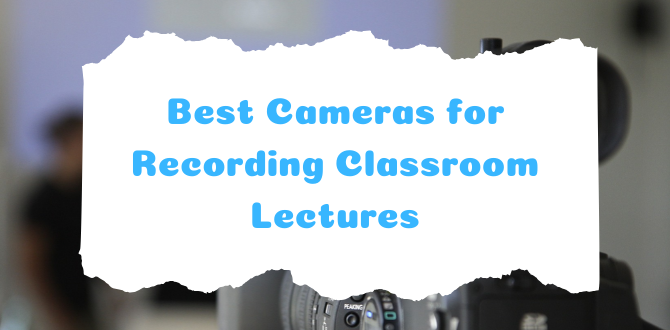 Most of the work is done before you even start if you choose the right video gear. You'll find cameras that are better for a talking head video and others that may be more suitable when you want to include visuals such as writing on a whiteboard or demonstrating an experiment or art project during the lesson.
Enter the best classroom camera… (drum rolls!)
A good video recorder gives a high-quality product. Poor resolution and low-quality visuals are not going to benefit anyone. In this blog post, I'm suggesting some of the best cameras for recording lectures in and outside the classroom to help you get started with lecture capture.
Check out the Canon VIXIA HF R800 Camcorder and why it's on top of my list!
Product
Details

1. Canon VIXIA HF R800

Very Functional

Touch Panel
8 Hrs. Runtime
Free Extra Battery
Full Accessories

Check Current Price

2. Panasonic HC-V770

Wi-Fi Connectivity

Great W/ Low Light
Smartphone Compatible
Remote Viewing
20X Optical Zoom

Check Current Price

3. Logitech C930e 1080P HD Video Webcam

Supports PC & Mac

90° Extended View
USB Connectivity
Pan, Tilt & Zoom

Check Current Price

4. Sony HXR-NX100 Full HD NXCAM Camcorder

Pro Videocam

High Sensitivity
High Resolution
Quick & Slo-Mo Functions

Check Current Price

5. Microsoft LifeCam Cinema

Autofocus

Flexible Stand
Aluminum Body
High Precision Lens

Check Current Price
Best Cameras For Classroom Lectures Reviewed
Below, you'll find my top picks for the best cameras to use for classroom lectures, online classes, and educational videos.
If you're looking to record a lecture that students can later playback, the cameras in this section are some of the best options. Every device in this category has a long battery life, meaning that you can record a long lecture without worrying that the video recorder will die in the middle of your lesson.
---
LifeCam is a black, high-definition webcam with autofocus for good quality talking head videos. Talking head videos are mainly useful for older students because they can be boring for younger ones.
But they're great for stopping and starting the lecture to repeat something the students missed or to find the answer to a question. The microphone on this LifeCam cancels ambient noise, so the speech quality is very clear. It can be used with a notebook or desktop PC.
Goodies I found:
Flexible stand
Aluminum body
High-precision glass element lens
How can you use it? Users who have purchased this device have stated that it is great for live chatting with students while presenting your lecture. This choice is adjustable, so you can make sure that you stay in focus throughout the class.
The microphone can also pick up your voice from a distance, making live chats easier for everyone involved. You can also use the software that comes with the camera to add cool effects to your video as you record.
These effects can help you create a fun, engaging presentation that will keep your students' attention. This camera has a lot of potential to create an exciting online class or recorded lecture!
Best For: Best camera for online teaching, Webinars, video conferencing, and other kinds of remote learning. Also, it perfectly suits recording talking-head video lectures. Best video camera for classroom recording.
---
The VIXIA HF R800 is a handy little camera with lots of accessories. It's versatile and easy to use for recording lessons at home or recording events and recitals. This is a good choice if you want to let your students make videos to show the class.
The zoom allows you to get close-ups from any point in a large room or auditorium. It doesn't require conversion to post videos on your website or social media site.
Goodies I found:
Photo/video quality tripod
Extra battery
Touch panel display
Fast and slow-motion recording
57x advanced zoom and SuperRange O.I.S.
How can you use it? This pick is particularly useful if you're going to be recording from home or in any other space where the lighting might not be ideal. Having a dim or unclear image is not a professional look.
With this camera, you can get a crystal-clear picture in even dim light. The device even has a night-vision setting, just in case you need to do any fun science experiments that require darkness.
The recorder has a ton of built-in storage, so you can easily record multiple longer lectures without worrying about running out of space. This makes it a great option if you're planning on recording a lot of lectures throughout the school year.
Best For: It has a long battery life and can record for 8 hours, so it's a great choice if you're interested in the longer lecture capture, especially if a whiteboard is needed. It is also good for music and theater students to record their rehearsals to view later.
---
This Sony HXR-NX100 is a professional-grade camera and is very useful if you record theater or music rehearsals or performances. It works in quick and slow motion, which is handy for demonstrations.
For ordinary classroom lessons, you may not need such a high-grade machine, but if your visuals need to be precise, this is the type you want.
Goodies I found:
Clear visuals in a wide range of shooting conditions
High-sensitivity and high-resolution lens
Simultaneous relay and recording
Discrete manual focus
How can you use it? One of the best things that you can do with this choice is record outside. Even with the harsher light of the outdoors, you'll get a crystal-clear video with excellent quality.
This camera also focuses well in a much larger space, making it easier to use in the outdoors. This will allow you to create interesting lectures about topics surrounding nature.
Your students could also use this device to create their own projects without having to worry too much about manually focusing the camera.
Best For: This is a professional school video camera that is perfect for creating high-quality video lectures. It is also best to record meetings and school events in large classrooms and halls.
---
The HC-V770 camera gives movie-quality videos that look professional when you post them online, so your students can access your lectures whenever they want. The high-dynamic range feature modifies highlights and shadows for clear images. It can be connected to a smartphone as a sub-camera.
Goodies I found:
Remote control viewing
Wi-Fi functions for real-time broadcasting
20x Optical Zoom with a 4-drive lens system
High dynamic range
How can you use it? The major draw of this pick is its versatility. There are lots of options for adjusting the view and the light capture, so you can ensure that you're getting the ideal quality regardless of the situation.
The different settings are easy to use, so you can create an excellent video even if you don't have a lot of experience. This camera's versatility is ideal for recording lectures that involve multiple formats such as lecture, demonstration, and discussion.
Best For: This is a high-quality classroom device for long video recording. It's perfect for capturing in-class lectures and broadcasting them to a YouTube channel.

If you are a new parent, this device can be used as a baby monitor when you're not recording lessons.
---
Best Cameras For Online Classes
If you're looking to live-stream your classes on Zoom or another web-conferencing platform, check out these great camera options.
The devices in this category all feature high-quality microphones that allow your voice to come through clearly, even when streaming from home. The cameras also maintain a great tracking camera focus even when you're at a distance from them.
How does it work?
Teaching a virtual class is meant to emulate the in-person experience as closely as possible. These types of classes often feature a mix of discussion, lectures, and even group work.
Many meeting platforms offer breakout rooms that you can use to check in on your students' learning while they're working together. This is great for maintaining interpersonal interaction, even while learning at a distance.
Take a look at this video to see how an online class looks in real-time.
---
This Logitech С930e camera records full 1080p HD videos. It's good for lectures where you need to use a whiteboard and it has a 4X digital zoom so you can take close-ups when you need to show a demonstration.
Recording from home is one of the biggest benefits I've found. It allows you to create lessons at any time of the day or night whether you are homesick, on vacation, or just get the urge to record your next brilliant idea for your class.
Goodies I found:
Can be used with a PC or Mac
Has a 90-degree extended view with pan mode
Compatible with Skype, so you can give a live lecture from home while recording it
USB connection
How can you use it? This device is best used when doing a live class. The camera captures a wider area than a laptop's built-in one, allowing you to integrate demonstration into your class without adjusting the camera too much.
This is perfect for online classes that require formats other than lectures. It also has a great built-in microphone that ensures your voice will be captured even if you move away from the camera.
This choice is perfect for fun, engaging classes with lots of demonstrations and discussions.
Best For: Training videos you may want to capture at home. This device is very convenient when you need to record a lesson or talking head at your convenience during vacation or at night.

The pan allows you to utilize a larger stage area, which is convenient for demonstrations.
---
Jaronx is a full HD 1080P webcam that comes with a privacy shutter and a tripod stand. It produces high-quality video calls for all calling apps. The screen field of view is 90 degrees and it is ideally the best camera for online teaching, webinars, and online meetings.
Goodies I found:
The webcam has two microphones and can pick up sound up to eight meters.
Your voice sounds clear and natural.
It corrects images according to the light from low light to bright sunlight.
Transmission is fast, and it has a 2.0 highspeed USB interface.
It works with all mainstream software such as macOS, Skype, XBOX, Facebook, Zoom, Microsoft Teams, and many more.
How can you use it? This little camera is perfect for doing an online class from your laptop. One major problem that people run into when chatting with others virtually is the angle of the computer's built-in webcam.
Having the camera at the wrong angle is both unflattering and unprofessional. This pick comes with a tripod stand that allows you to achieve a better recording angle for a more professional-quality video.
This device is one of the best classroom cameras for distance learning when it comes to engaging with your students without worrying about how you appear on the lens.
Best For: Webinars, video conferencing and other kinds of online teaching. No more worries about getting the perfect angle with this classroom camera for distance learning, in my opinion.
---
This Unzano webcam has two microphones for stereo sound with automatic reduction of irritating background noise. It produces an excellent sound of up to three to five meters.
The full HD 1080P camera is suitable for live streaming, conferencing, online classes, gaming, recording, and more. It has facial enhancement technology that automatically enhances facial images for a very clear picture.
I've mentioned earlier that the Jaronx is one of the best classroom cameras for distance learning, I can't help but mention; this one, too!
Goodies I found:
It has a 98-degree wide angle with no optical distortion.
Autofocus and low and bright light correction.
It will hold a focus up to 10 meters from the subject.
The universal clip fits all desktops, laptops, and monitors.
How can you use it? This pick is a great option if you want a better-quality video for online classes with your students without a lot of complicated hardware.
All you need to do is plug it in, and you're ready to go! Despite the ease of use, the device provides a significantly higher quality video than your typical webcam, so you can chat with your students easily and professionally.
This camera is perfect if you are a beginner at the idea of online streaming.
Best For: Gaming, social media, webinars, and live streaming. Just plug it in and it's ready to go.
---
Best Cameras For Recording Educational Videos & Creating Online Courses
Let's face it; some topics are more complicated than others. If you're planning on presenting a class that features in-depth demonstrations, these cameras are some of the best!
They are portable and have features that make them easy to record and stream while performing a task for your students to watch.
How does it work?
Like for recording lectures, these videos can be made in advance or recorded in real-time while teaching an online class.
The benefit of creating an educational video is that students can go back and reference the steps that you took while demonstrating a process, making it easier for them to emulate it themselves.
Check out this YouTube video for step-by-step instructions for creating a great educational video.
---
The XA30 Professional Camcorder gives a very high-quality picture suitable for uploading to YouTube or social media sites. The new image sensor provides excellent color in just about any type of light.
This is best if you have a long detailed lecture where you need to demonstrate experiments and the students need to stop and go to follow steps or complicated explanations.
Goodies I found:
3.5-inch OLED Viewscreen
Wide DR Gamma (600%)
Easily portable
Excellent color quality
HD Zoom lens
How can you use it? This device is great for its versatility. You can pre-record great content for your students using this camera, such as demonstrations or experiments that your students can review later.
You can also use it to live-stream online classes. If you need to do both of these things in your classroom, but you don't want to invest in two different cameras, this one is versatile enough for all your needs.
Best For: Interviews, presentations, and lectures in large classrooms. This is the device you want if you need to give a long lecture to a large audience.
---
This is the GoPro HERO 7 camera you want if you plan to let your students make videos of experiments, rehearsals, or demonstrations. It senses movement and is stabilized automatically for exceptionally smooth results.
Goodies I found:
Waterproof
Receives voice commands to take photos or start recording
Live streaming and recording
How can you use it? This pick can easily be used for pre-recording demonstrations and experiments that you want to show students. The GoPro is meant to be used on the move, so you can take it anywhere you may want to go.
In addition, you can use it to let your students record their own videos or projects for increased class participation. It's small and easy to use, so it's ideal for student projects.
It can also be integrated with an iPad for one-on-one feedback sessions to let your students know how they're doing.
Best For: Teachers who need to record classes outdoors, PE lessons, and different kinds of experiential learning activities. This is a great companion for all your activities as you can capture any lesson with a short command.
---
Recording Classroom Lectures
Classroom lectures can be recorded in two ways. Sometimes, you may want to record a lecture in advance that your students can watch. This is great for online classes and for students who take notes more slowly.
You can also record lectures with your best camera for teaching an online class at the same time as you present to your students. This allows them to focus on the class and participate in discussions and come back later for review.
Check out this video for a great example of teaching with the best lecture-recording camera in the classroom.
Other Good Picks For Your Classroom
Because recording and streaming lectures can be such an amazing tool for teachers, I decided to delve into the vast array of camera options to find out which are the best options for teachers looking to use cameras in their virtual and/or in-person classrooms.
All in all, I tested about 20 different camcorders and 30 different webcams to find the absolute best! The lists in this article only go over the absolute best options out there.
However, there are a few honorable mentions that are pretty good as well:
Camcorders: Panasonic HC-VX981K, Kimire Digital Recorder, Sony CX405 Handycam
Webcams: WIDECAM F100, Logitech Brio Ultra, Mevo Start
Using your camera to record yourself during your lessons can go a long way toward helping your students stay engaged throughout the lesson. Being able to see each other throughout the lesson is important, but some students can be shy for a variety of reasons.
For example, if students are embarrassed about their physical appearance or the state of the room in which they are participating in class, they may be less likely to turn on their camera.
However, the norms of the classroom play a big part in these decisions. If you set the standard by always having your own camera turned on to engage with the students, they are more likely to follow along.
Many teachers have found that their students are unwilling to switch on their own cameras while learning remotely, even though research has shown that this diminishes the overall experience for the class.
Interaction is an extremely important part of learning for students of all ages. By making sure that you as the teacher are always visible, you can encourage your students to keep their own cameras rolling and keep them more engaged in learning.
Cameras can also be really helpful for providing useful, timely feedback to your students. In one study, researchers examined the possibility of using a GoPro combined with an iPad to record interactions in which teachers provided feedback to their students.
The study found that this method was highly useful for improving a student's ability to reflect on their performance during and after these interactions as your remote classroom view literally follows you while on cam.
Check out this YouTube video to get more reasons why lecture capture is a great idea.
---
Other Devices For Recording Lectures
Simply buying a camera and starting to record will not give you satisfaction with the final product. The process of lecture recording setup can't be taken lightly.
To produce a high-quality video, it's important to get the right equipment that works well with the best camera for lecture recording that you choose.
That way, you can count on excellent sound, steady picture quality, good graphics for demonstrations, and a professional video that you can use for years.
Tripod
The most obvious use of a tripod is to hold a heavy camera for long periods and stability. When you use a tripod, you need to take time to plan your shot, get the horizon level accurate, and arrange the background.
For example, if the lecture needs a whiteboard or to show demonstrations on a table, with a tripod, you can plan how to film these in advance to give a more professional result.
A talking head may need a lamp, vase of flowers, potted plant, or a solid color and the lighting needs to be arranged accordingly.
If you want a heavy, professional-quality camera, this 60-Inch Lightweight Tripod is a good choice for your tripod. It offers a lot of options for perspective on the subject. It has a 3-way head for tilt and swivel motion and portrait or landscape options.
You will need to take time to learn about all the features to get the advantages it offers for a professional video.
---
The Lightweight Mini tripod is a good choice if you have a small camera or are using a smartphone. You can sit at your desk or even your sofa at home and record a lesson or lecture.
It collapses quickly for easy packing if you need to travel to different venues. However, this device may not be the best option if you want to film demonstrations or have a whiteboard included in the frame.
---
Memory Cards
Memory cards, as the name suggests, store information. Also called flashcards, they're used in cameras, phones, and other hand-held devices.
Memory cards have a reduced chance of mechanical problems because they use solid-state media technology, which is different from traditional hard drives.
If you're shooting outdoors or at different locations such as recording a lecture while visiting an art gallery or museum you will most likely not be near your computer. This is when your memory card will be very handy.
The most commonly used memory cards are:
SmartMedia
CompactFlash (CF) card
Memory Stick
Secure Digital (SD) card
MultiMediaCard (MMC)
---
Here are my memory card picks:
The SDXC UHS-I memory card is great for small to medium-sized digital camcorders. It gives high-quality video with smaller devices. The card is comparable to larger more professional cards for a lower price.
---
For cameras that support micro SD cards, UHS-I/Class 10 is a great backup tool. It can be set to move files automatically from your device to the memory card. It's a very small, thin card that fits a smartphone as well as a tablet and computer.
This card will back up everything and allow you to create lectures or lessons while you are traveling or visiting museums or other places that you want your class to see while you are giving a running commentary.
---
Here are two questions about memory cards that may concern you:
1. How many minutes of video can be stored on a SanDisk memory device?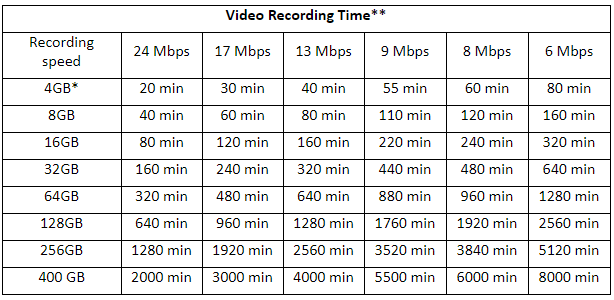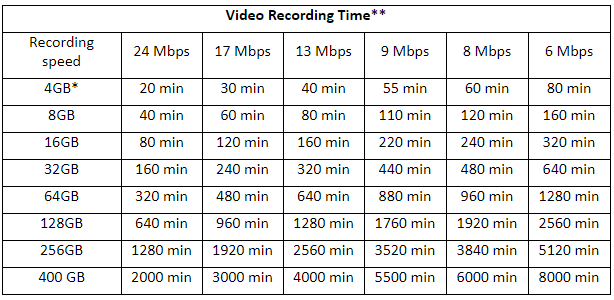 (Source: SanDisk website)
2. How much HD video content (720p and 1080p) can be stored on a 128GB memory card?
It depends on the type of camera, frame rate, codec, and compression. A general rule is about 4.44 hours of content or approximately for a 128GB card.
---
Microphone
It's a common mistake to think you have a loud, clear voice and don't need a microphone to ensure all your students hear your lecture.
First of all, you can't assume that all your students can hear well. They may not want to disclose to the whole school that they are a bit hearing impaired. Using a microphone should solve this problem.
In addition, classrooms may have good or bad acoustics and there may be traffic or playground sounds from outside that interfere with the sound of your voice. Using a good-quality microphone as opposed to the one built-in to your device will ensure your lecture has a clear, crisp sound without ambient noise.
Comica CVM-V30 PRO Camera Microphone
The Comica CVM-V30 PRO microphone is compatible with a wide variety of cameras. It has a sensitivity mode that you can adjust if you're in a noisy environment to block ambient noise or for a quiet atmosphere at home when you are recording a lecture.
It's always better to use a tripod if you can, but this mic will also block the jitter noise from camera movement. It's for providing a video lecture with excellent sound, reducing the noise of the surrounding environment, and supports all cameras that come with a 3.5mm (TRS) audio input jack.
---
Lavalier Mic
A lavalier mic allows for hands-free action when recording a lecture or demonstration. It's on a lavaliere that you wear around your neck.
Other types are called clip mic, lapel mic, neck mic, and collar mic. They're mainly used for TV shows, music concerts, and theater productions.
I recommend this type of mic because there's no need for a big mic in front of your face, and the built-in microphones on devices often don't give very good sound quality.
A lavalier mic is essential if you plan to use a whiteboard, do an experiment, or make a demonstration.
Hotec Wireless System With Dual Headset Microphones/Lavalier Lapel Mics
With Hotec Wireless System lavalier mic, you'll feel free to move around the staging area while recording a video lecture.
This is a high-quality product for hands-free lectures and lessons. For instance, art and craft demonstrations, science experiments, and equations on a whiteboard are examples of lectures that require a hands-free application.
You'll have good sound quality for 100 feet without distortion or feedback.
---
Card Reader
A card reader is an electronic device that reads information such as your video and transfers it to a portable memory storage device to make it easy for you to download to your computer.
Anker 2-in-1 USB 3.0 SD Card Reader
This Anker 2-in-1 card reader allows you to easily transfer your videos to your laptop or PC. The dual aspect allows you to read and write on two cards so you don't have to continuously plug and unplug.
It transfers data fast and is compatible with 2.0 USB ports. The two main advantages of this device are the speed of transfer and dual-use.
If you are making a whole library of video lectures and demonstrations, it would be good to add this to your list of requirements. It will help you keep track of multiple items.
---
Wireless Presenter
A presenter is also called a presenter pen, presenter remote, and wireless presenter. It helps make a video lecture more engaging and professional and will enhance any presentation. It can be used to emphasize facts, fade the visual during the times you want to speak, and point to the things you want to highlight.
Some presenters can be programmed to give reminders when you want to move the presentation along. This helps limit digressions and maintain timeframes.
BEBONCOOL RF 2.4GHz Wireless Presenter
The BEBONCOOL RF is a great presenter for managing presentations from the other side of the room. You can walk around the room and still control the information being presented.
For a video lecture, a presenter allows you to control the video by wireless remote, so you can start and stop it as needed. It also has a powerful laser pointer to help highlight facts and figures you want your students to remember.
---
Tips On How To Record Video Lectures In The Classroom
Lecture capture has become hugely popular for high school and university teachers who have to give the same lecture multiple times. There are best practices for creating an engaging video lecture and if you follow them, you'll have a good chance of getting better results and holding the attention of your students.
Here are a few tips and things to do before turning on your classroom video recording devices.
Make sure you have the right gear for your presentation. You should be able to find what you need in the list above. Keep in mind if your aim is a talking head video or if you need a whiteboard or place it on the staging area for demonstrations. Always test your gear before you start.
If PowerPoint slides are a part of your presentation, experts recommend that you make sure they have just the basic information and do not have cramped, hard-to-read paragraphs. It's better to use a sans serif font for clarity.
Check the background. It should not distract from your message. Bookshelves are a popular background as is a solid color. You can hang a bed sheet if you're filming at home. If you're filming in your classroom, be sure to choose an uncomplicated background that will not detract from your face. You don't want your lecture photobombed by dogs playing on the grass outside a window.
Make sure you wear something simple and plain that doesn't have a design. A pale blue top is good. Stripes and checks tend to get messy in a video. Jewelry can also be glaring and distracting. Make sure your hair looks nice and your face isn't too shiny. It's human nature for people who are observing a lecture, even in person, to mentally comment on hairstyles, clothing, jewelry, and other personal things. The solution is to keep them to a minimum by having a bland appearance.
I recommend you rehearse your video lecture at least once before the final copy. Just like a rough draft of an essay or book is essential, rehearsal is important. You can tape it and watch it to see what works and what is distracting. If you can do it in front of a volunteer, so much the better.
Speak loudly, clearly, slowly, and confidently. Combined, these techniques add up to self-confidence. Don't forget to smile.
If you make a mistake, pause and start from where you left off. You can edit out the mistakes, uhms, and forgetful moments later.
Once you have prepared the background and are wearing the right clothes, set the camera on the tripod so that it is at eye level. If you are sitting down, you may have the small tripod on your desk or a table. If you are standing, the camera may need to be on a shelf or tripod that has adjustable legs for height.
Your head should either be in the middle of the frame or on one side if you want to show a whiteboard.
Always keep in mind the age of your students. If you are making a craft video for third graders, it will be livelier than a talking head video for a college lecture. In addition, be conscious of the speed of your voice. Slow is always better because it's easier for students, especially the young ones, to follow. If it seems unnaturally slow, you can speed up the audio when you edit.
This video gives 39 tips to make great video lectures, so you may check it up

Useful Resources
Conclusion
Lecture capture is becoming popular not just for distance learners, but also for classroom learning. It allows course material to be accessed outside the classroom and is a real boon for students who miss classes.
Having said that, the Canon VIXIA HF R800 has become my favorite. Everything about it spells functionality, plus all the free accessories that come with it makes it the best choice for me!
One thing that impressed me about my attempts at lecture capturing is the chance to make it perfect. You may tell jokes, get inspired during a lecture, and digress with a funny story or just deliver the information better at some times than others.
If you're careful about your clothing and background, you can edit together the good parts and create one lecture that includes all your best deliveries. It's an extremely useful tool if you have to take a day off but don't want to slow the momentum of your class.
You can get many more excellent tips about how to make video lectures from my blog. If you are going to capture audio lectures, also read about the best voice recorders and other necessary devices in this article.
My Top Pick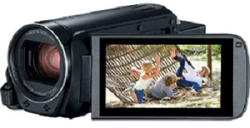 Goodies I found:
Extra battery
Touch panel display
Fast and slow-motion recording
57x advanced zoom
Best For: It has a long battery life and can record for 8 hours, so it's a great choice if you're interested in longer lecture capture.
This device comes with a lot of extra goodies including a tripod and a Class 10 memory card. It has an extra battery and a carrying case. With eight hours of record time on the battery, it's a great camera for long lectures or classroom demonstrations. You can record in fast or slow motion, and it has advanced zoom with SuperRange O.I.S. It even comes with a cleaning kit.
Last Updated on February 24, 2022 by Emily