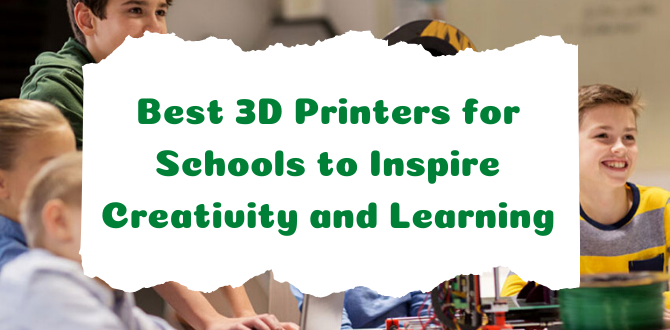 If you've worked at all with students, you know that one sure-fire way to get them engaged is through the use of technology. Our classrooms are gaining more and more technology.
But…
One technological tool you may not have yet is a 3D printer. So, in this article, I'll tell you more about these top 3D printer models to help you decide which is the best model to choose for your students. I'll also share more information about using 3D printers in the classroom to give you additional ideas about how you'll be able to use your new 3D printer and how it can really help your students grow and succeed!
As I narrowed down my list of the best ones, I find the Dremel Digilab 3D45-01 is the most suited one for me and what I need for my students. I'll tell you more about it below!
As promised…
Here are the details you need to make a selection of the right model for your classroom. In case the features get confusing, I've given the uses for each model, so you can see what best fits with your teaching style.
And now let's move on to the reviews of the best, in my opinion, 3D printers for school use. Keep reading, I'd love to tell you more!
Product
Details

1. Dremel 3D45-01

Ideal For Classrooms

Detail-Oriented
Fully Assembled
Removable Glass
Convenient Build
Fully-Enclosed
Quiet Function

Check Current Price

2. ANYCUBIC Mega-S

Beginner-Friendly

Heavy-Duty
Sturdy
Vibration-Free
Secure And Safe
Recovery Feature

Check Current Price

3. R QIDI TECH Industrial

Prints On Most

Silent Operation
Quality Finish
Comes W/ Test File
Large Build
Multi-Functional

Check Current Price

4. FlashForge Creator Pro

Stable Performance

Multi-Filament
Warp-Resistant
Air-Circulation
Ergonomic Design
Industry-Grade

Check Current Price

5. Digilab 3D20 3D Printer

Basic Operation

Secure Adhesion
Recyclable
Safe Exterior
W/ Lesson Plan
User Friendly

Check Current Price
The Best 3D Printers For Classroom Use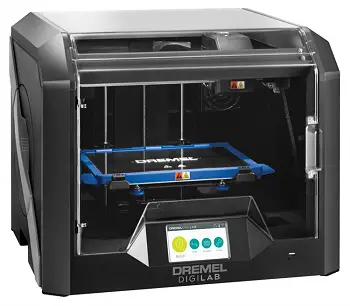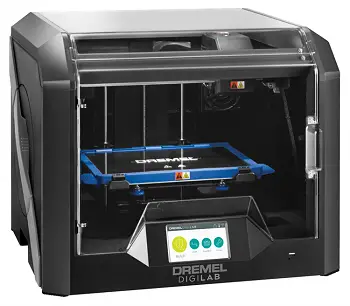 The Dremel Digilab 3D45, which won the 2019 All3DP Best 3D Printer for Schools Award, is a very resilient device for a classroom setting.
Its filament is tucked inside the printer's housing, so children can't fiddle with it. Its stellar detailing is ideal for science, anatomy, or any subject where meticulous details matter.
Pros:
The device arrives completely assembled. You won't have to spend hours puzzling it together or losing screws and trying to track them down.
It's topped off with a removable glass plate. Prints are easier to remove this way.
Cons:
The printer's spool holder isn't compatible with many third-party filaments. This may limit schools' flexibility to use filaments that children find the most captivating.
Dremel's slicer software doesn't work on some Macs. If that happens to be your Mac, you won't be able to tap into the 3D45's more complex features.
Goodies:
The 3D45 is fully enclosed. This dramatically reduces the machine's noise, so a class can be conducted while it's running.
The 3D45 can handle challenging materials needing extreme printing temperatures. These include polycarbonate, Nylon, and EcoABS, which is an eco-friendly version of traditional ABS filaments.
Best For: The Dremel Digilab 3D45 is excellent for all grade levels from elementary school through high school. It is easy to use and creates high-quality items.
Watch this video by Devin of MakeAnything for a play-by-play of the device, how it works and how to set up various printing scenarios. It will also give you an overall understanding of the 3D printing process.
---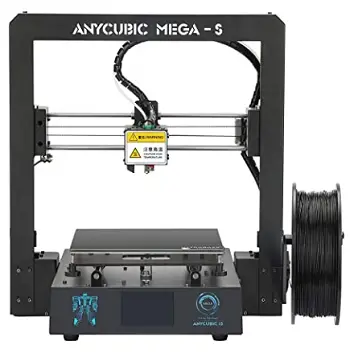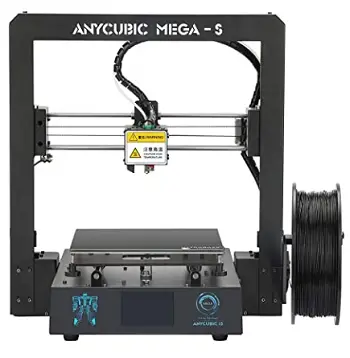 From ANYCUBIC, one of the most respected brands in low-priced 3D printing comes the Mega-S. It's a beginner-friendly, budget-conscious printer that provides decent print results for the price, in assorted filament types. The Mega-S withstands heavy usage, which is important in a classroom of kids clamoring to make their very own model.
Pros:
The Mega-S is made of sturdy aluminum. It's resistant to vibrations that could compromise print accuracy, like those in a busy classroom.
The device has a power recovery feature that's useful during power outages or other interruptions. When the power is restored, it continues your build where it left off.
Cons:
Some of the machines suffer from quality control issues, most likely stemming from its absurdly low cost. You may have to continuously tweak it yourself to keep it functioning properly.
The Mega-S is noisy because it's not insulated. Your class may have trouble hearing you while it's running.
Goodies:
The Mega-S comes with a coarse-textured glass bed. When it's hot, prints stick securely to it, and when it cools down the prints easily pop off.
The filament holder is built-in so that filaments are easy to access and change. This is a big improvement from the separate acrylic filament holder of the original design.
Best For: The Mega-S is an excellent value for schools that are on a budget and need something that's accessible for learners of all levels. It's a workhorse that can endure heavy usage in the classroom.
In the video below, Andrew W. explains how to easily get the Mega-S up and running right after unboxing. For inspiration, he demonstrates some of the objects (a "bench" boat, a cat, a gear-driven model) that can be built with this device.
---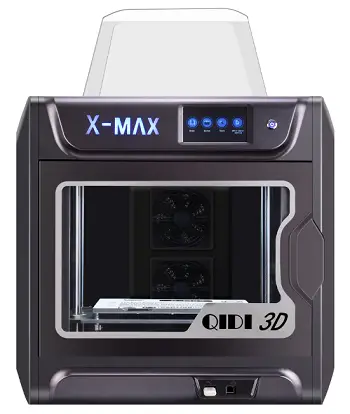 QIDI Tech's X-Max is a brawny, fully enclosed machine. It has ample build space and whisper-quiet operation. It offers exceptional detail and can print standard filaments, as well as trickier materials such as carbon fiber and nylon. The X-Max provides professional-quality surface finishes, and it comes with a test file so you can immediately start experimenting with the device.
Pros:
QIDI has insanely good customer service. Although they are based in China, and despite the time difference, the staff is exceptionally responsive day or night. They even sent me a video, so I could understand an aspect of the machine's operation that confused me.
It has an exceptionally large build volume (11 x 10 x 11). You can make several items at once, or one large piece that's as big as a full-size mask or helmet.
Cons:
QIDI's X-Max lacks an end-of-filament sensor. It would be helpful to know when the filament is about to run out with a machine that handles such substantial builds.
Big print jobs can be problematic because the filament may slip off and catch on the building rods. This means you may have to spend time "babysitting" the printer to make sure nothing is tangling and hampering the process.
Goodies:
The X-Max has an ample five-inch, full-color touchscreen. Its menus are straightforward and simple to navigate.
The machine has a flexible build plate. When the object is done, you merely bend the plate and it springs off. No need to take time scraping it off.
Best For: QIDI's X-Max is ideal for projects that require several different colors or materials. This can make the print interesting for older children, but especially mesmerizing for younger ones. It's also a helpful piece of machinery if you want to print projects without size limitations.
The best way to learn how to do something is to do it yourself. Follow along with this video by Peter Homer to unbox your printer, set it up and get it running.
---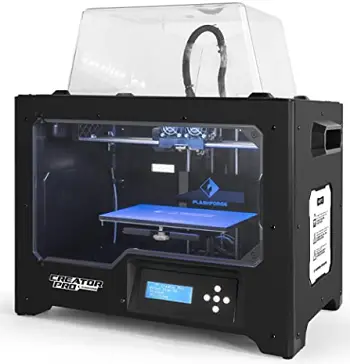 FlashForge's Creator Pro is a mid-priced printer with a dual-extrusion system.
It works straight-out-of-the-box and has a unique double-Z axis. This gives it added stability for large builds. The Creator Pro supports exotic filaments including polycarbonate, ABS, pearl, elastic, brass-fill, copper-fill, and wood-fill.
Pros:
The Creator Pro has an enclosed design that helps maintain a stable working temperature. This curtails issues such as warping. It also has a removable top that lets air circulate when working with materials such as PLA.
The second extruder is a terrific value for the Creator Pro. The machine's price point is likely the lowest you'll encounter for a fully assembled 3D device featuring dual extrusion.
Cons:
You have to manually level the device's bed. The Creator Pro comes with a card that you slide between the bed and the nozzle, and when there's friction as you're sliding it, that means the bed is level. Manual bed leveling can cause major headaches for beginners.
The Creator Pro is not plug-and-play. You'll need to be handy with tinkering when setting it up and aligning and printing your projects. (For example, to prevent anything from seeping out of the idle nozzle, you'll need to tinker with it to tweak the retraction period.)
Goodies:
The Creator Pro's control panel isn't vertical but at a 45-degree angle. This position is much more comfortable and ergonomic.
The build plate is made of aerospace industry-grade aluminum. This gives it superior thermal conductivity and prevents warping when heated.
Best For: The Creator Pro is an excellent fit for high schoolers who are comfortable working with more advanced printing technology. It's particularly suitable for curious students who enjoy tinkering with electronics.
There's a lot more to setting up this printer than is covered in the instruction manual. It's definitely not a toy. Follow Carolina Toumbs as she does a thorough walkthrough of the complicated unboxing and setting up of the Creator Pro in the video below.
---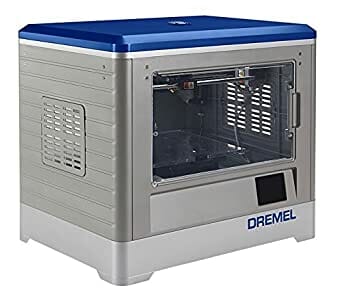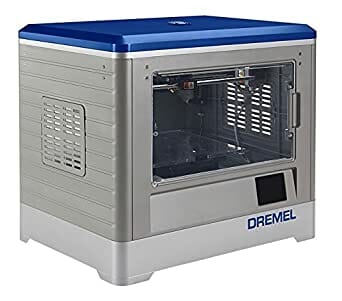 Dremel, a respected name in power tools for homeowners and hobbyists, has produced the 3D20, a fully enclosed, low-priced 3D machine. With simple operation and virtually no learning curve, it's a great way to enter the world of 3D printing.
The Idea Builder has an unheated build plate, plus black tape to make sure your object adheres to it. The device's plant-based PLA filament is non-toxic and recyclable.
Pros:
All of the 3D20's moving parts, including the filament spool, are inside the device. This minimizes desktop clutter and blocks access to parts that are dangerously hot.
The 3D20 produces excellent detail. This is much more than I'd expected for a low-cost device.
Cons:
The 3D20 doesn't support external USB connectivity to Mac or PC. It can only print from SD memory cards.
The machine only takes Dremel filaments. You can't print any colors other than the ones they offer.
Goodies:
The 3D20 comes with lesson plans for teachers, tailored to elementary, middle school, or high school students. At the elementary level, these plans include creating moths and studying their adaptive traits, and building a customized, modular picture frame.
The machine has UL (Underwriters Laboratories) Safety Certification. This means that it's been approved to safely run overnight without supervision.
Best For: Dremel's 3D20 is best for young children who need a basic, easy-to-use machine. Older students may get frustrated because they can't tinker with it or experiment with modifications.
Accompanied by some cool alt-rock music, Dremel provides a brief promo video about their 3D20. With engaging visuals, it runs through the device's capabilities, and creative ways you can use them.
---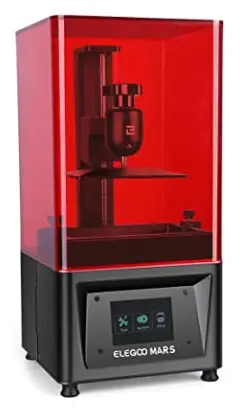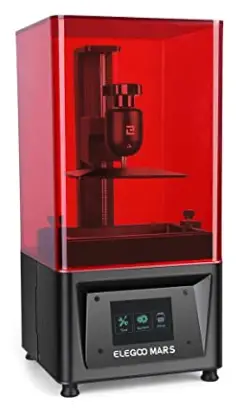 ELEGOO'S Mars 2 is a device that prints with resin, instead of a filament, and UV light.
Resin printers usually cost upwards of $1,000, so this one is an amazing bargain. It also creates objects with exceptional detail found in high-end machines.
At a max printing size of 5.45 inches x 2.56 inches x 5.9 inches, it's well-suited to producing miniatures, such as game pieces or action figures.
Pros:
The Mars 2 has a high-end look that belies its price. It's sleekly designed with an orange cover and an aluminum base.
This device is less touchy than others. It's not as prone to glitches such as setting difficulties or first-layer adhesion issues.
Cons:
The Mars 2 makes an obnoxious beeping sound when it starts and finishes a job. There's no way to turn this off.
Like all resin machines, it carries health risks, smells nasty, and involves the monotonous and time-consuming clean-up of excess resin. However, you may want to take your chances in exchange for gorgeous, highly detailed prints.
Goodies:
The Mars 2 has a nice touch-screen interface. It's easy to understand and use, and it supports 12 different languages.
The machine has a replaceable resin tank. Swapping it out once in a while can extend your device's longevity.
Best For: The Elegoo Mars is well-suited for older students who can handle the complexities of resin printing. They may also have more comprehension of its intricate detailing capabilities and how they can use these in their own creations.
Want to see the amazing prints this beast can achieve? Then check out this video by Chaos Core Tech!
---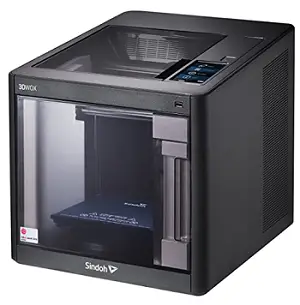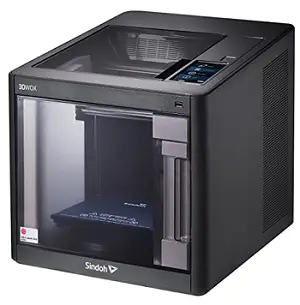 The Sindoh 3DWOX DP200 is a 3D printer with numerous connectivity options including WiFi, USB cable, ethernet, and USB flash drive.
It's a sleek machine whose intuitive operation and exceptional construction earned it the coveted Red Dot Award for superior design. The device's simple operation makes it easy to quickly get a project up and running.
Pros:
The machine preheats the bed prior to starting a print, which makes the building process begin faster.
The 3DWOX has a closed chamber, which protects prints from ambient temperature fluctuations.
Cons:
Sindoh's device uses proprietary slicing software and filaments. This is a limitation that may not be acceptable to you.
The camera is poorly positioned. Its view of the print is blocked by the print head.
Goodies:
The Sindoh 3DWOX DP200 has automatic filament loading and unloading. Merely insert a cartridge and the machine does the rest for you. This filament system also makes it nearly impossible to tangle.
The 3DWOX DP200 has assisted bed-leveling. It displays instructions that guide you step-by-step to setting the perfect level.
Best For: Although this printer is appropriate for all age groups, it is particularly suited to younger children. Its fully enclosed structure makes it safe for them to watch the process without the potential for injury.
Check out this simple description of the device by TheRealAlexDoesStuff. It's a great tutorial for beginners.
---
How 3D Printing Works in Education
As desktop 3D printing becomes integral to countless professions and industries worldwide, it has also become vital classroom technology. During 3D printing, a three-dimensional, physical object is built layer-by-layer from a digital, computer-aided design (CAD).
Three-D technology helps students from primary grades through high school become creators, problem-solvers, and critical thinkers with a methodology that's stimulating, engaging, and tangible.
MyStemKits.com helps science, technology, engineering, and math students learn about 3D printing. This video describes how a subscription to their platform streams three-dimensional models to students' 3D printers. These models are accompanied by corresponding lesson plans.
Three-D printing is taking education to levels unmatched by any textbook. It's an exceptional teaching and learning resource that has many exciting applications including:
Anatomy. In order to learn basic anatomy, students can print models of bones. Additionally, they can heighten their awareness of anatomy by creating internal organs and entire human or animal skeletons.
Architecture. Budding architects can fabricate scale models of world-famous structures such as the Chrysler Building or the Eiffel Tower. While 3D printing various parts of a building, students will attain a better understanding of how each component contributes to the final design.
History. Students can study a deteriorated historical site, such as the Forum, Acropolis, or Coliseum, and design what they think it was originally like. Alternatively, they can create a remodeled version of it that they would like to see in the future.
Musical Instruments. Three-D printing is such amazing technology that it can even be used to create musical instruments. For example, students can 3D-print the entire body, neck, and headstock of a guitar. After adding strings and tuning pegs, the instrument is completely playable.
Mapmaking. By making a map of the US, students will learn to identify all 50 states. They can also create a topographical map and learn about terrain, geography, and mapmaking. Or instruct students to print a map of their neighborhood or a place they've visited.
Chemistry. Chemistry students can analyze 3D images of molecules and elements in order to comprehend their structural traits. Having a tangible object makes the molecular world easier to envision and study.
Automotive. Automotive students can print replacement parts, as well as modified parts or prototype parts. They can also create functional tools that are used during automotive repairs, such as wrenches and screwdrivers.
Creating Decorations. Young children can be introduced to 3D printing by designing their own decorations. These don't have to relate to any holiday or occasion; they can solely be the expression of the child's imagination.
Extinct Life Forms. With the use of a 3D device, students can bring the prehistoric eras roaring back to life. They can sculpt a T-Rex, pterodactyl, or stegosaurus, as well as giant ferns and other plant life.
Food Molds. Math and science can sneak their way into a child's food studies when they design custom 3D molds. They can make custom cookie cutters, jello molds, and cupcake molds. They can also design containers to hold the goodies that they cook and bake.
Bridge Design. Say goodbye to bridge-building with toothpicks and marshmallows, and hello to designing and 3D-printing a bridge. Engineering knowledge will come into play because the bridge will have to not only look good but be constructed to bear a certain amount of weight.
Biology. In biology classes, students can use 3D to build DNA and RNA models to learn about the components of each. They can also model the passage of genetic material from DNA to RNA to protein.
Art. Students can sculpt their own artistic masterpieces via 3D printing. They'll hone their art skills within the 3D realm, as well as sharpen their graphic design and computer animation expertise.
How Does 3D Printing Enrich The Learning Experience?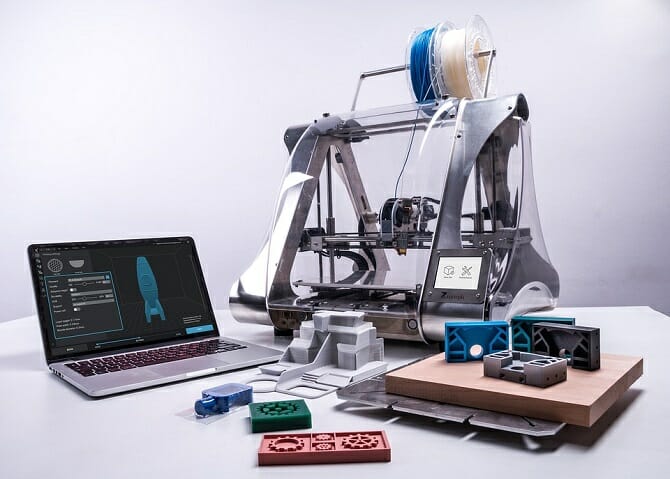 The nine top teaching benefits of 3D printing are the following:
According to studies at Macquarie University (Australia), 3D printing enables students to learn advanced skills and concepts. It provides an authentic exploration of things that would ordinarily not be available in a traditional classroom. It supports project-based activities and promotes critical thinking and undiscovered talents.
3D printing is specifically designed to support science, technology, engineering, math (STEM) curriculum.
It promotes active participation with more interactive learning. With replicas of bones, molecules, body parts, and geographical locations, it allows students to hold and examine objects they wouldn't otherwise be able to see.
3D printing teaches that failure is an important part of the learning process and students should never be afraid to fail, but learn to build on their failures.
It allows students to create something solid that gives them an immense boost to their confidence and inspires them to pursue more and more knowledge.
For the youngest students, 3D printing gives them a chance to see things concretely rather than having to imagine something they have never seen.
It has a big effect on memory and learning. Students don't become bored and drift off during a lesson because 3D printing is so fascinating.
It encourages discipline and good behavior as students are focused on what comes next.
It allows students to go beyond the classroom and make their imagination real. They can even become inventors and entrepreneurs.
Buyer's Guide To 3D Printers For Schools
It can be challenging to find the right classroom 3D printers for schools. Not long ago, these printers were esoteric devices that were rare and prohibitively expensive. Now, however, they abound and are available for any budget. While it's great to have such a wide selection, it can be confusing to determine exactly which one is right for you.
I've got you covered, with this list of criteria to keep in mind when looking for a machine that will be successful in your classroom.
1. Ease of Use
A good printer will be equipped with quality software that helps you print quickly, easily and allows you to control print quality.
It will also have a screen that easily guides you, step-by-step, through actions such as changing a filament. On the other hand, cheap printers often come with clunky, third-party software, unintelligible instructions, and a confusing display.
2. Print Resume Function
The print resume function can be a saving grace in the event of an unexpected pause such as a short circuit or power outage. Rather than beginning again, your project will resume where it was disrupted. The device starts at the last stopping point and continues to print from there.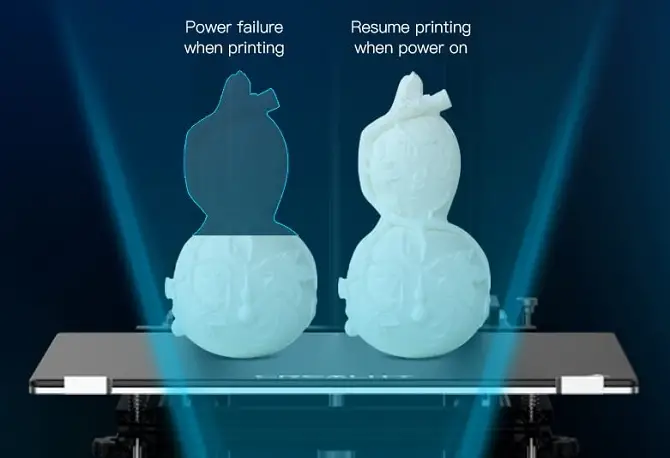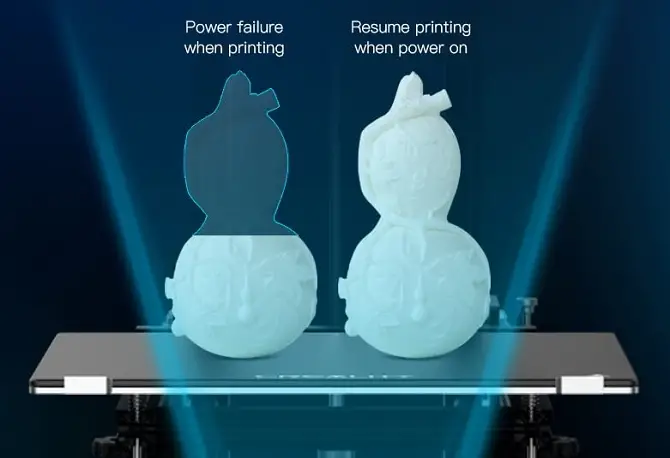 3. Type of Printer
There are three different technologies used for 3D printing, so make sure to find the one that works best for you. First is Fused Deposition Modeling (FDM) printers, which use spools of plastic that extrude layer-by-layer through a heated nozzle to create an object.
The second is stereolithography, which uses an ultraviolet light beam that solidifies an object from photosensitive liquid resin. Last is Selective Laser Sintering (SLS), which utilizes a laser that melts a powder, creating layers of the printed object.
4. Printing Materials
In order to create objects, you'll need thermoplastics, also known as filaments. These come in numerous colors and become pliable and soft so that they can be layered when creating an object.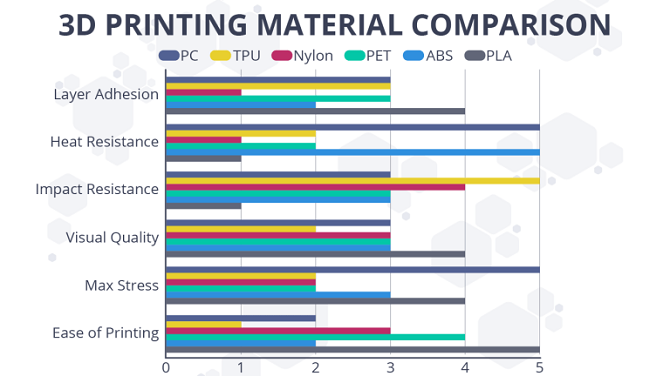 The first, Polylactic Acid (PLA), is excellent for beginners who are designing simple objects. The other, Acrylonitrile Butadiene Styrene (ABS), is strong and flexible and easily lends itself to objects with interlocking parts (think Legos).
5. Safety
Some 3D devices have an unenclosed print area, which can get extremely hot. An extruder working with polylactic acid, for instance, can reach temperatures of 356 to 446 degrees Fahrenheit. If you're teaching young children, you may want to consider getting an enclosed printer.
6. Colors
Will you need multiple-color printing? This feature enables you to automatically print objects through dual extrusion. You can choose from a large array of colors, including red, green, purple, white, pink, blue, yellow, brown, black, orange, rainbow, and metallic. Or, do you only want a single-color print, so the objects can be hand-painted later?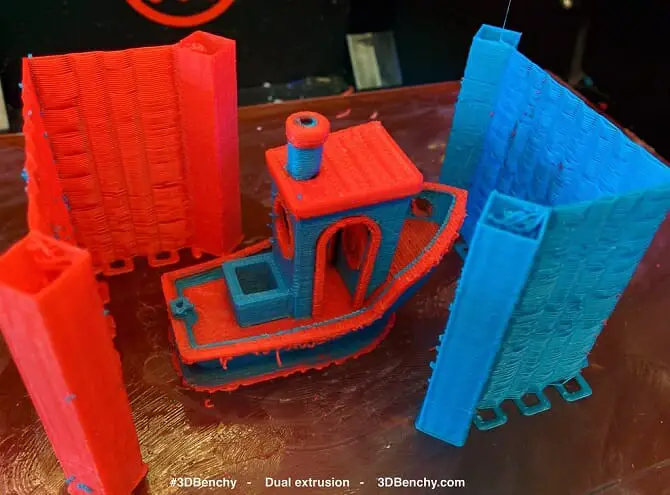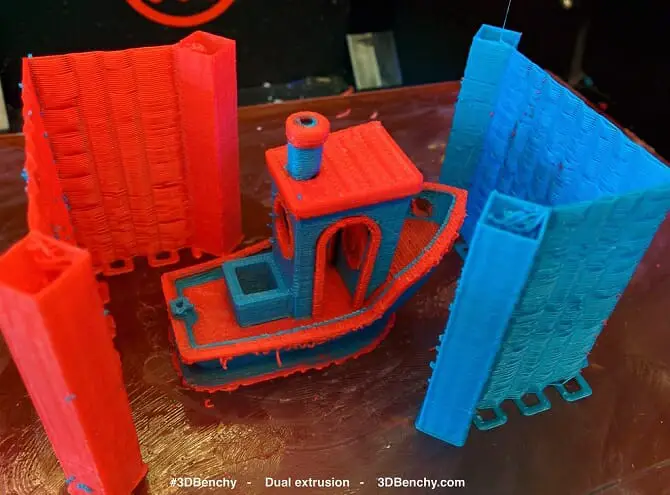 7. Print Speed
A printer's speed is calculated in millimeters per second. Faster print speed actually equates to lower quality results and loss of fine detailing. Quality markedly suffers at speeds above 150 millimeters per second, and the filament also begins to slip and slide. It's like that time you rushed to complete a report the night before it was due — you did it quickly, but the results were poor.
8. Print Volume
Print volume, also called length x width x height, refers to the maximum dimensions of an object that can be created by a 3D machine. For instance, if the device's maximum print volume is 30 x 25 x 20 cm, it can print items whose largest size is 30 cm long, 25 cm wide, and 20 cm high. Make sure the device you choose can accommodate the projects you're planning.
9. Resolution
Resolution refers to accuracy, or level of detail, determined by the nozzle's movement. The smaller the movement, both horizontally and vertically, the more detailed and accurately printed an object's layers will be. Some of the top models can create layers down to 0.025 millimeters. To put this in perspective, human hair is only 0.18 millimeters.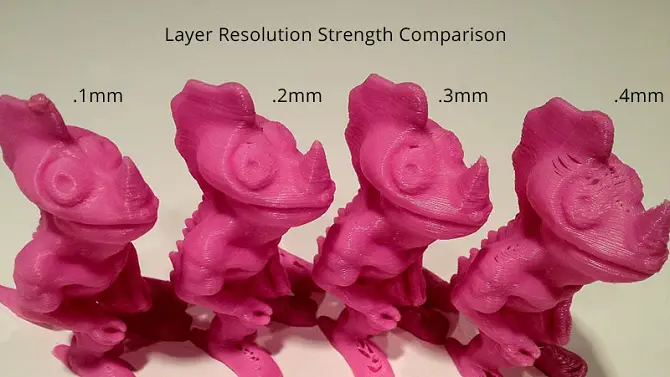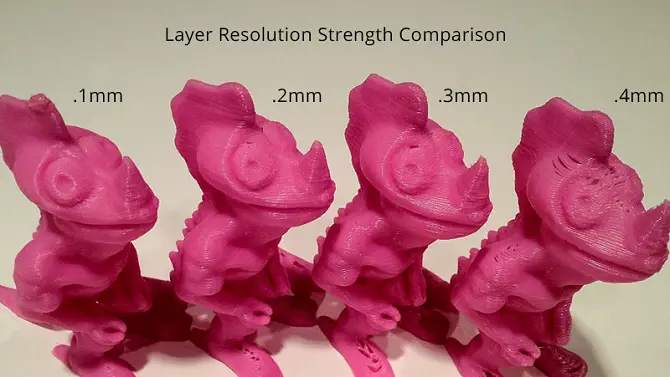 10. Heated Bed
Heated beds drastically benefit print quality. They keep extruded material warm, which makes the first layer firmly adhere to the bed's surface. This ensures that the object's foundation is sturdy and stable. You may also want to consider a self-leveling bed, which automatically calculates the proper distance between itself and the nozzle.
11. Construction
It's important to know what a printer is made of. In order to produce high-quality objects, the device needs to be stable and rigid. Frames made from flimsy material such as light gauge steel or acrylics can warp or misalign and produce inferior results. It's worth paying a bit more to get a resilient printer.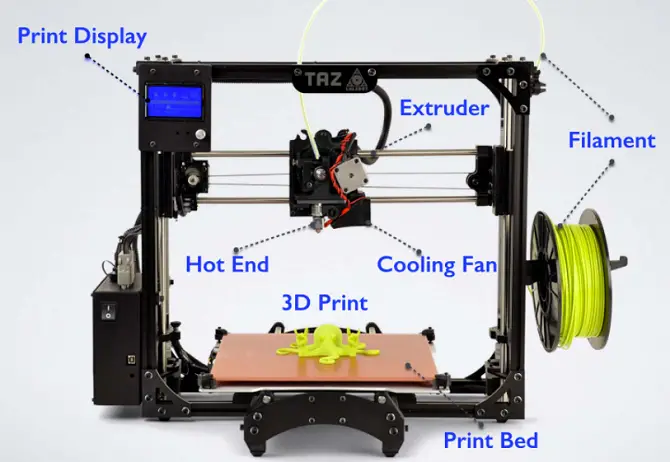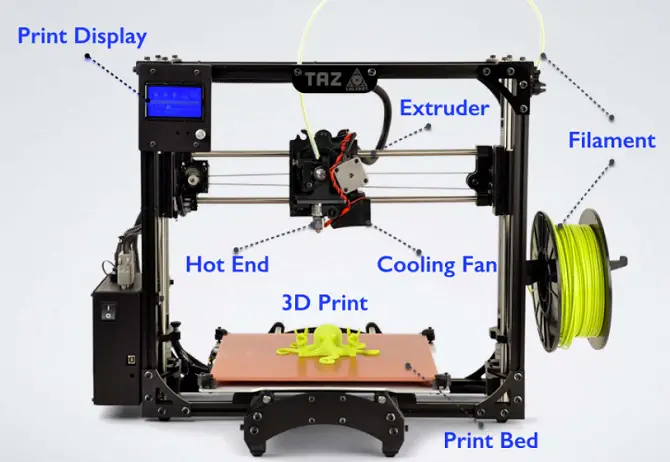 12. Tech Support
It's no fun to suddenly run into printer problems at 11 p.m. on a Sunday and have nowhere to turn except a manufacturer's Facebook page. Before you buy, research the brand's tech support. Do they have email, a phone number, chat, and are they available 24/7? The extent of their support shouldn't just be a list of FAQs.
13. Noise
Some 3D printers are quieter than others, but they all make noise. Find one that's bearable to you and your classroom situation. For instance, if it's a build that's going to take several hours, make sure the noise level will be tolerable for that length of time.
In addition to being the perfect way to get students engaged and interested in learning, 3D printers offer numerous other benefits for students of all ages. From allowing students to bring their designs to life, enabling real-world exploration, stoking creativity, helping students improve logical thinking, problem-solving, and other skills, and so much more, you should certainly see the benefit 3D printers hold for your students.
If you're debating whether purchasing a 3D printer is the right choice for your students, consider these recommendations from education experts on different ways teachers can use 3D printers when teaching science, technology, engineering, mathematics, social studies, arts, humanities, and other subjects. 3D printers can even be used in libraries; they're truly that versatile! See how in this article.
While conducting research for this article, I researched about 40 different 3D printers! Among my 9 best printers I've enlisted absolutely gorgeous models with superb features. I'd also love to recommend some models that I haven't included in my list, though they are rather cool, too: FlashForge Adventurer 3, Creality Ender 3, Creality Ender 3 Pro, FlashForge Finder, VOXELAB Aquila.
Ideas For Livening-Up Your Lessons With A 3D Printer
I have used my 3D printer for several types of activities from simple puzzle creation to complex molecule formations, body parts, and animals for my friends who teach chemistry and biology in high school. Here are some examples of how I used my model for my own elementary school learners.
Puzzles
Everyone knows that 3D and 2D puzzles make children think. That is why they have been part of the school curriculum for more than a century. The science, technology, engineering, art, and math curriculum (STEAM) starts with 3D puzzles.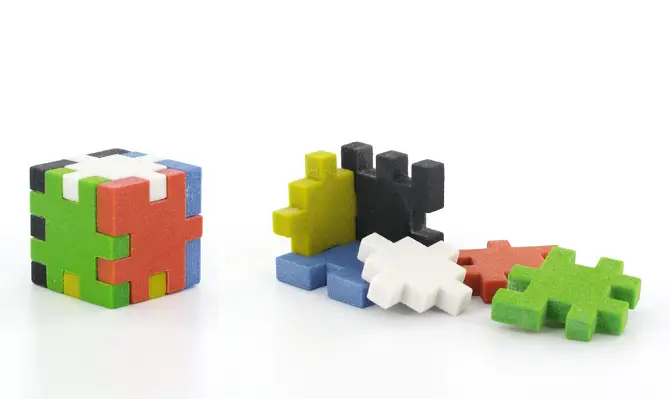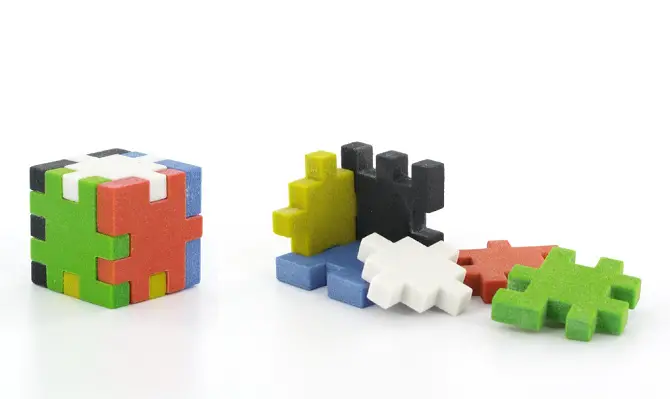 I divided my class into three groups and asked each group to design a puzzle based on an animal, plant, car, or other object. Like a jigsaw puzzle, each group created a puzzle with 24 pieces and a base. We were able to print each piece, so they could see their puzzles become a reality.
Molecules
We learned the difference a molecule makes. I introduced my class to the periodic table and we started with water. It contains two molecules of hydrogen and one of oxygen. If you change it to two molecules of hydrogen and two of oxygen you get a completely different liquid, hydrogen peroxide, a disinfectant. After discussing it and looking at pictures, we 3D printed one water and one hydrogen peroxide molecule and marveled at the tiny difference in appearance and the big difference in results.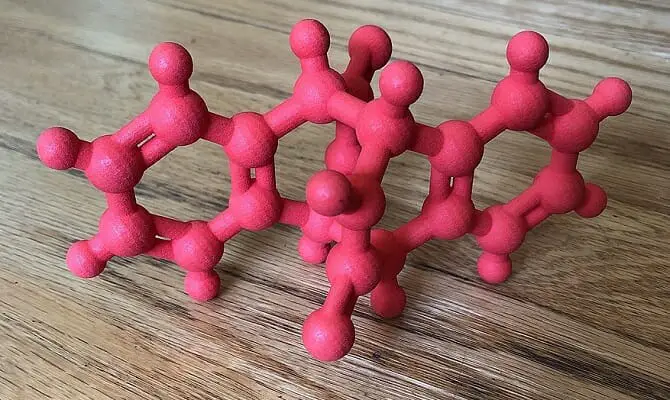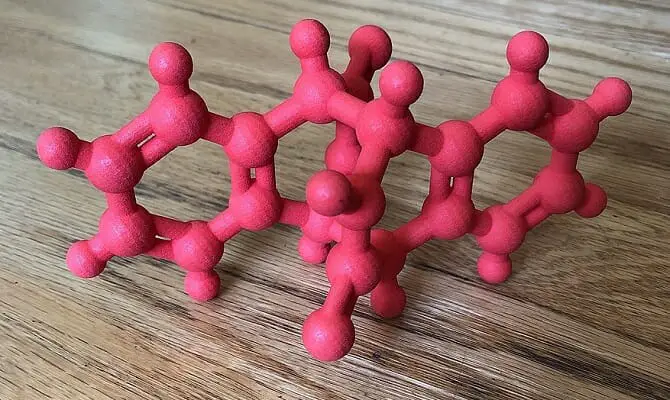 Landing on the Moon Diorama
We have all seen the pictures and videos of Neil Armstrong and Buzz Aldrin walking on the moon, but after studying about space travel, distances, and the solar system, my class took different areas of the moon landing to make a diorama of the scene.
After they planned each image, we designed and printed the moon module, men in space suits, craters and rocks, footprints in the dust, and the U.S. flag. Some children designed and painted the background of dark space and the rising Earth.
The results were so successful that it was put in the showcase at the entrance to the school for open house night.
Tips For 3D Printing In Schools
You have chosen the 3D printer you want for your classroom and wonder what to do next. The most productive next step is to take advantage of free design apps.
You can find many free programs online that you feed into the device when your students are ready to print. They make the task much easier on a computer or tablet.
The three I researched and have used are:
Tinkercad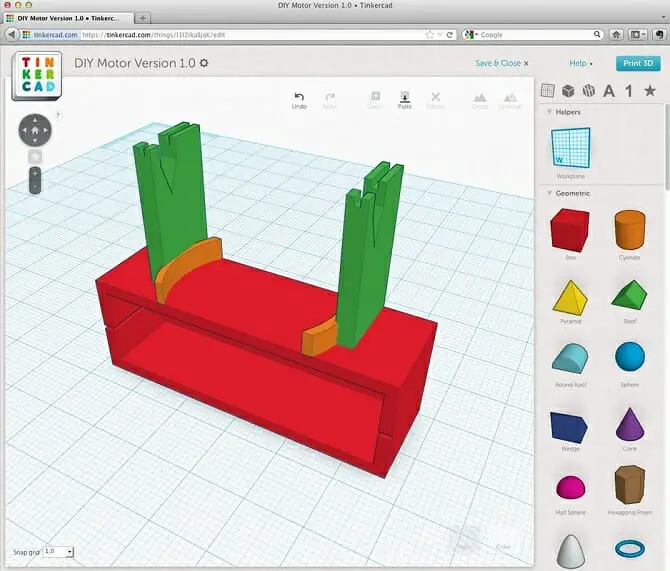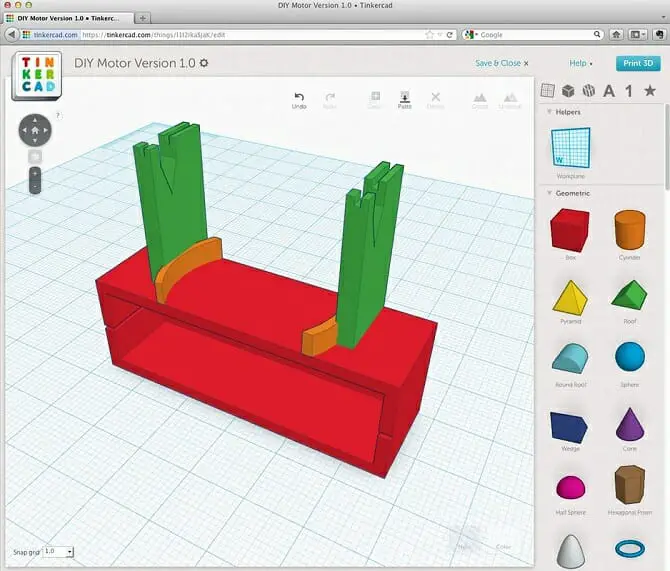 Tinkercad offers 3D design, electronics, and coding that you can use and teach your students how to use. It's so easy to use and doesn't require downloading. It will design, program, and code the design. It works on any computer with an Internet connection and saves the images in the cloud. It has a menu of customizable shapes. The website has a one-and-a-half-minute video that explains how to use it.
Meshmixer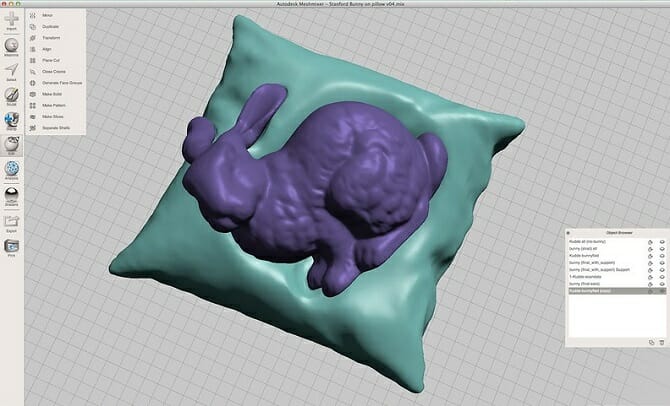 Meshmixer is a free app that works with Windows and macOS. It offers a more sophisticated platform for 3D printing and other features. You need to download the program, and it comes with a manual.
Microsoft 3D Builder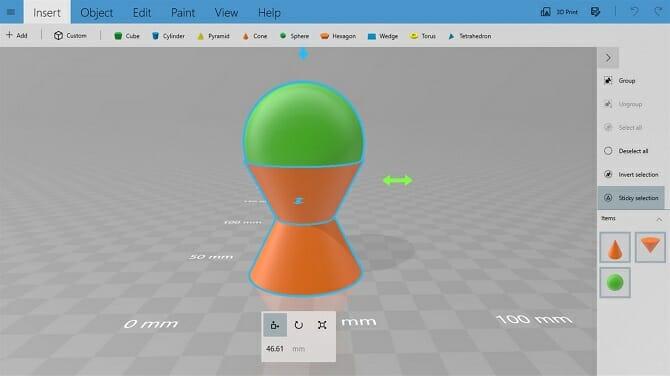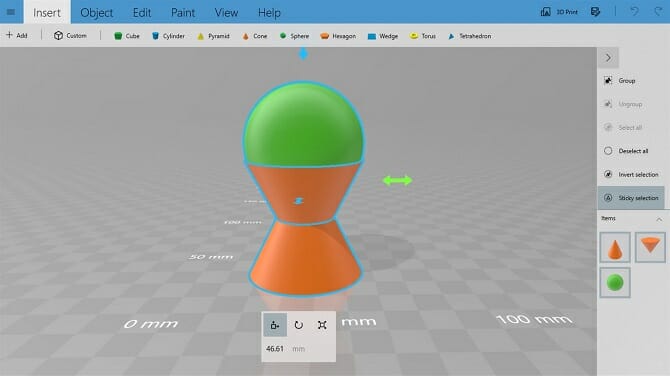 Microsoft 3D Builder is a free app for 3D printing that offers easy-to-use yet very powerful tools for creating the product. You can use a picture from a webcam and make a 3D print or personalize an object with your name. it offers simple, customizable shapes that you can use to build something from scratch.
There are some guidelines for deciding which program is the best for you to use. Look at the:
Features: What tools are included with the app?
File format: Make sure the app you choose works with the formats in your model.
Operating system: Make sure the app you choose will work with your operating system. For example, Meshmixer works with macOS and Windows.
Complexity: As you have seen above, some apps are more complicated to use than others.
Cost: Is the app free or does it have a price?
Support: Teach your students to make sure the object being printed was designed to be printed and has the right support on the base.
Check and check again: Mistakes are made and part of the learning experience, but you can avoid costly mistakes if you make sure everything is ready before you start printing. Most design programs will check the slicer and file for you.
Once you get past all the details about 3D printing that you have never encountered before, and you are reasonably tech-savvy, don't worry…
This video beginner's guide to 3D printing makes everything very clear. It's good to understand the process even though you will have software and apps that do most of the work for you.
Final Thoughts
3D technology is complicated, to say the least, and to make matters worse it is constantly being upgraded. This shouldn't discourage you from entering the world of 3D printing. You won't believe the positive impact it will have on your students and lessons. I hope I have made the journey a bit easier.
The same way I found the Dremel 3D45-01 50-Micron Direct-Driver Filament Extruder as my personal favorite, I'm hopeful that those of you who want to know more about using 3D printers in your classroom will be able to find the best model and information you need in this article.
My Top Pick
Goodies:
2018-2020 PCMag Editors' Choice Award
50 Micron layers (1/20th mm)
Removable glass plate that makes it easier to remove prints
Best For: The Dremel Digilab 3D45 is a high-end, award-winning machine that consistently produces impressive prints. Add to that its sturdy build to take up frequent printing in the classroom.
This machine gets delivered to you fully assembled, so you don't need to go through a guessing game on how to put parts together.
Last Updated on January 11, 2022 by Emily