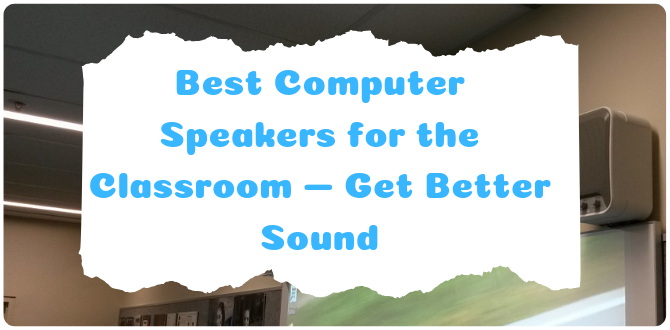 You may be looking for the best speakers to use in your classroom to improve the audio output from your computer for your students. You may be hoping to catch the attention of those guys in the back that you think can't hear what's going on because of the audio.
I can imagine.
Luckily, there are several different kinds of speakers available, some of which are specifically designed to work with computers. Other types can be hooked up to any type of sound system. That's good news, right?
Whether you're teaching music, spoken English, or another language, or just want to project the audio so all the students can hear it well, here are some of the best computer speakers for the classroom.
Don't forget to check out my top pick, the Bose Companion – and see if it's the best one that's most suitable for your needs, too.
Product
Details

1. Bose Companion 2 Series III Multimedia Speakers

Great Sound Quality

Affordable
W/ Aux Input
Headphone Jacks
Mac & Win XP

Check Current Price

2. Anker Soundcore Boost Bluetooth Speaker

Listen & Charge

Water Resistant
Quick Charge
Up To 12 Hours

Check Current Price

3. Harman Kardon HKTS 16BQ Speaker Package

Impressive 360° Audio

W/ Magnetic Shield
Bass-Boost Controls
Surround Sound

Check Current Price

4. Aiwa Exos-9 Portable Bluetooth Speaker

Bluetooth Connectivity

W/ Battery Pack
Distortion Free Audio
Mac, PC & Kindle

Check Current Price

5. Monoprice 5.1 Channel Speakers

Small Size, Big Sound

Inexpensive
Connect To Any Ampli
Great Audio

Check Current Price
Best Computer Speakers Reviewed
Edifier R980T 4″ is one of the best classroom speakers among 2.0 systems. It will give you good sound. The speakers are inexpensive and will fit on a bookcase in your classroom.
They're specifically calibrated for excellent bass, which enhances the overall sound. If you have a small classroom, this may be all you need to reach each student. Each speaker has a 13 mm tweeter and a 4-in bass driver for good audio output. They have two outputs, so you can keep them connected to a TV as well as a laptop or PC without needing to switch inputs.
The knobs are located on the back of the active speaker to make the front look good, but this may not be very convenient in a classroom setting.
Goodies I Found
The finish is classic wood, which reduces acoustic resonance and looks attractive. The speakers are magnetically shielded. Speakers use magnets to produce the sound, and this is a problem if they get too close to old PC monitors and some TVs.
(Tip: If you see some discoloration from a magnet getting too close to an old CRT monitor, use the Degauss feature.) Shielding means it won't interfere with a classic PC monitor. However, this is not a problem for LCD monitors.
Best For: Well-rounded stereo speaker suitable for a small classroom or group
---
Bose Companion Speakers promise high-quality sound at any volume because of the unique digital signal processing system. They have auxiliary input so they can be connected to several devices at the same time such as an iPhone or iPad.
This means you don't have to stop and switch inputs. They produce high-quality audio with just two satellite speakers. Bose claims the TrueSpace stereo digital processing circuitry produces audio that seems to permeate the room and doesn't seem to just emanate from the speakers.
Goodies I Found: There's a headphone jack on the front of the right speaker, which is great for individual children who need to hear specific sounds in a language class. This is Bose's most affordable computer speaker system.
Best For: Music, videos and language lab
---
Vanatoo Speakers are a top-of-the-line computer speaker system before moving on to the 5.1 channel and beyond. It's small but still produces a big sound. It has four inputs, including Bluetooth, optical, USB, and analog.
It's designed for people who want very high-quality audio for listening to music but may not have space for a larger speaker. The speakers can be set to automatically turn off when they have no input signal. It can be taken outside, which is great for teachers of younger children who can go outside and dance to the music.
It offers a combination of features, flexibility, and performance, so you can change the audio output and remove the bass, and the Smart Sub output automatically detects if a subwoofer has been connected. It's called transparent because the quality of the sound is so clear. According to Vanatoo, these speakers are virtually obsolete-proof.
Goodies I Found: It has a remote control which I found very helpful in the classroom because I can change the volume, pause or change the input while moving around the classroom.
Best For: Music and videos in an average-sized room
Bluetooth Speakers
The main advantage of Bluetooth speakers is pretty obvious: there are no wires connecting them to the sound system or PC. Plus, they're usually small, which makes them very portable, so you can easily carry Bluetooth speakers from one classroom to another. By the way, their small size doesn't make them any less powerful.
Anker SoundCore is the smallest classroom speaker on my list, so you can carry superior audio with you wherever you go. It's IPX5 water-resistant so don't worry that humidity, rain, or fog will damage it. It has a Micro USB charging cable for charging the battery, and with the 5200mAh external USB port, you can listen and charge it at the same time.
The high-fidelity audio comes from 20W of clear audio from two high-performance drivers and twin passive subwoofers. You can slip this speaker into your bag and carry it with you, which means you can use it at a moment's notice wherever you are without a lengthy setup. It doesn't support Qualcomm Quick Charge. Anker provides an 18-month warranty and excellent customer support.
Goodies I Found: A single charge lasts for 12 hours, but this may vary according to the volume and audio content. It's a cute little speaker, which may be important in your home but not so much in your classroom.
Best For: Large groups, indoors and outdoors
---
ION Tailgater (iPA77) is named the Tailgater for good reasons. It produces powerful audio with Bluetooth connectivity and an iOS/Android app. This is one of the best computer speakers for teachers not just because of the powerful sound.
It includes a microphone and auxiliary cable. Children love to hear themselves on a loudspeaker and this is one great way to facilitate that. They can sing or play instruments or read a story. You can also use the microphone for delivering lessons. It also has a built-in AM/FM radio.
This is not an easily portable speaker as it weighs almost 17 lbs., but it's wireless, so if you can carry it, it's easy to use once you get to your destination. The Bluetooth range is affected by obstructions such as walls, so you need to put it in your classroom at the line of sight so the walls don't interfere with the connectivity and you get the optimal performance.
Goodies I Found: A 50-hour rechargeable battery and a USB power bank so you can recharge your phone, tablet, and other devices. The battery charge may vary according to the volume usage, age, and temperature where the speaker is kept.
Best For: Large rooms and outdoor spaces
---
Aiwa Exos-9 is a real boom box, which means it's portable and produces a big sound. It's designed for use outdoors mainly at the beach, camping, or backyard, but for teachers who have large classes or like to take their children outdoors, it has its advantages.
You can plug it in when you have an electrical outlet, or you can use the 57.2 Wh lithium-ion removable battery pack. If music is your main aim, this speaker promises distortion-free audio. It's also great for audiobooks and podcasts that you want your whole class to hear.
It connects to an iPhone, iPad, Android device, Windows device, Kindle tablet, PC, or Mac via Bluetooth with aptX and A2DP support. You can also use the 3.5 mm audio jack for a direct connection.
Goodies I Found: This is the only portable Bluetooth speaker in its category that has five active speaker drivers with a 6.5 in dual-voice coil subwoofer.
Best For: Large rooms with a lot of people who need to hear the audio such as for an audio book or music, or for outdoors
---
Classroom Sound Systems
Having surround sound in the classroom is a good thing. It can make your students' learning experience much more enjoyable and exciting. For example, when watching educational videos with surround sound, they feel like they're there, get more involved in the action, and have a better understanding.

Sound systems are needed when you want home theater-quality sound. The Monoprice Speaker System has four satellite speakers, one center channel speaker, and one subwoofer speaker.
The satellites look small, but the speaker puts out 125 watts of power at eight ohms. If you need more audio, it can be used with any amplifier, even ones that don't have a subwoofer output.
This will be a permanent fixture in your classroom or auditorium. It weighs more than 30 pounds and comes with C brackets for mounting the satellite speakers. You have to provide the hardware to mount the brackets. You can buy more speakers if you want to upgrade to 7.1, but you must buy them from another company.
Goodies I Found: This is an inexpensive sound system that provides high-quality, full-spectrum audio for audiobooks, movies, and music.
Best For: For music classroom, large classroom
---
Logitech Z906 is a 5.1 surround sound system that's compatible with Dolby Digital and DTS Digital. It provides true, cinema-quality sound. You mount it on your wall, and it delivers 500 watts of power. It may even deliver up to 1,000 watts under certain conditions.
It will connect to six different devices, including a music player, computer, TV, game console, smartphone, and more. It has an infrared remote, so you can adjust the sound from wherever you are in the classroom, and it has controls on the speakers.
This is an almost professional set of speakers that would be very useful for a school. If you're in charge of this system, you'll need to learn how to get the best out of it. It's user-friendly for a person who knows how to set it up and run it.
Goodies I Found: It has a 3.5 mm headphone jack, RCA, and six-channel direct, optical input or digital coaxial inputs. It's THX-certified, which means you're guaranteed cinema-quality sound. Read my school headphones review to find a suitable pair for this system.
Best For: Cinema-quality sound for large groups
---
The Harman Kardon Speaker Package is another 5.1 surround sound system that will give you high-quality audio and is upgradable to 7.1. If you need to show movies or videos, this system will give you excellent sound.
It has a 200-watt subwoofer with five voice-matched satellite loudspeakers that form the center, left/right surround channels, and left/right front. It creates an impressive 360 degrees of audio that will fill even the largest classroom.
The speakers have a magnetic shield, so they can be placed near a TV or old-style computer monitor without causing any damage.
Goodies I Found: The speakers have been designed so all the components work together, but you can adjust the sound on the subwoofer with phase and bass-boost controls.
Best For: Surround-sound for a large groups
---
Why Use Computer Speakers In The Classroom?
Unless you have a small class where you're all sitting around a table, you may have a better chance of gaining and keeping students' attention with computer speakers to work with your classroom microphone system. High-quality sound enhances any demonstration, and if you want to show videos, everyone needs to hear. This is a list of the top seven reasons to use computer speakers in the classroom:
To allow music students to have the opportunity to hear different musical instruments, orchestral music, opera, and other performances that would be difficult or impossible to hear in person. For this type of interface, you may need a surround-sound system.
To show a movie based on novels students need to read. Great literature may be hard to understand for young minds. Watching a movie is a good way to get the story off the ground so the subtleties can be addressed.
To project audio so every student can hear. This is especially important if there are hearing-challenged children in the class. Even for children with other learning disabilities, hearing better is a great benefit.
To show YouTube or other demonstration videos. There are so many great videos online that graphically explain chemistry, physics, and much more. They are much more relatable to students of today than chalk and talk.
To add audio to a PowerPoint presentation. PowerPoint is a great tool, especially for an interactive whiteboard. If you add audio, it stands alone.
To record and listen to the music of students learning an instrument. Some of the speakers have microphones, which may be useful for music students.
To provide audio for any language class to use with an electronic whiteboard. The benefit of computer speakers for learning a second language can't be overstated. It allows the student to hear the proper accent.
Types Of Computer Speakers
2.0 Computer Speakers. 2.0 computer speakers are the most commonly used. It's small with a small speaker driver and consequently less powerful bass frequencies. It will give a better sound than the speaker on your computer because it has a left and right speaker.
2.1 Computer Speakers. 2.1 computer speakers are almost the same, with two satellite speakers, but the speaker amplifier is much larger and the size of the satellite speakers is smaller. They have a stronger sound than 2.0 speakers because they include a subwoofer that produces the bass. For better quality music and video sound, 2.1 is a better choice.
Surround Sound Speakers. If you're giving lectures to a large audience or have a large class, surround-sound speakers are the better choice. They will produce movie theater-quality sound. You can choose 5.1 to 9.1 channels or higher. The 5.1 has five satellite speakers with two front speakers and three auxiliary speakers. The subwoofer allows for great sound effects and it's good for playing computer games and watching movies. When you start going for higher than 5.1, you're looking at the professional-quality sound which may be great in a living room or home theater, but won't be needed in a classroom, unless you're teaching an advanced music class and want to play music at the best quality possible.
Wireless Computer Speakers. Wireless speakers are super convenient, and Bluetooth and smart devices make it possible. The speakers are usually smaller than wired speakers, but the sound is still high quality. If you have to move to different classrooms and set up several times a day, you may want to invest in wireless speakers with a remote feature. It will make your life easier and still do the job.
Computer & Laptop Speakers
For normal PC or laptop usage, the built-in speaker is usually enough. For a classroom, it will most likely not be enough to allow all the students to hear the sound. The 2.0 is the first step above your PC or laptop speakers and will give much better sound. Some quick tips to keep in mind when you're choosing a computer speaker are:
2.1 may be enough for a small classroom
Surround sound will fill the classroom just like in a theater
Wireless is a great choice if you need portability and good sound
If you want to connect to multiple devices, you need extra sound inputs
Onboard controls make it easier to adjust volume, treble, and bass
Remote-controlled is great because you have control over the audio while you walk around the classroom
Conclusion
With all the content available online that can enhance your students' learning experience, it's become increasingly important to have good audio. That's why the Bose Companion is my favorite in this review. It not only provides the best listening experience, but it also helps me keep their attention and focus.
With portable wireless speakers, you can take the music outdoors or carry it with you if you change classrooms or even change schools. Some of the speakers listed here are very user-friendly and easy to set up for the least tech-savvy person.
Some are almost professional quality and need a knowledgeable person to set them up to get the best experience possible. Now that you know the different levels available, you can decide if a simple 2.1 is all you need, or if you should go for a 7.1 surround-sound experience.
My Top Pick
Goodies I Found:
3.5 mm AUX and PC input
24 watts RMS
5.9 in x 3.1 in x 7.9 in
Best for: music, videos, and language lab
Last Updated on February 22, 2022 by Emily