Back in junior high, I remember using a prehistoric light microscope to squeamishly look at a frog who had met an untimely end.
Our classroom only had one scope, so the kids lined up and each looked at it in turn — a very cumbersome process. Then we had to write a report, including drawings of what we had seen.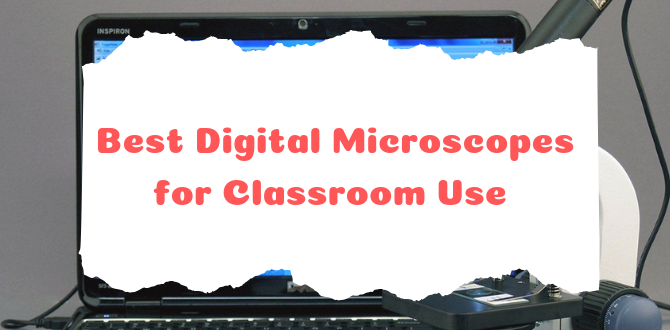 Fast-forward to the present day, and we now have cutting-edge digital models in classrooms. These devices fluidly meld science with technology.
Their computerized image capabilities, ease of viewing, and adaptability to group learning situations place them squarely in the framework of scientific education [Digital Microscopes: Enhancing Collaboration and Engagement in Science Classrooms with Information Technologies — Dickerson, J., & Kubasko, D.].
Experts highly praise digital devices for classrooms. They can be used for studies of numerous things, including flower structure, salt crystals, coins, and insects.
These systems are also helpful for engaging students in math studies [Magnifying Mathematics with Digital Microscopes — Walker, J., Campelo, M.].
I've researched about 50 models of digital microscopes, and while many of these are also good, the products on my list are better. Here are three examples of pretty good models: Andonstar AD407, Jiusion 40, and Andonstar AD208.
A digital microscope is a far cry from the one I used to view the hapless frog. In this article, I'll tell you all about the best scopes for teachers and their features, benefits, and best uses.
My Top Pick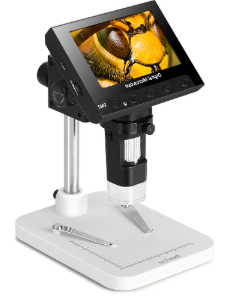 Goodies I found: 
A USB port and a Li-ion battery
The actual size of the object
Maximum magnification – 600x
Best for: I use this in my classroom, and it's great for all science subjects and other things.
The Koolertron is a very basic scope with virtually no learning curve, so a child can be enjoying it and learning from it right away.
Also Great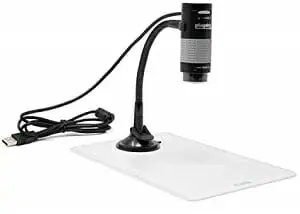 Goodies I found:
Easy point-and-click inspection
Excellent lighting options
Takes videos and snapshots
Best for: This is a very good model for younger primary students, because it's strong enough to be moved around.
It works with nearly any operating system with standard webcam software, but it's not compatible with iOS devices. You can adjust the brightness, and the observation pad has measurement marks.
Also Great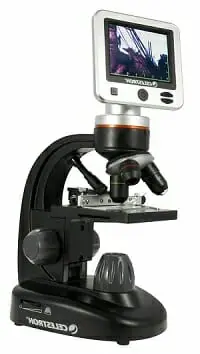 Goodies I found:
Carrying case and dust cover
10 prepared slides included
Touch pen, AV and USB cables
Best for: This is great for a high school biology class.
It's a versatile instrument that is capable of analyzing both translucent and opaque samples. It comes with 10 prepared slides so that your students can get up and running right away.
Best digital microscopes for classroom use:
Microscope Activities for Elementary School
I had some doubts about incorporating microscopes into my classes at first, but when I saw the reactions of my kids, I knew I was on to something big. Today, it's a staple of my classroom to bring my students a constant flow of things they want to see magnified.
We always start with ourselves: we look at our skin, hair, blood, and saliva, then move on to our clothing, food, plants, and other objects. During one science class, we were talking about our favorite foods. Everyone liked something salty and something sweet. We decided to look at salt and sugar under it to see the crystals. After that, we looked at a potato chip covered in salt and realized that we eat those beautiful crystals every time we grab a chip.
Another activity I did with my class was to look at a drop of water we took from a puddle in a garden. That's when they really came alive. I mean my kids, not the puddle critters. Seeing the tiny world that exists right under their eyes made them all ask questions about what these animals are and how they live. We talked about bacteria, fungi and mold, and looked at each of them the next day. Each student wanted to be a researcher for at least a few minutes, and one or two of them may do just that. Once your students realize what's possible, they'll want to examine everything under a microscope. I recommend you watch this for examples of what's possible.
Traditional vs. Digital
Once I decided a microscope was essential for my science classes, I needed to choose  either a traditional or a digital one. When I used a traditional one, it captured the attention of a few, however many lost interest while waiting their turn. I realized a digital one was the only way to capture everyone's attention at the same time. The first time I used a digital micro, the whole class was thrilled.
Both traditional and digital microscos use optics to magnify the object, but digital ones also use a digital camera. The image is transferred to a computer monitor. This is great for young children.
When they peer into a traditional microscope, it's not always easy to understand what they're looking at. The teacher needs to explain without seeing along with the student. With a digital micro, the image is large and easy to see, and the teacher can point to different features of the object. Children can comment on what they see, and ask questions that the whole class has a chance to answer. Some, but by far not all, of the advantages of digital models in the classroom are:
The technology is more suitable for students who have grown up in the digital age. The objects being magnified appear as graphics on a monitor or TV, which more easily captures the students' interest. Observing graphics on a monitor is natural for them.
Digital models support ease of viewing so there's no tension or wondering if they saw the right thing.
The opportunity for group learning and interactivity. The size of the image in a traditional model inhibits the learning experience.
Students learn how to operate the digital microscope, which includes connecting to a computer, setting up the camera for photos or videos, and learning how to use the software that supports editing and labeling the photos or videos.
Digital ones enhance the quality of the image and allow for better identification of cellular structures.
With a traditional micro, the teacher has to lecture and verbally describe the content. With a digital one, all the children can see what the teacher is explaining.
Handheld Digital Microscopes
Several of my reviews focus on (pun intended) handheld microscopes. These are small, portable devices that, as the name suggests, can be held in your hand and easily moved over a specimen.
These scopes are perfect for primary school children. They encourage young kids to explore their world in a fun, informative way.
Here are my picks for the best of the bunch.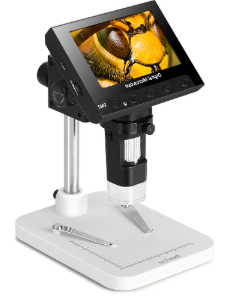 The Koolertron 4.3 inch full color LCD digital USB scope is a moderately priced digital device with superb lighting, clarity and focus that enables you to see everything from coins to hair to millipedes.
Its diminutive size makes it perfect for a child to use, and it can be conveniently removed from the base and transported to explore any location.
They may even be able to study it on their own, which could also give them a sense of achievement. However, you'll need to keep track of the battery, which only holds a charge for about two hours.
Pros:
This device is easy to use. It can be set up in minutes and is very kid-friendly for basic science lessons.
The Koolertron produces excellent images. For its price point, you can see surprising detail in specimens.
Cons:
The base is made of flimsy plastic. It can be challenging to keep the instrument upright and to prevent objects from getting blurry. This could also be an issue around little, curious hands.
When initially powering it up, the screen display was bewilderingly in Chinese. There are no instructions in the operating booklet about how to change the screen to English, and the startup CD is in Chinese.
Because of this, setting up the instrument is guesswork.
Goodies I Found:
I like that you can simply snap an image and then put it on a card. This enables easy transfer from both within and outside the school.
The microscope has a sizeable LCD display. This is helpful if you have vision issues. It is also effective if you read more easily when something is on a larger scale.
I recommend watching this video by Product Overviews for an easy-to-follow demonstration of the Koolertron 4.3 inch. No fancy words; just a clear cut tutorial. If you're interested in powerful magnification, the presenter demonstrates how a pinhead-sized engraving on a coin becomes completely legible with this scope.
Best For: The Koolertron is ideal for children who are being introduced to the world of microscopes. It is a simple, straightforward device that is fun and easy to learn. It is also a scope that can be used safely and independently.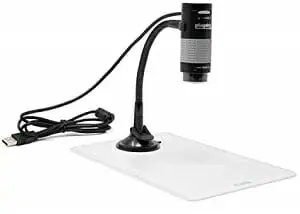 The Plugable USB 2.0 model is another entry-level handheld digital scope that's truly plug and play. Unlike the Koolertron, it has a helpful light diffuser that counteracts glare. This is very useful if you're looking at shiny objects such as coins. If you want to use it on its stand, it is equipped with a gooseneck that allows you to examine objects from any angle. It lacks the ability, however, to analyze slides with coverslips.
Pros:
Plugable has great customer service. They often respond within an hour and stay with you as long as it takes to resolve your problem. I personally had a problem with the scope, and the representative was gracious and patient. He stayed with me for 40 minutes until the issue was settled.
This model provides great value for its price point. With it, you can have a quality scope, even if you're on a budget. It performs as well as some more expensive models.
Cons:
The device's camera doesn't have a true zoom feature. Instead, you have to manually change the distance to the specimen and then refocus. This process can become very aggravating if you must do it for a long period of time.
It falls short of the 250x magnification that the manufacturer advertises. At maximum, it is probably more like 50x.
Goodies I Found:
Time Lapse Function. Time lapse adds another interesting dimension to specimen studies. This feature offers the options for time lapse duration and number of shot per minute.
Capacitive Touch Button. A capacitive touch button is one that captures images with the slightest touch. This helps the Plugable obtain blur-free images that would otherwise be marred by bumps or shaky hands when pushing a button with force.
To give you a better idea of how a high-priced version is not necessarily the best scope, check out this review by Robert Cohen. He pits the $39.95 Plugable against an $80 model, and the Plugable is the surprising victor. Unlike the Plugable, the other is bogged down by everything from the poor resolution to lengthy setup to lag when changing focus.
Best For: This scope is ideal for classrooms where little children may break it or knock it over. If it gets damaged, there's nothing to worry about, because it is easy and inexpensive to replace.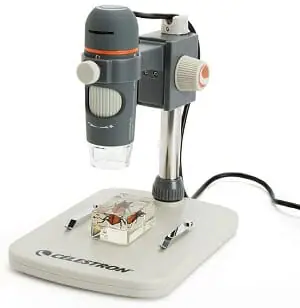 The durability and simplicity of this handheld scope makes it ideal for doing teacher demos in the classroom. It is a low-magnification device that will reveal to children the basic structures of specimens, rather than in-depth detailing. Since it has a USB, it can connect to a computer so that the entire class can enjoy the images.
Also very useful is its ability to take a screenshot, which can be explored by the entire class at once. When it is connected to a big computer monitor, all the kids will be able to see the same picture and get a larger view of it.
Pros:
The Celestron has a good magnification range. You can easily identify everything from a large spider down to a flea, or even smaller.
This instrument has good depth of focus. It brings an object to life and provides a detailed view of a specimen's foreground and background.
Cons:
The Celestron 5MP's software automatically adjusts the brightness. There is no way to override or tweak that feature. Instead, you have to use your own ambient lighting if the automatic brightness isn't as you want it.
The zoom feature is difficult to use. You need to zoom and then recenter, making it hard to find where you were. This could be frustrating if you're using it for long periods of time.
Goodies I Found:
The microscope comes with an instruction booklet that is written in seven or eight languages to accommodate many different users. It is also written very articulately. This is important, because you don't know how many product booklets I have seen that were only written in a foreign language or were barely comprehensible.
I love the stand that comes with the scope. It's very stable and works well for hands-free use and picture-taking.
If you want to see a demonstration of how this device takes pictures, head over to this video. Mygiguser does a step-by-step tutorial about how to get an image of a coin. The procedure is done on a Mac and entails functions such as setting up focus and using the software's menus.
Best For: The Celestron 5 MP Digital Microscope Pro is ideal for large classrooms. It enables children from the front row all the way to the back to get an equally good look at the image of a specimen.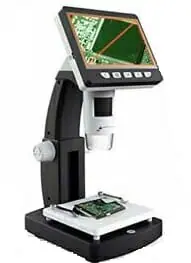 The Yinama 4.3 inch LCD is a great starter scope for kids. It even comes with premade slides, so they can get started right away. Its rechargeable battery lasts a long time, so you won't have to contend with the scope suddenly going blank in the middle of a lesson.
This is also great if you need a long-lasting battery when you're taking your class to the woods or to a park. Although there is only a $40 difference between the Yinama and the aluminum-housed Celestron, the Yinama skimps a bit on quality with cheap plastic.
Pros:
Images from the Yinama microscope can be projected onto a smart whiteboard. This makes it great for projecting for groups of children, so everyone can see.
The instrument can be stationary or handheld. This opens up more possibilities for where, when and how it can be utilized. It adapts to the classroom, a field trip or just use it in different parts of the school.
Cons:
The Yinama is advertised as having 1000x magnification. However, it seems closer to 100x.
The scope does not come with directions, so you must puzzle through setup on your own. There are also no customer service numbers or email address available.
Goodies I Found:
I liked that the shutter button is on the base. When you press it to take a picture, the object stays in focus and doesn't jerk.
This digital microscope has excellent zoom! The details of the specimen are clear and well-defined.
Don't adjust your sound — this video by Joseph B. Williams has no narration. Instead, you'll be taken on a visual tour of the Yinama, with the camera slowly panning over the device's various components. The video also shows the detail that can be achieved in a sample when the scope is properly focused.
Best For: This instrument's portability makes it great for field trips. It will not only expose kids to scientific analysis of the outdoors, but will foster an appreciation of nature. If you teach inner city kids, they may never have had any idea that science could be so interesting and exciting.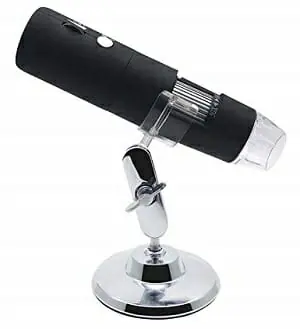 The TSAAGAN WiFi USB scope is a portable device that works with Android and iOS systems. It is lightweight and can easily be transported to any location where it's needed. This digital microscope also has a long battery life, which is helpful if you're conducting lessons outdoors.
It's such a fun tool, your students may not know they're actually learning!
Pros:
The lens has to be touching the sample in order to focus. However, it does provide good focus and takes good pictures.
Most kids are adept at using Smartphones. This will strongly influence ease of use.
Cons:
It has a fragile mount that breaks easily. This is a common issue with lower-end systems.
You're required to download the Max-See app when connecting to an iPhone or iPad. It is extremely buggy.
Goodies I found:
This digital microscope has a nice, ample four-foot long USB cable. I like this because it provides freedom of movement.
The scope provides 30 frames per second at 600x brightness. This is pretty decent for a lower-end instrument.
I found this video helpful for a step-by-step unboxing of the TSAAGAN WiFi USB by Alex of Mcphoney Tech. He's quite a colorful narrator, and his reactions to magnified samples are priceless: "I've dialed the light down to the natural color of the leaf. Actually, that looks quite sinister!"
Best For: The TSAAGAN WiFi USB instrument is best for tech-savvy kids who are familiar with smartphones and related technologies. Since most kids are, this microscope will be a natural fit for them.
Compound Digital Microscopes
A compound digital microscope is another type of device that's used to explore enlarged images.
A compound digital scope stands upright and is outfitted with two sets of lenses (compound) that provide high magnification. They're used to analyze samples that are invisible to the naked eye, such as blood cells, plant cells, and algae.
After students build a knowledge base gleaned from lower-powered magnification systems that only analyze visible substances, compound digital microscopes are the next logical step for secondary and high school biology and chemistry pupils.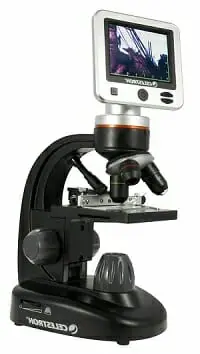 The Celestron LCD digital device is a mid-range priced device that will permit your students to examine translucent samples. By implementing it, pupils will learn how to use Petri dishes and how to prepare slides.
It is great for beginners, while having capabilities that make it equally effective as their learning progresses.
Enough storage is provided to capture more than 600 high-resolution images. These can be effective for lessons, papers, lab reports and more.
Pros:
The display remains on until it is physically turned off. This is beneficial for teachers who need to provide a consistent presentation, without interrupting it to turn the scope back on every couple minutes.
This is a mid-priced scope that has high-end features. It delivers a great experience without having to break the bank.Cons:
The Celestron LCD Digital II has a zoom that's only for a very basic look at your subject. It's not made for a closer view.
The device's light has a yellow tint. It sometimes shifts back and forth between yellow and white.Goodies I Found:
The included AV cable that connects to a TV was a pleasant surprise. It's great for presenting educational images on a big television screen.
The instrument comes with a case and cover. These are small details that make a big difference in caring for the scope.
Best For: This scope is for kids who have a basic understanding of them. It will help take them to the next level of actually preparing their own slides for analysis. It may also spark an interest in taking up microscope-related hobbies at home, such as coin and stamp collecting.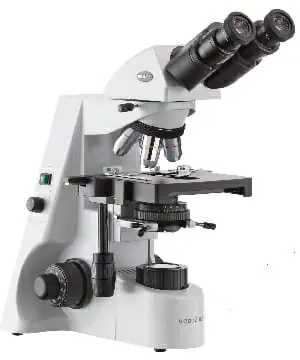 The AmScope B120C-E1 scope is a system that has a healthy upper magnification limit of 2500x. This makes it useful for viewing a wide range of slides.
It has an adjustable light brightness feature, which makes it easy on the eyes, and it is a great device for students who are ready for more in-depth use of a scope.
This model can also help them practice before an exam.
Pros:
You get a whole lot of microscope for the price. Its semi-professional quality in on a par with college-level machines.
This instrument's edge-to-edge focus was consistent and flawless. It also lacked "rainbows" or "halos" that can mar an image.
Cons:
The AC power plug comes out on the side facing you, which is a strange design error. It will poke you if you're sitting upright. Instead, it should be on one of the other three sides.
The user's manual was not included. A serial code was required to download it online, but I was unable to locate the code anywhere.
Goodies I Found:
Wow, a five-year warranty! Many of the other instruments reviewed here only have a two-year warranty or less.
The image circle is surprisingly large. It encompasses a wide field at high magnifications.
If you're the type of learner who needs both video and audio, check out this video by Ridwan Revanzya Reyza. He gives a basic rundown of the scope's specs while they also scroll down the screen.
Best For: The AmScope B120C-E1 is well-suited for highschoolers who are on the road to a degree such as biology or medicine. It's probably too advanced for kids.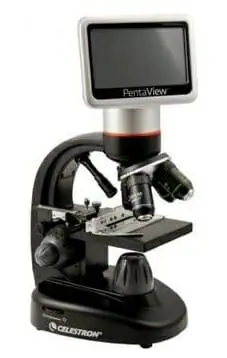 The Celestron PentaView is a professional-level magnification system. It has ample storage to capture more than 2,400 high-resolution images that can be used for lessons, lab reports, papers and much more.
Pros:
This instrument has built-in upper and lower light sources. This provides clear illumination of samples.
Its LCD screen rotates 180 degrees. This is an excellent feature that enables you to share what you see with others.Cons:
The focus knob doesn't lock in place. Because of this, images blur as soon as you release the knob.
The light is not bright enough to illuminate the sample that you're trying to view. A handheld flashlight or additional light source is necessary to generate an image on the screen.Goodies I Found:
Little details mean a lot to me. So, I was glad to see that the company included a dust cover and sturdy canvas carrying case with a shoulder strap.
The LCD screen has a 4x digital zoom. This means that objects can be enlarged to up to 1,600 times their original size.
Best for: The Celestron PentaView is a professional-grade scope that will introduce your students to higher-level instruments and their countless possibilities. It is great for motivating pupils to continue their involvement with a microscope.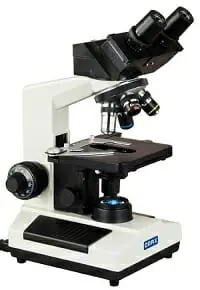 OMAX's MD827S30L is a solid instrument made of metal that boasts excellent build quality and attention to detail.
It not only captures video, but it also captures audio. This makes it a very effective go-to for classroom presentations.
It functions smoothly and precisely, so your pupils can concentrate on learning, rather than getting sidetracked by countless readjustments.
Pros:
Seeing the specimen on a computer screen is very helpful for accurately studying it. It ensures that your students are looking at the right thing.
The OMAX digital instrument provides print quality images. Although more expensive scopes have higher resolution cameras, this one is well-suited for classroom use.
Cons:
The instrument doesn't come with starter slides. This is an important omission because if you're just starting in microscopy, premade slides will get you off the ground.
The magnification through the camera is not the same through the eyepiece. What you see may not always be what you get.
Goodies I Found:
This scope offers a nice range of magnifications. There are eight: from 40x to 2,000x.
The focusing knobs are ergonomically designed with a textured surface. This makes them easy to grip and turn without your fingers constantly slipping off.
If you want to spend 2.24 minutes watching a video that's essentially an ad for this scope by an affiliate, you're in the right place. It basically consists of accolades scrolling over stationary images of the scope, such as, "Customers ratings are mind blowing — 4.7 stars out of 5 stars," and "5.0 out of 5 stars — the best scope at this price range." You can head over to Amazon and read the same thing.
Best For: The OMAX – MD827S30L is useful when you are teaching a lesson to a large group, and your voice can't carry well enough for all of them to hear. Its video and audio combo easily resolves that issue.
How to Use a Compound Microscope
Handheld digital micros are easy to use. They're suitable for primary classrooms, and are a big hit with the children, because they explore a world they can't usually see. Compound models are a much higher level of viewing, since they require accurate focusing and provide much higher magnification. I recommend you watch this video to get an idea of how to properly focus a compound digital device. This will also help you get familiar with your new acquisition.
It's the first step to learning how to use it. When you understand the different parts, you'll automatically move from one part to the other during operation.
You'll also need to learn how to handle your device so it continues to function properly. It's precision scientific equipment, and always needs special handling. This needs to be taught to any students that plan to handle it. Get a firm hold on the arm with one hand, and put your other hand under the base. When you set it down, always make sure the surface is level and stable.
When you or your students prepare slides, make sure each slide is covered with another piece of glass called a coverslip. This ensures that your lens is protected if they happen to touch the slide. You should never touch the optical glass lenses with your fingers. Only use special lens paper to clean the lenses. Your device should be protected from dust and wind when it's not being used. If it doesn't come with a dust cover, you can designate a piece of material that is kept nearby for that purpose.
Purchasing a digital microscope is a once-in-a-lifetime proposition if you care for it properly. As already mentioned, dust is your biggest concern, and it needs to be covered at night or over the weekend. If you don't plan to use it for several weeks or months, like over the summer or winter vacation, replace it in its box.
When you're finished using it for the day, lower the stage and put the low power lens into position. Remove the slide and switch the micro off. If it's plugged into a power source, unplug it.
When you look into the eyepiece, keep both eyes open. Most people tend to close one eye as if they're aiming at something. If you plan to spend several classes looking into the eyepiece, keeping both eyes open will reduce eyestrain, and possibly a headache at the end of the day.
To Sum Up
Given the choice of using a traditional or digital microscope in my classroom, digital wins every time. The value in the learning experience can't be overstated, especially in the digital age when the visual image is predominant. It not only magnifies the specimen, but it also transfers the image to a TV or computer for everyone to see. All of a sudden, everything the teacher has been saying makes sense. If you haven't tried it yet, I'm excited at the prospect of the first time your kids open the door to the microscopic world in which they live.
Last Updated on February 22, 2022 by Emily