We spend a lot of time teaching children about the Solar System, galaxies and the Big Bang, but what about the other world we can't see with the naked eye? A drop of pond water under a microscope may be the doorway to the future for many children who see the microscopic world for the first time. We may talk about plant and animal cells, platelets and other things we interact with in our daily lives, but who has ever seen one? I discovered in my science classes that microscopy in early science education is a real boon for children.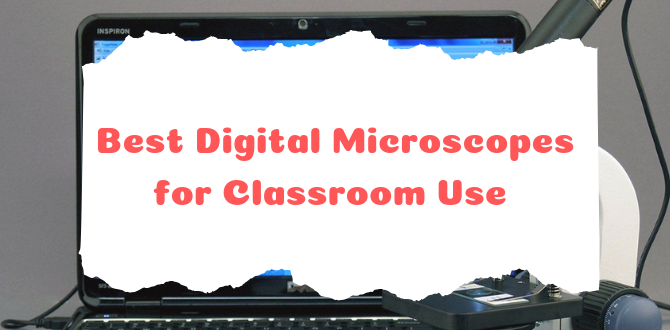 I've talked a lot about how to enhance the learning experience for children, as well as the teaching experience for you, my readers. This article will convince you that a microscope is a must for any primary classroom because it opens the door to another dimension, the same way a telescope brings the sky to life. Go on reading to learn how helpful microscopes can be for early science education, and which are the best digital microscopes for classroom use.
Best digital microscopes for classroom use:
Microscope Activities for Elementary School
I had some doubts about incorporating microscopes into my classes at first, but when I saw the reactions of my kids, I knew I was on to something big. Today, it's a staple of my classroom to bring my students a constant flow of things they want to see magnified.
We always start with ourselves: we look at our skin, hair, blood, and saliva, then move on to our clothing, food, plants, and other objects. During one science class, we were talking about our favorite foods. Everyone liked something salty and something sweet. We decided to look at salt and sugar under the microscope to see the crystals. After that, we looked at a potato chip covered in salt and realized that we eat those beautiful crystals every time we grab a chip.
Another activity I did with my class was to look at a drop of water we took from a puddle in a garden. That's when they really came alive. I mean my kids, not the puddle critters. Seeing the tiny world that exists right under their eyes made them all ask questions about what these animals are and how they live. We talked about bacteria, fungi and mold, and looked at each of them the next day. Each student wanted to be a researcher for at least a few minutes, and one or two of them may do just that. Once your students realize what's possible, they'll want to examine everything under a microscope. I recommend you watch this for examples of what's possible.
Traditional vs. Digital
Once I decided a microscope was essential for my science classes, I needed to choose  either a traditional or a digital one. When I used a traditional microscope, it captured the attention of a few, however many lost interest while waiting their turn. I realized a digital microscope was the only way to capture everyone's attention at the same time. The first time I used a digital microscope, the whole class was thrilled.
Both traditional and digital microscopes use optics to magnify the object, but digital microscopes also use a digital camera. The image is transferred to a computer monitor. This is great for young children.
When they peer into a traditional microscope, it's not always easy to understand what they're looking at. The teacher needs to explain without seeing along with the student. With a digital microscope, the image is large and easy to see, and the teacher can point to different features of the object. Children can comment on what they see, and ask questions that the whole class has a chance to answer. Some, but by far not all, of the advantages of digital microscopes in the classroom are:
The technology is more suitable for students who have grown up in the digital age. The objects being magnified appear as graphics on a monitor or TV, which more easily captures the students' interest. Observing graphics on a monitor is natural for them.
Digital microscopes support ease of viewing so there's no tension or wondering if they saw the right thing.
The opportunity for group learning and interactivity. The size of the image in a traditional microscope inhibits the learning experience.
Students learn how to operate the digital microscope, which includes connecting to a computer, setting up the camera for photos or videos, and learning how to use the software that supports editing and labeling the photos or videos.
Digital microscopes enhance the quality of the image and allow for better identification of cellular structures.
With a traditional microscope, the teacher has to lecture and verbally describe the content. With a digital microscope, all the children can see what the teacher is explaining.
Handheld Digital Microscopes
Handheld digital microscopes can be carried anywhere there's something to be examined. The most popular use is to take it outside and look at insects, although this isn't great for everyone. It has a stand for stability, and enlarges the image so the whole class can see at the same time. Here are some microscopes that are the best for schools, and I'm sure you'll find one that's suitable for your next science class.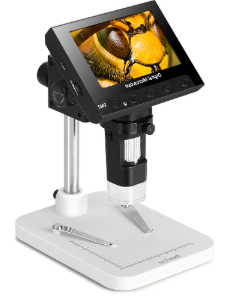 This is a portable handheld microscope that has a height-adjustable stand. The magnification can be adjusted as well as the distance between the object and the camera. You can set the illumination and measuring scale. The images can be transferred to a smart TV or computer monitor. It's great for getting a very close look at insects, jewelry, food and textiles. This is the one I've been using in my science classes.
Goodies I found: 
It has a USB port and a Li-ion battery with two hours of work time.
The scale measures the actual size of the object.
The maximum magnification is 600x.
Best for: I use this in my classroom, and it's great for all science subjects and other things. Hair is a big one for my kids, because they can see that each person's hair has a different texture, color and diameter. Even though it's deliciously creepy, they like to look at the hair on spiders and flies.
I recommend you watch: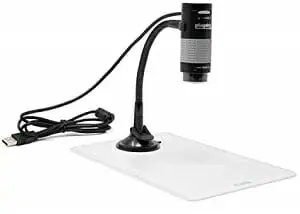 This microscope is fun for students to use. It works with nearly any operating system with standard webcam software, but it's not compatible with iOS devices. You can adjust the brightness, and the observation pad has measurement marks. My colleagues have used this model for garden parasite identification; jewelry, stamp and coin analysis; and more. It's very sturdy, so it can withstand clumsy little hands.
Goodies I found:
It's easy for point-and-click inspection.
It has excellent lighting options.
It takes videos and snapshots.
Best for: This is a very good model for younger primary students, because it's strong enough to be moved around and passed from student to student.
I recommend you watch: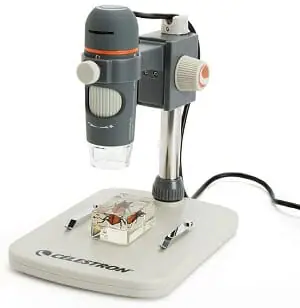 This device is a bit more sophisticated than the others. This is a microscope that can be used in high-school biology classes, or even for older elementary-school students. It gives high-resolution images and videos with high-quality glass lenses for sharper images. It's compatible with Windows 7, 8 and 10, and Mac OS. You can manipulate and focus with one hand, thanks to the barrel-focus wheel. The stand is weighted and sturdy to support steady viewing.
Goodies I found:
The four-foot USB cable makes it easy to move around.
It's easy to save and share videos and images.
You can take measurements and notes right on the image.
Best for: This is great for older primary students who want more than just to look at enlarged bugs. The students can take measurements, and compare and identify whatever they magnify.
I recommend you watch: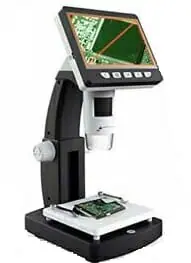 With 50X to 1000X magnification, this microscope provides excellent detail for observing various things. It has eight adjustable LED illumination possibilities that will increase contrast or detail. It has a sturdy, weighted base for minimal or no shaking. Your image stays in focus. This is considered a great gift for stamp collectors and other hobbyists. You can save everything to a memory card, but it has to be purchased extra.
Goodies I found:
It has a four-hour lithium battery that makes it possible to take it out to a jewelry shop, forest or wetland to observe.
The measuring reticle allows for accurate and efficient inspection.
It produces high-quality photos.
It comes with two prepared slides.
Best for: This is a great tool for the classroom. It's easy to use and the LCD screen really inspires the students right from the start. It can be hooked up to a computer monitor or smart TV.
I recommend you watch: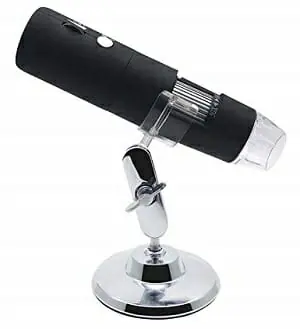 This microscope can be used with almost all devices and can be connected to a computer monitor. The WiFi feature means you can look at the spider's eyes on your smartphone when you're away from the device. It has a whole eight LED lights that are adjustable for a clear and bright image. This microscope offers more features than may be needed in a primary science class, but if any students get a true fascination for the microscopic world, this is the microscope to have.
Goodies I found:
It connects to your smartphone when you download an app.
The bigger the screen, the better the display.
It has a photo and video camera with file storage.
Best for: This microscope is portable and has many features that older students may appreciate. If you need to view cells, etc., you'll need to make your own slides, which is also a good activity for the students.
I recommend you watch:
Compound Digital Microscopes
Compound digital microscopes are used for higher magnification than may be required for stamp collecting or bug viewing. Sometimes called biological microscopes, they have several lenses: usually the 4x, 10x, 40x or 100x objective lens is compounded or multiplied by the eyepiece lens, which is often 10x, to enhance the magnification to 40x, 100x, 400x and 1000x.
Several different types of compound digital microscopes may be used specifically for bacteria or blood, or to examine chemicals, such as pharmaceuticals or geology samples. They may also specialize in hairline fractures in metals, as well as flaws in precious stones.
For our purposes, we are looking at the best classroom use for compound digital microscopes. Two of them are suitable for high school biology class, and two are suitable for professional researchers.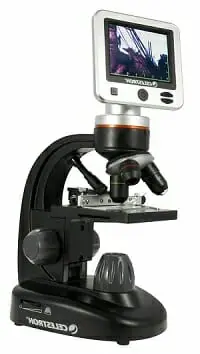 This is a professional quality compound microscope for biological use. It has a full-color 3.5-inch screen, and can be connected to a computer monitor or TV. It's easy to use for high school students, and the head rotates 180 degrees to share the images. It has three lens powers, 4x, 10x, and 40x, with an eyepiece lens of 10x to make 40x, 100x, and 400x. The 4x zoom allows up to 1600x magnification.
Goodies I found:
It comes with a heavy-duty carrying case with a shoulder strap and a dust cover.
It comes with five prepared slides.
It has a 1GB SD card.
Best for: This instrument is suitable for a beginner biology class. It doesn't have the highest magnification available, but with five lenses, it's enough for a high school science student.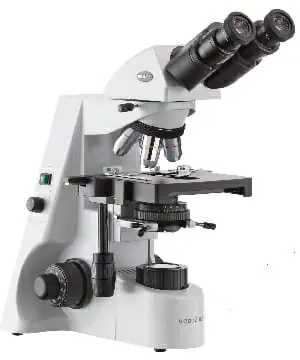 This microscope magnifies up to 2500x, which means you can see the parts of a cell. It's compatible with Windows Vista and 7 – 10. This model is designed for viewing transparent samples such as skin, pond water, and blood, or anything that light shines through. This may include certain leaves and insect parts. It's not suitable for metal or gem viewing. If the slide is properly prepared, you can actually see DNA strands.
Goodies I found:
It's designed to give demonstrations for clinical examinations and laboratory uses.
The binocular head makes for easier viewing.
The digital cameras can edit, change resolution, and label like PhotoShop.
Best for: This microscope is best for high school students who plan to major in biology or attend medical school. It gives a very detailed picture of the subject, including white blood cells and many of the wiggly critters in pond water.
I recommend you watch: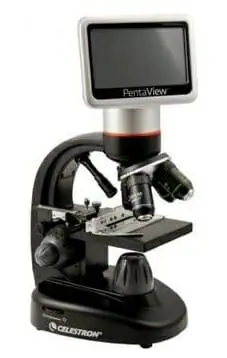 This microscope has a four-position nosepiece with 4x, 10x, 20x, 40x and 60x objective lens magnification. The digital zoom takes the magnification to 2400x. The 4.3-inch monitor is a touch screen, and rotates 180 degrees for ease of viewing by several students. It'll save or output images, and has an upper and lower LED light source.
Goodies I found:
It comes with a heavy-duty carrying case and dust cover.
It comes with 10 prepared slides.
It has a touch pen, AV and USB cables.
Best for: This is great for a high school biology class. With a connection to a TV, you only need one for the whole class to view cellular specimens.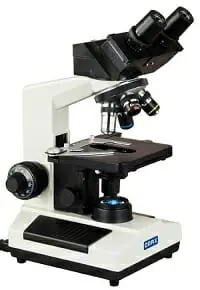 This microscope gives 400x to 2000x magnification with a built-in digital camera. It's designed for biological specimens that allow light to pass through. You can add a phase contrast condenser or a darkfield condenser if you need it for certain specimens. It can be attached to a computer or can work like a microscope projector. You don't need to set up a digital camera to capture microscope images or live video on a computer. The built-in camera will do it for you.
Goodies I found:
The light source is beneath the stage, which is best for thin-specimen viewing of transparent material.
The stage is solid and doesn't shift, thanks to the spring-loading clips that hold the slides. Just press the end of the clip to open it when you want to change slides.
The supplied computer software allows you to adjust the contrast and brightness once the slide is seen on a computer.
Best for: This is definitely the top of the line, and is suitable for professional research. If you teach future medical students, this may be a good one to have.
I recommend you watch:
How to Use a Compound Microscope
Handheld digital microscopes are easy to use. They're suitable for primary classrooms, and are a big hit with the children, because they explore a world they can't usually see. Compound microscopes are a much higher level of viewing, since they require accurate focusing and provide much higher magnification. I recommend you watch this video to get an idea of how to properly focus a compound digital microscope. This will also help you get familiar with your new acquisition.
It's the first step to learning how to use it. When you understand the different parts, you'll automatically move from one part to the other during operation.
You'll also need to learn how to handle your microscope so it continues to function properly. It's precision scientific equipment, and always needs special handling. This needs to be taught to any students that plan to handle it. Get a firm hold on the arm with one hand, and put your other hand under the base. When you set it down, always make sure the surface is level and stable.
When you or your students prepare slides, make sure each slide is covered with another piece of glass called a coverslip. This ensures that your lens is protected if they happen to touch the slide. You should never touch the optical glass lenses with your fingers. Only use special lens paper to clean the lenses. Your microscope should be protected from dust and wind when it's not being used. If it doesn't come with a dust cover, you can designate a piece of material that is kept nearby for that purpose.
Purchasing a digital microscope is a once-in-a-lifetime proposition if you care for it properly. As already mentioned, dust is your biggest concern, and it needs to be covered at night or over the weekend. If you don't plan to use it for several weeks or months, like over the summer or winter vacation, replace it in its box.
When you're finished using it for the day, lower the stage and put the low power lens into position. Remove the slide and switch the microscope off. If it's plugged into a power source, unplug it.
When you look into the eyepiece, keep both eyes open. Most people tend to close one eye as if they're aiming at something. If you plan to spend several classes looking into the eyepiece, keeping both eyes open will reduce eyestrain, and possibly a headache at the end of the day.
To Sum Up
Given the choice of using a traditional or digital microscope in my classroom, digital wins every time. The value in the learning experience can't be overstated, especially in the digital age when the visual image is predominant. It not only magnifies the specimen, but it also transfers the image to a TV or computer for everyone to see. All of a sudden, everything the teacher has been saying makes sense. If you haven't tried it yet, I'm excited at the prospect of the first time your kids open the door to the microscopic world in which they live.