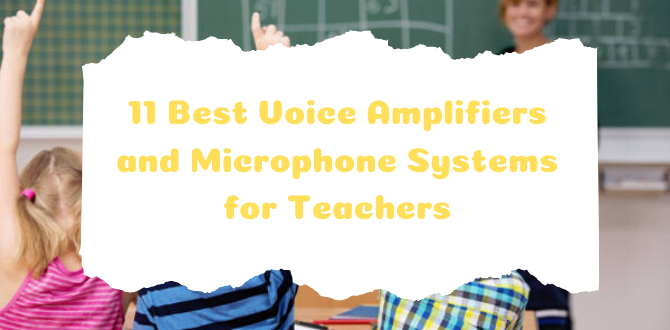 We, teachers, depend on our voices to reach all of our students. Our voice is our main instrument, and sometimes it seems like we're talking non-stop. Portable voice amplifiers are small devices that offer big benefits. They can save your voice and make your work simpler.
That's a fact!
According to research at Michigan State University and the University of Utah, women are more at risk than men of developing serious vocal problems in the teaching profession.
So in this review, I'll walk you through the best options you can choose from to get the voice amplifier and/or best microphones for teachers that are most suited for your needs. Don't forget to check out my top favorite; the NEW GIGAPHONE G100S and find out why.

Product
Details

1. NEW GIGAPHONE G100S Portable Voice Amplifier [30W]

Great Sound Overall

Good For Large Areas
Lightweight
12 Hrs. Runtime
W/ Full Accessories

Check Current Price

2. ZOWEETEK Portable Rechargeable Mini Voice Amplifier

Perfect For Field Trips

MP3 W/ Micro SD/USB
Compact
12 Hrs. Runtime
Wired Mic

Check Current Price

3. Upgraded, Anker Soundcore Boost Bluetooth Speaker

Headphone & Speaker

Bluetooth Enabled
Portable
6 Hrs. Runtime
Wireless Mic

Check Current Price

4. SHIDU Portable Mini Voice Amplifier

Very Portable

W/ MP3 Player
Covers 5k Sq. Ft.
12 Hrs. Runtime
Headset Mic

Check Current Price

5.. SHIDU Bluetooth Voice Amplifier

Waterproof

W/ MP3 Player
Use As Power Bank
Up To 12 Hrs. Run
UHF Wireless Mic

Check Current Price
Best Voice Amplifiers And Microphone Systems For Classroom Teaching Reviewed
Best Voice Amplifier For Classrooms: Top Options
This little Zoweetek amplifier is designed to save your throat. It provides clear sound with no distortion or static. It's suitable for about a 10,000 square-foot room or a group of 25 – 100 people.
The compact size is great for clipping on your belt or pocket, and it's lightweight at 0.36 pounds. It supports 3.5 mm AUX audio input and the mic port can be used as a wired speaker for mobiles, computers, and iPad, or tablets.
Goodies I Found
It comes with a waist belt to tie around your waist or your neck if you don't happen to be wearing a belt.
The 1800 mAh lithium battery is rechargeable and works up to 12 hours continuously. It'll charge in three to five hours.
You can use it to play MP3 audio with a TF (Micro SD) card or a USB flash drive. This is a great feature if you want to play music or let your students listen to a TED talk or other lecture or discussion that you've downloaded.
Best For: This is a good voice amplifier for classroom teaching as well as for singing lessons, coaching sports, guiding tours, presentations, and outdoor activities.

If you teach physical education, coach a team, or go on many field trips, this is the amplifier for you.
---
The MAONO C01 amplifier is a lightweight, cardioid rechargeable wired microphone. It has a waistband and an LED display. The sound covers about 6,000 square feet, which is less than the Zoweetek.
The cardioid microphone only collects the sound you speak and not any background noise, which is why it's suitable for outdoor events even though the area it covers is smaller. This one has an attractive gold design and is more elegant than the usual black.
Goodies I Found
The LED indicator lets you know when the battery needs to be charged so you never need to experience an unexpected no-power situation.
It can play music and receive input at the same time so you can use it as a mini karaoke set. This is great fun for kids and everyone else for that matter.
It's an FM radio and has a USB port for charging or connecting to a computer. This is a benefit if you need more volume. You can connect it to computer speakers.
Best For: This is a perfect amplifier with a personal microphone for teachers, coaches, tour guides, presentations, and meetings with a large number of attendees.

One elementary school music teacher uses it to let her children sing into it so the whole class can hear. Since it doesn't pick up ambient noise, the class can hear when she speaks while playing the piano.
---
This rechargeable SHIDU mini PA system is suitable for just about anyone who needs to speak to a large class or room full of people. It has a 10W power output and comes in black, as well as an attractive pink color.
The small size is deceptive because it gives a big sound. It also provides clear sound and doesn't collect ambient noise. It's specifically designed for people who need to talk a lot and put their throats at risk.
The 1800 mAh battery provides up to 12 hours of use and will recharge in three to five hours. It's also a music player with an adjustable microphone headset.
Goodies I Found
It comes with a waistband to tie around your waist or hang around your neck. You can choose the best way to wear it for different occasions.
You can use it hands-free with the adjustable headset and clip or waistband.
It's good for exercise or dance classes because you can move around as long as you're careful not to get the microphone in front of the speaker if you bend over.
Best For: This is another amplifier that can be used as a karaoke system. The sound covers about 5,000 square feet. It's good for large classrooms or medium-sized lecture halls. It provides 10 watts of power, but is not your best choice for outdoor events.
---
SHIDU Bluetooth Voice Amplifier is a waterproof portable personal amplification system with a power of 18W. It's great for swimming lessons, obviously, as well as for at the beach or other outdoor venues where rain is expected.
It can be used as a power bank for emergency charging and as a Bluetooth speaker.
It'll record, and supports AUX input with a micro SD card and U disk. It's good for projecting your voice in a wide variety of spaces, but you may not need all of these features if you just want to save your voice in your daily classroom activities.
Goodies I Found
The headset is adjustable and comfortable and will not cause pain after long use.
You can pair it with a Bluetooth headset and a phone to play music.
It has a voice prompt when Bluetooth is connected.
It has a UHF wireless microphone.
Best For: This is the voice amplifier you want if you'll be using it outdoors most of the time. It's great for coaches, and any teacher taking children on a field trip. The waterproof feature means you don't have to worry about humidity or rain.
---
The RJoanna amplifier is designed to have a super clear sound. It accepts no ambient noise or distractions. It has 10 watts and covers a 10,000-square-foot room. It's small and lightweight with a clip on the back to fix on a belt or pocket.
The built-in rechargeable lithium-ion battery provides long-term playing time. The headset and microphone are comfortable and fit like a headband or can be worn around the neck.
Goodies I Found
It has a waistband to tie around your waist where you can clip the unit.
It has a recording function and a USB flash drive port.
It has an AUX audio input so you can use it as a wired speaker.
Best For: This amplifier is specifically designed for use by teachers and the elderly, especially for people who can't project their voice.

It can be used while you're mobile in a fitness class or just walking around the classroom. It's also useful if you want to play some music or a lecture to your class.
---
This Gigaphone G100 amplifier is powerful with a 30-watt output. It's waterproof and suitable for use outdoors. It doesn't pick up ambient noise so the sound is very clear. The body is lightweight and manufactured with a special design that protects it against shocks, dust, and drops.
There's no transmitted voice distortion because of its patented circuit design. It works well while you move around on a walk outdoors or in a large classroom.
It doesn't have AUX input so it's not suitable if you want to play music. If you just want to project your voice, this is one of the best on the market.
Goodies I Found
Along with the waist belt, it has a shoulder strap and can serve as a teacher microphone necklace.
The ear-set mic, i-set mic, and hand-held mic have windscreen sponge foams.
It comes with a Phillips screwdriver and a carrying case.
Best For: This device promises to give everyone from teachers to karaoke singers great sound. It's best for large rooms like a gym, or for outdoor uses like a field trip when all your kids need to hear your instructions.
---
The VoiceBooster amplifier has 25 watts of power and is also an MP3 player and an FM radio. It's small but produces a big sound. The brand is owned by TK Products, and this device must be purchased through an authorized dealer of TK Products to maintain the warranty.
The rechargeable lithium battery lasts up to 15 hours, which is one of the longest on this list, and it provides a loud, clear sound that covers 7,000 square feet.
It has a USB port and a Micro SD port, and the amp will accept signals from both ports and send the sounds out to the speaker at the same time.
Goodies I Found
It has an adjustable neck lanyard or waistband and a carrying bag.
The FM radio has automatic tuning, but some people prefer manual tuning to reach weaker stations.
Your MP3 player can play lectures, music, and anything else you want your class to hear.
Best For: This product is highly recommended for outdoor use. It may be especially good for coaches on the field, teachers in a gym, or field trips where children tend to spread out and the teacher needs to yell so everyone can hear.
---
Best Classroom Microphone System – Top 5 Picks
Since clarity is what you need and not necessarily volume, a good speaker and a wireless mic may be the best option. Together they make up a microphone system that is another way to protect your voice in the classroom while making sure everyone hears you.
A small portable amplifier may be all you need to talk to a small class of elementary school students, but if you need to speak in a large room and want very clear audio, then you should consider a wireless microphone that works with a high-quality speaker.
Several of the following speakers can be calibrated specifically for lessons and outdoor recreation. Some of them allow you to stream music or lectures from radio stations or online.
The speakers can be placed anywhere in the room within the given range with these best microphones for teachers. Since 75 percent of education is listening, it's important that they not only hear the sound but also the intonation and subtleties of your voice to better understand what you are talking about.

In this section, I'm sure you'd be able to find the best teaching microphone system that is most suitable for your style.
Catchbox Plus is a system with 2 mics: a wearable belt pack microphone for the teacher and a soft, throwable microphone that will enliven your classroom exponentially. This is not a toy, even though it resembles one. It comes in bright colors plus black and white durable foam and the cover is fully customizable, meaning you can add school logos and colors as preferred.
It is suitable for any age. Yes, from preschool to Ph.D. programs and, for corporate meetings, it is a lifesaver. The throwable microphone and the teacher mic connect wirelessly with the system's own receiver and the throwable mic can be tossed to anyone in the audience.
No more time wasted passing the microphone when you want an interactive or brainstorming session. The receiver has USB connectivity — so you can plug it straight into your computer, a speaker, or both.
This mic can be dropped, tossed, kicked, and slid across the floor of the classroom without damaging the high-quality mic inside. It's perfect for large groups or outdoors where it is otherwise difficult for everyone to hear. My experience went from making it difficult for me to get everyone to participate in discussions to having to quiet the class and encourage them to wait their turn to speak.
Goodies I Found
Crystal-clear audio from every user
A strong but soft exterior
Easy to set up
Omnidirectional
Best For: In education, this is best for the times you want to give quiet students a voice. It is also useful for keeping noisy students engaged.

Since the box is thrown around the room, it can be sent to anyone. This encourages critical thinking because it could land anywhere.

In other words, it's a fun and effective way to maintain your class's attention. It breaks down invisible classroom barriers and boosts the confidence of the speaker.
---
AVerMic is a portable audio system that is suitable indoors and outdoors. It is 11 x 9.4 x 4.4 inches and weighs 2.55 pounds. The system has 2.4 GHz wireless technology that reduces the buzz from the microphone.
As a voice-saver for a regular size classroom, this is probably your best option.
Goodies I Found
Rechargeable battery
Lightweight for taking outdoors or between classrooms
A clip-on mic that can be used with a lanyard
Best for: This sound system is good for a large classroom, but it really shines when it is used outdoors, such as on a field trip or PE class.
---
The Anker connects with any Bluetooth-enabled device, so you can play recorded lectures or other audio in your classroom. The battery lasts for 10 hours and you have 20W of audio. It is better for a medium-sized or small classroom.
One suggestion is the UHF professional headset mic by Bietrun. The Bietrun wireless microphone offers state-of-the-art wireless technology in a headset system. The signal is stable with no delay or howling. You get clear sound quality and it is portable.
This is great for outdoors or classroom teaching when you want to walk around hands-free.
Goodies I Found
Bietrun transmits 160 feet and also has a handheld mic
Rechargeable batteries
Good price
Best For: If you have a small to medium size room and need Bluetooth connectivity, it will satisfy your needs without breaking your budget.
---
These are very top-of-the-line devices that give excellent sound. The Sennheiser speaker system has a Bluetooth connection and five speakers. The dimensions are 22.5 x 22 x 18 inches and it weighs 40 pounds. The two AA batteries needed are not included.
The wireless microphone provides broadcast-quality sound up to 330 feet. It is very well constructed for use by broadcasters in the field. It can be worn with a lavalier or clip-on and provides up to eight hours of operating time.
The dimensions are 15.9 x 6.8 x 2.9 inches and it weighs 1.8 pounds. Two AA batteries are included. It comes with one mic, one bodypack transmitter, and one bodypack receiver.
Goodies I Found
Omni-directional
It has two connecting cable options
Surround Sound
Very good quality
Best For: This is one of the best microphones for classroom use. It will also give excellent sound in a large space at school or outdoors as it is manufactured for people making documentaries or transmitting broadcast news.

The mic is quite expensive, and you may not need this much power for a normal classroom. But, if you give lectures in auditoriums or outdoors, you will be glad to have the extra power.

The speaker is also on the expensive side, but it is initially intended for a home theater, so you can be sure the sound is excellent.
Note: Some of these professional-quality speakers and mics may require licenses to operate, but if you operate them at a low power level, it shouldn't need a license.

The FCC is currently evaluating the use of wireless microphones and the rules may change. If you don't need this level of power, the other voice amplifiers I recommended may be just right.
---
The innopow mic is a wireless, handheld powerful device for large assemblies. It's advertised as suitable for karaoke or wedding receptions and, of course, good for teachers – it will cover just about any classroom need that you have.
You get a receiver, two microphones, power adapters, a ¼" audio cable, a 6.35 to 2.4mm audio adapter, and two antennae. Dimensions: 17.7 x 3.1 x 12 inches, weighs three pounds. Four AA batteries are required, not included.
The Bose speakers provide a high-quality sound at any volume. They connect to an iPhone or iPad or PC. It is an affordable partner for the innopow mic for such good quality. Dimensions 5.9 x 3.1 x 7.5 inches, weight 5.1 pounds.
Goodies I Found
TrueSpace stereo for more detailed sound
Easy to set up
Mic has a wire-free design
The mics will work from 200 – 240 feet from the base
Excellent microphone for classroom
Best For: If you pair this with the Bose speakers, you have a powerful voice amplifier for giving lectures in a large classroom. This is another set that could require a license to operate if you use high power.
Jump In: Your microphone won't work at all if you don't have another gadget to complement this: speakers! Read my blog about Bluetooth speakers here — Best Bluetooth Speaker for Classroom: High-Quality & Portable Equipment for Class — and choose which best fits your classroom setup!
---
When voice problems occur, your teaching may become sub-standard. Teachers do things to make up for not being able to speak. It's called presenteeism rather than absenteeism. You are at work, but not functioning on all cylinders. One of your most important tools is missing: your voice.
I did some research and found this article, which explains that the main problem is volume. I recommend you read it to get an idea of how serious the problem is. It concludes that amplification is the solution. Many voice disorders can be avoided or reduced if the teacher doesn't have to speak loudly (read "yell") most of the day.
Voice amplifiers to the rescue. They're great when your voice is tired but you still have a lot of speaking to do before the day is done. If you've tapped out your voice for the day or week, a voice amplifier will allow a soft voice to be heard, even by a large group.
Amplifiers are essential for a major event or assembly. Just plug in the headset, and clip the unit to your belt or waistband and turn it on. If you support my idea of giving your voice a break, check out my detailed reviews of the best voice amplifiers for teachers.
How Amplifiers Work
Also called a speech assistance device, a portable voice amplifier is a mini public address system you can clip on your belt or wear around your neck. They're relatively small units but provide a lot of volume when you need to speak to a large group at an outdoor event or even in an indoor assembly where the whole gym is full of students and teachers.
The small amplifier has a built-in speaker and a lightweight, portable headset. Some headsets are wired and some are wireless. If you need more amplification, you can download amplification apps for Android and iPhone. The sets come with a rechargeable lithium battery and can be operated with one hand.
Yes, my friends, I said one hand.
You can hold your clipboard, beverage, program, speech, or anything else you need in your other hand. Just plug in the headset and start talking. Use your normal voice and the people in the back of a large, crowded room will hear you. Take a look at this to get an idea of the possibilities.
This video doesn't have a huge classroom, but the teacher doesn't need to strain at all and all the kids can hear clearly no matter where they're sitting or where the teacher is walking.
Different Kinds Of Amplifiers
There's a big variety of voice amplifiers on the market that may be useful for teachers. Below, I've given you a list of the seven best voice amplifiers for teachers so you can get an idea of what's available. The choice you make will depend on your usage.
For example, will you use it in a regular classroom, a large assembly hall, outdoors, or all of the above? Do you want to be able to play music or discussions you've downloaded?
I have given you a few of the devices I believe give high-quality voice amplification for the classroom. Using these devices is highly recommended for saving your voice as well as enhancing the learning experience for your students. If you primarily teach virtually, then one of the options for the best microphones for online teaching will be more applicable to your needs.
You can use amplifiers in conjunction with a variety of speakers. Check out the following article to learn more about classroom computer speakers that will make your teaching days easier on your voice.
4 Steps To Choosing The Best Voice Amplifier
Portable voice amplifiers for teachers have many features that will help teachers save their voices. The basic features that all of them have are a microphone, speaker, and powered amplifier. These are distinct from the best voice recorders for lectures, which specifically record sound instead of merely amplifying it.
They have volume control, and most of them come with a method to wear the device. Before choosing one that seems to suit your needs, I recommend you consider the features mentioned below.
Step 1. Start With The Battery
The first thing to look at is how long the battery lasts. Some batteries need to be charged every few hours, and some have instructions that the battery should be charged only when it's completely dead. Also, some batteries last three hours, and some last 15 hours.
If you're a music teacher or a physical education teacher, you may need a long-lasting battery so you only have to charge it at night. If you're using the voice amplifier on an all-day field trip, the longer-lasting battery may be essential.
However, if you have time during the day to keep your device plugged in, a short-term battery may be enough for you.
Step 2. Consider Strength Or Volume
A voice amplifier is only useful if it helps people at a distance hear you when you speak in a normal voice. Before choosing a device, check the amount of area it covers with clear sound. Some cover 10,000 square feet and are suitable for outdoors, and some cover 5,000 square feet and are suitable for a medium-size classroom.
As you saw in the video above, the classroom wasn't very large, but the amplifier made a big difference when the teacher walked around the room. If that's all you need, you don't have to spend a lot on one that fills a whole gymnasium with sound.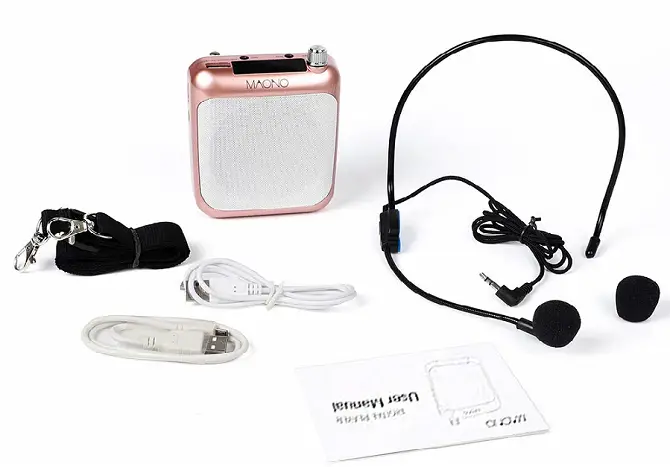 Step 3. Pay Attention To Portability
All of the devices I recommended are portable. This is a very important feature for a teacher, whether in a classroom or outdoors. If you're just giving a lecture, you'll probably have a sound system and stand at a lectern, but for most of us, movement is important while we talk to our students.
The above-mentioned devices are small, lightweight, and can be worn around your neck or clipped to your belt. Don't forget that portability and batteries go together.
Step 4. Find An Amplifier That's Easy To Use
We may vary in our understanding of technology, and some voice amplifiers have different features and connections.
If you want one that has all the bells and whistles, make sure you take the time to read the instruction booklet or find someone to explain it to you so you can actually use the features you paid for. For example, if you want to play music in the background while you speak on a certain subject, you need to know how to set it up for that.
If you plan to use your voice amplification system outdoors most of the time, you may want to consider the waterproof feature.
Then you don't have to worry about protecting it if it starts to rain or the air becomes very moist and humid. A wireless voice amplifier for teachers can be your best option if you prefer to be hands-free.
Finally, make sure your amplifier is comfortable to wear around your waist or neck for long periods. The lightweight devices tend to be the most comfortable.
Tips On How To Use A Voice Amplifier
As teachers, we're always trying to get the attention of our students. Many times, they stop listening because they can't hear what's being said and can't follow. To remedy this, we start to speak loudly and even shout in some cases. When you use a voice amplifier, this is the first thing you need to stop. You can speak in a normal, even quiet, voice and still be heard at the back of the gym.
Another tip that will help the voice amplifier be more effective is for you to speak slowly.
If you teach at the primary level, you may already know how effective this is to help children to follow, but if you teach teenagers, you may have developed the habit of speaking fast in the hope that it'll better hold their attention.
The voice amplifier allows people at a distance to hear you speak, even though they can't see you up close. When you speak more slowly, people at a distance may be able to follow better.
In this video, you can see how a voice amplifier for teachers is being used and reviewed. Two of the products she discusses are on my list of the best voice amplifier for teachers:
You've reached this part! I hope this microphone system and voice amplifier review of ours has helped you find the one that is right for you. We have already chosen our top favorite; it's your time now to tell us what's yours and why!
But before that… if you're also thinking of recording your lectures, you need the best classroom camera for best results.
Our Final Thoughts
Whether you teach physical education or a small kindergarten class, a portable voice amplifier will improve your quality of teaching while protecting your health.
There's a large selection of features for every need, from the smallest classroom to the playing field, but the GIGAPHONE G100 made it to the top of my list because it has everything that I need to amplify my voice and it is also very convenient for me to carry it around.
If you can't find a wireless one that gives enough volume for your needs, make sure it can be connected to another device such as computer speakers. To learn about the best computer speakers on the market, see my other blog post.
My Top Pick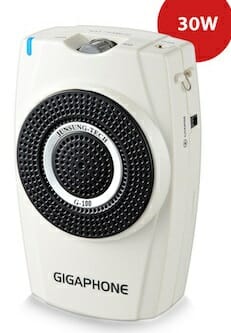 Goodies I Found
Waist belt + shoulder strap
Ear-set, i-set, and hand-held mics
Phillips screwdriver + carrying case
Best For: This device promises to give everyone from teachers to karaoke singers great sound. It's best for large rooms like a gym, or for outdoor.
The name says it all. This amplifier will produce clear sound in a gym and even outdoors. It is easy to use hands-free with both a waist belt and shoulder strap. It weighs less than a pound and has a solid body that protects the mechanism from drops, shocks, dust, and moisture. It takes about three hours for a 12-hour charge.
Last Updated on July 24, 2022 by Emily