Some form of online schooling is here to stay even after schools fully reopen. It has proven successful for a majority of students, especially the younger ones. Universities have been doing it for decades. The students' devices vary from smartphones, laptops, desktops to tablets.
But then…
While each of these has its advantages and disadvantages, in my experience, tablets provide the best focus for elementary school students, and the right tablet can make all the difference. Tablets are also cheaper than most laptops, and desktops as well as many textbooks.
The iPad, which is on top of our list in this online class tablet review, is the touchstone for the development of other tablets, and Samsung, Amazon, Chromebooks, Windows, and others have developed excellent tablets.
Product
Details

1. New Apple iPad

The Benchmark

10.2" Retina
10 Hrs. Battery Life
1.7 Lbs.
10.35 x 7.28 x 1.93"
128 GB
8 MP Cam

Check Current Price

2. Samsung Galaxy Tab S6 Lite

Excellent Audio

10.4" Touchscreen
13 Hrs. Streaming
7.05 Oz.
10.05 x 6.38 x 1.34"
64 GB W/ SD Port
8 MP Cam

Check Current Price

3. Microsoft Surface Pro 7

2 in 1 (Laplet)

12.3 Inches
10.5 Hrs. Battery Life
1.10 Lbs.
12.8 x 2.68 x 9.21"
128 GB
8 MP Rear Cam

Check Current Price

4. Fire HD 10 Tablet

Basic And Affordable

10.1 Inches
Up To 12 Hrs. Bat Life
17.8 Oz.
10.3 x 6.3 x 0.4"
32/64 GB W/ SD Port
2 MP Front & Rear Cam

Check Current Price

5. Lenovo Tab M10 Plus

Has Eye Protection

10.3 Inches
8 Hrs. Browsing
1.6 Lbs.
9.6 x 6.04 x 0.33"
32 GB W/ SD Port
8 MP Rear / 5MP Front

Check Current Price

6. Windows 10 Fusion5 FWIN232

Great Grip Feel

10.1 Inches
5 Hours
1.52 Lbs.
10.24 x 0.67 x 0.39"
64 GB
5 MP Rear / 2 MP Front

Check Current Price

7. Dragon Touch MAX10 Plus

Upgraded LED

10 Inches
Up To 10 Hrs.
2.22 Lbs.
9.45 x 6.57 x 0.31"
32 - 128 Expandable
8 MP Rear Cam

Check Current Price
Best Tablets For Online Class Reviewed
Display: 10.2-inch retina display
Battery Life: up to 10 hours
Weight: 1.7 pounds
Dimensions: 10.35 x 7.28 x 1.93 inches
Storage: 128 GB
Camera: 8 MP camera with HDR and 1080p HD video
This is the benchmark for all tablets. They are automatically compared to the Apple iPad. There are several models with a huge difference in cost. Some people have noticed that the new iPad models have more glitches, than the older ones. They freeze, lose connectivity and the touchscreen stops working. If this happens, they need a restart. For this reason, this device may be better for older students.
Pros
You can print wirelessly to most printers
It is SIM card compatible, so you can use it as a phone
The wide bezel makes it easy for young children to hold it
Cons
It only works with Apple Pencil's first Generation. It doesn't work with the second-generation pencil
The screen glass breaks easily. It is not the best for younger children who may drop it
The battery drains quickly and it takes a long time to charge
Best For: This is a good choice for high school or college students who want to digitalize their notes and other work. It is sophisticated enough for most students who may have other devices for gaming or watching movies.
This video compares two Apple iPads, iPad Air 4 vs iPad 8. from the perspective of a high school or college student. The iPad Air 4 is about twice the cost and students may not need all the bells and whistles it has.
---
Display: 10.4-inch display touchscreen, pen included
Battery Life: depending on usage patterns, the lithium polymer battery gives 13 hours of streaming
Weight: 7.05 ounces
Dimensions: 10.05 x 6.38 x 1.34 inches
Storage: 64 GB memory with a port for SD card
Camera: webcam resolution 8 MP
The Galaxy Tab S6 Lite is a small, lightweight gadget with crystal clear images and outstanding sound quality. It provides students with an excellent viewing experience if you show videos, teach spoken language or listen to music. It has a metallic external frame, which makes it strong enough in case it is dropped by young children.
Pros
International plug-in connection for those who travel
The pen is easy to use for notetaking
Excellent audio with Dolby Atmos speakers
Cons
It is comparatively expensive which may be a problem for some parents
The keyboard costs extra, but some sellers give a discounted price if it is purchased as a bundle
The fingerprint scanner is low-tech, slow, and unreliable
Best For: This is a good device for elementary school children who are just learning to read. It has good sound quality and is lightweight enough to be easy for small hands to manipulate.
This video gives a detailed presentation of how a student can use all the features on this device. It's a good video for parents of young children to watch if they need to help their children get ready for classes.
---
Display: 12.3 inches
Battery Life: 10.5 hours
Weight: 1.10 pounds
Dimensions: 12.8 x 2.68 x 9.21 inches
Storage: 128 GB
Camera: rear webcam 8 MP resolution
The Microsoft Surface Pro is a laptop that can change into a tablet. This is its best feature because it can be used in a classroom, perched on a desk, or while sitting on the sofa.
Young children will most likely use it as a tablet to carry with them. It claims to have an all-day battery, but users say the battery often wears out after five hours. Another issue users found is the touchscreen becomes frozen while the keyboard still works.
Pros
It is certified Climate Pledge Friendly
It functions as a laptop and tablet with a cover that allows it to be propped up on a desk
It is solidly built. You can throw it in a bag without worry you will scratch or damage it
Cons
This is one of the more expensive devices. It may have more features than are necessary for an elementary school class
It doesn't include the Surface pen
The improvement over the last model isn't enough to justify the extra cost
Best For: This model is highly recommended for high school and college students because of the laptop functionality. However, several of the features are not the latest technology, so even if it lasts for years, it will become outdated sooner rather than later.
This video is from the college or high school student's point of view. It gives a detailed description of the general organization of the model, how to set up pages for writing, and other functions. In my opinion, the Surface Pro can be the best tablet for schoolwork and Zoom classes based on all the features it's made of.
---
Display: 10.1 inches 1920 x 1200 resolution
Battery Life: up to 12 hours
Weight: 17.8 ounces
Dimensions: 10.3 x 6.3 x 0.4 inches
Storage: 32 or 64 GB with micro-SD card slot
Camera: 2 MP front and rear cameras
This is an inexpensive device that has all your elementary class needs for a good online learning experience. The colors of the Amazon Fire HD are vivid, which is good for young kids. This is the best tablet for kids in online classes which is recommended for reading books or playing audiobooks, which makes it a good choice for younger students.
The most common complaint is that Amazon tablets only connect with Amazon apps. However, you can look at the apps available and inform your student's parents if the Amazon apps serve your purpose or if it has to be configured to access Google Play.
Pros
Fully laminated display that keeps the screen clean and safe from small, slippery hands
It has excellent interaction with Alexa. The voice activation has a good response time, and you get the answers to questions quickly
If the student's parents are Amazon Prime members, this is a good choice. It will give unlimited access to Prime Videos, music or reading, or audiobooks
Cons
This model is slightly heavier than the others on this list, which could cause problems for the youngest users
It doesn't work well Google, but you can install Google Play Store and get access to all the Google apps
This gadget is not long-lasting, which may be one reason it has such a low price. Loading will slow down after about a year and the battery gets drained very fast
Best For: Parents will love this option because of the price. It's a good tablet for elementary school students because the screen is bright and the touchscreen is super responsive.

It works best when you use the apps already installed or that you download directly to it. This tablet is annoyingly difficult to transfer stuff that was downloaded on another device
This video is narrated by a teacher. He really likes this device because it provides all the apps he wants and is very affordable.
---
Display: 10.3 inches 1920 x 1200 screen resolution
Battery Life: 7 hours playback and 8 hours browsing
Weight: 1.6 pounds
Dimensions: 9.6 x 6.04 x 0.33 inches
Storage: 32 GB and SD card slot
Camera: 8 MP rear and 5 MP front cameras
The Tab M10 Plus has Kid's Mode. Parents can control the content that is available and it has special eye protection to help avoid eye strain. It will also give alerts if the child is sitting or lying in a bumpy environment alert for bad posture, and it can be set for a specific viewing time. This is a good feature if you have trouble getting your kids off the tablet and outdoors or doing another activity.
Parental control and good posture are only a couple of reasons why the Tab M10 Plus from Lenovo should be considered the best tablet for kids' online classes.
Pros
Excellent sound with two side speakers with Dolby Atmos audio
The screen occupies the entire front of the device
It has good specs for the price
Cons
The screen has a lag time of three to four seconds after swiping for some apps. The video below gives tips on how to speed up the swipe
The sound is good but the volume is low even on the highest setting
The Wi-Fi connection arbitrarily shuts off and restarts, which is not good for live classes and young children may not know what to do about it
Best For: This is a very good gadget for elementary school students. With the Kids Mode, you can count on child-safe content and not worry if something unwanted will pop up. It's also one of the more affordable on this list which will be attractive to parents.
This clip is a bit long, but it explains how to maximize the use of this gadget. You and your student's parents can set the features for how your students interact with their tablets.

---
Display: 10.1-inch 1280 x 800 IPS display
Battery Life: 5 hours
Weight: 1.52 pounds
Dimensions: 10.24 x 0.67 x 0.39 inches
Storage: 64 GB
Camera: 5 MP primary camera and 2 MP front camera
This is the newest version of the Windows Tablet PC. It has the full Windows 10 package, which makes it very user-friendly for browsing, videos, spreadsheets, and games. It is ultra-slim with large bezels which is often the best choice for younger students. They can grip the tablet more securely. With the above features, it functions as a laptop with the convenience of a tablet.
Pros
It has a full-size USB 3.0 port
It is easy to get out of the Windows 10 apps mode to install apps from outside sources, but once you get out, you can't get back
It has a headphone jack
Cons
It doesn't wake up from sleep mode. You need to restart it. You can disable sleep mode in Windows, which is fine when it is powered, but not a good idea when it is on battery
Opening files or browsing the web is slow. This is the main complaint users have. It's not good for multitasking
Recharging is slow, and the device heats up after a few hours of use
Best For: This is a great device for younger students who don't need speedy browsing or downloading. It's medium-priced, and you get a lot of features and apps for the money. If your class needs a high-quality camera, this may not be the best choice.
This is an unboxing video and review of the Windows 10 Fusion 5 tablet for an online class. The narrator goes through the features and finally gives his opinion.
---
Display: 10-inch 1920 x 1200 with Eye Care
Battery Life: up to 10 hours
Weight: 2.22 pounds
Dimensions: 9.45 x 6.57 x 0.31 inches
Storage: 32 GB expandable to 128 GB
Camera: 8 MP rear webcam
This is a very user-friendly gadget. It accesses Google, so you can use your photo cache, Google Play, and Google Docs. The Dragon Touch Max 10 makes it good for high school and college students. The body is made from an aluminum alloy, so it is strong enough to survive drops. It has an upgraded Quantum LED dot enhancement film display for brilliant color.
Therefore, the Max 10 is the best tablet for Google Classroom. I don't think anything can go wrong with this device.
Pros:
It has two SIM card ports, so you can use it as a phone
It works with any basic stylus
The touchscreen display is fast and responsive
Cons
This is the heaviest tablet on this list. It may be a bit too much for three to five-year-olds to carry around
The charger that comes with the device tends to get overheated quickly
Some users think 10-hour battery life is too short for watching movies and reading books, but for three to five hours of online schooling, it's fine
Best For: This is another affordable tablet that isn't cheap with its features. You can recommend this tablet to your parents with the confidence that it is user-friendly for younger students and not expensive.
This is an unboxing video that explains the features of the device. It also compares this device to the previous Dragon Touch model.
---
Honorable Mentions
After teaching young children online for a while, I learned about some apps and options that make the job easier and clearer for the students.
This inspired me to take the time to examine and test about 40 different models of tablets for various use cases for general schoolwork as well as for Zoom and Google Classroom online classes.
I took careful notes and choose the best to present to you. Some models are super reliable, and I consider them the best. Here are two that are very good just not on the "best" list:
CHECK CURRENT PRICE
---
CHECK CURRENT PRICE
---
How Tablet Use Enhances The Learning Experience
Whether it's a face-to-face lesson, an online educational game, or viewing a video; tablets make it easier for children to relax, which has been proven to increase memory.  Sitting in a comfortable place with their personal tablet gives children the sense of taking control of their own learning. It reduces distraction, especially with headphones, and improves focus.
According to the World Journal of Education, teaching methodology has adopted new strategies to take advantage of technological advancements in digital devices, especially tablets. The infrastructure that supports digital learning such as reliable electricity, connectivity to the Internet, and user capability are all improving every year.
Distance learning has long been a staple of universities, but in the last 18 months, it has been essential even for pre-school students.
This is one reason why the best tablets for online class gives the best experience. They are easy for small hands to manipulate and allow the child to sit in a comfortable place, relax and enjoy the lesson. Sometimes defined as mobile learning, they are wireless and can be used anywhere there is a Wi-Fi connection.
Tablets have the added advantage of being useful in remote, rural areas. The Journal for Learning Development conducted a research project that contributed to the Sustainable Development Goals to ensure equitable and inclusive quality education opportunities for children everywhere.
The devices need not require an Internet connection. They are wirelessly linked to the Aptus local server, which was designed by the Commonwealth of Learning, so students can access course material without the Internet. The best result of all this technology is the increased interest of children in rural and urban areas to attend school.
Tests concluded that scores were significantly higher after using a tablet for learning than before.
How Other Teachers Use It
The way your online classes are conducted depends a lot on the platform you use. Here are a few of the most common features teachers use for elementary school teaching.
Chat
The chat feature can be a nuisance, but it also has a positive use. When a student or you are giving a demonstration, reading aloud, or just plain explaining a lesson, your students will have immediate questions. The chat feature allows them to ask their questions without disrupting the lesson or unmuting to ask.
Get one of the best tablets for online classes in this review article. You'll definitely find one that is most suitable for teaching your students online.
Screen Sharing
This is a common feature in tablets for school use and corporate meetings. Your students can see you speaking while looking at a page, photo or live feed on the other half of their screens. This is great for teaching a language or reading as children can follow along while someone reads aloud. If you are showing a video, you can pause and explain along the way without losing your student's attention.
This YouTube video gives you clear and detailed instructions on how to use a Wacom tablet for Loom and Zoom classes. It has a lot of settings to make your teaching easier, but depending on how tech-savvy you are, it may take some time to choose the options you want and get set up.
Microsoft Teams is considered one of the best platforms. It has features for corporate use and education. You can choose from a variety of features depending on how you want to interact with your students, and you can change features for different types of classes.
A Quick Guide To Buying The Best School Tablet for Students
With just about every class being taught online from chemistry to English literature, the student must have a good reading setup. E-readers are inexpensive and created just for downloading books, magazines, and newspapers.
Most have touchscreens for turning pages, but some have buttons. You can change the font size and even look up definitions in a dictionary. Amazon Kindle has an E-ink screen that is easier on your eyes than an LCD screen.
The best tablets for Zoom classes will serve all of the above functions along with connectivity to the Internet, so you can look up information and check your social media sites.
Here are seven things you should check before you recommend a tablet if your students have hours of reading to do online:
1. Display
If the tablet is only for reading, then one with an E-ink feature is better. It almost exactly replicates ink on paper and is sometimes advertised as electronic paper. Colored ink is very rare and the device is more expensive.
For younger students, reading is just one activity and a wealth of colored graphics is also essential. For them, a tablet is better.
2. Battery Life
Another benefit of E-Ink is lower power consumption than LCD screens. This is because e-readers just need to turn pages while tablets need to run games, store photos, and graphics, and play videos. The common battery life of an e-reader is up to eight weeks. Now, even if you get the best tab for online classes, it is more like 10 hours.
But don't be disheartened. This is usually enough for students as they can be charged at night, or connected to a power source during classes.
3. Weight And Size
E-readers need to be lightweight. They are usually hand-held for long periods. Many tablets come with stands that hold the tablet at a good angle for reading or watching. The best size for an e-reader is considered to be 6 inches. Tablets need larger screens for the same reasons above they have shorter battery life.
4. Speakers And Microphones
High-quality speakers and microphones are essential for online classes. Both the teacher and the students need headphones to block out ambient noise and focus on the lesson. Microphones are needed, so the student can communicate with the teacher and other class members. You can check out this list of the best school headphones to match your tablet of choice.
Some tablets have built-in speakers and mics, but if they don't provide enough sound, external speakers can be purchased. Just make sure the tablet you choose has a port for external speakers or a headset.
5. Storage
The best tab for online classes can store a student's whole year of lessons, but if that is not possible, buy a tablet with an SD slot for extra storage. A USB pen drive may also be useful for storing photos, videos, and reading assignments.
6. Camera
The camera is the link that helps you have a close relationship with your students via Zoom. They can see your expressions and you can see theirs. It is built-in to the tablet and is usually of good quality. If you want HD or other features, you can buy a webcam. This could be useful if you want to give close-up images of leaves, insects, or any other pictures.
7. Pen And Keyboard Inclusion
Not all tablets use a pen or have an attached keyboard. Most have a port that will accept an external keyboard. iPads usually include a pen, but they have several levels of technology, so make sure the pen you get works with the tablet you choose.
For example, the Apple iPad 10.2 does not work with the Apple Pencil second generation. It only works with the first-generation Apple pencil, and the pencil doesn't come with the iPad, you have to buy it separately.
Conclusion
Online learning for elementary-age children has been a challenge this past year, but it has had its high points, which is why it is here to stay. Even when schools reopen, most of them will keep certain aspects of learning online.
To make this an optimum experience, the students need a good tablets just like my personal favorite, the New Apple iPad. I hope I have made it easier for you to choose tablets for your students or to recommend certain ones to their parents.
My Top Pick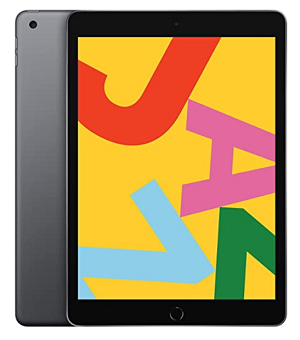 10-inch screen
10-hour battery life
Wi-Fi connectivity
Hi-Quality back and front cameras
Best for: This model is perfect for younger children with smaller hands. The dimensions, 9.8 x 6.8 x .29 inches make it easy for them to handle. The narrow edges allow for a larger screen. It weighs just over one pound.
This is a high-quality iPad for the price. It's very easy to set up right out of the box. It has an auto-setup feature that many people recommend. You can change any settings later.
Last Updated on February 24, 2022 by Emily