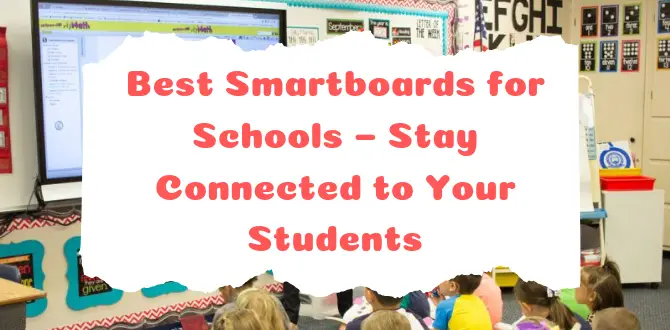 Teachers who are trying to engage their students of any age with chalk-and-talk are not going to further their education. Students who grew up connected to the Internet with knowledge and entertainment at their fingertips will simply disconnect from a dry lecture.
Smartboards are the answer to help teachers make lessons relatable to their students and to help students stay connected to what they need for their future. I'm going to show you the three best types of smartboard for schools: interactive whiteboards, smartmarkers, and touch screen monitors, so it'll be easier for you to pick the one that fits your needs and budget.
Best smartboards for schools:
Option 1: An Interactive Whiteboard with a Projector
With this type of smartboard, you have an ordinary whiteboard and a projector, usually mounted on the ceiling, that puts the content on the whiteboard. There are two different types of electronic pen or stylus that allow you to move images or write on the whiteboard.
A smartboard with a projector is interactive with the pen, and you can get excellent software to suit your teaching needs. It requires a slightly darkened room, as the display may be washed out with too much ambient light. The image tends to fade over time and could cause eye strain, plus the projector is high maintenance and uses a lot of electricity.
Here are two popular smartboards with projectors: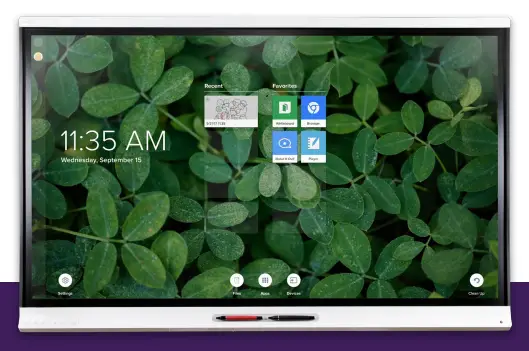 The Smart Board M600 comes in a bundle with everything you need for larger-than-life images from a very short distance. It has dual-touch controls so students can work together at the board or with you. With this, one of the best smartboards for the classroom, you can create interactive lessons and save them for another time.
The M600 Series has a built-in audio and printing capability in interactive mode. You get the board, projector, power cords and pens. Here are three ways I have seen it used:
A middle school history lesson about World War II really came alive when clips from movies and actual footage were shown to the class.
A third-grade lesson on the water cycle allowed the children to draw each step from the ocean and evaporation to the clouds, mountains, rain and rivers. Each student drew something.
High school chemistry became much easier when I could show the chemical bonds in 3D.
Also, it can be the best solution for music teachers. You can provide games and melodic and rhythmic activities.
Watch this video to learn about all of the features the M600 Series has, and how it can be used for different subject matter.
Best for: The M600 Series is suited for a wide variety of interactive lessons, from videos to manipulating graphics for better understanding.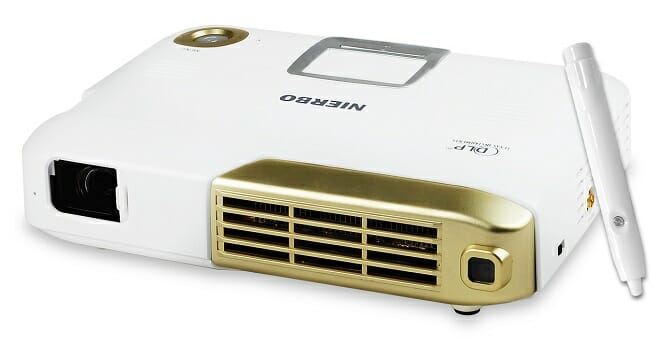 The NIERBO HC40 Interactive Projector is a mini portable projector that can be your home theater, or a great classroom tool for interesting, interactive teaching for students of any age. It offers an interactive function of full 3D 4K for Android or Windows.
Here are three applications for students of different ages:
Kindergarteners and first graders love to spell words on the smartboard. You can enhance the lesson with exciting graphics and let the children have a chance at the board putting letters together as words.
The same can be done with words and parts of speech for older students. Put a graphic on the board with a list of words, and ask them to make sentences that relate to the picture.
A smartboard is ideal for a high school history or civics class. These subjects are traditionally dull, but with graphics and pictures, you can show the three branches of the government along with their functions, and ask the students to align the functions under each graphic.
Here's a video that clearly shows you the endless possibilities of teaching with this projector:
Best for: The NIERBO HC40 Interactive Projector is a good addition to your classroom if you want to make your lessons fun and engaging. It allows you to provide different kinds of interactive activities.
Either of these projectors is excellent for interactive whiteboard teaching. they're easy to use and have a lot of smart features. The only drawback is lighting. Too much light on the board will make the images difficult to see.
Option 2: A Smartmarker and a Screen
A light pen allows you to accurately control the cursor for quick selection of graphics and movement across a TV, computer monitor or projector screen. You have the ability to expand your lesson using the Internet in real time, and save each lesson. It does require you to sit or stand a bit awkwardly to be as accurate as you need to be, and this can result in wrist and back strain if you have a long session. It's up to you to make the smartmarker and screen an effective tool for teaching, or it will become just like a dry-erase whiteboard.
Here are three smartmarker options:

The GoTouch Basic 3.0 turns any screen or even a wall into a smartboard. It connects to your PC, smartphone or Mac. You control the cursor with the stylus and it supports multiple users. If you don't have a Bluetooth connection, you may need a dongle to go online with the GoTouch.
The GoTouch uses a 4K infrared sensor that transmits your graphics and the other components of your lesson to your screen via Bluetooth. No wires are needed, as it has a battery. It's so small, you can carry it in your pocket or bag.
Here are three ways to use the GoTouch in the classroom:
You can control a fully visual lesson on landforms and show your students volcanoes, tsunamis, earthquakes, and different rock formations in real time, opening a world of wonder, and maybe even wanderlust.
Make geometry lessons more like games than math, as the shapes and angles can be manipulated with your stylus. You can easily remove an angle and give brightly colored graphic representations of measuring and adding angles.
Science classes can be confusing for some students, but when they see the concepts of elements, molecules, atoms, electrons and protons in colorful 3D, it becomes much easier to remember the concepts.
Here's a video that shows you how easy this device is to use:
Best for: The GoTouch Basic 3.0 is a very convenient device if you move to different classrooms and can't carry your smartboard or projector with you. If you want to cut costs, you can share it with another teacher, because it's easily portable.
The eBeam Smartmarker Complete turns any surface into an interactive whiteboard. It has four different colored light pens. They have automatic Bluetooth pairing, and you can connect with anyone anywhere in the world in real time and share lessons or discussions. It will turn your writing into the font of your choice and save all of your notes, so you just have to print them.
There are no tools needed for mounting the screen to a magnetic whiteboard. If the surface isn't magnetic, you can use the kind of mounting brackets that leave no trace when they're removed. Here are three resources for a wealth of fun things to do that will engage your students:
Graspable Math allows students to have fun while learning math. The board will tell them at each step if they're going in the right direction, so they learn along the way and always end up with the right answer. They can use strategic thinking in games like chess, and the board will keep track of their moves.
PBS Learning Media allows you to find interactive whiteboard lessons according to subject and grade level.
Crickweb and Eduscapes both offer ready-made lessons covering a variety of subjects and age groups.
This video shows you why the eBeam Smartmarker Complete is the most advanced of its kind. You don't need a special light pen, as regular whiteboard pens fit into the eBeam case. It makes any surface digitally connected, and you can save your lesson or send it to anyone.
Best for: The eBeam Smartmarker Complete is definitely your best choice if you're looking for a smartmarker.
The IPEVO IW2 Wireless Interactive Whiteboard System is a small, inexpensive device that has three pieces and turns almost any flat surface into a smartboard. It doesn't require Wi-Fi, because it includes a software app. It's wireless, lightweight and portable.
The device includes an interactive pen, a sensor cam, and a wireless receiver. It will show 3D objects, and only takes a few minutes to set up and calibrate. It doesn't come with a computer or projector.
Here are three more ways to use a smartboard in your classroom:
Scholastic offers a wide range of games and lessons for interactive whiteboards in math, social studies, science and language.
See the planets, Milky Way, constellations and more in the night sky with Stellarium, a free planetarium for smartboards.
Topmarks offers up-to-the-minute information about a variety of topics for every age group.
This video will give you a clear idea of how to use the IPEVO IW2 Wireless Interactive Whiteboard System:
Best for: The IPEVO IW2 Wireless Interactive Whiteboard System is the best choice if you need to turn a flat surface into a smartboard.
Option 3: Touch Screen Monitor
A smartboard with a touch screen monitor has a computer built in. Some can be controlled with finger touch or with a stylus. It really can't be beaten for interactive and attractive teaching for any age group. It has a clear display that's not affected by ambient light. The display is a bit smaller than with a projector. You'll need to take some time to learn how to use this smartboard effectively, but in the end, it's one of the best smartboards for the classroom.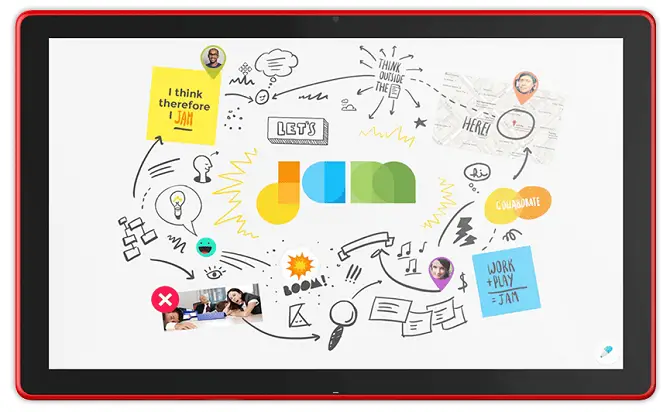 The Google Jamboard was developed by Google for real-time cloud interaction. It's like a very large tablet with a 55", 4K touchscreen display that offers cross-platform support.
Here are three ways to use this device:
You may already be familiar with BrainPOP, but did you know it offers lesson plans for smartboards?
Whatever lesson you're planning next, consider starting with a problem. Children solve problems in online games all the time, and it's a great challenge for them. The problem doesn't have to be subject-related; you may start with a question, such as, "What would you do if your toothpaste tube was empty when you got up in the morning? "
Let the students do the lesson plan. They support what they help create. They can make quizzes, find videos on the subject, and learn and retain much more than if you do all the thinking and talking.
This video shows how Google Jamboard can be used across devices, and it's especially useful for collaboration:
Best for: The Google Jamboard is one of the top smartboards, and will enhance any classroom.
The 50″ Touch Force 4K UHD Monitor is one of the best smartboards for schools. It combines the latest integrated reality technology with HD picture quality for a spectacular home theater or awesome smartboard for your classroom.
You can use a stylus, touch, or motion to interact with this board. It has a 10-point ultra-fast response for up to 10 single-point users. It's the best solution for a small preschool classroom.
PBS Kids has a wide variety of language learning games that can be played by multiple players on a smartboard., such as Funny Photos for K – 2, where the kids move the parts that are out of place and learn vocabulary words.
Storybook Creator allows children from K – 2 to change the words in a story for writing and reading comprehension.
Cyberchase Lucky Star allows students aged 3 – 5 to problem solve and learn algebraic thinking.
This video gives you a great overview of not only how this device works, but the use of smartboards in classrooms in general:
Best for: The 50″ Touch Force 4K UHD Monitor is the smartboard to get If you or your school district has the budget.
Useful resources
Here are some useful videos that will help you make the most of your smartboard teaching aid.
This video explains why it's better to get a smartboard than a projector and stylus. Cost is just one aspect. The quality of the image is a big factor.
This video tells you how to make any board an interactive whiteboard with an eBeam Smartmarker. It's humorous and worth watching if you're serious about changing the way you teach.
Conclusion
As you can see, the above smartboards vary widely in cost. A simple stylus and projector are probably the cheapest, and may work well for a while. The main problem is that the image isn't very sharp, and the projector uses much more energy than a smartboard. In some cases, you'll need to darken your room a bit to get the best picture. Having said that, it's definitely better than staying with the centuries-old chalkboard method. Not all of the best smartboards for the classroom cost a fortune, and they will give you and your students the best experience.
If you haven't tried it yet, you have a lot of fun ahead of you. You won't believe how it will change your teaching — and your students' learning — for the better.