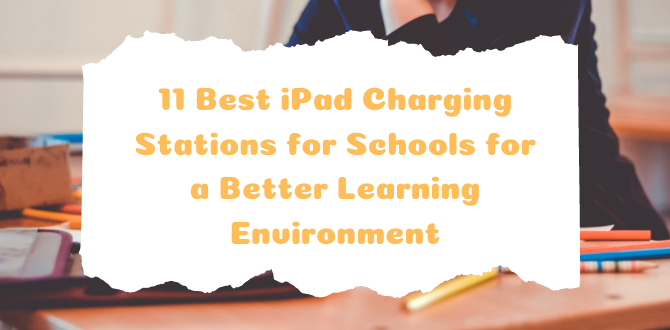 Hello again and welcome to the world of teaching with iPads. I used iPads in my elementary classrooms and noticed that my students relate more quickly to the lessons when they hold a device in their hands.
Actually…
iPads are common for entertainment and recreation, so it took a few days to accustom them to a learning device. As I started giving lessons with iPads more regularly, I needed to have a safe place to store them as well as a place to charge several at the same time.
Even if you only have five in a classroom at first, they are not very useful if you have to charge them one at a time. An iPad charging station is an answer for facilitating the use of multiple devices. Having it in the classroom means the iPads are ready when you are.
Charging stations look neat, organized, and professional. They can remind your students that these iPads need to be cared for as they are tools for everyone and not personal devices.
As usual, I did my research to learn as much as I could about iPad charging stations for schools and even tried making my own. I want to pass this information on to you so you don't have to wonder what's out there but have the information at your fingertips.
The NEXGADGET Charging Station is my top favorite as it has several types of ports and for a few more reasons you'll find out below.
Product
Details

1. Alxum iPad Charging Station

Ultra Powerful

Energy Efficient
Auto Detect Tech
Certified Safe
10 Devices
Wireless

Check Current Price

2. Line Leader Compact Mobile Charging Cart

Locking Feature

Great Ventilation
Built-In Power Strip
Ease Of Transport
16 Devices

Check Current Price

3. Kavalan 10 Port USB Charging Station

Over-Charge Protection

Neat & Stylish
Anti-Power Surge
Fast Charging
6+4 Ports

Check Current Price

4. Prosumer's Choice Natural Bamboo Charging Station

Retro Style

Surge Protection
Use While Charging
Hidden Cables
5 Devices

Check Current Price

5. NTONPOWER USB Fast Charging Dock

Flame Retardant

Fast Charging
W/ Liability Insurance
10 Devices

Check Current Price
Best iPad Charging Stations Reviewed
Here, I'm suggesting some of the best iPad charging stations. Hopefully, you will find one that perfectly suits your needs.
The NEXGADGET is an eight-port station that charges all devices. It organizes your devices to look neat and charges them safely with a built-in IC. The eight cables have USB ports, both 1 A and 2.4 A ports.
The 1A ports provide slow charging and the 2.4 ports provide fast charging so your devices are always topped up.
The nine detachable baffles hold the devices even if they are in a case and they glow to indicate the charging status.
Goodies I found:
Rubber pads on the charging base prevent slipping and scratching
CE, FCC, and ROHS certified
Protection from surges, over-voltage, over-current, and short circuit
Final Verdict
I love the NEXGADGET station dock because it has both fast and slow charging and several types of ports. It will even charge an iWatch and an AirPod. It looks good and is easy for all my 23 students to use.
I need a larger number of ports to allow all of my students to have time on an iPad each day. Sometimes I use them in the morning and charge them for use in the afternoon. Another great feature is the glowing rim that tells you at a glance if the device is fully charged.
---
Kavalan is the big one with 10 USB charging stations. It supports 65W so all the devices can be charged simultaneously at full speed.
Six of the ports have Smart auto-detect charging technology and will adjust to being compatible with different types of devices. Four ports have 1 A charge mainly for smartphones. It has a 65W/13A maximum output.
It is not recommended for charging 10 iPads at the same time. If you want to charge 10 devices simultaneously, six can be iPads and four can be smartphones or another small device. You need to buy the cables separately.
Goodies I found
It's good-looking and keeps your iPads, phones, and other devices neat and safe
It protects against over-charging and electrical surge
It will charge one device or up to 10
Final Verdict 
This portable charging station is fast and useful if you have several types of devices to charge. It is not suitable for charging 10 iPads at the same time, so if you don't use other types of devices, I think you would be better off with a smaller charging station.
---
Prosumer's Choice is a retro-looking charging station. The divider slots are removable and will charge five iPads or smartphones. The cables are hidden with a tiny slot where the charger comes out.
It is made with 100 percent sustainably harvested bamboo and will not scratch surfaces.
Goodies I found
It has surge protectors
It's easy to keep clean
It looks attractive enough for your classroom and home
Final verdict
I like the idea of having a high-tech device like a charging station that looks like a piece of furniture from the 1950s. It's good for a classroom because it is easy on the little hands. Another benefit is you can use your device while it is still charging.
---
This is a fast-charging dock for 10 iPads with ports for 2.4 A simultaneous charging. The docks may not be wide enough for thick or large covers.
NTONPOWER USB Fast Charging Dock has a high energy conversion rate of 85 percent which saves energy because it creates unnecessary heat thereby more environmentally friendly. It will charge any device from an iPad to a headset.
Goodies I found
It comes with liability insurance for any damage to your home because of an accident
The divider stand is stable and won't slide
Flame-retardant casing
Final Verdict
It's great if you have an iPad for each child. You can keep them all charged and ready for use. This is a top-of-the-line product and a good choice if most of your teaching is done with a device.
---
This 10-port charging station has adjustable dividers to charge multiple devices. Alxum has a Smart IC to ensure the safe charging of any device.
The charging will automatically stop when the charge is full. It's very powerful with 2.4 max output and can charge 10 smartphones or eight iPads quickly and simultaneously. The cables are not included.
Goodies I found
The width is adjustable for different devices
It is UL certified safe
Rated DOE Level six for energy efficiency
Final Verdict
This multiple iPad docking station comes with just about every protection available, which is a good thing if you put your iPads on to charge and forget about them. You won't have to worry that they will get zapped by a surge in electricity or because they are overcharged.
---
The Tripp Lite device charges up to 10 devices simultaneously very quickly. It has a locking enclosure, which may be a good idea for a classroom. It has surge protection.
The slots are wide and removable and the AC outlets, cords, and power adapters are hidden.
It has a six-foot connecting cord
Goodies I found
The lid has a key lock which is good to prevent theft and keeps unwanted hands off the devices until you are ready to hand them out.
There is also a cable lock that secures the whole charging station to your desk or other platforms.
It comes with insurance against damage or accidents.
Final Verdict
This is a good charging station if you share a classroom or need to leave your iPads unattended. You can not only lock the box, but you can also lock the station in place. It has all the bell and whistles of the other stations with the added benefit of being the most secure.
---
This is a one-size-fits-all charging station that is also a rolling cart. It has four non-marking wheels, so you can easily move it from classroom to classroom.
Line Leader Compact is made from heavy-duty steel and will not tip over, and two of the casters are lockable so it won't tip or move if children bump into it or push it out of the way.
It will simultaneously charge up to 16 devices. The cabinet is 12.13" x 23.25" and has a cord management hole at the bottom so you don't need to leave the door open when you are charging.
Goodies I found
It can be locked for safe storage
It has good ventilation to prevent overheating
It has a built-in power strip to easily manage the cords
Final Verdict
If you use a lot of devices and need to transport them, then this portable iPad charging station is a good option. It doesn't have built-in surge protection, so you need to plug your power cords into a surge protector if this is an issue where you work or live.
---
Tripp Lite16-port charging station that serves laptops too. The cabinet is made from steel and provides comprehensive protection. It will last for years and has a lockable door that is tamper-proof.
The ventilation is excellent, so there is no overheating during charging. All the AC outlets, cords, and power adapters are out of sight.
Goodies I found
The front doors open 180 degrees flat for easy removal of devices
You can also buy a mobile cart that is made for the charging station cabinet
The AC input cord is 10 feet long to reach distant outlets
Final Verdict
This is the classroom iPad storage and the charging station of my dreams. It can be mounted on a wall or pushed around on a cart. With 16 ports you never have to worry about finding uncharged iPads again. Just store them in the unit and forget them until you need them. It's not a good choice if you need to also charge regular-sized laptops, but that's not a problem for me.
---
Kensington Universal will hold 14" laptops as well as iPads. The door has a secure lock and the whole cabinet is ventilated. The locks are sold separately. It's made from metal, not plastic, so it is durable even if handled often by children.
It will charge up to 12 AC-powered devices if they all have a surface Pro plug. Power plugs are too large and only six devices with power plugs can be charged at one time.
Goodies I found
It has built-in surge protection
It fits on a standard AV cart
It has built-in cable management
Final Verdict
This is a great portable charging station but it's larger than the others. It is 19.84 x 17.52 x 13.39 inches. It takes up a lot of space but that's the trade-off for being able to charge so many devices simultaneously. It may only hold six or seven laptops but it will easily hold 10 iPads.
---
Also Great For School
These Ipad charging carts will become an indispensable part of your class! Easy to use, portable and durable — perfect for school!

The Pearington multiple-size charger hangs on your wall. It has 12 docks for Chromebooks and 13-inch laptops.
If you need security when you store or charge your devices, this is a good option. It has a three-point lock mechanism for excellent security. It has a compact design with dimensions of 35.5 x 7.8 x 22.4 inches and has cable management for neatness.
The surge protection strip can be shifted inside to accommodate the number and size of devices you are charging. It comes with brackets that attach to the back for hanging on the wall.
Goodies I found
The surge protection strip
It has 12 docks for Chromebooks and 13-inch laptops
Excellent security
Final Verdict
For small or crowded classrooms, wall-mounted furniture is great. With 12 docks, you can keep your whole class charged on a rotating basis. You may need to hang it at a low level in an elementary classroom, so younger kids can reach the top.
---
This charging station is a piece of furniture with casters for moving around the room. It has 16 charging ports for iPads or tablets. The casters allow it to spin 360-degrees and two of them have locking brakes.
The overall dimensions are 27 x 14.75 x 30 inches and it weighs 37 pounds. Luxor Furniture keeps cords neatly and is easy for even younger children to plug their device for charging with two clips that guide the cables to the power strip.
It is easy to assemble and the tools needed are included. The sides of the dividers are padded to prevent scratches on the screens.
Goodies I found
16 charging ports
It keeps cords neatly and is easy
Prevent scratches on the screens
Final Verdict
This charger cart is suitable for a larger classroom where you have the space to roll it around the room. It's a good size for elementary school-age children to learn how to care for electronic devices.
---
What To Consider When Choosing An iPad Charging Station
Start with the number of ports you need. The highest number of ports in a charging station is ten. You can get ones with four, five, or seven ports. If you build your own station, you can have many more ports, but there are pros and cons to this that I discuss later.
Сonsider the size of the devices you want to charge. If they are all iPads, it's easier, but if you also want to charge laptops, you should check the size of the docks. They need to be wider or adjustable.
Look at the power rating of the charging station. A high rating means the time to full charge is quicker. The low rating takes longer to fully charge. If you charge overnight, this may not be a problem, but if you need to continue charging during the day, a faster turnaround time is better.
Сheck the cables. Some have shorter cables than others and may look neater in the classroom. There are several types of connectors, so make sure the charging station has the type you want. Several of the following charging stations don't include the cables. This could be good if you want to have more than one type of connector.
Сonsider safe storage. To lock or not to lock is the question. You may not need a locking station in your classroom, but if there is a lot of traffic in and out of your school or if you need to transport your iPads to another location, a charging station that locks is the best option.
How To Choose A New iPad Docking And Charging Station?
Before you purchase an iPad docking and charging station, check out these five considerations first to save yourself from frustrating mistakes:
The measurements of the devices you want to charge – If all the devices you want to charge are the same size, then you know what size charger you need. If you have iPads, laptops, Chromebooks, and smartphones you want to be able to charge then you may need a larger station.
The number of devices you have to charge – If each of your students has a device that needs charging, you may have to do it on a rotating basis. Most ports in a docking station are 12 and many have fewer. If you want more, you may have to look into making your own station.
The length of the cables – It's important to check the cable connections because they can be messy, as I'm sure you know. Some stations have neat ways the cables are hidden. Another thing to check is the length of the charging power cable. Is it long enough to reach a power outlet? This may determine where you store the station.
The power rating of the charger – The power rating determines how long it takes to charge a device. If you charge overnight you may get by with a lower rating. However, if you need a quick turnaround, look for a high rating.
The storage area – For protection from theft, if you keep your charger in your classroom and the door is locked, or you store it in a cupboard that locks, you may not need a docking station that locks.
You can make your own charging station out of dishracks etc., and if this is your only option then it's better to go for it. However, DIY charging stations are often not very neat and attractive and don't have cable control. Alternatively, you can check out this review of the best laptop charging cart—one of these may be just what you need.
That's Not All Folks, There Are Other Possibilities For iPad Charging Stations
During my research, I found several other interesting ideas and ways to create your own charging station for iPads. Please, check this Pinterest site to see them with your own eyes.
You may have already thought that some of these iPad charging stations look like dish racks. Well, you're right. This Pinterest page gives you lots of ideas for creating charging stations that will help organize your classroom. Notice the different types of dish racks, file holders, and shelves that are converted into charging stations. You will also see different ways to handle the cables. After all, one of the best benefits of a designated charging station is to organize the cables.
As you can see in some of the photos, the cables may not be very well hidden and the devices are not in a lockable box, but they do the job if you have your own classroom and don't need to take your iPads with you to different rooms.
You will find some tips for dealing with the wires as well as hiding surge protection strips. If you do decide to DIY an iPad charging station, make sure you check out all the safety features you can get. Surge protection is just one issue. There is also overcharging, overheating, and short-circuiting protection. Since they are all open-air, overheating shouldn't be a problem.
This article will also give you detailed instructions for building a large, attractive plywood iPad charging station. The instructions are a bit complicated for a novice, but for someone who knows carpentry, it's very clear. It's useful if you are handy with building things or know someone who will do it for you. It requires some sophisticated construction tools like saws, drills, and sanders. The author also gives ideas for organizing the charging strips and cables.
Here is a short video about how to make a DIY charging station on a cart:
This one holds 38 iPads for charging and has a lid with a lock. It's a bit easier to make than the one above. The presenter says her father built it for her in his man cave. The cart casters lock and she has organized the charging plugs and cables.
Final Thoughts
DIY iPad charging stations for schools work well and are much less expensive than commercial ones. However, they may not include enough safety features, and except for the constructed examples, they don't look as nice and neat.
The charging stations listed above have everything required for keeping devices safe, organized, and charged. But my top pick, the NEXGADGET spells out all the requirements I need from a charging station.
My Top Pick
Goodies I found: 
Rubber pads on the charging base
CE, FCC, and ROHS certified
Surge, over-voltage, over-current, and short circuit protections
Final verdict: This is my choice. I love it because it has both fast and slow charging and several types of ports.
This is a top-of-the-line charging station for many reasons. It's small at 7.5 x 1.5 x 5.25 inches, provides a lot of functions, and is affordable. With fast and slow charging ports and eight docks, I can keep my whole class charged. It comes with clutter-free cables, including four Micro USB for Android devices and four lightning cables for Apple devices. You won't have to worry about leaving a device in too long as it ensures safe charging with a built-in smart IC that recognizes and organizes your devices and charges them safely. The charger is compatible with the smartwatch, Kindle, PSP device, Bluetooth Speaker, and Fitbit.
Last Updated on February 22, 2022 by Emily