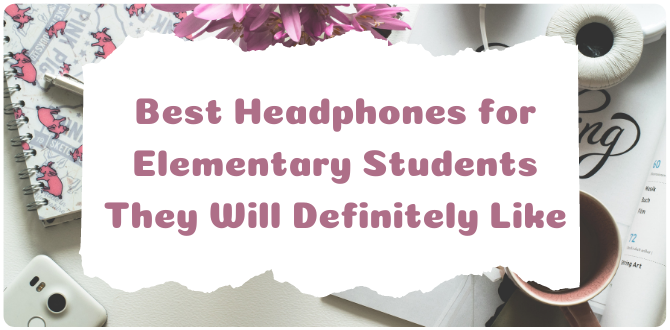 I first started using headphones in my classroom with two hearing-impaired children. The dramatic effect the headphones had on those children's understanding and enthusiasm for their lessons made me think there may be other uses that could have a beneficial impact.
And…
Today, headphones are an essential tool for all my students. They allow students to maintain their focus and participate in a wider variety of activities. I've done a lot of research on the subject and selected a few that are better for children.
Having said that, the Barks Store Bulk Classroom Headphones made it on top of my list because of all the features it has. You'll find out more about that below.
And hopefully, the following information will make it easier for you to choose the best headphones for elementary students and learn about the best models.
Product
Details

1. Barks 10-Pack Bulk Classroom Headphones

Premium Features

Noise-Reducing
Wired
Over Ear
Easy Adjustability
100% Money-Back
Limited Life Warranty

Check Current Price

2. G-Galice BestGot Kids Headphones

Great Usability

Comfy-Cushions
Wired
Volume Control
Easy Adjustability
8 Colors
Cloth Bag

Check Current Price

3. AILIHEN I35 Kid Headphones

Foldable

Cushioned Muffs
Wired
Padded Headbands
Inline Mic
8 Colors

Check Current Price

4. LilGadgets Untangled PRO Kids Premium

Group Shareable

Volume-Limiter
Wired
Metal Extenders

Check Current Price

5. Edifier H840 Audiophile Over-The-Ear Headphones

Soft Earmuffs

Wired
Calibrated Balance
6 Ft. Wire

Check Current Price
My Top Picks Of The Best School Headphones – Reviewed
Here are some samples of the best headphones for elementary students that I have either used in the classroom or heard about from teachers who have used them in their lessons.
The BestGot Kids headphones have PU ear cushions and an adjustable headband for comfort. When connected with devices that support inline control, students can even use this pair of headphones to pause or play music or audio. A cloth storage bag is included with each pair, allowing for safe and dust-free storage.
Goodies I Found
The adjustable headband and ear cushions will keep your students comfortable. You can choose from eight different colors to match your classroom theme or student preferences.
Best For: Older students who may want to control the volume of audio.
---
LilGadgets Untangle Pro Kids are Bluetooth headphones specifically designed for children. They are volume-limited and have an integrated SharePort which worked well in my classroom where children may need to share.
I put small groups of children on one device with each group doing a different level of work. The earpads and headband are covered with breathable mesh material. The extenders are metal for durability and they are adjustable for various sizing.
You're a lucky teacher, I would say if you can afford this set of wireless headphones.
Goodies I Found
The SharePort is the best feature here because several children can connect to one device even with different headphone models. You won't need an outside splitter. They can also be used as wired headphones to save your battery or when it's dead.
Best For: Younger children, as the track advance and volume switch is user-friendly for little fingers. These headphones are the best for an elementary school computer lab.
---
If you're looking for one of the best headphones for school use that are both comfortable and compact when not in use, this pair from AILIHEN should be near the top of your list.
The headphones are designed with a padded headband and memory-protein cushioned earmuffs to ensure students stay comfortable as they're completing their assignments. When not in use, the headphones can be folded up for safer and more compact transport or storage.
Goodies I Found
The headphones fold down for easy and compact storage or transport. The memory-protein cushioned earmuffs and padded headband help students wear these comfortably for extended periods of time. They are the best headphones with a microphone for school.
Best For: Students who will be bringing their headphones back and forth between homes and schools.
---
Edifier H840 Audiophile Headphones quell ambient noise, which makes them a good choice for middle school and even high school students. The wire is six feet long, and the adjustable headband is reinforced with steel.
My colleagues say they're strong enough to withstand use by several classes a day. They produce good sound quality, with a carefully calibrated balance between bass and treble.
Goodies I Found
The earmuffs are soft leather and suitable for long wear without causing pain to the outer ear. They're great for language lessons, music lessons, and lab classes.
Best For: These may work for an eight-year-old, but they're best for 12 and up.
---
Skullcandy Grind On-Ear Headphones provide excellent sound. The earpads are soft and provide hours of listening without outer ear pain. There are buttons on the outside of the ear cup to answer your phone, play, pause, and switch tracks.
The Grind is wired, but Skullcandy makes a wireless Bluetooth called Uproar with a 10-hour battery, microphone, and remote. The teachers who have used these in the classroom felt they may have unnecessary features for a classroom situation.
Goodies I Found
They are comfortable for long-term wear but only muffle ambient noise and do not block it completely.
Best For: They're good for individual lessons for older students over 14 years, making them a great headphone choice for high school classrooms.
---
NUBWO Headsets are made for gaming and cancel all ambient noise. They produce an excellent balanced sound that is intended to give the best gaming experience but works very well for language and music classes and other lessons, such as biology or chemistry, that require precise pronunciation.
The ear cups are padded for prolonged use without outer ear pain. The mic is also noise-canceling, which means others will not hear ambient noise when the wearer speaks. This definitely is one of the features that you should be looking for when searching for the best headphones for school use.
Goodies I Found
There's a rotary volume adjuster on the ear cup. They work well with most devices.
Best For: These are good for teenagers and also the best headphones for middle school students who are used to high-quality headphones and may lose interest in lessons if they have to use lower quality in the classroom.

I consider these headphones to be the best for a school computer lab.
---
If you are ready to take advantage of the benefits of headphones in the classroom, this is a great deal. Barks 10-Pack Bulk is made for the classroom, which means they are comfortable, durable, and provides great sound.
These headphones are adjustable so they suit any grade level; meaning from primary to high school students alike. They are easy to keep clean and reduce ambient noise, which means they help students focus and are great for taking exams.
The headband is durable and teachers say they last for several years with proper care. The connectors are also strong and can withstand being pulled out multiple times.
Goodies I Found
These high-quality headphones are suitable for classrooms, libraries, music and language lessons, computer lab setups, and just about any other place where learning takes place.
Best For: These are great for all ages and places.
---
Why Headphones May Benefit Your Classroom
It's hard enough to get and hold the attention of a whole class, let alone teach them with any kind of individual attention.
Headphones are one solution that works. They allow a student to focus on his or her material while increasing the possibility of individual attention. Especially with a foreign language, good-quality headphones will provide the correct pronunciation the first time, which is a huge advantage.
Today, children understand headphones. They know how to listen and receive information. When this is applied in the classroom, it opens doors that were closed before.
When a child's attention drifts during a lesson, there is a good chance she has disconnected from the material. Headphones encourage the student to focus on the lesson and what she needs to accomplish, rather than on her friends. With headphones, the child can learn at his or her own pace. This is great for students who take longer to understand, as well as for students who grasp quickly and want to move ahead.
Part of being able to focus attention is blocking unwanted sounds.
If a child is taking a test, distractions such as conversations and outside noises will draw his attention, especially if he needs time to think about an answer. Certain types of headphones block the types of sounds that would inhibit his concentration.
There are many ways headphones improve the educational experience for students as well as teachers. For example, you could add an entertainment factor to the lesson by including music or games in your lesson plan.
Headphones allow for a wider variety of activities and almost automatically promote a longer attention span. Learning becomes more interesting because it's more personal for the student.
In my experience, children who used to drift through the day often get hooked on headphones. When they get a clear picture of what's going on, they find that it does relate to them. This is one of the most satisfying things I've experienced. Headphones allow me to interact with individuals as well as the whole class.
Here's a video that will give you the basic guidelines for using headphones in your classroom. I recommend you watch it before you decide what type of headphones you want.
How To Choose The Best School Headphones For Children
As I already mentioned, I've done a lot of research for the best school headphones. I want to pass my findings on to you to help shorten the time it takes you to select the best headphones for your classroom.
With wired, wireless, ear cups, earbuds, mics, and Bluetooth, you have a lot of things to consider before selecting the ones you want. The more sophisticated models may be better for older students, and the ones with fewer features may be better for younger students.
The three main features you need to consider for classroom application are the following:
1. Comfort
Comfort is important for anyone, but especially for children. Uncomfortable headphones will defeat their purpose. Over-the-ear headphones with a soft cushion are the best solution. They're also a good choice if blocking out sound is one of your main concerns.
Some headphones may make your outer ear sore after several hours, so it's better to avoid these. If your students complain about ear pain and you can't replace the headphones, I recommend staggering their usage so they are never worn for more than an hour at a time. Other things to consider:
Adjustability – Headphones that are intended for the classroom may be adjustable to fit a kindergarten child up to a 12th-grader.
Ear cushions – Large over-the-ear cushions are made from vinyl-covered foam. They're easy to keep clean and more hygienic. Some have replaceable ear cushions. These are the best for blocking sound.
Volume control – Students should be able to control their volume as some will require higher volume than others, and if the volume isn't audible or is too loud, again the child will disconnect. This is especially true if you're using a central listening center for your whole class. The volume control is usually on the cord or outer ear cup. Some can be adjusted for each ear cup.
While hygiene may not be directly connected to comfort, it's important that children feel the headphones they share with others are clean. For this, over-the-ear ear cups are by far the best choice because they can be wiped with a cleaner and don't fit into the ear canal as earbuds do.
2. Durability
There are several reasons why some headphones don't last long. For example, If it has too many moving parts so it can be folded up and packed in a small box, young children tend to play with the parts and eventually break the unit.
Also, durable headphones have metal components and are not plastic. The headband may be plastic-coated metal for comfort and strength. Nylon cords will last longer than rubber cords and will not tangle as easily.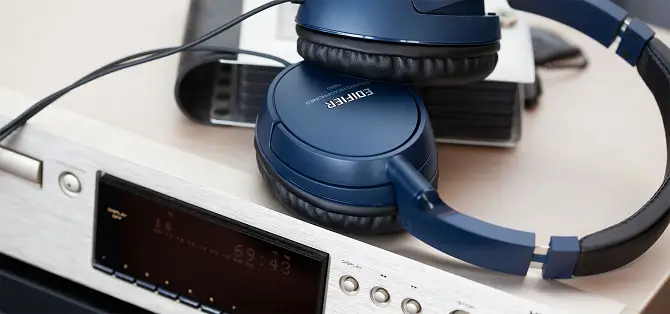 The minimum longevity you need for any of the best classroom headphones is one school year, but many models will last longer than that. As mentioned in the above video, you can teach your students to handle the headphones properly, which will extend their usefulness.
This includes packing them away at the end of the day, each in its own separate bag and not all jumbled together in a basket.
I have found here a helpful infographic on how to take care of your headphones, thereby prolonging their performance.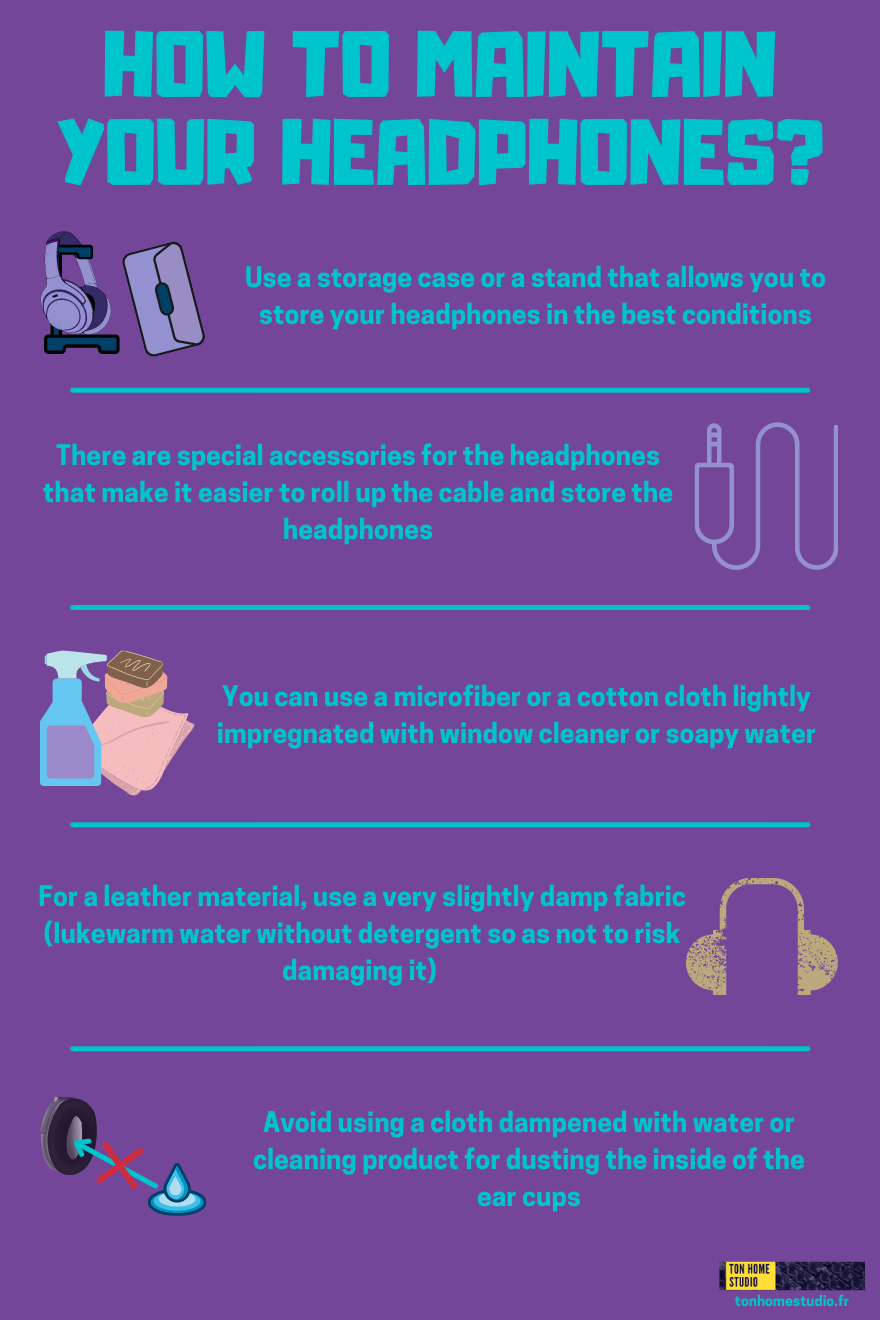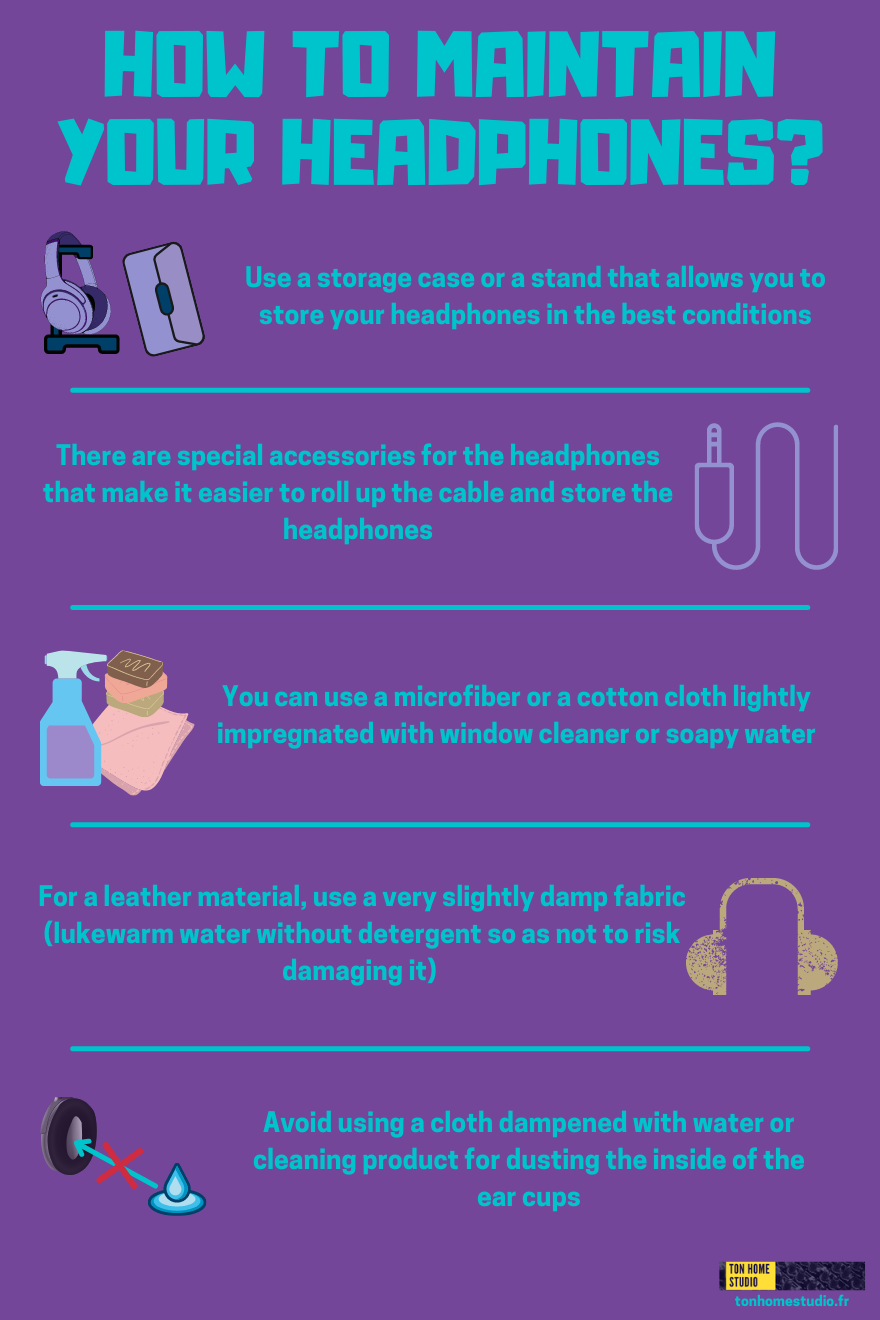 3. Sound Quality
Good sound quality is important for holding the attention of the student, not just for language studies, for which it's essential, but also for music and games. If there's static or it's difficult to distinguish one sound from another, not only is the purpose of the headphones lost but the child's attention will be lost.
Many children are used to headphones for playing games at home. For this reason alone, it's worth getting high-quality headphones for your classroom. If the sound is not up to the standard they are used to, they may not be interested.
Other features to consider are whether or not you want the headphones to have a microphone, if you need to have a wireless connection and if you want to block ambient noise.
Wireless Headphones
These will be useful if you've shared audio lessons or teach younger children. Without wires, there's no chance of cords becoming tangled. Wireless headphones allow for mobility. You can be connected and not worry that your headphones will be pulled off by a caught wire.
There are wireless headphones such as those with Sennheiser's NoiseGard technology that neutralizes ambient noise. These are useful if blocking ambient sound is important. Some things you need to consider if you want wireless headphones are:
Frequency – If other classrooms, labs, or the library have wireless headphones in the same general area, the frequencies need to be different or there could be cross noise contamination.
Distance – The transmitter needs to reach the children in the back of the room. This may not be an issue as most wireless headphones have a 100-foot range from the transmitter.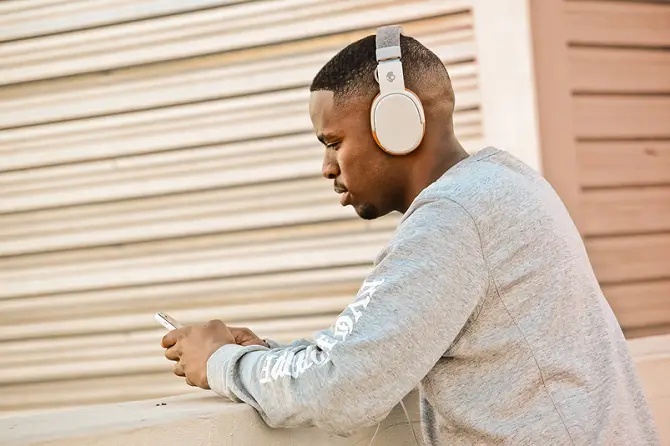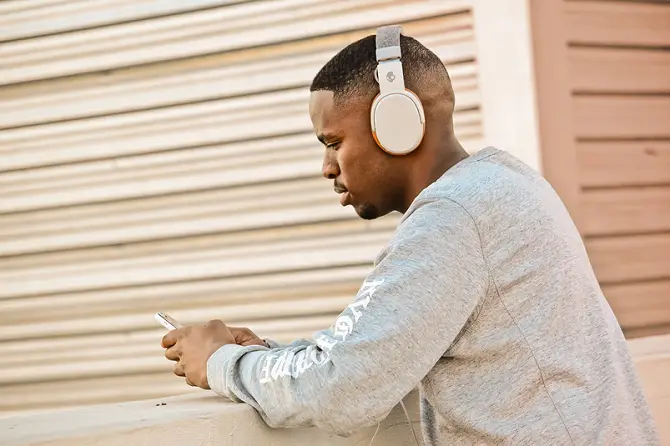 Charging – Wireless headphones need to be charged. You should consider this so there's enough time between classes to have the headphones fully charged.
Battery life – Check the length of time the headphones can be used on one battery charge. It may be enough for a day or two, but you don't want them to go dead in the middle of a lesson. Many wireless headphones last up to 40 hours. Some wireless headsets can also be used with an energy source. This is the best in case the battery didn't get charged at the proper time or to save the battery charge for a later time.
Headsets With Microphone
An attached microphone will make it easy for all of the students to hear each other. Microphones promote active participation. They make it possible to have interactive lessons and are great for language classes because the teacher can hear each child's pronunciation.
Microphones make video conferencing possible. They allow the children to meet special guests from all around the country and world whom they wouldn't ordinarily get to meet. Students can ask questions and hear other student's questions as well as the answers.
I recommend you look for stem microphones rather than ones on the cord if you have K – 2 classes. Older children are used to mics on the cord and treat them properly. Younger children may play with the device and eventually break it.
Watch the video to see the review of one of the products from my top-list:
Non-Electronic Noise-Cancelling Headphones
There are two main types of noise-blocking headphones. The electronic ones produce a sound that is the opposite of the intruding noise, effectively blocking it out. Non-electronic noise-blocking headphones use other methods to diminish outside sounds.
They may seal the ear canal with tightly fitting earbuds or cover the outside ear with high-density foam to physically block the soundwaves.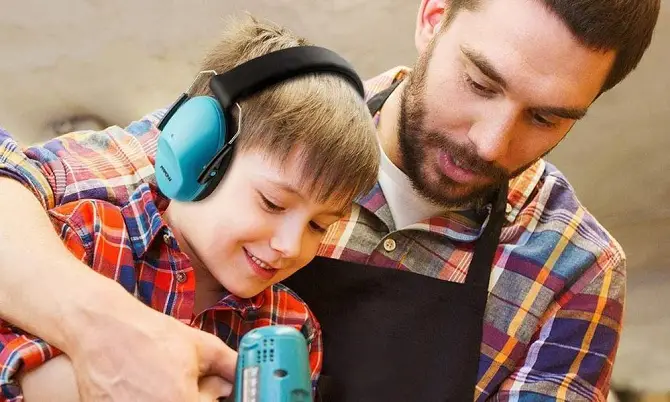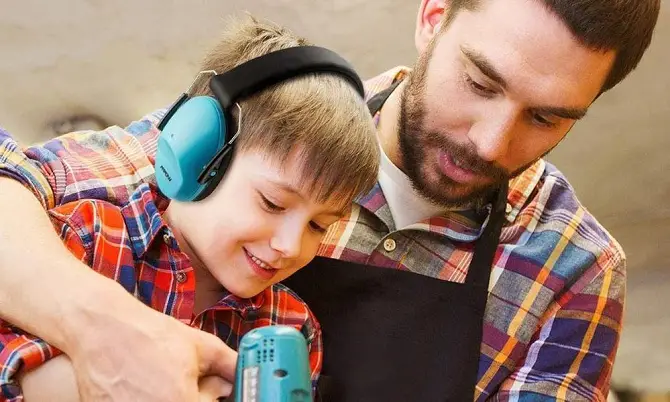 Most sound-blocking headphones used in the classroom are the non-electronic type. If you are looking for this type of headphone, make sure the features say sound-blocking and not just sound-muffling.
To Sum Up
Using headphones in the classroom may throw open a door to worlds your students didn't know existed. Many younger children manage to get by without really understanding the whole picture. Headphones, especially my top pick; the Barks 10-Pack Bulk, may help them hear and interact with the lesson, which will make them more motivated in their education.
Technology has carried away the attention of everyone born after 2000, along with a lot of other people. Why not utilize it to help children relate better to what they need to know, to get the education they need to achieve their goals?
Headphones are one of the best tools for this because they allow the student to hear correctly, interact, and focus.
I hope my blog post has given you the information and inspiration you need to try these best headphones with your elementary students.
My Top Pick
Goodies I Found:
The high-quality headphones that will serve long
Suitable for classrooms, libraries, music and language lessons, computer labs, and for distance learning
Best For: These are great for all ages and places.
This bundle of 10 classroom headphones will put you well on your way to having enough headphones for the whole class. Or you could pick up an extra pack or two to have everyone covered. They are designed to be used with students of all ages (from kindergarten through 12th grade).
These headphones are also comfortable, easy to adjust, and simple to maintain; a perfect combination for classrooms. Additionally, they feature noise-reducing technology to help students focus on their work and improve their performance.
Definitely, this bundle pack is the best classroom headphones based on all the features we have mentioned in this school headphones review. Tell me about your awesome experience with these most durable headphones for the classroom in the comments section below.
Last Updated on August 31, 2023 by Emily