Speakers are a useful classroom tool.
A wireless speaker with Bluetooth connectivity is an excellent alternative for teachers who don't want clunky computer speakers. It can also act as a portable voice amplifier.
But… 
There are so many options available at all different prices. How do you decide which one is best? 
The best Bluetooth speakers for teachers are affordable, durable, and practical.  And the best example of that is the Ortizan Portable Bluetooth Speaker which is my top recommendation. These are my top picks based on those factors.  
The Top 7 Bluetooth Speakers Reviewed
1. Ortizan Portable Bluetooth Speaker – Best Overall
The best speaker for any teacher's budget, in my opinion, is the Ortizan Portable Bluetooth Speaker. It has several impressive qualities that make it perfect for the classroom.
It has a playing time of 30 hours, meaning you'll only have to charge once a week, even if you use it all day!
The Ortizan speaker features LED lights with seven different color and pulse settings to make an ordinary school day feel like a party. 
It's also fully waterproof, so you won't panic if you accidentally spill your coffee or water bottle.
It comes in a few different colors, so you can definitely find one that fits with your classroom style and decor. 
Setting up a surround sound system in the classroom is possible by connecting two speakers to your device. The affordable price means purchasing two is still less expensive than one higher-end speaker. 
It does have slightly less Bluetooth range than other speakers on the list. However, as long as you keep your audio device (phone, tablet, etc.) relatively close by, the sound will stay crystal clear. 
Pros
30 hour playing time

Dual pairing for surround sound

LED color-changing light themes

Built-in microphone

Waterproof
Cons
Less range than other speakers 

No voice commands
Takeaway
If you want a high-quality speaker that won't break the bank, the Ortizan Portable Bluetooth Speaker is a smart purchase. Its long-lasting battery is perfect for extended daily use, and the LED lights add extra festivity to celebrations. 
---
2. OontZ Angle 3 Bluetooth Portable Speaker – Best Value
Another affordable option is the OontZ Angle 3 Bluetooth Portable Speaker. It offers excellent volume due to its unique triangular design. Clear sound will carry to even the furthest corners of your classroom. 
A full charge gives 14 hours of playing time which supports ongoing use and infrequent charging. So you can use it all day and only have to charge it twice a week or so.
The speaker features a 100-foot Bluetooth range. As a result, the sound will remain crisp even if you take your phone with you into the hallway while you decorate your bulletin board or chat with the teacher next door.  
As long as you don't wander too far away, your students can continue listening to your class playlist without interruption.
The Angle 3 is available in 6 different colors, so you can find the shade that will look the best on your teacher's desk. 
While the speaker is water-resistant, it is not waterproof.
It will handle a small spill, but it might not be able to withstand being thoroughly soaked. 
Pros
Triangular design sound 

14-hour playing time

100-foot Bluetooth range

Built-in microphone
Cons
Not fully waterproof

No voice commands
Takeaway
The OontZ Angle 3 Bluetooth Speaker is the best value for the price. This speaker is proof that you don't have to pay top dollar to enjoy quality sound and range. 
---
3. JBL Go 3 – Best Budget-Friendly Compact
Some teachers want a speaker that's lightweight and super portable. In that case, I would recommend the JBL Go 3. It's tiny enough to fit in the palm of your hand but powerful enough to fill the room with clear sound. 
This speaker is the perfect pick for teachers who travel to different classrooms, campuses, or schools. Its handy strap makes it easy to clip onto your teacher bag for easy transport, and because it's waterproof, you won't worry about getting caught in the rain. 
The JBL Go has 5 hours of playing time, making it appropriate for teachers who don't plan to use it consistently every day.
Pros
Ultra-compact and lightweight

Attached strap for portability

Waterproof
Cons
Only 5 hours of playing time

No microphone
Takeaway
If you're a teacher on the go, then the JBL Go 3 is your perfect match. It will give you high-quality sound that fits in your pocket and your budget. 
---
4. Bose SoundLink Micro – Best High-End Compact
The Bose SoundLink Micro is the more upscale version of the JBL Go 3. It is similar in size and battery life and features the same signature sound quality as other Bose products. 
It comes with a silicone strap that can be attached to your bag, cart, or even your bike. I once worked at a middle school that held that a bike-a-thon every fall, and I wish I had this speaker back then. Imagine how fun it would have been to bike along with my students while blasting their favorite songs. 
The Bose SoundLink Micro is a handy multitasking tool because it features a built-in microphone. It will help you maximize your time by allowing you to make and answer calls hands-free. 
Teachers who are also sports coaches will love this speaker. Soccer and baseball warm-ups are more fun with a pump-up playlist.
You can create a high-end, portable surround sound system by purchasing more speakers to take advantage of party mode. If you're a teacher who also organizes events (like fundraisers or bake sales), then this may be worth the investment. 
Pros
Superior sound

Built-in microphone with voice commands

Lightweight and waterproof

Appropriate for sports 

Comes with strap
Cons
Takeaway
The Bose SoundLink Micro is the speaker for any teacher who enjoys multitasking, sports, or event planning. Of course, you'll pay a higher price, but the versatility, portability, and sound quality are worth every penny. 
---
5. JBL FLIP 5 Portable Bluetooth Speaker – Premium Pick
The most expensive speaker on this list is the JBL FLIP 5 Portable Bluetooth Speaker. It's the heaviest out of all the options on this list, but it is still far more compact than most computer speakers.
The sound quality is exquisite, and the battery lasts 12 hours on a full charge. The JBL Flip 5 is perfect for music teachers who want a speaker that produces superior sound for long periods. 
The speaker comes with a hard shell protective case so you can transport it without worrying about damage.
The speaker comes in six different colors, including camouflage, so you can find one that fits your style. 
Even though this is the most expensive option listed, it is still more affordable than other popular models and gives a comparable sound experience.
Pros
Clear sound with long-range

Shockproof case included in the bundle

Waterproof

12 hours playing time

Built-in microphone with voice commands
Cons
Most expensive

Heavier than other options
Takeaway
The JBL FLIP 5 is great for music teachers or audiophiles who value excellent sound quality. It's an investment piece that will add vibrancy to your classroom for years to come. 
---
6. THEA Mini Portable Cute Wireless Speaker – Perfect For Early Years
Teachers who work with the youngest learners know how much they love music and movement. So the only thing better than a good Bluetooth speaker is a cute Bluetooth speaker. That's where the THEA Mini Portable Cute Wireless Bluetooth Speaker comes in. Cute is literally in the name. 
The speaker is available in several quirky animal designs and is perfect for classrooms with animal or zoo themes. The deer speaker is also a festive addition during the winter and Christmas seasons.
It is small, lightweight, and portable enough to take with you on a field trip to the park. 
But don't think that the low price and cute appearance means you'll be sacrificing quality. The sound is surprisingly clear, and the volume is impressive for the price. At this price, you could even afford to buy a few. 
The battery lasts for 6 hours on a full charge which means this speaker can hold its own against more expensive models. 
Pros
Adorable design

Excellent volume and playing time for the price 

Comes in Blue Bunny, Yellow Chicken, White Chicken, Brown Deer, or Tan Owl

Built-in microphone
Cons
Not waterproof 

No voice command 
Takeaway 
The THEA Mini Portable Cute Wireless Bluetooth Speaker is ideal for early years or elementary teachers who want to add a little cuteness to the classroom. Your students will fall in love with the adorable animal designs. 
---
7. Dosmix Wireless Stereo Retro Speaker – Most Stylish
Old fashioned radios are incredibly aesthetic but rare in today's world. The Dosmix Wireless Stereo Retro Speaker combines the nostalgia of a classic radio with the functionality of a modern Bluetooth speaker.
It comes in a range of colors, including a faux wooden finish for a maximum old-timey feel. 
This speaker is similar to the previous one because it also has an above-average sound quality for a low price and has a built-in microphone that lets you take calls hands-free. 
The biggest downside is that it only has 2-3 hours of playing time on a full charge.
Pros
Unique retro design

Lightweight and portable

Quality sound for the price

Built-in microphone
Cons
Only 2-3 hours of playing time

Not waterproof

No voice commands
Takeaway
The Dosmix Wireless Stereo Retro Speaker is best suited for teachers who only play music every once in a while. However, it could also be perfect for Instagram teachers who love sharing items that fit their unique retro-inspired aesthetic. 
---
How To Decide Which Wireless Bluetooth Speaker Is Best For You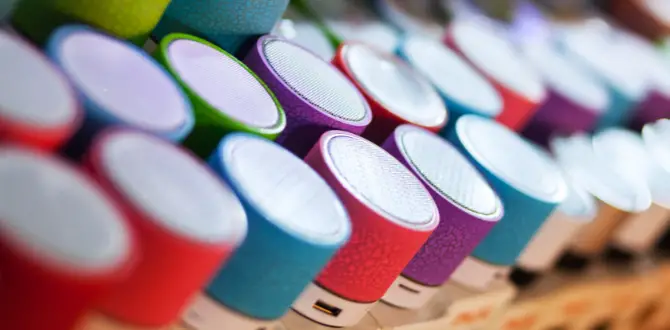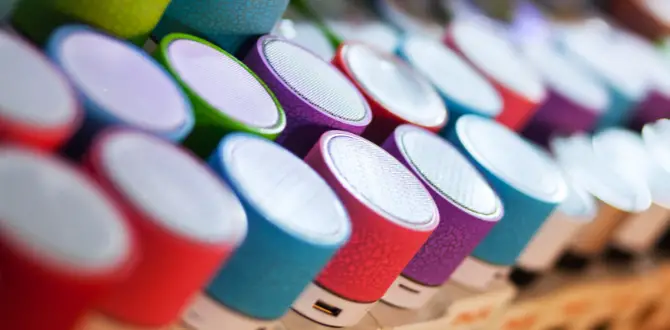 Wireless Bluetooth speakers are a practical alternative for teachers who either don't like or don't have space for computer speakers. 
With so many on the market, figuring out which one to add to your cart can be challenging. However, you can narrow it down by asking yourself the following questions.
What Quality of Sound Do You Prefer?
Are you a self-proclaimed "music snob" or a music teacher who values the clearest possible sound? If so, then a more expensive speaker might be the way to go. 
Maybe you're the kind of person who thinks all speakers sound the same and doesn't notice the difference in sound quality. Then it wouldn't make much sense to invest in a high-end speaker when a more budget-friendly option would meet your needs. 
If you plan to play informational videos frequently, you could benefit from a speaker with a crisper sound. For example, you don't want your students constantly asking, "what did they say?" because your speaker garbles the words. 
What's Your Budget?
Don't feel like you have to spend top dollar for a quality speaker. Most of the options on this list are under $50 and provide crisp, clear sound for the price. 
It's essential to keep the price in mind if you want to use more than one speaker to create a surround sound setup. You can purchase two affordable options and spend the same as one of the higher-end models.
How Often Will You Use Your Speaker?
Think about how often you want to use your speaker in the classroom. 
Do you teach eight periods a day and want to create a playlist with each of your classes? Do you use the speaker to amplify your presentations regularly? Are you only planning on playing calming music during independent work time? 
If you're using your speaker for most of the school day, you may get annoyed when you have to charge it in the afternoons. Purchasing one with an abundance of playing time will be a better choice for you. 
Perhaps you're a bit forgetful and might not remember to charge your speaker regularly. Picking a speaker with 30 hours of playing time will allow you to go days or even weeks without having to charge it (depending on how often you use it). 
Are You a Multi-Tasker?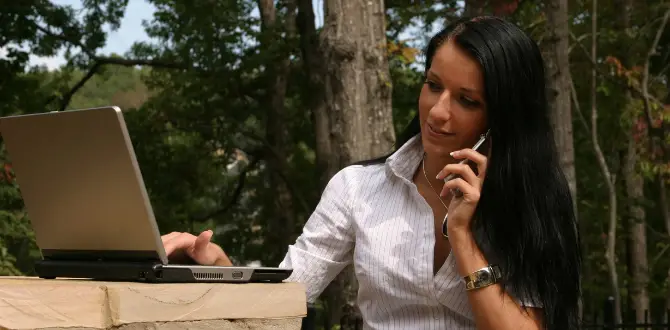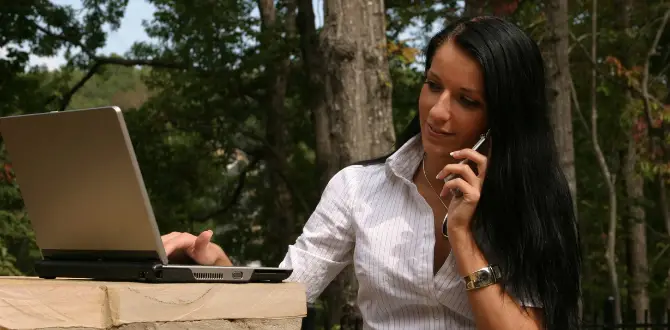 Planning time is valuable for teachers. It's often the only time of day that we can get tasks accomplished. 
It can also be the only time to make phone calls to places with limited hours like the bank or the doctor. Nothing is worse than holding your phone to your ear while you're on hold or having to scramble to your phone to answer when they finally call you back. 
Choosing a Bluetooth speaker with a built-in microphone and voice commands is the best choice if you want to make and answer calls while working all around your classroom. 
A speaker with a microphone and no voice commands is still an excellent option for teachers who want to take calls with a quick press of a button. 
Will you be using it in multiple locations? 
If you plan to keep your speaker in your classroom, you won't have to keep portability in mind. Therefore, a larger, heavier speaker won't be a problem.
However, if you want the option to use your speaker at home or teach in more than one classroom, consider getting a smaller speaker that's more lightweight. 
You're going to want a waterproof speaker if you plan on using it during outdoor recess, on class trips, or while you're on the field coaching. So you won't panic if it starts rainy unexpectedly. 
Do You Want a Speaker That's Purely Functional or Aesthetically Cute?
Do you have a specific classroom theme and want a speaker that matches the colors? Most speakers come in standard colors like black, gray, and white, but only some models come in an array of colors. 
You can also find cutesy, aesthetic Bluetooth speakers that will fit your classroom theme and still give you quality sound. 
Why Should You Get Wireless Bluetooth Speaker?
Including appropriate music in your classroom can be beneficial. 
Here are a few other ideas for classroom use:
Play the audio version of a book while your students follow along with the text. 

When your students get too noisy, save your voice by playing an attention-getter (doorbell chime, bell, etc.).

Play podcasts related to your lessons during independent work. 

Use an app to turn your phone into a wireless microphone and your speaker into a voice amplifier through the speaker during large meetings or school events.

Fill the room with mediation sounds to give your students a peaceful break. 

Adding school-appropriate songs to a class playlist can be a student reward when they reach goals or complete tasks. In addition, you can use the playlist for parties, indoor recess, or free periods.
You can see how to create collaborative Youtube playlists with older students or your teacher besties in this video below.
Turn On the Tunes!
The best Bluetooth speaker for classroom teachers gives you quality sound and is portable, affordable, and waterproof. Based on these criteria, my top pick is the Ortizan Portable Bluetooth Speaker. 
The sound quality is impressive, it's fully waterproof, and it's the only speaker on the list with LED lights.
If you don't need lights but want a speaker of similar quality, then the OontZ Angle 3 Bluetooth Portable Speaker is right for you. It has all the features of the Ortizan Speaker at an even more affordable price. 
Find your perfect match and make your audio dreams a reality.
Last Updated on August 31, 2023 by Emily