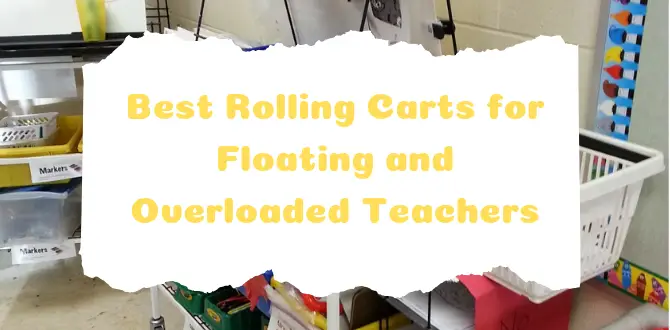 If you are a teacher floater and don't have one designated classroom, you know how challenging it can be to make sure you are prepared for each class you teach.
That's a must.
Teachers with a designed classroom have the luxury of having a desk, counter space, tables, bookshelves, and more where they can lay out and organize books, materials, students' assignments, and anything else they need.
If you're a floating teacher, you don't have this luxury. You need to bring all the materials you'll need for each group of students you see throughout your day with you.
That's why in this article, I'll share some more information about the best rolling cart for teachers to help you select the right one to meet your specific needs.
Check out my favorite – the Everything Mary Deluxe Rolling Papercraft Craft Case and keep reading to discover more options and find the best one for you.
Top 5 Best Rolling Carts For Teachers
Product
Details

1. Everything Mary Deluxe Rolling Papercraft Craft Case

Stylish & Functional

47 Storage Spaces
Clear Sections
Polyester Fabric
100% Money-Back

Check Current Price

2. Husky GP-43196N13

Built To Last

Water Resistant
Very Durable
Bartec Stitching
18 Pockets

Check Current Price

3. Mount-It! Mesh Rolling Utility Cart

Folds Flat

Quick Assembly
Easy Storage
Polypropylene
Aluminum Handle

Check Current Price

4. dBest Smart Collapsible Cart

Tote Style

Very Lightweight
Easy Storage
Pull-Up Handle

Check Current Price

5. Tubstr Compact 3 Shelf Utility Tub Carts

Heavy Duty Cart

Lock Box (Optional)
Ergonomic Handles
Deep Shelves

Check Current Price
Top 11 List Of Rolling Carts & Bags For Teachers Reviewed
Rolling bags are a great option to consider for a floating teacher. These items can be worn as a shoulder bag or backpack or pulled as a cart. This gives them more versatility, which can let you decide the most comfortable way to transport your belongings depending on their weight and whether you need to walk up and down the stairs or outside with them.
With an eye to saving money, I tried several cheap rolling carts and learned the hard way that cheaper isn't always the best option. In fact, it took me a long time of patching with duct tape and making do with my cheap selections until I realized I wasn't saving money buying a new cheap one every year.
That's why in this list you find only the best models. For your convenience, I've divided the picks I've used into 2 categories: Rolling Bags for Teachers and Teacher Carts with Wheels.
Rolling Bags For Teachers
It finally dawned on me that I needed a durable, high-quality cart just like an electrician uses, such as a Husky 18-inch rolling tool tote with plenty of space and neat pockets.
The handle is made for rough use and the wheels are designed to last for years. My advice to you is to spend a little extra on the Husky and save in the long run. Buying universal rolling carts is just like using a Band-Aid when you need a full cast. If you're worried about the condition of your rolling bag or cart, you're not getting the best use out of it.
You need one that serves your needs, not one that you need to pamper. 
That's why this Husky model is the best rolling cart for teachers that I recommend. It's definitely a great buy that would last you years of
Goodies I found:
Room for whatever you want to store and lots of pockets. I could organize everything I needed permanently, and always know where to find it.
It has a large main compartment that holds files without bending them, as well as books and notebooks. There are seemingly endless pockets with seven inside the cart and 11 outside. There's also room for your lunch without squishing your sandwich.
Good quality parts. It has a heavy-duty, telescoping handle that pulls out smoothly. No more tugging. The wheels are also strong and maneuver easily.
Durable and not too large to pull. Goodbye cheap plastic, hello durable 600 denier Tuff, water-resistant material. Even with all the extra space, this cart has been designed to be user-friendly. This is the best teacher cart that takes care of you, not the other way around.
Best For: Floating teachers who are always on the move, and teachers who have to transport a lot of items back and forth from home to classroom every day. This is the toughest bag in this list and my favorite, except for one which you'll see in a minute.
CHECK CURRENT PRICE
Watch this video to learn about the Husky rolling tote. The review wasn't made by a teacher, but it demonstrates all the capabilities of this bag.
---
The Crop In Style 6001 XXL is one of the best organizing tote bags you can find. It has a separate compartment for each type of item, and many of the dividers are clear so you can simply look at the contents and not dig around to find what you want.
It has a large pocket for magazines where you can keep folders, workbooks, and students' files where they won't get bent or crumpled. The dividers are removable if you want to carry a large item. It has two wheels, so to roll it you'll need to tilt it towards you.
Goodies I found:
Easy-to-pull telescoping handle
Front and side pockets good for carrying electrical cords
Space for a projector and laptop
It's designed for arts and craft items and scrapbooking, so it's ideal for carrying classroom supplies.
Best For: Teachers who carry a lot of electronic equipment as well as office supplies, books and papers. It can also become a case for traveling art teachers.
CHECK CURRENT PRICE
Here's a video that shows you what the 6001 XXL bag looks like up close:
---
This Everything Mary was designed to look attractive to enhance the appearance of the user. If you're wearing a suit, this teacher trolley bag won't embarrass you, but it's tough enough for the busiest teacher.
It's recommended by teachers of kindergarten to high school and beyond as a strong rolling bag for carrying a laptop, binders, books, and stacks of paper. The dividers are removable for the days you need to carry a projector or model.
This teachers' tote on wheels will give you that extra little éclat while you go about your business.
Goodies I found:
75D quilted polyester fabric and stylish chrome zippers
Reinforced handles and wheels
47 separate storage spaces specially designed to keep paper safe
Clear compartments for easy searching and Velcro snaps to hold the top-up
Best For: All of these rolling bags are good for carrying stuff, but this bag has the added bonus of attractive form as well as function.
---
Best Teacher Carts On Wheels
Teacher carts with wheels are a better option for individuals who don't want to try to carry their belongings and would prefer to push or pull them. Carts with wheels often offer a greater capacity than rolling bags. This can make them a better choice for those who need to transport more items for teaching.
Copernicus cart has it all. Not only will it hold all the items you need, but you can also take two whiteboards. When I had to use three classrooms in one school, I didn't have time to set up for each lesson.
With this cart, I didn't need to because I was virtually always set up. I could teach shapes and colors to kindergarteners and then move to a fifth-grade science class for magnetism and on to another fifth-grade class for fractions and decimals. Yes, I'm a very versatile teacher! The best part is, if you have access to a digital whiteboard for teaching, you always have your screen with you.
Goodies I found:
Two whiteboards. I could have my shapes ready for the little ones on one board and the decimals and fractions ready on the other board. The whiteboards are removable.
The bins kept me super organized. There's space to store big books and chart paper. The bins are roomy and easy to reach and hold large books.
The whiteboards have two magnetic page paws and snap-on chart paper hooks.
The wheels are heavy-duty and roll well, even over carpet.
Best For: One of the best rolling carts for teachers who need to change classrooms. You can have her lessons ready in advance for each grade level, and will never disturb another lesson already on the classroom board.
CHECK CURRENT PRICE
Here's a video that clearly shows you the possibilities of teaching with the Copernicus easel cart:
---
In my research on Amazon for the best rolling carts, I found this cute Olympia Rolling Shopper Tote and had to have it. I use it for school when I have a lighter load, and at other times such as overnight trips to the beach. I even used it for a picnic once.
It's called Olympia Fashion because it's well designed and attractive. You'll never look like you're hauling tools.
Goodies I found:
Well made. It has several outside pockets, a weatherproof top that zips, a telescoping handle, and solid wheels. Also, the bottom is solid heavy-duty plastic, so you don't need to worry if you load it with heavy books.
Nice design. This is why I stopped on the page. The design is sleek and reminds me of an Italian sports car, even though the name is Greek.
Easy to maneuver. Since it was designed for shopping, the wheels turn on a dime and make pulling it a dream. In addition, one of the best features is the long handles on top. You can put it over your shoulder if the rolling option isn't possible.
Best For: This is an attractive tote that has a lot of uses, but for teachers, it may be best for those who have a lighter load to carry. Even though I said you shouldn't pamper your rolling bag, I may make an exception for this one. This is my other favorite bag.
CHECK CURRENT PRICE
You can decide whether you should buy this Rolling Shopper Tote bag for teachers or not after watching this video review.
---
This isn't exactly a rolling bag, but it's a lightweight, Mesh Rolling Utility Cart that's great for moving books, papers, and supplies from room to room. Since you can see through the sides, you can immediately find whatever you need without moving everything first. It's very versatile, so when you don't need it for school, you can use it for grocery shopping.
Goodies I found:
The rubber wheels are the strong, silent type.
It folds flat and is easy to transport and store.
It has a polypropylene case and a strong aluminum handle.
Best For: This is probably one of the best rolling carts for you if you need to dump everything in it quickly and move on. It may not be the best for long-term storage for school supplies, books and papers. It's a great help if you have to carry a lot of books and papers to class or home.
CHECK CURRENT PRICE
You can see this Mount-it! mesh cart in greater detail in this video review of different carts:
---
This is another stylish rolling cart, but it doesn't come anywhere near the classy look of the Teal Geometric. It's available in several colors and designs, and some are better than others, but it does look more like a diaper bag or laundry tote than something for a professional.
Having said that, the Smart Cart is collapsible and suitable for books and papers. If you teach kindergarten, your kids may love it if you get the right design. The wheels work well, and the pull-up handle is strong. It could double as carry-on luggage if you ever get a chance to go for a getaway.
Goodies I found:
I prefer plain black or dark blue, but there are colorful designs, flags, and animal prints if you so desire.
It collapses for easy travel or storage.
It's very lightweight.
Best For: This is an inexpensive rolling bag that may not withstand too much heavy moving and shaking. If you have a few books and papers that you would rather not hang on your shoulder, this would be a good rolling bag for you. However, it may not take a full year of rough handling.
CHECK CURRENT PRICE
This Smart Cart video will give you a detailed description of the multi-purpose folding cart:
---
More Of The Best Rolling Carts I Found
All of the following rolling carts are strong and durable and mainly designed to carry tools and other heavy equipment. They're suitable for floating teachers who have a lot to move from place to place.
Some don't have the organizational capacity of rolling bags and are not meant to be put in your car and taken home, but if you have to move projectors, textbooks, piles of papers, and notebooks in the same location, any one of these rolling carts will be very useful.

The Original Tubster Cart is a very sturdy, heavy-duty rolling cart that was designed to carry cleaning products and supplies. The four-inch heavy-duty full-swivel casters lock so you can be sure it'll stay where you park it. The shelves are 2.5 inches deep, so supplies won't slide or roll-off, even when you're rushing to the next classroom.
This cart holds up to 400 pounds, so you can pile it on and push it along with ease. It's made of high-density polyethylene and has very strong legs. This is the rolling cart you want if it's going to take a lot of abuse from scrambling children, crowded corridors, and moving to many different locations.
Goodies I found:
It comes with an optional lockable box.
The push handles are ergonomic.
It's easy to assemble without tools.
Check out this Tubster 3-Shelf video to see how easy it is to assemble this rolling cart on your own:
---
The Dripex Storage Trolley Cart is designed as a storage and organizer space. It's very attractive and doesn't look like a utility cart. It comes in several colors and is stylish enough to stay put in an office.
Its powder-coated steel frame with four heavy-duty casters, two of which can lock, make it useful for a teacher who needs to move supplies from room to room, but if you want a rolling cart that you keep stocked with supplies, this may not be the best option. It may be better over shorter distances and for spontaneous activities. It needs to be assembled.
Goodies I found:
The shelves are perforated for airflow to dry any brushes, and it comes with removable clear plastic liners so small stuff can't fall through.
Other uses during vacation when you don't need it at school are moving garden supplies and as a mobile bar for an outdoor party.
In fact, it would be a nice addition to a kitchen, bathroom, or patio.
---
The Honey-Can-Do Rolling Cart was made with primary school teachers in mind. It's a rolling arts and crafts classroom with clear pockets on the ends, bins, and three shelves. It has four bins on the middle shelf and three on the top.
The bins are removable so you can pull one out to give sketch pens to one group of children while giving a bin of paintbrushes to another group. It has a strong steel frame and can function as an additional workplace.
Goodies I found:
It's a useful piece of equipment for a floating art teacher, and even if it stays in one classroom it's great for storage and organization.
The four casters are easy to maneuver and lock in place so no "little helper" can push it off in another direction.
It comes with instructions and the tools needed for assembly.
See this instructional video for assembling this Honey-Can-Do heavy duty rolling cart:
---
The Oklahoma Cart is designed for audio/visual equipment. If your main job is to give presentations from a laptop, this cart can simplify your life. If audio/visual equipment is essential for your subject — and these days it seems to be essential for every subject — you may want this rolling cart in addition to a rolling bag that holds other supplies.
This is a rolling cart that you can share with other teachers since it's easy to set up with a laptop for another class. It has an attractive black powder coat and a mounted six-outlet power strip. It's easy to assemble.
Goodies I found:
The presentation table can be adjusted so you can use it standing or sitting.
Built-in grommets to manage miles of wires
The four three-inch casters roll smoothly.
To learn more about the Oklahoma Cart, watch this video:
---
Rolling Carts – Your Best Solution
A rolling car or crate is one of the best solutions to help keep you organized and prepared for each of your classes. They offer plenty of space for the materials you need and different sections and compartments to keep everything organized and easy to access.
Plus, they'll save your back and shoulders from trying to carry heavy stacks of books and papers around in your arms or in a bag or backpack.
While many of the choices I looked at had their benefits, I settled on the products above as my top picks since they really stood out to me.
How A Rolling Cart Can Benefit Floating Teachers
Surviving as a floating teacher can definitely be a challenge. You don't have your own classroom and need to move quickly between different rooms in the building and get set up quickly to teach.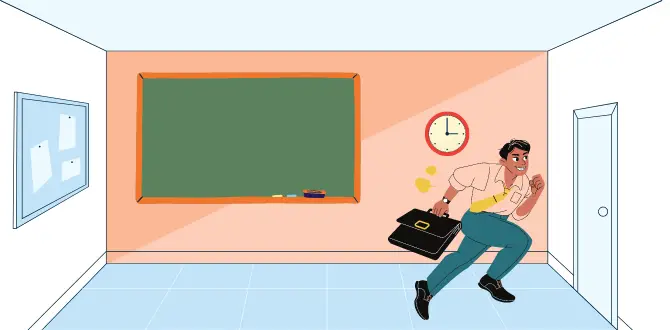 However, with one of the best rolling carts, you can begin to realize more of the pleasures associated with being a floating teacher. There is no question being a floating teacher isn't ideal, but there are a few advantages to consider:
For example, these include getting to know more people in the building as you travel from room to room and working more closely with other teachers that you may share a classroom with.
One of the biggest benefits of being a floating teacher is that you don't have to prepare and decorate a classroom. This will not only save you the hours that go into putting up and maintaining bulletin boards, but it will also save you a lot of money that you may spend on decorations and other supplies.
With a rolling cart, you can make your own mini classroom on wheels. Organize the cart in a way that makes sense for the classes you teach. For example, you may have one section of the cart dedicated to holding materials for each class, or you may decide to keep worksheets and paper in one section, and supplies in another section. The beauty of a rolling cart is that you get to choose the system that works best for you.
If you'll miss being able to decorate a classroom and make a welcoming environment for students, you could always add some decorations to your cart. Consider a theme, such as your favorite sports team or destination, or change up the decorations to match the seasons.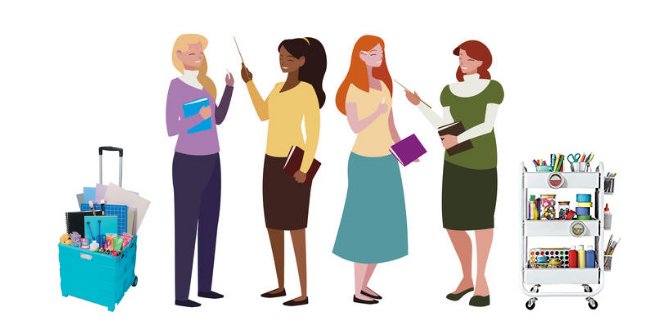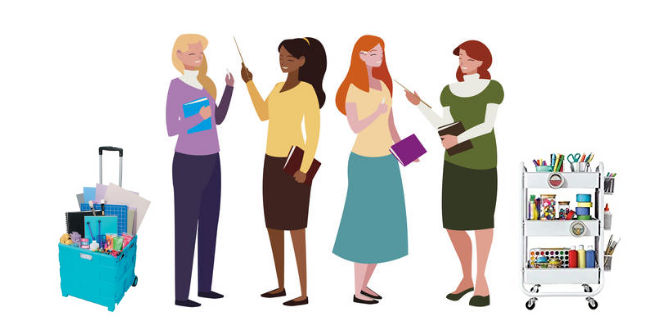 If you're looking for more information about rolling carts and how they could benefit you, check out this video.
It highlights various features of rolling carts that you may want to look for. I also found this video to be useful since it really helps you see the size of the cart and its layout to help visualize how you could use it for teaching.
How To Choose The Perfect Trolley
Finding the right rolling cart to meet your specific needs will be important. Here are a few tips to help you decide on which option is right for you.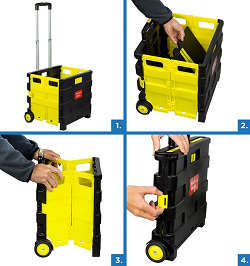 ✔ Design
The first and likely most important, thing you'll want to look for when choosing a rolling cart is the overall design. Think about the items you'll need to transport with you, and find a cart that is laid out in a way to accommodate those needs. Think about if you'd prefer a more open design with bins or something that can be zipped up to enclose all of your items between classes.
✔ Mobility
You will also want to think about how easy pushing or pulling the rolling cart will be. Chances are, you'll be moving it down the hall every day, or even multiple times a day. You don't want to get a cart with wheels that will jam or ones that won't glide easily.
✔ Quality And Durability
Since you'll be using your cart on a daily basis and pushing it from classroom to classroom, finding an option that will hold up well to this frequent use will also be important. Look for carts made from durable materials that won't tear or break easily.
You should also pay close attention to the wheels and whether they look durable enough to support the weight of all the items you'll be bringing on the cart.
✔Cost
Finally, consider the cost of each rolling cart. In a perfect world, the cart would be covered by your school district since it will help simplify your teaching job, but we all know this isn't the reality for most teachers. Decide on your budget and look for a quality product that is within that budget.
To Sum Up
If you're a teacher who moves from classroom to classroom and even to different campuses, you probably need to keep certain supplies close at hand because you can't count on them being at your destination.
Fortunately, several manufacturers understand this problem and have created a variety of the best shelves, best teacher trolley bags, and carts that roll right along with you. And that's where the Everything Mary Deluxe Rolling Papercraft Craft Case comes to the rescue!
Whether you need to take your art supplies down the hall or carry all of your audio/visual equipment across town, it's the best carrying case for you. I spent several years trying to fit a round peg into a square hole and finally found the rolling bag that fits my needs exactly.
I hope I've saved you time and energy that you can better spend on your teaching by presenting a few of the best rolling bags, carts, and shelves I've encountered along the way.
My Top Pick
Goodies I found:
Polyester fabric and stylish zippers
Reinforced handles and wheels
47 separate storage spaces
Clear sections for easy searching
Best For: All of these rolling bags are good for carrying stuff, but this bag has the added bonus of attractive form as well as function.
With 47 different storage spaces, this should be the best rolling teacher cart to help you find the perfect place for everything you need to bring with you from room to room. The rolling tote opens unzips to make it easy to see everything that is inside. Then, you can zip it back up for safe transport of all your belongings.
Last Updated on February 24, 2022 by Emily