Video lectures are a fun and creative way to help students better understand material using an engaging medium. With easy-to-use software and just a few pieces of equipment, you can get started right away. Have fun creating videos on your own time and in your own way. We all know kids are addicted to their electronic devices and watching YouTube videos, so let's take advantage of their interest and sneak in some instruction.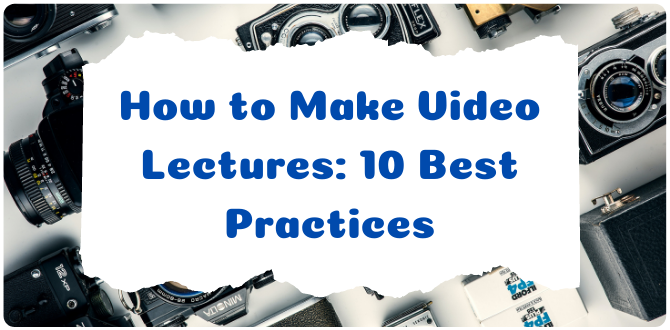 If you can't wait to get started with video recording, read my article with reviews of best cameras for recording classroom lectures. You'll find there both simple and cheap cameras for recording online lessons and professional camcorders for creating super-high-quality videos. You may also want to check out my reviews of the best voice recorders. Dive right in to pick the devices that perfectly suit your needs.
Let's get started by looking at some tips on how to make video lectures

I. Lecture Capture
One of the easiest ways to retain and archive your lessons is through lecture capture. You can do this using a lecture video recorder or a webcam for the classroom. I'd like to share an example of a lecture capture I find interesting and worth seeing and even repeating.
1. University of Washington staff explains Tegrity technology and how they use it to enhance student learning
Kevin Mihata explains how the faculty at the college use the technology to present material remotely, record in-class lectures for students to review after class, and pre-record lectures for students to watch before coming to class. Teachers use the software to record lectures using laptops while they are teaching, or before class in their office or home if the teacher has to miss a class. The pause and repeat feature helps English-language learners, students with disabilities, and students who are unfamiliar with the material.
Tools: Laptop
Software: They use a program called Tegrity from McGraw Hill Education to create their lectures.
Goodies I found:
Students like it because there are video and supplemental notes.
Teachers can offer material to be watched before class so contact hours can be used for active learning like group work and problem solving.
It's easy to use and makes students more successful.
II. Demonstration
I like demonstration videos to help students understand step-by-step instructions or as a way to review content. The best way to record lectures in the classroom is by figuring out the equipment you need and the information you want to convey. The best thing about a demonstration video is that the presentation is clear, and it's great for visual learners as well as auditory learners.
2. Demonstration video offering tips to show guided notes using whiteboards
Lance Bledsoe is a math teacher, and in this video, he gives a step-by-step presentation about how and where he creates his lessons. He prepares his whiteboards and guided notes before starting the lesson, and offers tips about equipment and lighting and how to set up for a video lecture. He also shows the process of creating several "takes" before capturing what he wants to show his students. Finally, he provides some practical advice about uploading the final video.
Tools: He uses whiteboards and markers, a camera for recording lectures and a tripod.
Software: MP4 video
Goodies I found:
I like the way he uses the actual guided notes he gives to his students to create the presentation, on a whiteboard so his students can model his note-taking.
The plug-and-play feature of his video recording device is simple and easy. He just drags and drops the MP4 to his YouTube channel.
3. Tried-and-true practical advice for creating professional-looking videos on a budget
Sean Cannell and John Mediana give an energetic description of what goes on behind the scenes and how to make video lectures. They show cheap ways to make videos with minimum equipment.
Check out how much fun and energy these two have as they go over the bare minimum equipment and how to make online video lectures. Sean also shows how hiding some content keeps students focused and wondering what's coming next. The guys show how important is to have a directional microphone and softbox for lighting.
The guys set up their equipment before recording, and have the scripted portions prepared with a teleprompter. Sean uses notes on a whiteboard that is not part of the video to help guide his discussion, and stands near the presentation whiteboard while going through the information. He looks directly into the camera to make viewers feel like he's talking directly to them. After they finish recording, the video is edited and uploaded to the internet.
Tools: They use a homemade $5 teleprompter, iPad, lighting stand, Dry erase board, and Index cards in assorted colors. For a recording device, they use the Canon EOS 5D Mark II and a Rode VideoMic. Audio equipment includes a Long Cable to Rode Mic and a reflector providing soft light without shadows.
Software: Teleprompter App for scripted portion of video ($15)
Goodies I found:
Love the homemade teleprompter! I can see using it for video lectures and other video recordings.
Rip-card index cards for revealing information is awesome – keeps viewers engaged.
III. Talking-Head Video
Let's take a look at a talking-head video. There are loads of examples out there, and it's one of the easiest video lectures to create. The best part of a talking-head video is how easy they are to make, and you can eliminate a lot of distractions with a very simple background.
4. A great example of how to make a video lecture with few distractions and simple equipment
Miguel Hernandez gives us a checklist to follow to make a good video lecture. Miguel is a top Udemy Instructor and the founder of Grumo Media. He explains the tools and equipment we need, how to prepare the lecture for recording, delivering and editing the lecture, and finally, how to export the lecture to video format so students can watch.
Miguel prepares for a video lecture by setting up his equipment, including a webcam and laptop. His slides are created in advance, and he uses an external microphone because it provides better audio. He records the video using Camtasia software, and he can also edit using the software. Once he's happy with the video, he uploads it to the internet.
Tools: He uses a Blue Yeti or Audio Technica AT2020 external USB microphone, Logitech C920 webcam, a 3-point lighting kit, and an optional seamless paper background.
Software: Screen recording software Camtasia for Windows or ScreenFlow for Mac, or OBS for both. Presentation software (PowerPoint for Windows, Keynote for Mac, Google Slides for both).
Goodies I found:
The checklist is extremely helpful! If you have never recorded a video lecture, this example will give you everything you need.
I love the way he tells you to relax and be happy when you are recording, to make sure you don't have food in your teeth ( : and to speak clearly without a lot of jargon.
5. Easy-to-watch video about creating a talking-head lecture video with equipment you probably already have
If you love Aussie accents, this video presentation by Bradley Ladewig with the Department of Engineering at Monash University is easy to listen to and informative. He talks about where he records, the equipment he uses, collecting the footage for his lectures, editing, hosting, cost, and the time it takes to create an amazing video lecture.
Tools: He uses a Canon EOS 70D DSLR, a lapel microphone, and a tripod.
Software: Keynote on a Mac or Powerpoint on Windows – Final Cut ProX for editing (only with a Mac)
Goodies I found:
With this video, I like the white background and the main focus on the speaker. I think it's less distracting than some of the other backgrounds.
Honestly, I could listen to this guy's voice all day!
6. Straightforward video showing how easy it is to record video lectures in your office with three pieces of equipment
Let's look at another example of a talking-head video with Professor Rosie Redfield from the University of British Columbia. She offers a realistic and straightforward explanation about how to record video lectures on a laptop, and she also explains why she likes to create these types of videos.
Have you ever wondered why teachers make their own videos? Well, Rosie tells us she likes to make her students feel as if they are in the office speaking with her and asking her questions personally.
She has a little recording station set up in her office with a laptop, a drawing tablet, and a microphone. She uses her drawing tablet extensively while recording her voice and explaining her slides. The laptop captures all of the information from the tablet and the audio, and then she uses Camtasia or Screenflow to edit and upload to the internet.
Tools: She uses a Wacom Cintiq Drawing tablet, a laptop, a lamp for lighting, the webcam on her laptop, and a clip-on external microphone.
Software: Camtasia or Screenflow; Omnidazzle is used for the drawing tablet.
Goodies I found:
Rosie is very relaxed and offers a realistic view and explanation of how you can easily record your lectures in your office or classroom.
The drawing tablet is amazing and seems easy to use. Although it's expensive, you might be able to get a grant, or the technology department at your school might pay for it.
She also acknowledges that things often go wrong, but are usually easy to fix.
7. Simple video offering advice about recording video lectures in the classroom with a minimum time commitment
Here's an example of another high energy speaker, Stewart Lee, giving his version of how to record video lectures quickly and easily. He uses his cell phone for part of his recording and shows how you don't have to spend a lot of money to make video lectures. Stewart also talks about creating a YouTube channel for your classroom where you can upload your videos.
Stewart begins the process by explaining the equipment he uses, including his cell phone and selfie stick, and sometimes a Nikon or DSLR camera set on a tripod. He sits in front of his whiteboard and has information ready to present. Stewart takes the video he has recorded on his phone or camera and uploads it to his laptop where he uses Camtasia or other software to edit the videos and publish them to the internet.
Tools: Logitech C920 Webcam, Blue Snowball Microphone, Blue Yeti Microphone, Tascam DR-05 Voice Recorder, Neewer Ring Light.
Software: Screencast or Camtasia, Snagit, Screencastify (a Chrome extension), iMovie, Adobe Premiere Pro (higher learning curve)
Goodies I found:
He uses his cell phone for some of his recordings! It doesn't get much easier than that.
Using a selfie stick to record videos is simple.
You don't have to spend a lot of money – use what you have!
IV. VO Presentation & Screencast (video only)
Most of us have probably used a VO Presentation or Screencast because they are simple and easy to create. They consist of PowerPoint or some type of slides along with a voice recording explaining the content. You will probably use this type of video lecture when you want to review information or even provide remedial instruction. It's easy to record and simple to upload.
8. Vincent Rancaniello offers his tips and tricks to create engaging videos on virology
Vincent Racaniello records a voice over for his colorful presentations on virology. He is a professor of virology at Columbia University who records his voice explaining his colorful presentations, and then uploads them so students can watch online when its convenient.
Vincent starts off by explaining the equipment he uses, including a laptop and a good quality wireless microphone, because he likes to walk around while he lectures. He is able to sync his voice with the PowerPoint slides to create a video using Screencast. He can edit if necessary, and then quickly upload to YouTube where the file is formatted in several ways so viewers can watch on cellphones, tablets, or computers.
Tools: He uses a wireless microphone by Sennheiser. It attaches to a lapel and also includes a receiver and transmitter. You also might need an adapter made by Griffin called an Imic.
Software: He uses Screenflow to capture the slides and his audio so everything is synced. He edits and then uploads. Uses PowerPoint or Keynote depending on the type of computer.
Goodies I found:
Offers a simple way to capture and archive lessons for students. Easy to figure out and you don't need a lot of equipment
It's not expensive. Once you have a wireless mic, the software is free or cheap.
You get an interesting presentation students can watch anytime for review or remediation.
V. Interactive Lecture
Now that we know the best way to video record lectures in the classroom, how do we make sure our students are actually watching and engaged with the content? An interactive lecture includes activities and ways to track how much time students spend watching the video and answering questions dealing with the material. The best part of this type of lecture is the ability to see who is watching and how they are engaging with the information.
9. The article about how to use video lecture presentations you have already created and make them interactive to engage students.
Basile Tchize, a Chemistry teacher with Cégep de Saint-Laurent, explains how to use Edpuzzle to track students' progress and understanding. If you have tried a flipped classroom approach, you know there will inevitably be students who did not watch the video, and you are forced to take valuable class time to review the information. Edpuzzle, or similar programs, make students accountable and should solve this problem.
Tools: Laptop
Software: Edpuzzle
Goodies I found:
Edpuzzle is easy to learn and offers free functions to make video lectures more effective.
You can use videos you already have and create an interactive lesson by adding questions students must answer before moving on.
Students receive immediate feedback, and you can track who watched and participated in the lesson and see the number of correct questions.
An easy way to collect data on student learning.
VI. Preparing for a Video Lecture
Preparing for a video lecture is very responsible! To relieve stress, you can come up with something creative…
10. The teacher draws tips on what will help with distance learning
A teacher from Germany in her article shares tips on how to prepare for lectures and conduct them. I think this is a very good idea because you can give your students an interesting task: draw how each of them is preparing for a video lecture!
Tools: any laptop, tablet, or just paper and pencils
Goodies I found:
It helps to organize your preparation for video lectures.
You can show your creativity.
It can be an exciting task for students.
Conclusion
Now that you've seen all these amazing examples of how to create video lectures, think about how you want to get started. Pick a lesson you think would be pretty easy to start with, and gather up the equipment you already have available. You need to decide which type of video presentation you want to create, and then just get started. Your first try probably won't be the best, but you have to start somewhere. The examples above should get you off on the right foot, and it will be even more fun if you work with a colleague. Personally, I love the Edpuzzle program to make with video lectures. Check it out and you will love it too.
Last Updated on February 22, 2022 by Emily