Many teachers have gleaned the benefits of online teaching this past year and plan to continue it in some form even when they go back to the classroom.
With almost all children online at some point in the day, voice recorders allow teachers to post lessons for their students to access at any time. This not only helps slow-learners listen, watch and read at their own pace, but it also allows the quicker students to move ahead. Here are eight of the best voice recorders for classroom Lectures.
My Top Pick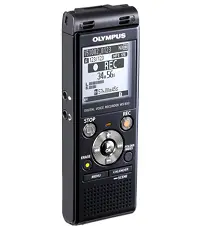 Goodies I found:
Comes with a carrying case
Playback speed control
Large screen size at 1.5 inches
Automatic sensitivity adjustment
Best for: This device is easy to use and perfect for beginners. The Simple Mode display will show only the information you regularly use. If you want to use all the features you can use Normal Mode.
This is my top pick because I think it is very suitable for classroom teaching. Even when we get back in the classroom, you can record lessons that your students can listen to again and again if they want. Your computer may record your voice, but this gives very good quality sound and is easy to transfer with the built-in USB connection.
Also Great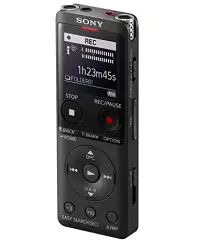 Goodies I found:
Three recording modes for specific situations
Slim, compact design
Headphone jack and mic input
Best for: This is a good model for teachers who want to record their student's presentations, oral reading or language pronunciation.
This is another good recorder for classroom lectures and online lessons, especially if you want an abundance of features. I don't need all the features it provides, but, for the money, this is a good choice. It also has a built-in USB port that eliminates cables and recharges the batteries automatically.
Best Voice Recorders for Online Lectures and Classroom:
This is my favorite because it is a handy little machine with a great selection of features. You never have to worry about recharging because it automatically recharges when you are using the built-in USB port. You can adjust the quality of sound, but the auto-adjust feature is excellent as you can see in the video below. If you are recording your students' presentations, it will automatically adjust for loud and soft voices, so all the presentations are clear.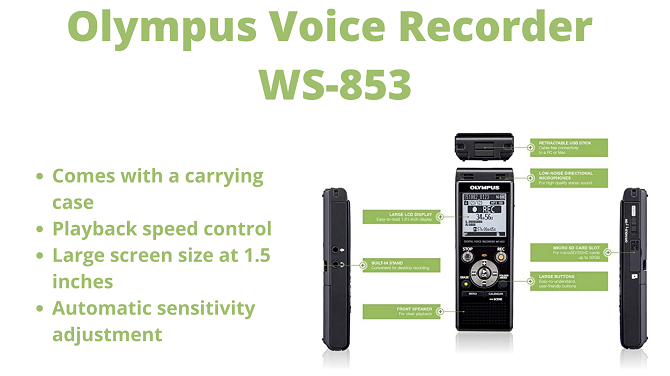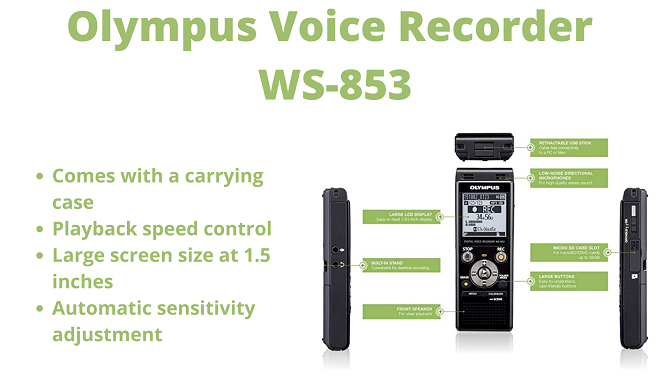 It requires two AAA batteries, and if they are rechargeable, you can do it right inside the machine. The battery life is huge at 110 hours, so you can take it on trips or out for the day without worrying it will crash. Your recordings are saved, so even if the batteries die, it will not affect what you already have.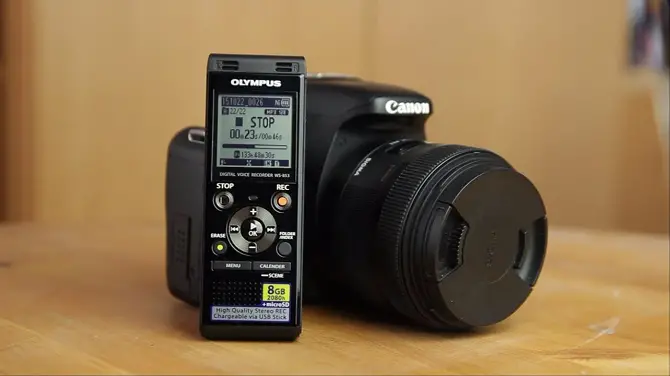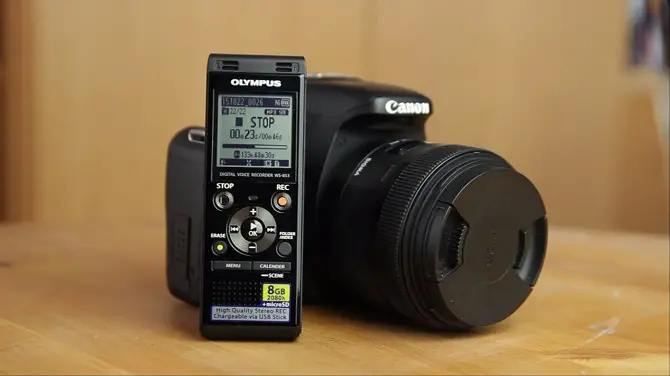 Watch this short video to get a clear picture of its best features. It also gives you a sample of the sound as the video's audio was recorded on the Olympus WS-853:

Check price on Amazon →
This model comes close to being my favorite, and it has many useful features, some of which I don't need. As with the above device, you can plug it directly into your computer, and it will charge while you work. No more cords and connection plugs.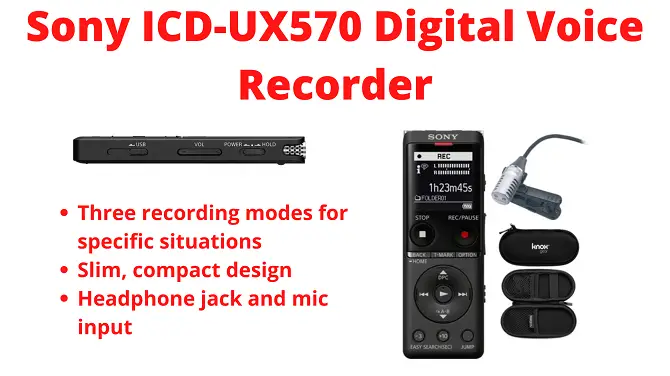 It has a stereo microphone as well as voice operated recording. You can select the amount of sound you want to capture with three settings: normal, narrow focus and wide/stereo. I use narrow focus when I am giving a lesson and wide/stereo when I am recording something outdoors when I want to include the ambient sound or in a group discussion when everyone's voice needs to be heard.
The US570 has improved sound quality compared to previous Sony models. This means each sound is clear and distinguishable. It has a very slim design, so you can carry it in a pocket or bag. The quick-charge feature is useful if the batteries die when you least expect it. With a three-minute charge, you get one hour of recording time.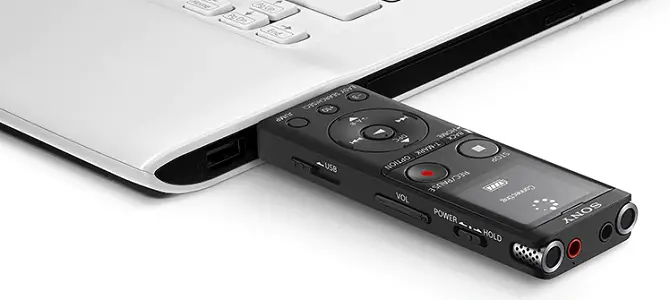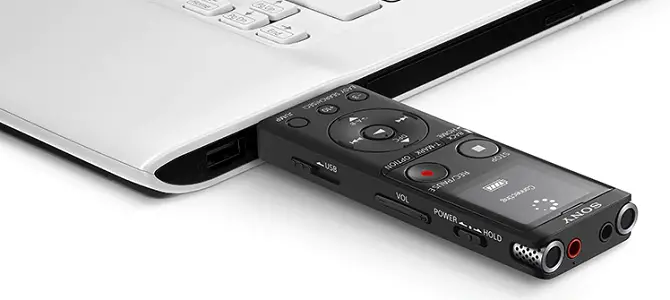 This is an excellent video that gives you all the information you need and plenty of info you may not need:
This model has three large buttons for record, save and listen that make it super-easy to use. It has high-performance Canon chips and a good microphone. Fully charged it lasts 29 hours, but it automatically charges when you plug it into your computer using the Micro USB cable that is included.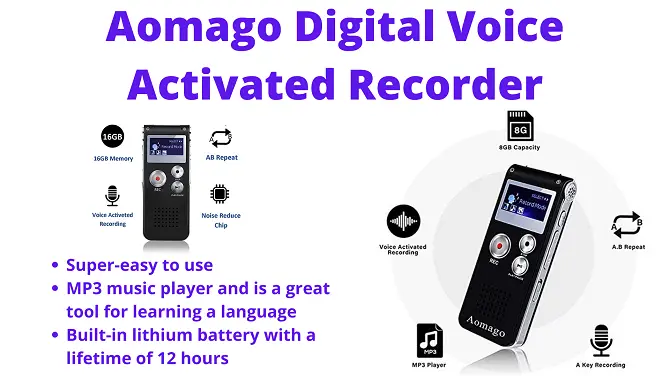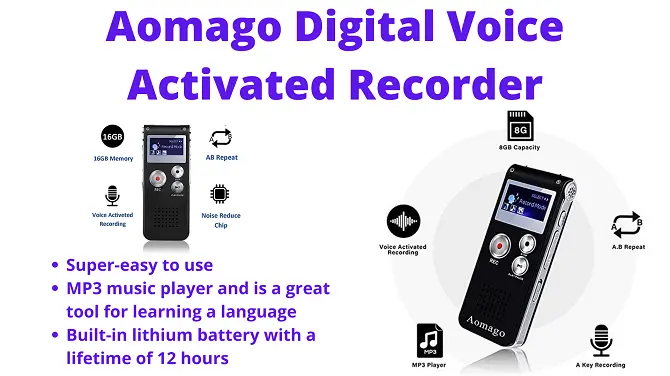 It has a rechargeable built-in lithium battery with a lifetime of 12 hours from a full charge. It takes three to four hours to reach full charge. You should turn on the gadget before you start charging. You get a voice recorder, USB charging cable and an instruction booklet. Be sure to read the instructions carefully because you shouldn't use the right power button to pause because it will shut it down and reset the time to default. Use the Play/Pause button. You will find other tips and warnings in the instructions.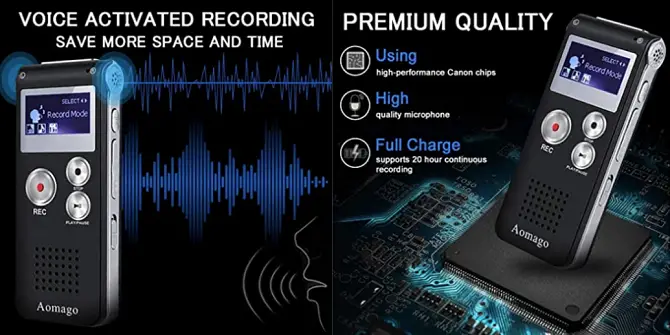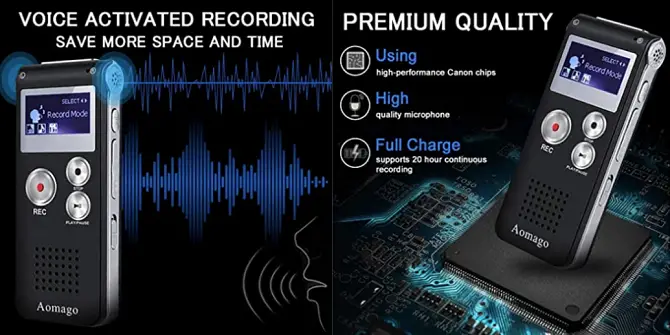 Check out this video starting from 4:35 for more detailed information about this product:
This is a good-quality, small, light and inexpensive voice choice for classroom lectures. It has a built-in microphone and plays MP3 audio. It will plug directly into your laptop or another device with a USB connection, so you can quickly transfer any recordings to your computer. No USB cable is needed. You can store more memory with the micro SD card slot.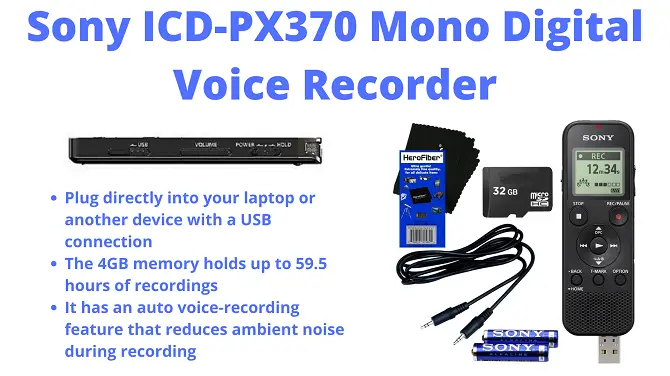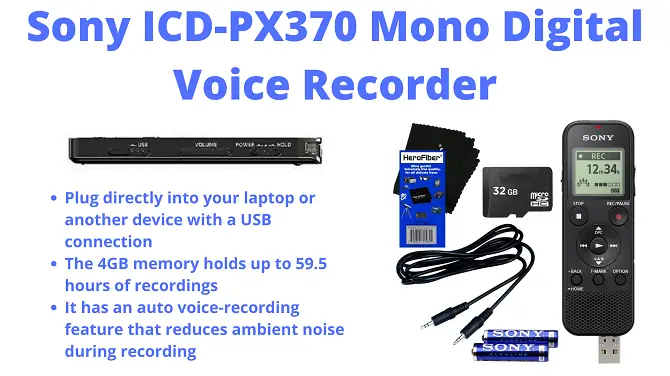 The PX370 model produces mono MP3 audio. The 4GB memory holds up to 59.5 hours of recordings, so it is suitable for long presentations or for recording long meetings. This model also has an auto voice-recording feature that reduces ambient noise during recording. It focuses on the voice and blocks other sounds.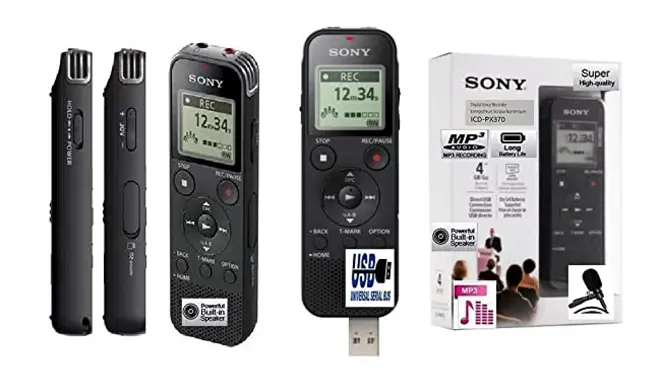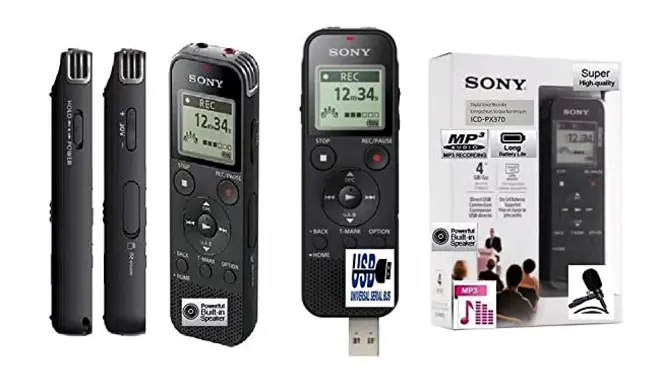 I recommend you watch this video for a detailed description of this model:
With 16GB memory, this voice recorder holds much more data than the above models. It also has a Micro USP 2.0 type B port and the connecting cable is included for easy transfer of files to your computer. It has a 3.5 mm headphone jack and comes with headphones, which is a great bonus. It has a noise cancellation feature in the microphone that provides very clear audio as well as a voice activation feature.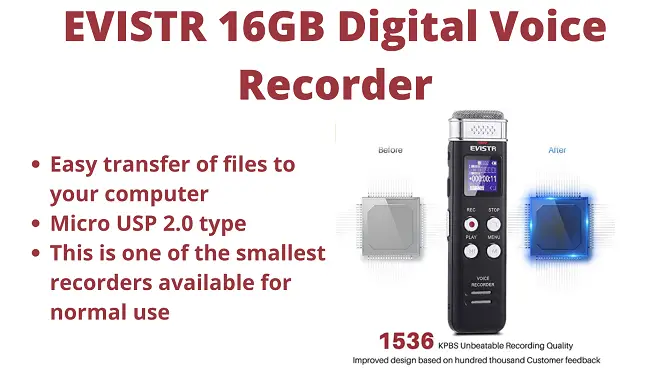 It is very easy to use with start and stop buttons and also has a loop feature, so you can repeat sections of the recordings any number of times. This is a great feature for language lessons and science experiments. Always press the STOP button before shutting down to be sure your recording is saved. Also, wait for Format Completed showing on the screen before shutting down if you are formatting.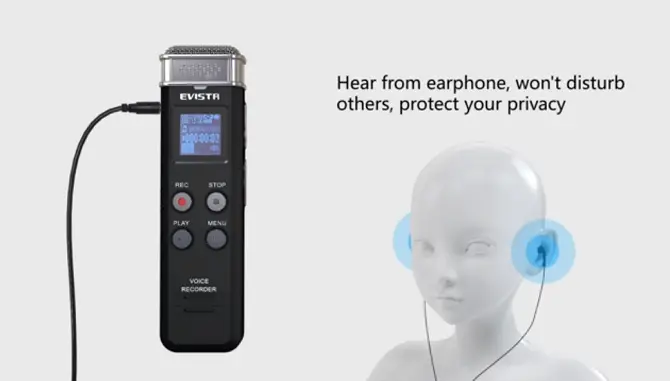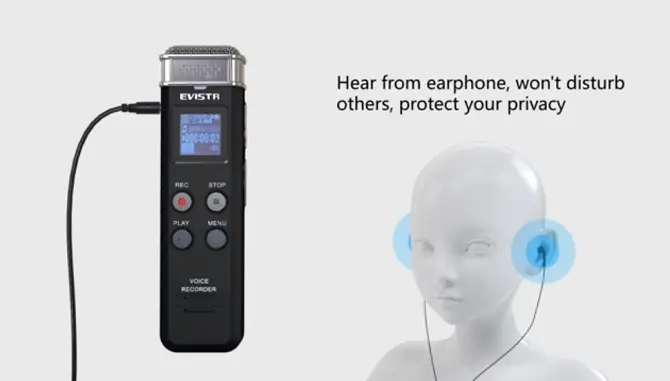 This video gives a full and clear description of all the features of this device. It says the device has 8GB of memory, but the Amazon description says it has 16GB:
The main feature of this device is the 32GB memory. You may be able to keep your whole year of lessons on this recorder. It holds 2,324 hours of recordings and 10,000 songs. It has noise-canceling microphones with a professional recording chip for 1536 kbps high-quality audio. The battery is rechargeable le and, you can record for 54 hours with a full battery.
It has a USB flash drive with four folders. This is a new and unique feature because it makes for better organization of your files. Since it is password protected, it's safe from classroom pranksters. It also comes with a metal case. You can carry it in a backpack or purse and It will not get damaged. It is small enough to fit in a pocket. The package contains one type-c cable, one VIP card. The dimensions are 3.89 x 0.71 x 1.3 inches and it weighs only three ounces.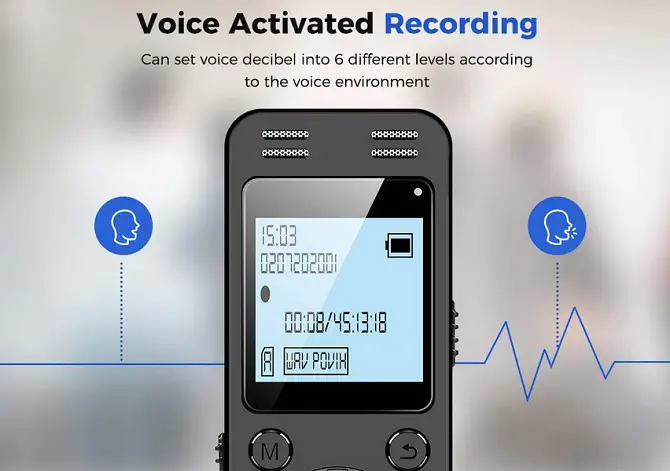 This video has all the information you need about this device. There is no narrator, so you can pause it to read or write down the features:
This small, handy product comes with a lapel mic that gives very good audio. It has an 800mAh rechargeable battery that gives up to 45 hours of continuous recording. The 16GB memory allows for saving 1,160 hours of files and you can increase that with a 32GB micro SD card that is not included in the package.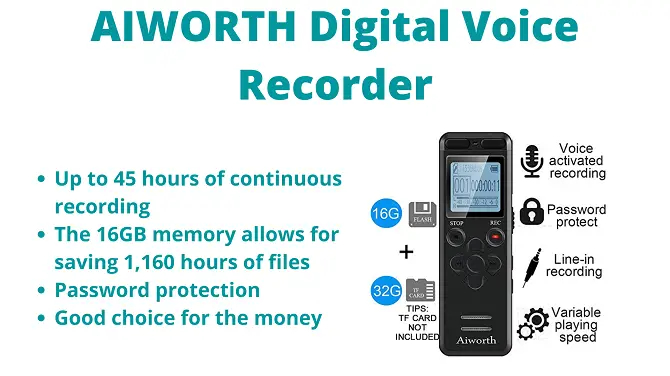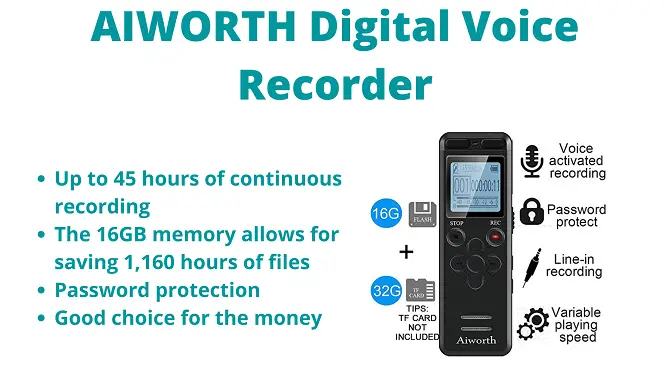 You will have access to password protection and another good feature is it provides one key for one operation. This eliminates the necessity of learning how to use a combination key for different operations. It also has a variable speed playback function and a repeat function which I mentioned earlier is great for language classes.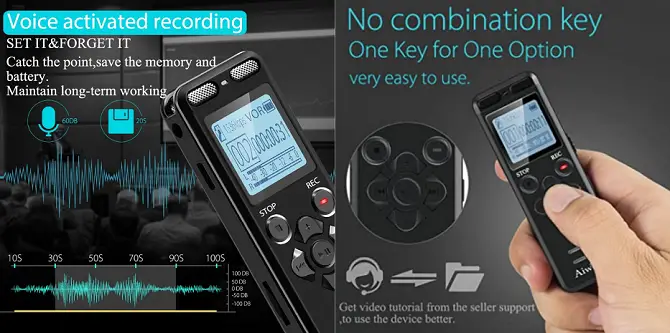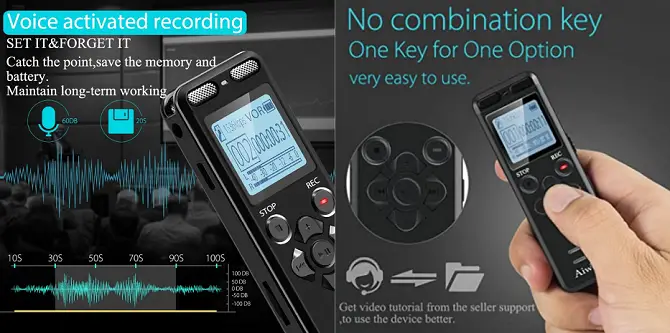 First, you have to watch the narrator make coffee, but the review starts at 1:30, so you can just skip it. This video is long at 18 minutes, but he does go through each feature and attachment, so you get a thorough idea of what you are getting:
This recorder has all the best features. You may not even need all the features it provides, but it's definitely worth looking into before you decide. Start with 1536 kbps for super-clear sound and a rechargeable stereo HD recording voice. It has a USB port and is password protected. I recommend this because it means all of your lectures and lessons are safe and private. It provides variable speed for the times you want to slow down or speed up a speaker. It has an MP3 external HD speaker.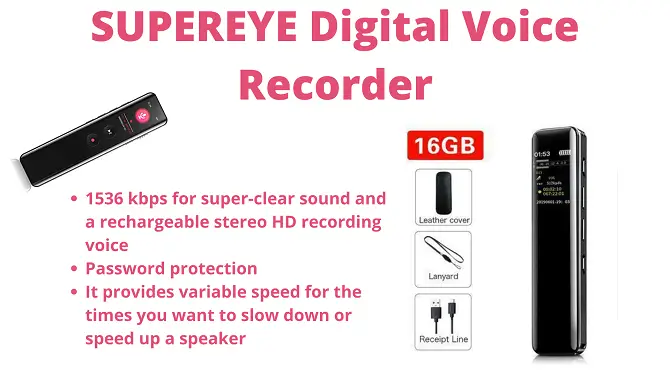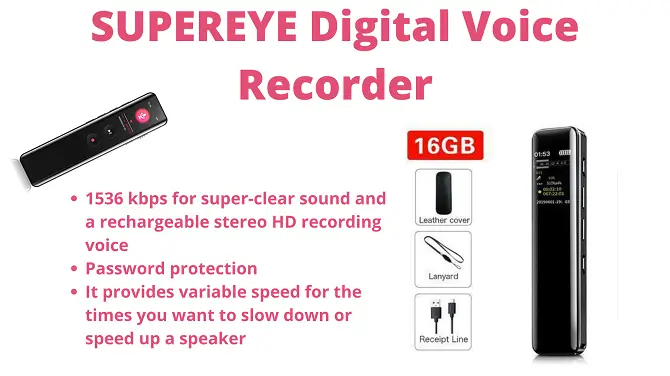 The features include 16GB of memory, which is a good-size for a teacher. It also has a headphone jack. This device is very easy to start, stop and save and is often recommended for people who find operating electronic devices difficult to learn.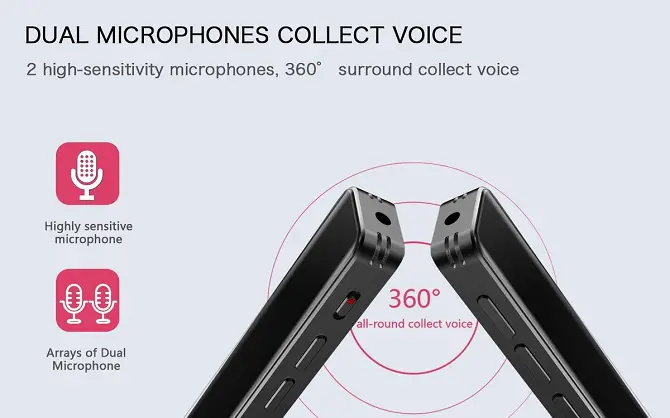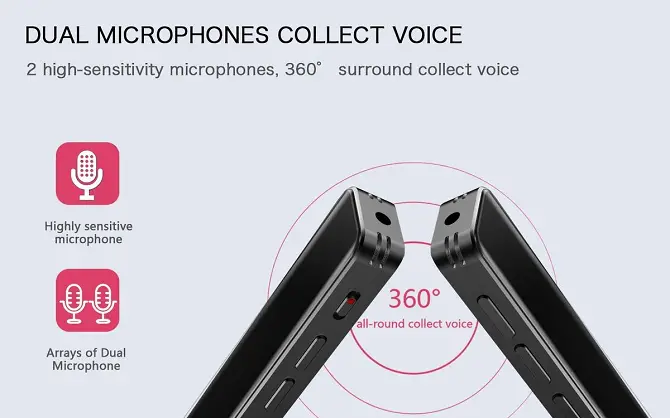 This is a very short video to give you a quick overview of this great recorder for online class. I recommend pausing it on each new page to see what it is about:
Other Essentials for Online Teaching
What else you may need when using voice recorders.
1. Carrying Cases
Carrying cases are essential if you plan to keep your device in a backpack or purse. Two on the above list come with cases. Otherwise, you can buy one. They are not expensive. Here are two cases I recommend.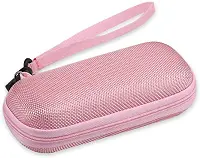 This case has an internal structure to hold everything you need. It has an internal size of 5.4 x 1.8 x 0.66 inches and offers protection from moisture and dust, and the exterior is made of EVA material. The case is shock resistant and has pockets where you can store your earphones, extra batteries, a small USB cable and more.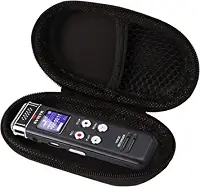 This is a waterproof travel bag that will hold your recorder, MP3 player, flash drives, USB cables, earbuds and more. The exterior is made of hard EVA material and it is shockproof.
The external size is 3.9 x 1.77 x 1.18 inches. It will fit in the small pockets of your backpack or handbag.
2. Memory Cards
You can buy a recorder that has the amount of memory you need, but a memory card is useful to increase capacity.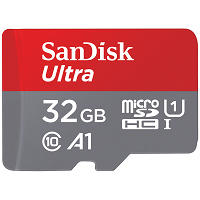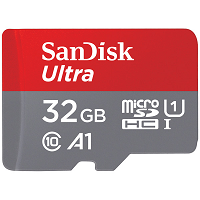 This memory card will not only give you more storage space, it will also allow files to transfer faster.
You can record, save and share a huge amount of data if you have the extra capacity of a micro-SD card.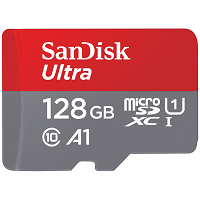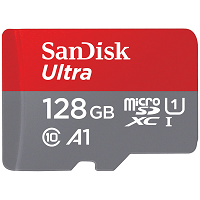 If you use photos during some of your lessons, you may need a huge amount of memory, which this card gives. It will store hundreds of hours of recordings.
3. Lavalier Lapel Microphone
If you want even clearer and crisper sound, a lavalier lapel mic is for you. It can be placed close to your mouth and still be discrete. Also called a clip mic it allows for hands free recording.
SOLID Multi-directional Microphone →
This is a set of two microphones for interviews.
It's useful for teaching language because you can speak, the student can speak and both can be recorded for later examination.
The pack contains two extension cords, two lavalier mics, two wind muffs. One Y-connector adaptor and one adaptor.
4. Electronics Organizer
If you need to keep all the bells and whistles near you at all times, an accessories organizer is a good choice. They are designed specifically for electronics, so you can be sure your items are properly protected.
Jelly Comb Electronics Organizer→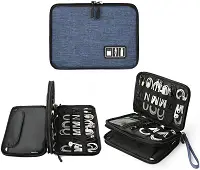 This ingenious little bag will hold everything you need and a lot more. It will neatly hold your SD card, USB drive, charger, power bank and multiple cords. It's very useful for field trips and conferences when you want quick access to your electronics.
How to Choose a Voice Recorder for School: FAQ
Recorders provide high-quality playback audio in a lightweight and compact device. Here are some things to think about before you make a purchase.
What about storage capacity?
8MB is the most common storage capacity, but you can get much more capacity if you need it. For example, if you are teaching a second language, you may need files for each student. In this case, you would look for a larger storage capacity such as 32MB or even 128MB.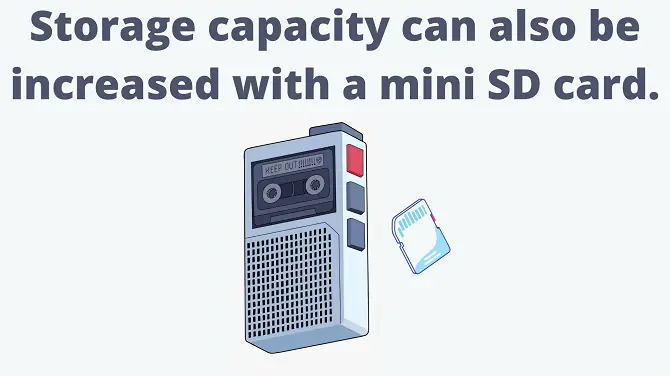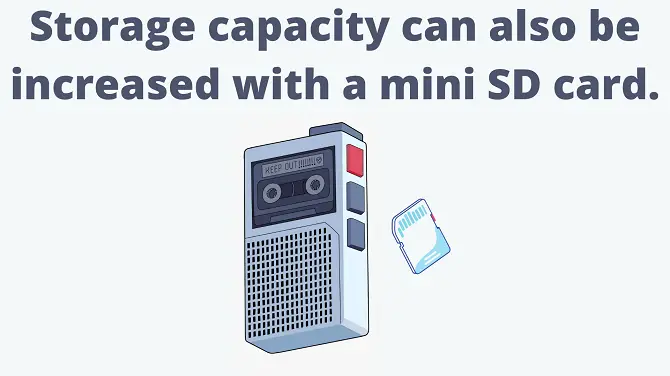 Is it essential to have a backlit screen?
It is not essential, but it is desirable especially if you plan to record at night. It's also useful if you are presenting in a darkened room.
Will you only be recording your own voice or will you be recording student's and other teacher's voices?
If you plan to record lectures or concerts in a large room, you may like to select a model that filters out ambient sound. The higher the bits per second (bps), the clearer the sound.
Is it all right to buy the cheapest one?
It is not all right to buy the cheapest one if you have a choice. It may work well for a while, but it will wear out quickly and could cause problems when you least expect it.
What are some features to consider?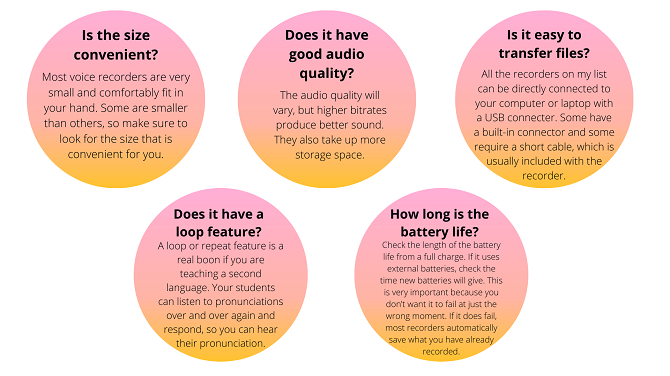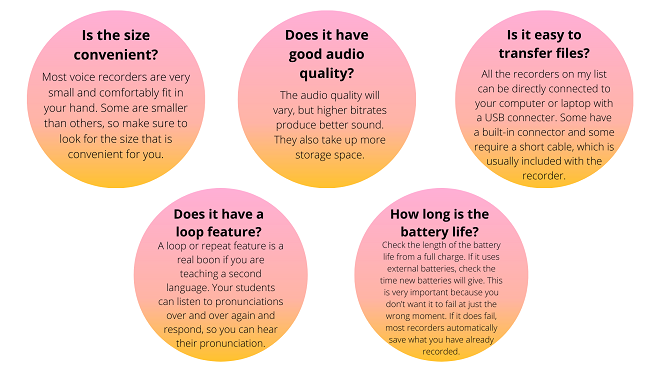 Useful Resources
Final Thoughts
Digital voice recorders are one of the best tools a teacher can have. In fact, if you get one, you may wonder how you got along without it. It is especially useful for online teaching but will save you a lot of time even in the classroom if you have to deliver the same lesson to several classes.
Last Updated on February 22, 2022 by Emily