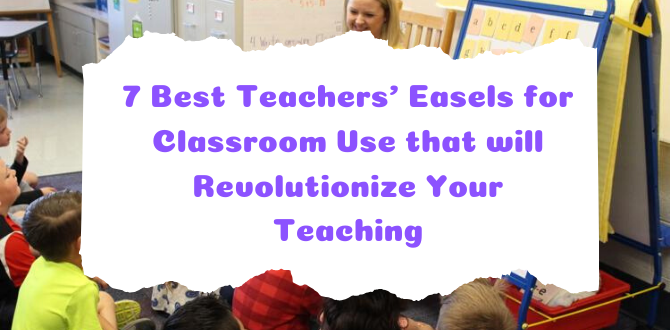 Technology has advanced the education of young children lightyears ahead of just a few decades ago. Easels are one feature that allows for interactive participation by students while simplifying the teacher's life.
What's more…
Easels are mobile and can be moved around the classroom, taken to a different classroom, or take outside. They are suitable for introducing topics in large or small groups as well as individual instruction.
There's a wide variety of easels, from a simple whiteboard to a high-tech smartboard. Most have bins and pockets to keep markers, magnetic pieces, or any other supply you want at your fingertips.
As I always do, I've done the research to recommend the top seven classroom easels I found to create a learning space. You can select the one that suits your teaching style. And for me, the Copernicus Royal Reading Writing Center tops 'em all!

Product
Details

1. ERYOK Easel Magnetic Board

Great Functionality

Double Sided
Lots Of Accessories
Foldable
Magnetic Eraser
Detachable Reel
Adjustable Height

Check Current Price

2. TOP BRIGHT Wooden Art Easel

Long-Term Use

Easy-Access Tray
Anti-Pinch
Child-Friendly Screws
Magnetic Letters
Double Sided

Check Current Price

3. Copernicus Royal Reading Writing Center

Extra Storage Space

2 Small, 4 Big Tubs
W/ Book Organizer
Easy To Move
Magnetic Letters
Double Sided

Check Current Price

4. LUXOR Classroom Chart Stand

Great Whiteboard

Doesn't Stain
2 Bins W/ Handle
Has Chart Hooks
Adjustable Height
Double Sided

Check Current Price

5. DexBoard Dry Erase Easel

Travel-Friendly

Dry-Erase
Aluminum Material
Tripod Stand
Lightweight
Adjustable Height

Check Current Price
Top 7 Best Easels For Classrooms – Reviewed
Copernicus is the top-of-the-line and the easel I use. I love it because it has so many uses for my kids and me. I have written about this product in an earlier post.
The storage spaces are endless with four sliding tubs on the legs of the easel where you can store books, markers, math manipulatives, and magnetic letters, to name a few. It also has two smaller tubs above the four and a book organizer above that.
This easel is two-sided. One side has a magnetic dry-erase board with clips to attach chart paper and a shelf to hold markers and erasers. The other side has a removable whiteboard. With four wheels, you can teach anywhere in the classroom.
Goodies I Found
Superior storage capability
Easy to move and park
Useful for several types of lessons, including a conventional whiteboard, colorful graphics, and learner participation
My Final Verdict
If you invest in this all-purpose teaching easel with storage bins, you won't be disappointed. It allows for a flexible learning experience. My students love to participate in spelling words with magnetic letters and practicing their handwriting.
---
The Luxor easel has a double-sided magnetic whiteboard. There are also two storage bins and a shelf in front for markers and erasers with a slot for holding books open. It can be used as a traditional instruction board or as an interactive tool with magnetic letters.
The size is 31" x 25" x 72". The inside bin size is 10.25" x 5" x 12.75" and the whiteboard is 30" x 40". The dry-erase whiteboard won't stain or develop ghost film. The four caster wheels lock in place.
Goodies I Found
Adjustable height to be useful for different aged children
The bins have handles
Chart hooks for holding paper
My Final Verdict
If you are on a tight budget but would like the convenience of an easel in your classroom, this may be your best option.
The board doesn't tilt or have all the storage features of the other boards, but it has enough space to hold markers, erasers, and magnetic pieces.
With a two-sided easel on wheels, you can have two children participating at the same time and just roll the board around when they're finished.
---
If you travel from school to school or classroom to classroom, DexBoard is your best classroom easel option. You can set it up in less than two minutes and it is lightweight, made from aluminum, and very sturdy.
You can fold the easel and put it in your car or pack it into a closet if you don't use it every day. It is 36" x 24". The easel comes with one dry eraser and three colored markers, six magnets, and one 25-sheet flip chart.
The flip chart hooks are moveable and there's an elastic clip at the top that will hold single sheets. You can adjust the height of the board from 45" to 63", so it's suitable for younger children and if you want to sit during a demonstration.
The paper chart can be replaced with any brand that is the proper size.
Goodies I Found
Adjustable height with markings on the legs for the proper height/weight balance
Tripod stand
Flipchart that fits on top of the whiteboard
My Final Verdict
This is quite a cheap dry erase easel for teacher demonstrations for older children. It's all right for younger children, but it can't withstand too much bumping and pushing because the back leg is not very secure, so it's easy to fold and move.
It works for outdoor presentations and the whiteboard is magnetic. If you're hesitant to invest in a classroom easel because you travel a lot or are only a part-time teacher, this could be a great addition to your working tools.
---
This is a very sturdy tripod easel made from steel pipe. WEYOUNG has rubber feet and is very stable. It is light enough to be easily portable. It won't slip or slide when you write or erase.
The whiteboard is magnetic and is made of high-end, three-layer, low-density fiberboard. The size is 24" x 36". The legs have markings so you can adjust the height for proper balance.
This makes it suitable for use with children and adults and whether seated or standing. It has a tray in front to hold the markers and erasers.
Goodies I Found
Adjustable height with a height range of 45" to 63"
It comes with one dry eraser, three colored markers, and six magnets
The hooks will hold a flip chart and the magnets will hold single sheets
My Final Verdict
This easel is very similar to the previous one, but it has one advantage. It is very stable with rubber feet. Children can use it without worrying it will tip over. However, it's not sturdy enough for an art easel.
The whiteboard erases well with no ghosting. Do you wonder what ghosting is? Some of the earlier whiteboards retained a transparent film of the marker. The film can be removed with nail polish remover but won't budge with water or alcohol.
---
This is a double-sided easel on wheels with four large bins for storing markers, erasers, and other stuff. The Best-Rite Cart Easel has two hooks for the whiteboard or flipcharts.
The marker tray is moveable so it can hold books when you use that side or markers and erasers when you use the whiteboard. The easel and storage bins are four rubber wheels for easy transport from classroom to classroom. The size is .67″ H x 29″ W x 18.5″ D
Goodies I Found
Tools included for assembly
Bins are large enough to hold a decent amount of supplies
The heavy-duty caster wheels lock
My Final Verdict
I like this one, although not as much as my Copernicus. The whiteboard is not magnetic, so you can forget about letter magnets. You will need extra clips to hold individual papers to the board. The book side is great for an elementary school teacher.
You can put all sorts of graphics there. I think the best thing about this one is it is mobile. It gives you the basics you need in a classroom easel. I wish it had a marker tray on each side.
---
This TOP BRIGHT Easel is for child use even though it could be used as a teaching tool occasionally. It's designed as an art easel for little ones, and for that it's great. One side is a chalkboard and the other side is a whiteboard. Craft paper is fixed in the middle.
The whiteboard and chalkboard are magnetic, so it's fun for spelling with magnetic letters.
The easel was designed to be safe with child-friendly screws and an anti-pinch design. The feet are non-slip and the height is adjustable between 38" to 44". It is best for two to six-year-olds. The drawing board is 19.3" x 17.3".
The easel is not intended for short-term use. It has to be taken apart each time it is stored. Consider it a permanent fixture in your classroom, but if you teach nursery or KG, you won't regret it.
Goodies I Found
The storage tray is easily accessible to both sides
Two kids can work or play at the same time
Cups to hold paint
My Final Verdict
I recommend this primary teaching easel for very young learners. It allows them the freedom to create while controlling their space. Since it supports a chalkboard, whiteboard, and magnetic letters, it can be used as a teaching tool too.
If you have the budget, two easels are better than one for this type because their main purpose is for use by the children.
---
This easel has two useful sides with a chalkboard on one side and a whiteboard on the other. It has two large bins under the boards for storing paints, markers, erasers, and other supplies.
The ERYOK Easel will hold a 195" paper roll and comes with three storage cups and various magnets set along with the paper roll, markers, an eraser, and anti-dust chalks. In other words, it has all the trimmings and makes a great gift.
It is suitable even for two-year-olds, but children under three years need supervision because of the small parts.
Always use erasable pens on the whiteboard. non-erasable ink can be removed with nail polish remover. If you use water-soluble chalk, which is dust-free, you should erase it with a damp cloth and not a normal blackboard eraser.
Goodies I Found
Adjustable height from 29.3" to 54.6"
The storage cups can be used to hold paint
Foldable for easy storage
Detachable reel for holding a roll of paper
The eraser is magnetic
My Final Verdict
I think this is a great early learning classroom easel, and as with the other one, you will need at least two because it will be a popular item. This one is foldable so it's much easier to store, but the bins have to be empty for it to fold. It comes with everything you need to get started right out of the box.
---
Classroom Easel Activities
Most easel activities involve some kind of art, whether it is simple painting, using magnetic strips, or gluing colorful torn paper to make a collage. Easels in classrooms offer many more possibilities and allow children to actively engage in the lesson.
The two most common are spelling with magnetic letters, sorting numbers, and counting with small magnetic objects.
Reading
The easels with slots for holding large books open can leave the teacher hands-free for writing. When I have a shared reading activity I include an action component.
My students take turns playing characters in the story and acting it right in front of the easel. It gives them a chance to participate as well as explore voice inflection.
The following video gives a good example of how a classroom easel can be used in a shared reading program.
It allows the teacher to get close to the child writing to help him get it right while writing comments on the whiteboard. You will see how the teacher introduces the book itself and the setting and characters.
She explains the problem that must have a solution before the story ends. The teacher involves the students by asking questions that are not too difficult for them to answer but take some thought.
Writing
A classroom easel is a rock star for writing activities. The easel is like a magnet for children to test their hands at drawing and writing.
Drawing is so important because it lets the child learn how to hold a writing instrument, which is a skill they keep their whole lives. It's almost impossible to walk past an easel without leaving your mark. It's up to the teacher to direct the mark.
One thing I found that works is to write a sentence on the easel. It doesn't matter if it is on the whiteboard, blackboard, or pad of paper. At any time of the day, unless they're in the middle of a lesson, a child can copy the sentence under the original sentence.
Each child should do it only once. When the whole paper is covered with sentence after sentence, the whole class gets a prize. The teacher can decide what the prize is. For example, watching a video, playing a favorite board game, or dancing to music, the possibilities are endless.
In this video, you can get an idea of a more conventional interactive writing lesson.
Students have the chance to help construct a sentence based on a story and the rest of the class write the same sentence at their seats. Everyone contributes to spelling and sentence construction.
Counting
Sorting numbers is a great way for children to learn the shapes of the digits from zero to nine. The numbers are scrambled, either on the whiteboard or in a large tray.
The whiteboard is divided with lines into however many sections you want to present for a lesson. Each section has a number designation. You may want to start with two sections and increase it to four or six as the child learns the numbers.
She needs to search through the scrambled numbers and find all the two's to put in the section for twos. You see how it goes. You can get more ideas here.
One tip is to purchase several magnetic number sets so all the twos aren't the same color. Children get the game quickly and will start searching for blue numbers because all the twos are blue or whatever.
This game also works very well for word recognition. Label each section you draw on the whiteboard with a word and let the children find the letters needed in a jumble of magnetic letters to spell the word. A student puts the letters in the box indicated on the whiteboard. You can have them spell several words in one game. It also works for creating sentences with the words they find.
What Does The Child Gain?
Sorting numbers, letters, and colors are part of every kindergarten syllabus in the world Recognizing the shape of the number even out of order
Concentration
Hand-eye coordination, which is part of any hands-on activity
Final Thoughts
Using easels in an elementary classroom offers so many possibilities that help the teacher engage the children. Single-sided, double-sided, magnetic, flannel board, adjustable and many other features make it easy for you to select the one that suits your teaching style.
You should try the Copernicus Royal Reading Writing Center, my personal favorite, as I have seen over and over again that children love this type of easel and respond better to any lesson that involves it. I sincerely hope you see the benefit of it in your classroom. Lastly, if you need to carry around easels and other teaching equipment most of the time, it will be great to have the best teacher trolley for transporting those items with ease.
My Top Pick
Goodies I Found
Superior storage capability
Easy to move and park
Useful for several types of lessons
My Final Verdict
If you invest in this all-purpose teaching easel with storage bins, you won't be disappointed. It allows for a flexible learning experience.
Last Updated on February 22, 2022 by Emily