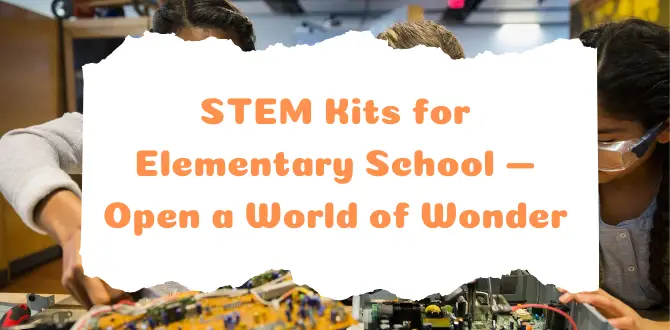 The study of science, technology, engineering, and mathematics (STEM) declined at the end of the last century.
That is why…
The U.S. Department of Education recommended children be taught the STEM curriculum from the very beginning of their schooling. This curriculum is hands-on and requires certain resources to make it engaging to children. The simple answer is STEM Kits.
A classic and proven example is the Engino Discovering STEM Structures Constructions & Bridges which made it to the top of my list. I love how it focuses on structural engineering and force and my young students enjoy learning how architecture works.
If you are an elementary school teacher or have young children, read on. You will find an amazing variety of STEM kits to make your life easier and your children's life more fun.
Product
Details

1. Structures Constructions & Bridges

Architecturally Focused

Triangulation
Structural Science
12-Page Booklet
Quizzes & Activities
16 Unique Styles
Extractor Included

Check Current Price

2. LIGHT Electronics Kit

Real Circuits

Intro 2 Electronics
Safe Construction
100-Page Manual
175 Projects
Mixed Structures

Check Current Price

3. Brick & Electronics Kit

Construction & Circuitry

Cognitive Focus
Improves Logic
Multi-Piece Set
140 Bricks
Endless Builds

Check Current Price

4. Dump Truck Or Airplane - 2 In 1

Mechanics & Engrg.

Enhance Creativity
Skills Dev
Hand-Eye Strats
361-Piece Set
Problem-Solving

Check Current Price

5. Experiments & Reactions Science Lab Kit

Chemistry Focused

Safe & Complete
Versatile Use
36-Page Guide
32 Experiments
Detailed Instructions

Check Current Price
Elementary STEM Kits – Reviewed
Age: 10 years and older
Stem focus: Structural engineering and force
The Engino STEM kit builds nine working models that depend on force. It includes bridges, buildings, and trusses to show how buildings and bridges are designed to support the massive weight.
It has a 12-page booklet on the science behind the activities as well as a three-page quiz on the principles learned. The 3D illustration instructions are easy to follow.
Skills developed:
Learn architectural design to support the weight
Learn the science behind several kinds of bridges
Learn the principles and uses of triangulation
---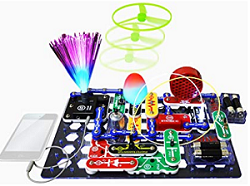 Age: Eight years and older
Stem focus: Circuits and electronics
This kit provides an introduction to electronics and teaches how to make real, working circuits as well as devices and fiber optics. The full-color instruction manual outlines more than 175 interesting and fun projects.
No soldering is involved or special tools are needed because the circuits snap together. The projects as described in the 100-page manual begin with the simplest ones and build on the knowledge gained, so by the end, the projects are more complex.
Skills developed:
Understanding how electronics work
How light switches work and turn the electricity on and off
Learn to create circuits
Learn about strobe lights, fiber optic communication, and integrated circuits
---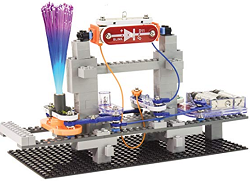 Age: Eight years and older
Stem focus: Construction and circuitry
This kit comes with 20 snap circuits, 75 adapters, and more than 140 compatible building bricks. The manual has 20 ideas for starters, but children take off on their own. It promotes logical thinking and cognitive development. This is an award-winning kit for the STEM curriculum.
Skills developed:
Planning and constructing a building complete with lighting
Knowledge of how gears move through electricity
Knowledge of electric circuitry
Assemble electronic circuits
---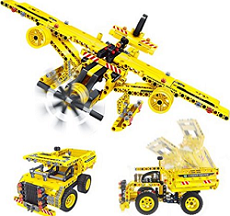 Age: six to 12 years
Stem focus: Mechanical engineering
This kit contains 361 pieces that children can use to build a variety of things. Both boys and girls enjoy this kit. It encourages creativity through mechanics and engineering. It comes with a drawstring bag to help keep the pieces together and if you lose the instruction manual, you can get an e-book online.
Legos are great because they prompt creative thinking for building. This kit takes building to a higher level. If you have kids who loved Legos (or still do) they will love this kit.
Skills developed:
Problem-solving
Hand/eye coordination
Divergent thinking
Creativity and brain development
---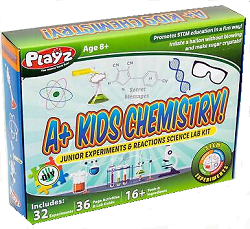 Age: Eight years and older
Stem focus: Chemistry
This kit has a full, junior science lab for chemical experiments. It has more than 32 experiments using chemicals to do magic tricks, change colors, construct a fire extinguisher, grow crystals, make foam monsters, write hidden messages with invisible ink, and much more.
Kids are amazed at the results of chemical reactions. This kit could open the door to a new world of science for some children.
Skills developed:
Learn chemical reactions
Learn about acids and bases
The importance of the exact measurements of chemicals
---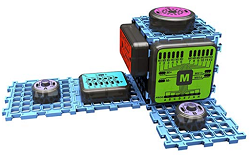 Age: Eight and older
Stem focus: Electronics
This kit is for building electronic games and gadgets. It uses the modular system with the battery module, microprocessor module, variable resistor module, tricolor LED module, photodiode module, speaker module, tilt switch module, and 6-LED array module.
It has two push-button modules and 31 jumper wires. It's a very sophisticated STEM kit and will put any child that enjoys it ahead of the game.
Skills developed:
Learn about electronic engineering
Understand computer microprocessors
Design and create games
---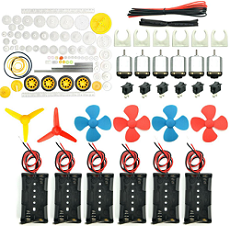 Age: Six and older
Stem focus: Electric motors
The kit comes with a 3.0 volt 24000 RPM, six pieces motors and six pieces battery holder case, and a six pieces motor mounting bracket holder for six pieces. It works with several power sources such as batteries and solar cells.
You have to use the correct circuit diagram to avoid short circuits that produce heat that may melt the battery holder box. Children can build little fans, electric toys, and science projects that need electricity.
Skills developed:
Engineering by building cars, boats, and planes that work with electronic motors
Understanding gears
Understanding pulleys
---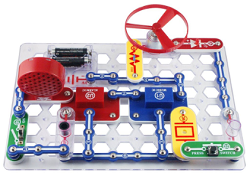 Age: Eight years and older
Stem focus: Electronics
This is a fabulous kit for building electronic items. It has the parts for more than 300 electronic projects with 60-plus parts. Children can build a lie detector test and an AM radio, a photosensitive electronic organ, and many more things.
These projects are very sophisticated and give the kids a big thrill when they complete one. Learning circuitry is inevitable while they are working on their projects. The circuits snap in place, so no tools or soldering are required.
This award-winning kit supports the STEM curriculum for engineering and electronics.
Skills developed:
Learn circuitry
Understand how radio works
Understand how electronics works
---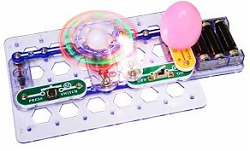 Age: Five to nine years
Stem focus: Circuitry and electronics
This STEM kit is for the little ones. It starts them off in the world of electronics with 14 parts to build 20 projects. It has a color manual that is easy even for children to follow with step-by-step diagrams. The kit has extra safety features for younger engineers.
Skills developed:
Problem-solving
Following directions
Understand how electrical circuits work
---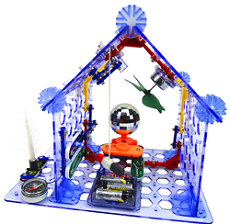 Age: Eight years and older
Stem focus: Electronics
With more than 60 parts, this kit can build more than 160 projects. The 3D kit allows for building, you guessed it, in 3D, which means the circuits can be horizontal, vertical, or upside down.
The circuits are very realistic and the same that are used in electronic equipment, homes, and skyscrapers. This kit can be combined with other Snap Circuits sets, so if your kids are really into it, you can upgrade and not lose the original set.
MEG means magnetics, electronics, and gears.
Skills developed:
The basics of electricity
The basics of engineering
The basics of circuitry
---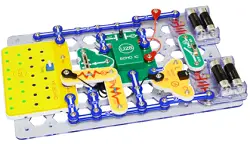 Age: Eight years and older
Stem focus: Electronics for sound
This kit is loaded with fun ways to enjoy the sound. It has a voice changer, echo effects, sound energy demonstrations, and colored light that change with the sound. Children can record music or their voices and it can be connected to a smartphone.
The manual is easy to follow and gradually introduces more complex circuits. This kit is very entertaining and kids love it, so whether you plan to use it in your classroom or at home with your own children, remember it's about sound.
You may want to check that it won't disturb anyone.
Skills developed:
Learn how electronics work with sound
Understand electronic circuit boards inside TVs, radios, and other devices
Learn about integrated circuits with keyboards
---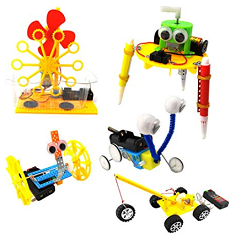 Age: Eight to 12 years
Stem focus: Electronics and mechanical engineering
The kit contains parts to build three robots, including electric balance car toys, reptile robots,s and doodling robots. It has the motors, wires and all other parts required.
The instruction booklet is very clear for the 3rd-grade students (and older) to follow and it comes with a complete science guide to teach the subject.
Skills developed:
Work independently
Solve problems
Understand electronic circuits
Understand the fundamentals of simple motors
---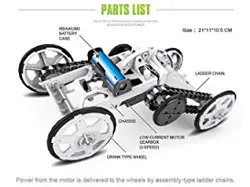 Age: Seven years and older
Stem focus: Engineering and electric motors
This kit contains everything you need to build a 4-wheel drive vehicle that can climb over 5-cm obstacles. It has an electric motor, gearbox, chain, and other parts. The kit meets toy safety standards and requires no special tools. Batteries are not included.
Skills developed:
Understand energy conversion
Understand mechanical construction principles
Develop creativity
Develop self-confidence
---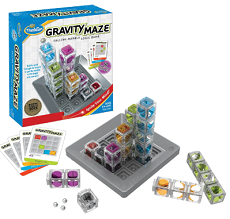 Age: Eight to 12 years
Stem focus: Engineering
This kit is a game of logic with a marble run. It has 60 challenging configurations that range from beginner to expert. You can build nine towers and use three marbles with one target piece.
The instruction manual is easy for students to understand. The challenge is to build a maze that will allow the marble to reach the target tower.
Skills developed:
Critical thinking
Spatial reasoning
Planning skills
Logic
---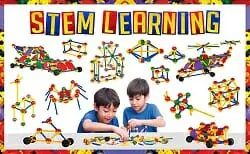 Age: Three to 10 years
Stem focus: Mathematics and physics
This kit can be used in the classroom to demonstrate concepts of geometry, mathematics, and physics in elementary school through college. The material is environmentally friendly and non-toxic. It looks like an ordinary toy, but it has been designed to promote the STEM curriculum by developing the cognitive system.
Skills developed:
Critical thinking
Reasoning
Problem-solving
---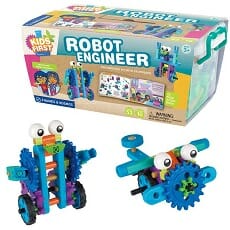 Age: Three years and older
Stem focus: Engineering for young learners
This kit comes with a manual that includes a story, and the learner can build non-motorized robots. They can build 10 robots that go along with the story of a visit to a candy factory. The building pieces are large and colorful and easy for young children to handle.
It comes with a durable storage case.
Skills developed:
Learn about simple machines
Learn about gear trains
Develop visual-spatial skills
Learn physics and engineering concepts
---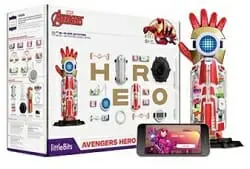 Age: Eight years and older
Stem focus: Electronics and engineering
This kit introduces kids to block-based coding, programming fundamentals such as logic and loops. It requires an iPod or smartphone. Children build gear that is based on Marvel's Avengers with 10 sound effects.
They can create a superhero gauntlet with electronic building blocks, authentic Marvel sound effects, LED matrix, stickers, plastic pieces, and it comes with a battery. It includes 18 activities based on the Avengers and really inspires kids.
Skills developed:
Learn the fundamentals of coding
Learn the fundamentals of programming
Develop creativity
---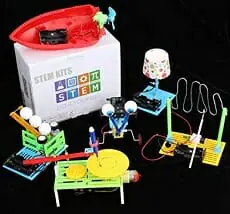 Age: Eight to 12 years
Stem focus: Electric circuits and motors
This STEM kit has six erector set type models that are packaged separately. It includes all the necessary STEM lab equipment to create the Reptile Robot, Ball Emitter, Mini Electric Plotter, Circuit Model, Wind Powered Boat, and a Mini Table Lamp.
However, some of the screws are a little too small for the youngest children. Some reviewers recommend this for 13 years and older.
Skills developed:
Understanding the electric motor
Following instructions
Understanding building components
---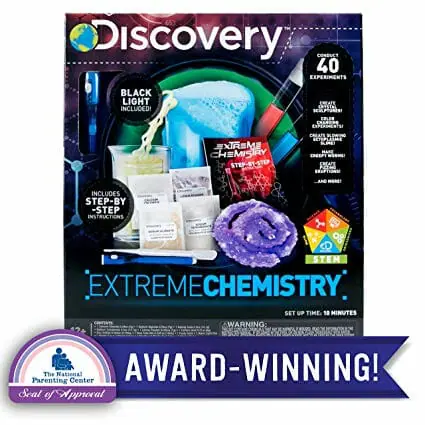 Age: 12 years and older
Stem focus: Chemistry
This kit contains more than 40 chemistry experiments. It won the National Parenting Center Seal of Approval. The kit contains everything you need for a fabulous science lab in your kitchen or classroom.
It includes six chemicals, litmus paper, and other paraphernalia needed to do chemical experiments. Children love this type of science kit and it opens the door to more sophisticated knowledge and experiments.
Skills developed:
Learn about chemical reactions
Learn about chemistry in everyday life
Become familiar with and comfortable handling chemicals
---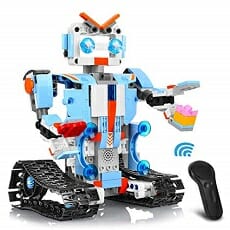 Age: Eight to 14 years
Stem focus: Engineering
This kit contains everything you need to make a robot that can be controlled by a remote control device or a mobile phone. It contains rechargeable batteries with a USB connection. The children build the robot from building blocks.
It has voice control, gravity sensor, and stem programming. There's a good reason this is an awarding-winning kit.
Skills developed:
Learn about intelligent technology
Logical thinking
Improved hand/eye coordination
---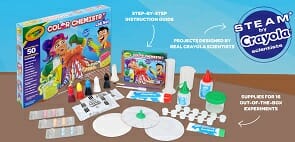 Age: Seven to 10 years
Stem focus: Chemistry and Art
This kit contains 50 science projects with instructions kids can understand. It also has accessories for 16 more experiments that are not included in the kit. The experiments are all based on color. It includes an erupting volcano, glow worms, and much more. All of the experiments are fun and are based on science.
Skills developed:
Love of working with chemicals
Knowledge of everyday chemistry
Science, technology, engineering, and math are supported by this kit
---
STEM Kits Explained
STEM is a curriculum that covers four basic science topics – general science, technology, engineering, and math. The method of instruction is interdisciplinary and interactive, so children learn these subjects as a cohesive whole and not as separate disciplines.
The fun part is the lessons are based on real-world applications. At the end of the lesson, children have something in their hands they can be proud of, and they understand the science behind it.
A STEM kit has all the material you need in one place to teach a STEM subject. For example, children can make their own coding robots or create their own solar houses. These are just two of hundreds of kits for teaching application-based science, technology, engineering, and math.
I have selected a few of the STEM kits I found that are great for elementary school students. Several of the kits I recommend above are made by Snap Circuits. They have won many awards, including the inaugural Seriously STEM award, Good Housekeeping Best Toy, and National Parenting Publications Award to name just a few.
I have used STEM kits for elementary school with my students as well as with my own children. The kits are an amazing tool when teaching a STEM curriculum. You can make your own kit, which I will talk about below, but DIY is time-consuming and sometimes unsuccessful.
STEM supplies make everything easier and they are so child-friendly that half the teaching is done for you. There are kits that focus on different aspects of STEM as well as interdisciplinary kits.
DIY STEM Kits
As I mentioned above, you can make your own science materials for classroom use perfectly well. You just need to collect a few common objects and ingredients that you have on hand or can easily buy. Start in the kitchen. Collect items such as bicarbonate of soda, vinegar, Borax, paper towels, white glue, starch, food coloring, and other things you can buy in a grocery store that are listed on this website.
The website shows exactly how to use the ingredients to make the science projects such as acid/base combination to make an erupting volcano or blow up a balloon, separating fat from liquid, which means making butter and eating it on bread and how certain ingredients combine to form different types of materials.
Each of these examples is easy to do and the outcome is something fun. It even includes specific activities for the seasons, such as how to make a foam snowman or weird Halloween decorations.
Children and some adults can't believe you can make your own bouncy balls, slime, and all the derivations that are possible. My children made bouncy balls as gifts for their young cousins and friends.
This video is a great resource for making DIY STEAM kits:
The teacher selected items from the Dollar Store and explains how they can be used for science and art projects and the skills they promote. It shows children doing construction activities and other projects to give you some suggestions about how to use each item.
You may wonder what the difference between STEM and STEAM is. STEM was founded as a fun, hands-on curriculum to attract children to the sciences. Some people thought the artistic side should be included and created STEAM.
Basically, the same thing with art included. So many of these science projects look beautiful and are elementary school art.
The Bottom Line
Educators recognize that when children enjoy lessons, learning is better and lasts longer. STEM toys and kits are designed for just that to attract young children to science, technology engineering, and math.
It's exactly how the Engino Structures Constructions & Bridges STEM Kit is – my top favorite. Children feel like they are playing, but get the added thrill of actually doing or building something significant. It's extremely satisfying for teachers and parents to watch children play with these toys.
I hope this article helps you find the one best suited for your students.
My Top Pick
Age: 10 years and older
Stem Focus: Structural engineering and force
Skills Developed:
Architectural design
Science (several kinds of bridges)
Principles and uses of triangulation
Last Updated on July 25, 2022 by Emily