Remember the time when the only thing that we cared about was how we were going to spend our day? Little fidget toys like a lego fidget spinner or fidget cube were enough to get us through the day. This article brought you an opportunity to create easy DIY fidget toys to get you going and help you with your anxiety.
Actually…
Creating DIY fidget toys used to be given as assignments to students. They are really easy to create and can help students, kids, and even adults get through their day. And since, there is so much content available online, it has become very easy to create these fidget toys.
Why Make Fidget Toys Yourself?
You can go to a shop and buy these fidget toys like fidget bracelets, but they can be expensive.
To beat the cost, we can count on DIY fidgets! You can create these fidgets through DIY tools yourself.
1. Squishy Stress Balls Filled With Slime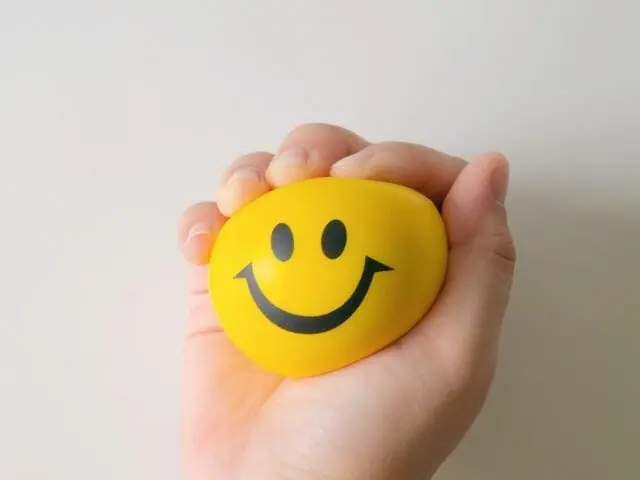 DIY Fidget toys are a perfect way to take out some stress since they vary in their specifications and the material used in them.
Soft squishy emoji balls filled with slime can be made into a DIY stress ball. These can be a perfect stress release, especially during those busy schedules at work or at home. These adorable stress balls can be called easy squeezy DIY fidgets.
2. Zipper Bracelet
These bracelets leave an instant fashion impression. You can fidget with these when you want and similarly wear them whenever you want. These bracelets can become an instant favorite and can be worn at a party or a get-together with friends.
You only need:
15 Pack Coats & Clark Polyester All-Purpose Zipper
3. DIY Neon and Wood Floating Bead Bracelet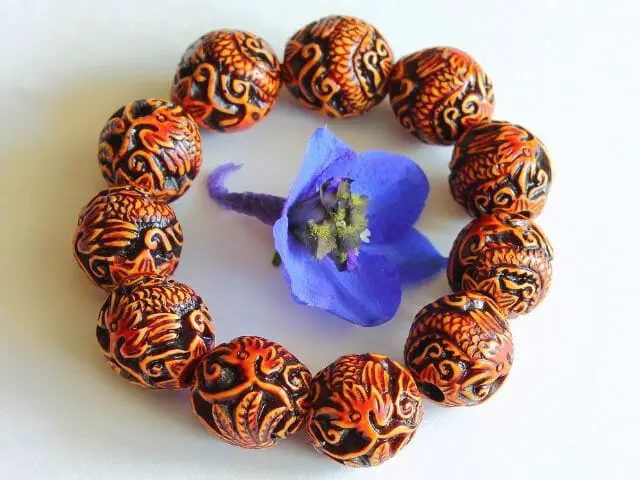 Art and crafts are always a fun way to express one's creative side! If you are looking to explore your creative side, then this tutorial on DIY neon and wood floating bead bracelets is undoubtedly going to help you out.
It's simple and colorful and a fun way to accessorize yourself. They can be made out of colorful beads and help you stand out among older kids. Wondering how these DIY fidget toys can be made? Here you can find the details.
These are not necessarily used by a kid but can be made and used by people of any age.
What you would need:
4. Fidget Putty
This DIY Stress fidget putty is a combination of stress-relieving slime and the entertaining nature of fidgets. These can be made for yourself or to impress your friend.
This DIY fidget is satisfying to use and is not only used by kids but also adults. This is a toy, which is super easy to use and can be made with a single visit to collect the following supplies.
The supplies that you would need are:
Borax Powder
Washable No-Run School Glue
Cake Food Coloring Set
 Metal Round Tins
5. DIY Fidget Spinners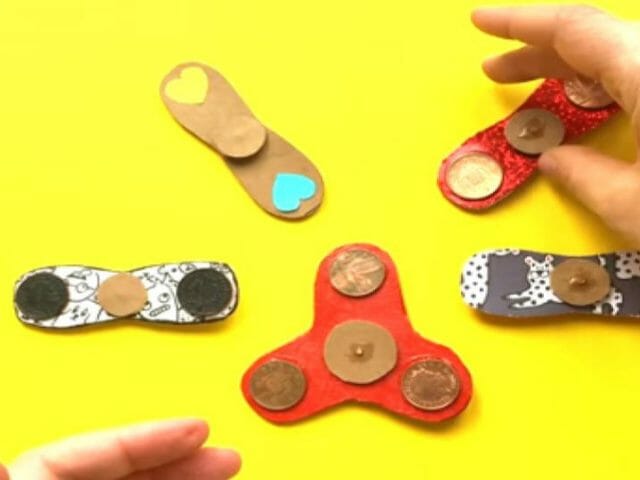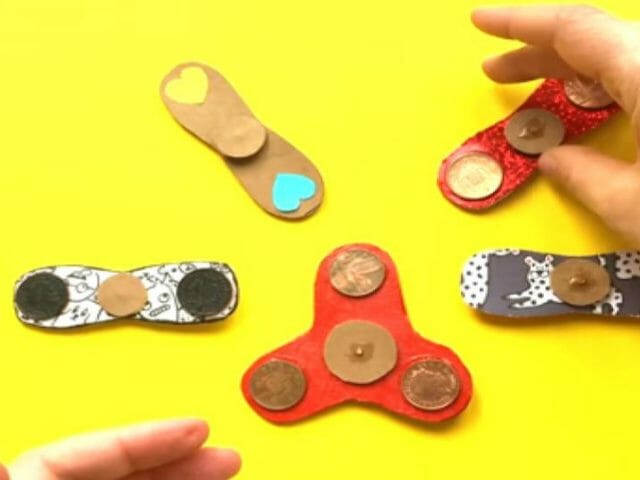 Any list concerning a fidget toy is incomplete without a DIY fidget spinner. Kids tend to roll their fingers around it and this simple exercise removes stress and anxiety and provides people with a fun activity.
Remember how these fidget spinners were popular back in the day.
Although fame has died a lot, it is still a very useful fidget to have nowadays. All you need is some coins and cardstocks.
The supplies that you might need for this fidget spinner are:
Cardstock Paper
Toothpicks
Disappearing Purple Glue Stick
Permanent Glue
Jump In: The popularity of this toy died out just as fast as it gained prominence a few years back. Despite this, kids still turn to these toys as their "stress reliever" on some occasions. Is there any danger that a child could get hooked to this gadget? Find out in my article, Fidgets In The Classroom: Fad Or Bad For Kids At School? if they're bad influences on kids or not!
6. Fidget Sticks
These DIY fidgets are created from tape, beads, pipe cleaner, and a wood craft stick. These supplies are not really expensive to buy and can be bought from any store in the near vicinity. These school-friendly fidget toys come in very handy.
A guide on how to make them can be found here:
The supplies that you would need are:
Wood Craft Sticks
Pony Beads
Pipe Cleaners
Washi Tape
7. DIY Lego Fidget Cube For Kids
Lego building blocks are a fun way to spend some free time; you can make endless possible things with these Lego blocks. Interestingly you can also create a cube fidget toy out of these blocks for your kids like done here. It's straightforward to make the fidget using these colorful blocks.
What you will need are:
 Black Technic Pin
16- LEGO Black Axle 2 with Grooves
8- LEGO Yellow Beam 2
8- LEGO Red Technic Cross Block 2 x 2 Split
8 – LEGO Dark Blue Technic Cross Block 2 x 2 Split
8. Duct Tape Endless Cube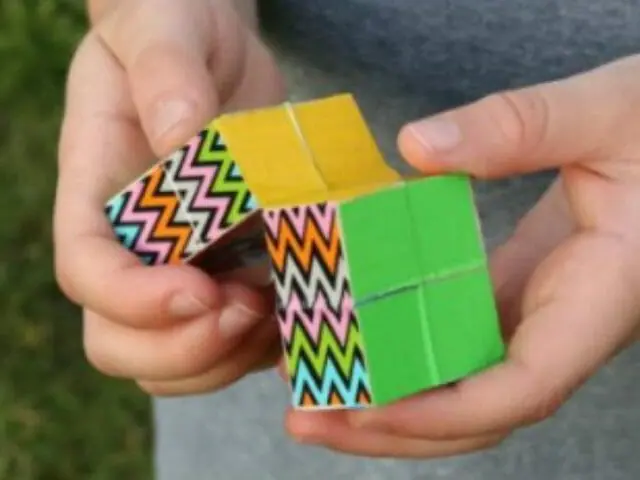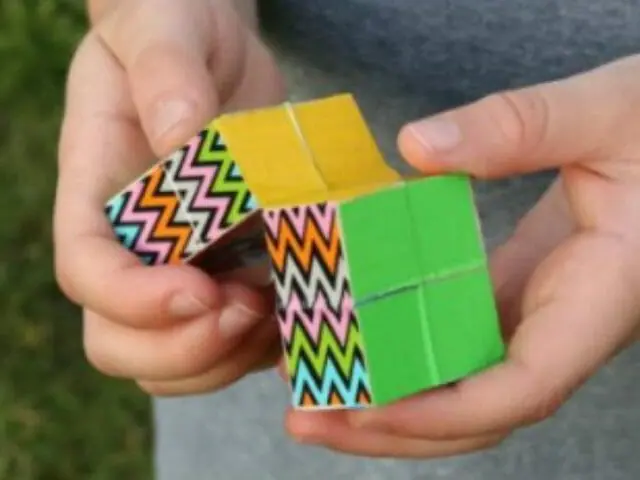 Kids love to play with fun crafts, especially if you are a parent and creating one of these fidget cubes. This tutorial on an endless duct tape fidgets wooden toy cube is surely going to make an impression of yours in front of your kids. They will love to play with it all day long.
Here is what you will need:
¾ inch wooden cube
¾ inch of duct tape
9. Rings And Chain Fidget
Few people have difficulty sitting still! If you are one of those few people, this Fidget made out of Bike chains and key chains is undoubtedly going to keep you busy for a while.
The process of making this fidget toy is pretty straightforward. All you have is to follow the instructions mentioned here, and you are good to go.
Among the homemade fidget toys, this fidget toy is the one that can cost you the most. These can also be used as a key ring.
Here is what you will need:
Bike chain
Two key Rings
Chain breaking tool
2 to 4 Rainbow loom rubber bands.
10. Nut And Bolt Fidget Toy
You just have to go to a shop/ or look for two nuts and a bolt at home. As the name suggests, you would need two identical nuts.
Simply spin the nut onto the nut until the nut reaches the halfway point. Now, simply attach the second nut at the bottom end of the bolt. Now you have yourself a useful DIY fidget with almost no investment.
Here's a quick guide on how to make one:
You only need:
11. Fidget Bracelet With Built-In Marble Maze
Some kids have a hard time focusing on teachers during class! If you are facing such a problem with your kid, then getting him/ her a fidget bracelet with a built-in marble maze is undoubtedly going to solve the problem. Craft your very own bracelet in simple steps as done.
What you'll need:
Two pieces of fabric
Velcro
Small bead or marble
Standard sewing supplies
12. Fidget Bands for Chairs
If you have a kid who cannot stand still and is passionate about fidget bands, then you might be looking in the right direction. Create a band for chairs and your kids would be still and enjoy at the same time.
Here's a quick guide to building this Fidget Band:
You only need:
13. Paper Infinity Cube
These paper cubes look very hard to make but are very easy. They can be used as a great quiet fidget tool for kids. Follow the steps and you have yourself a super easy-to-make paper infinity fidget cubes.
You only need:
Aitoh Kimono & Folk Art Origami Paper
14. Infinity Cube Fidget Toy
A fidget toy is a perfect time pass craft for you when you are resting on a lazy Sunday morning. This tutorial on DIY paper infinity cube fidget toy is one cool piece of homemade craft that everyone can make.
15. Desk Fidget Tool for School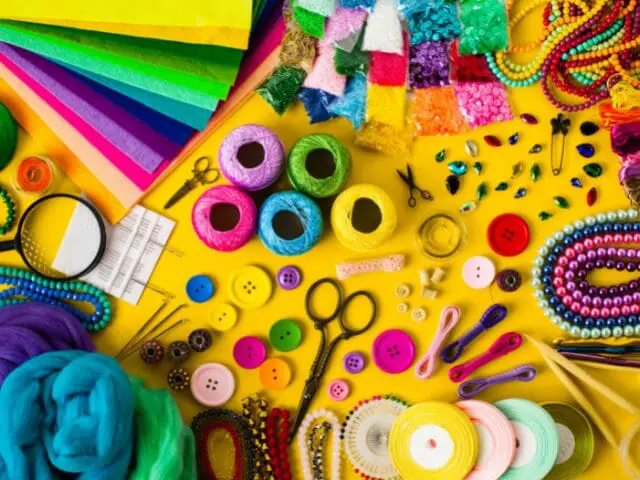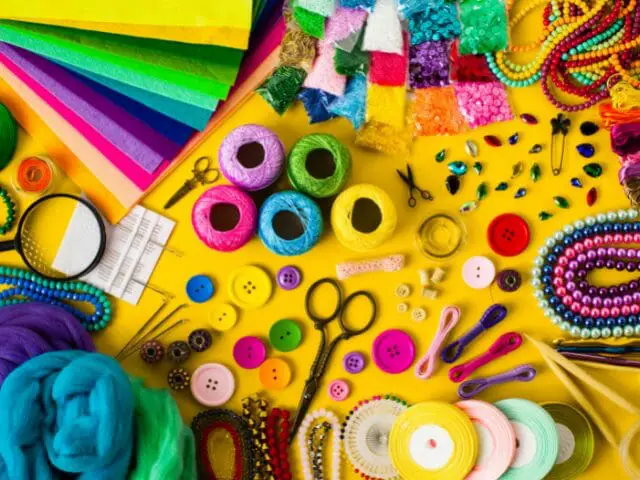 Kids at times due to pressure of handwriting work in class face difficulty in attention, focus, and symmetry in writing. To overcome this issue, this DIY Desk fidget tool can be one possible fidget toy you can make your kids familiar with.
16. Homemade Weighted Pencil
Due to excessive writing work and the pressure of gripping the pen or pencil, sometimes kids face difficulty while writing their tasks. A weighted pencil, in this case, is an ideal fidget toy to get used to.
17. Create Anti-Stress Balls
Stress is one event that can happen to anyone of any age. It can be stress at work, home, or school; everyone faces it at some time. These anti-stress balls are easy to make and can cure your anxiety.
18. Soda Bottle Top Fidget Toy
This Soda bottle top fidget toy is a fun way to create your own stress releaser or a tool to keep your hands busy during class or at work. It can be made quite easily through the given steps.
19. Watermelon Squishy Toy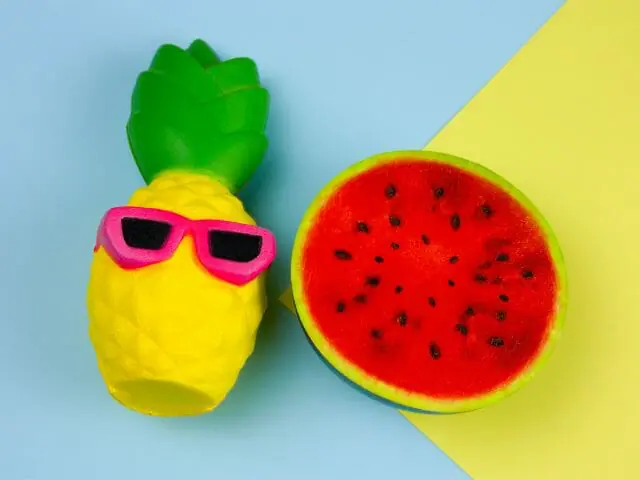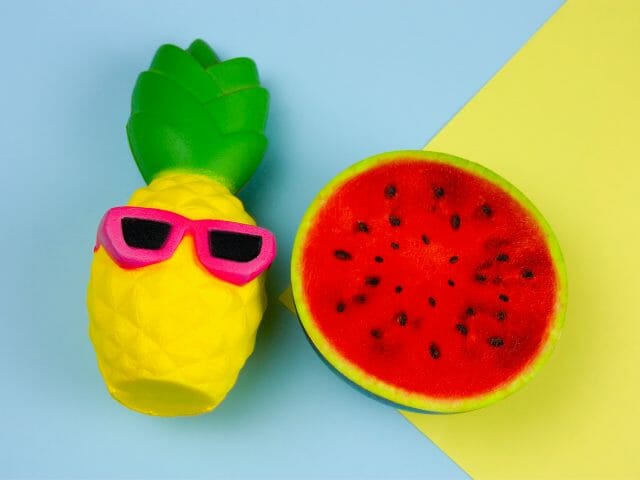 These fidget toys are a great source of stress-relievers. Some people have an opinion that such squishy fidget toys can be made as a replacement for stress relief toys.
20. CD and Marble Top
Gone are the days when people used to buy CDs. Nowadays, everything is available on the internet. If you have a set of old CDs lying around, and a marble, then these supplies are enough to create a DIY fidget toy.
Things you'll need:
21. Perler Bead Fidget Toy
Jumbo paper clips and Perler beads are what you would need to create these fidgets for almost no cost.
The supplies that you would need:
Perler Beads
Large Paper Clips
22. Shoelace and Beads Fidget Toy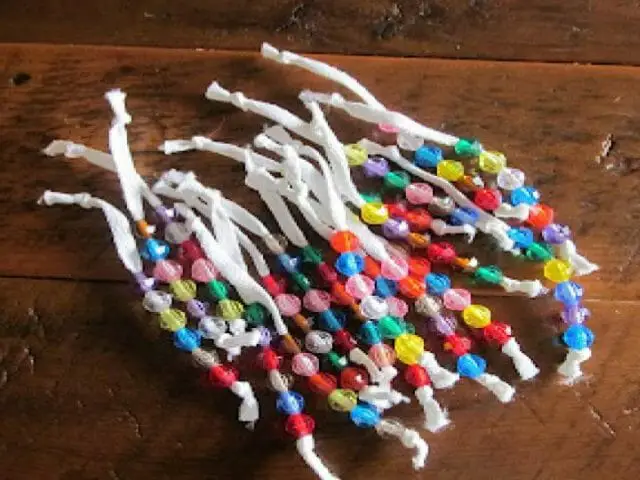 Creating these DIY fidgets is the easiest to make among all the DIY fidget toys. Colorful beads and shoelace string are what you would need. Tie them together and you have yourself an easy-to-use and fun fidget toy.
The supplies you would need are:
Shoe Lace
Colorful plastic beads
23. Easy DIY Begleri Fidget Toy
Get yourself familiar with some durable stress relievers this winter. This paracord string begleri fidget tool, along with two metal objects most probably two bolts are one fine way to keep your hands busy and focus on getting the work done.
24. Bead Snakes
As the name suggests, this fidget replicates a colorful snake. You can always personalize your fidget tools with different color pony beads.
Supplies that you would need:
Beads
Multicolor Pony Beads
25. Fidget Pencil Toppers
Pony beads, rubber bands, and piper cleaners are what you need to create this DIY fidget. Simply transform your pencil, through some tools, into a DIY fidget tool.
Here's a quick video tutorial on how to make one:
The supplies that you would need:
Multicolor Pony Beads
Pipe Cleaners
Rubber Bands
26. Chewable Teething Necklaces
A Chewable Teething Necklace is an easy-to-make DIY fidget toy that can be made with basic crafting materials. They are also a good alternative to a DIY Fidget Spinner for kids who like to chew on things.
These necklaces can be made with:
Socks/Tights
Yarn to tie it
Wooden Beads
27. Dice Infinity Cube
This last fidget can make you look cool and smart in front of your friends. These dice are very cheap to afford and can be made to create DIY fidget tools.
You only need:
Conclusion
Hence, it can be said that these DIY fidget toys can be made easily at home. These DIY toys would be easy on your wallet and the process of creating these fidgets is itself fun. So get up, take this article as a guide and start making some fidget toys at home. We wish you the best of luck!
Last Updated on July 21, 2022 by Emily