Welcome back and I hope everyone is safe. Today, I want to share with you an extensive list of makerspace materials that will excite learners and teachers. Makerspace is the forerunner of the science, technology, engineering, math (STEM) curriculum that has children learning science and physics right from kindergarten.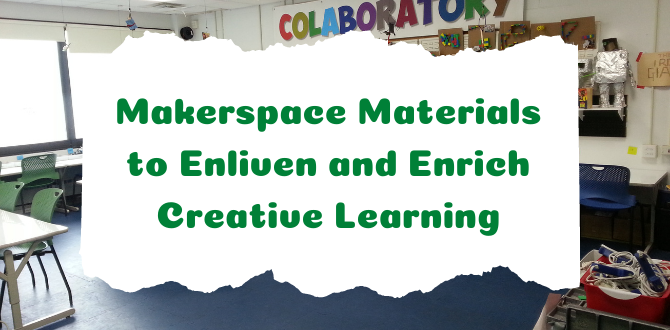 I am using many makerspace materials in my classroom and many are still on my wish-list. This blog is to help you pick and choose the materials that best suit your teaching style and open doors of design and invention for your students. Read it now and make your own list or bookmark the article and read it when you have more time.
What Is a Makerspace?
Makerspace started about 25 years ago in Germany by a group of techies who wanted to use computers in innovative ways. They called themselves Hackerspaces because hackers are people who invade computers. It morphed into makerspaces for the classroom where children can gather in groups to create something interesting with an array of materials. Makerspaces are designed to cover multiple areas of learning, including math, sciences and language arts.
Check out the video below to get detailed information on the aims and uses of makerspaces.
Here is an overview of the most commonly used makerspace items for each grade level.
Makerspace Materials for Elementary School
Elementary school is often the place where many children learn to love or hate school. Sitting in rows without moving much for six hours while listening to the teacher talk about many things they don't understand is one good way to create an unpleasant learning environment. Flexible seating has changed all of that, but more is needed. This is where makerspace comes in. Here are 14 makerspace must-haves for an elementary school.
Construction paper
Construction paper has been a staple of the elementary school art room for decades. It comes in a huge array of colors and is supple enough for little hands with safety scissors to handle.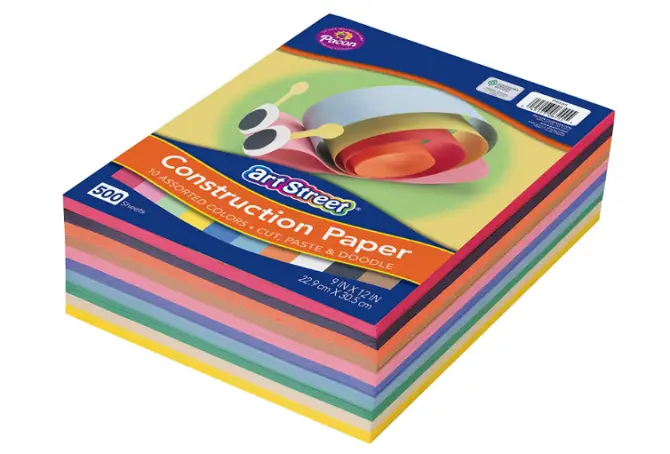 This construction paper is lightweight, inexpensive and eco-friendly. There is no rule for its use. It is great for cutting, pasting, coloring and, well, constructing. When children use this brightly colored construction paper it reduces the amount of paint they use and saves time because painting is time consuming and needs to dry. Construction paper provides smooth and even color for collages, blue-sky background and for creating buildings, robots or animals.
Origami paper
Origami is an ancient Japanese paper-folding art that can be incredibly intricate and make hundreds of animals and objects. In fact, it may have originated before paper was invented, so other materials were used originally. It takes math and spatial skills to produce beautiful results.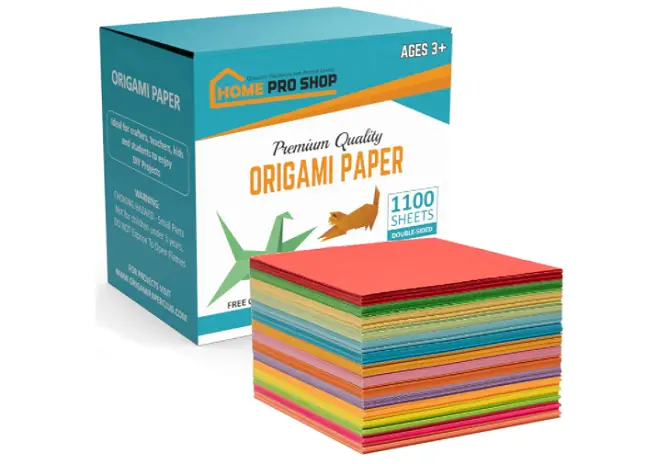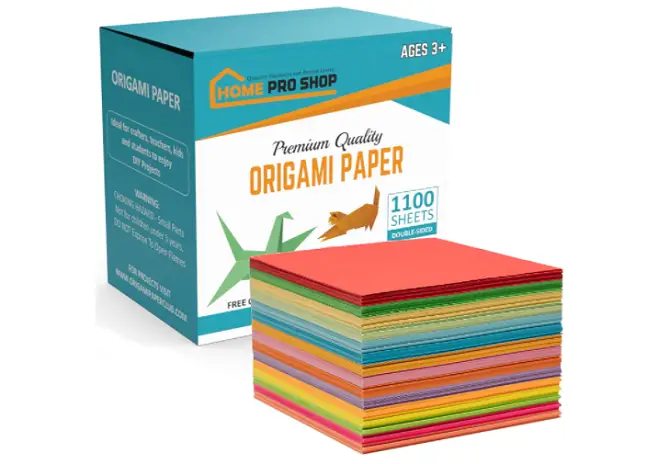 Children of all ages enjoy folding this colorful origami paper to make even the simplest forms such as a swan or boat. Origami paper is thin and easy to fold even for complicated pieces.\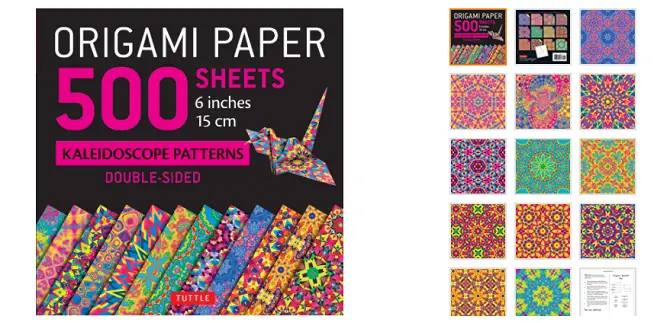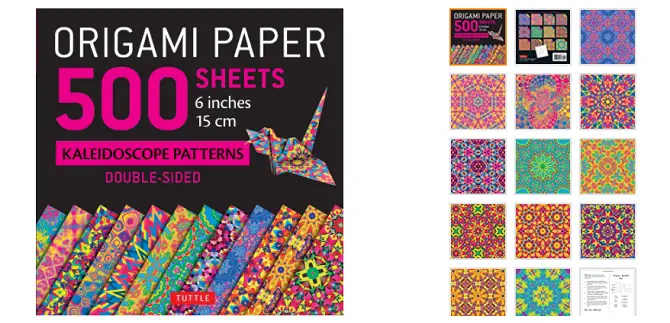 This origami paper comes in bright patterns on one side and solid colors on the other. The dye does not rub off. The sheets are six by six inches and make crisp folds. Some users don't like the odor of the ink and others find it fine.
Cardboard
Cardboard is another staple for children's' DIY projects. We usually had to get it from the grocery store or ask children to bring it from home. Today, beautiful, strong corrugated cardboard sheets are available for an affordable price.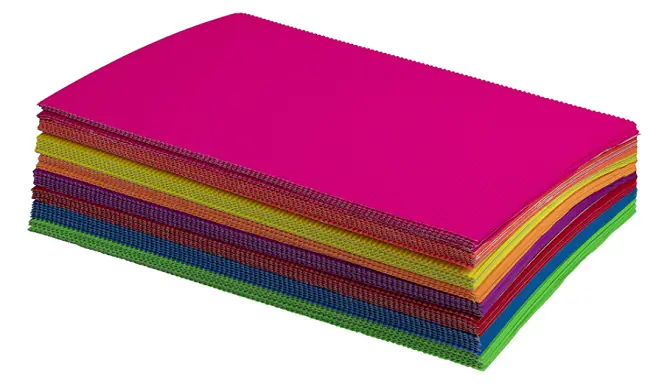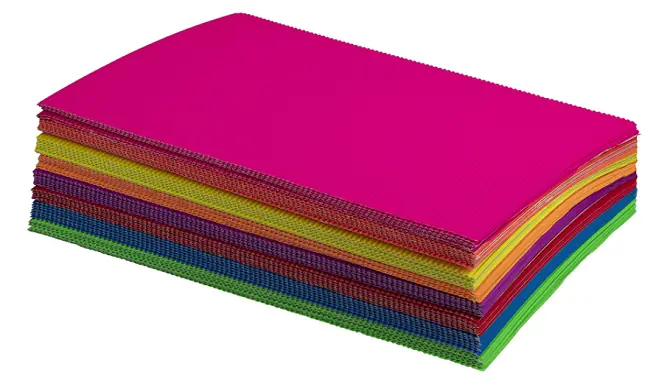 This cardboard comes in eight colors that inspire students to create greater things and is easy to cut. The page dimensions are 8.25 x 11.75 x 0.04 inches and there are 64 sheets in a pack. Just like our old friend cardboard boxes, these colorful sheets are flat on one side and ridged on the other. If you have access to ample cardboard boxes, you can add them to your makerspace along with the new colorful ones. They will add dimension, texture and color to team projects.
Scissors
Scissors are always in demand. Every three minutes someone is asking, where are the scissors? Here are two examples of how to have enough scissors and keep track of them.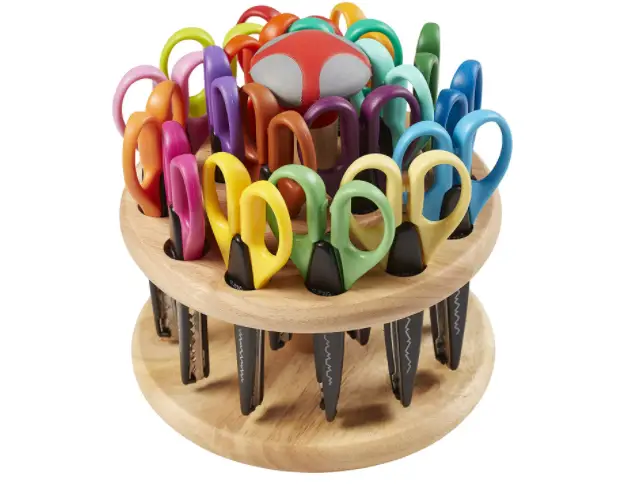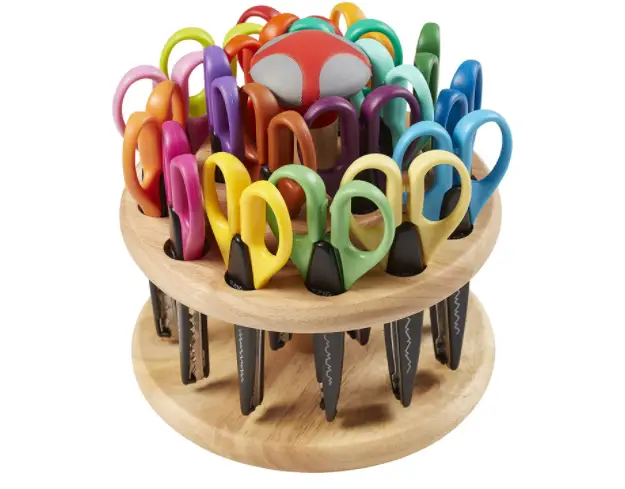 These safety scissors have ergonomic handles and are suitable for children four years and older. Kids love them because they cut in 18 different wavy designs. They come in a rotating, hardwood stand. They measure 2.5 x 0 7 x 6.3 inches.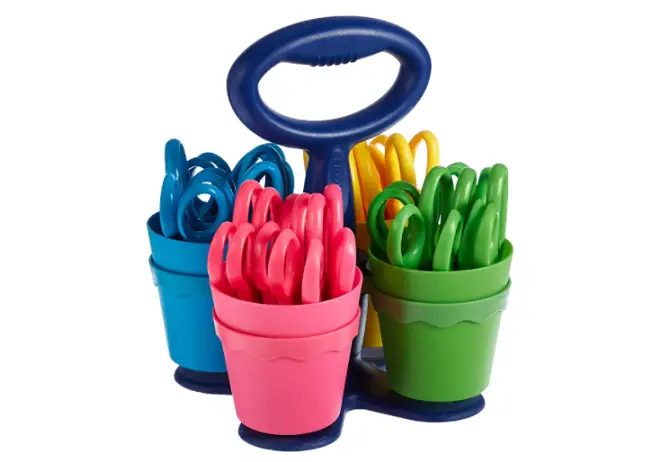 This model is a straight-cutting safety scissor with a blunt point and comes in a plastic, color-coded, four-section caddy. The cups in the caddy are removable and can be given to four different groups. The handles are covered with an anti-microbial substance that helps inhibit the growth of bacterial odors. This model won the Learning Magazine Teachers' Choice Award, so you can guess they are great. The handles are made for both right and left-handed people, and the blades are sharp enough to cut poster board, foam, and paper. The dimensions are 8.75 x 8.88 x 10.25 inches.
Glue
Glue is a necessary item in your classroom makerspace. Let your students keep it on hand always.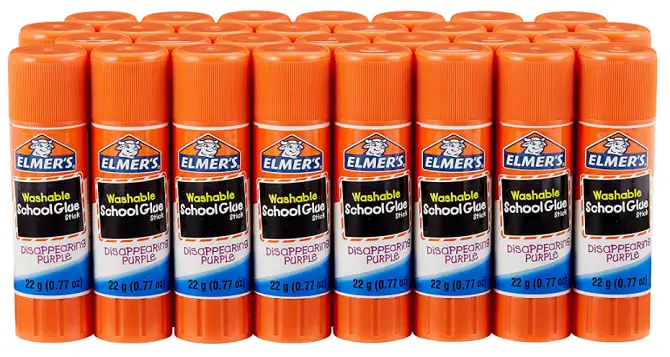 Elmer's disappearing purple school sticks provide washable glue sticks in packs of 30. The purple color helps children see where they are applying the glue, and when it dries, it is clear. It is washable, acid-free, non-toxic and ideal for classrooms. Each stick has 0.77 ounces of glue. The glue provides a very strong adhesive, so the children's' projects don't fall apart or the glue mold.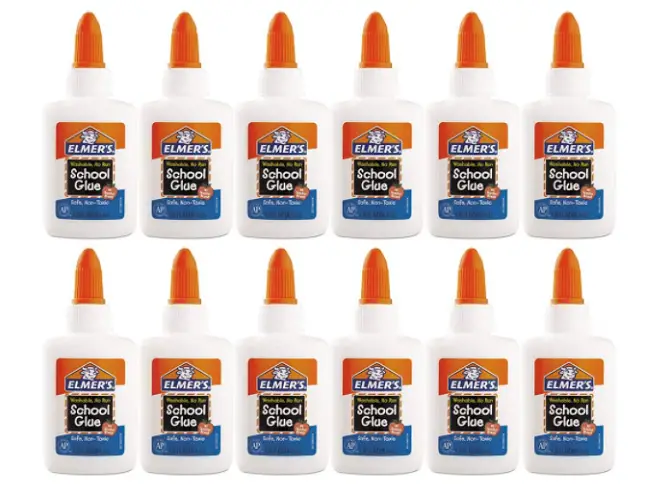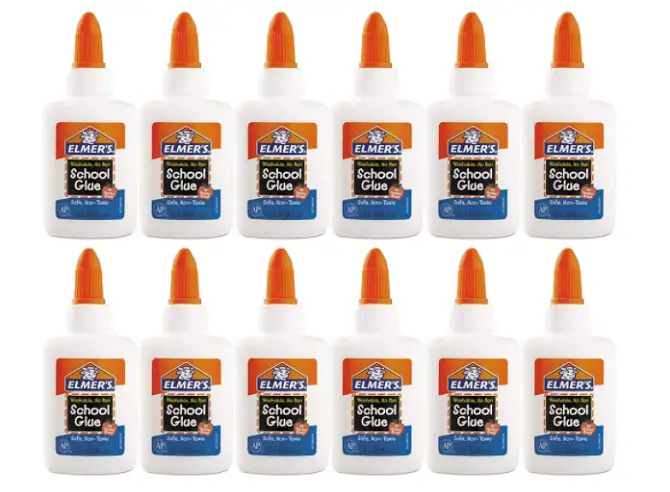 Elmer's Washable School Glue is the tried and true white school glue. It bonds paper, wood pottery and cloth. It is safe and non-toxic and is washable. The pointed nozzle makes it easy for small hands to direct the glue where they need it. It comes in 12-packs of 1.25 ounces each bottle. It tends to be a bit runny and takes some time to dry, but it is a good high-quality, non-toxic glue for children.
Paper cutter
Paper cutters are incredibly convenient for makerspaces. There are many models of paper cutters, some are safer than others, but they all have safety features. With the advancement of its features from way back when — it will be fun to learn about the best paper cutters available today.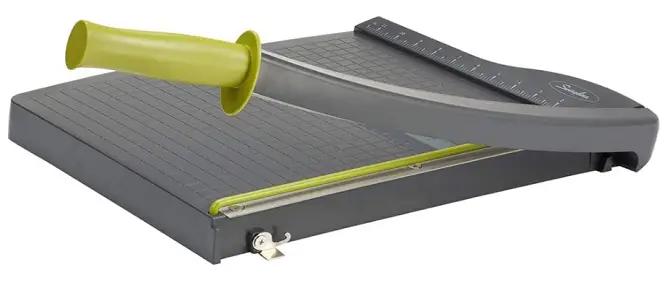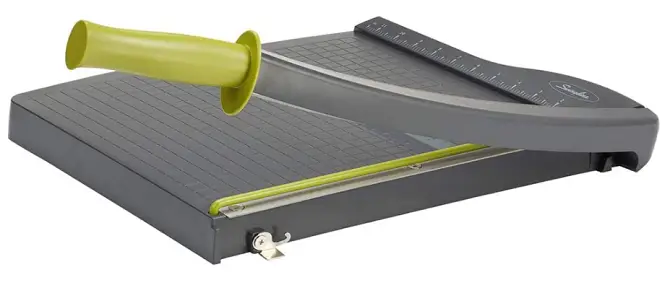 This one is Swingline Paper Trimmer, a guillotine paper cutter for 12-inch paper. There are two sizes with a capacity of 10 or 15 sheets at one time. It is most commonly used as a trimmer, but it easily works to make cards and other pieces of paper for games and crafts. It has an alignment grid with both inches and centimeters, so you always get a straight cut. The guard rail protects your fingers from accidentally shifting position, and the blade has a safety hook when it is not in use.
Tape
Tape is another must-have item on your classroom makerspace list. Modern manufacturers produce a wide range of tapes for schools.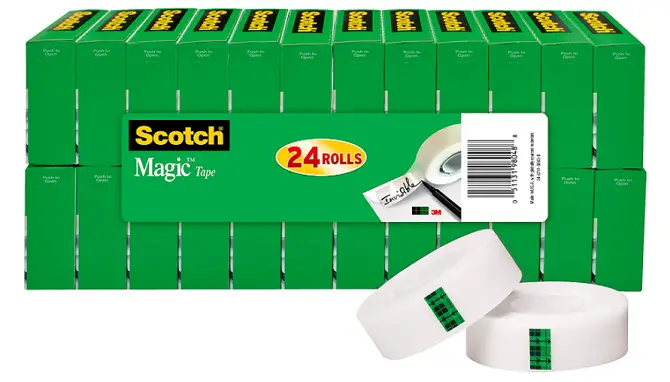 Scotch Magic Tape has been around for decades. With its matte finish, it turns invisible once it is stuck. It doesn't come unstuck in scanners, faxes, or copiers, and kids like it because of the invisibility. It comes in packages of 24 rolls, and you will need dispensers. It's absolutely essential for a makerspace because there are some things that you can't glue, especially construction paper models. Some people think it's not strong enough, but if it is used on the proper material such as paper and construction paper, it works well. It is also suitable for taping papers to a door or other wooden or laminate surfaces because it peels off without leaving a mark.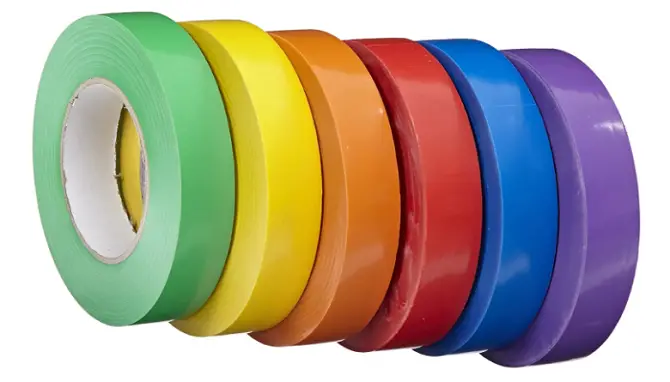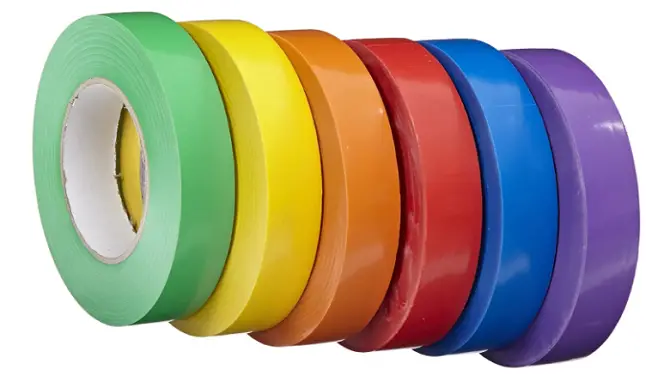 If you are looking for a very durable tape, School Specialty Vinyl Gym Tape is the one you need. It is designed for marking places on the floor such as goal lines and baselines. It comes in six bright colors of heavy-gauge vinyl, so it is very durable. It can be removed from a gym floor without leaving a residue. The tape is one inch wide and 60 yards long.
Construction paper set
Construction paper set is a good tool for teaching the buddy system.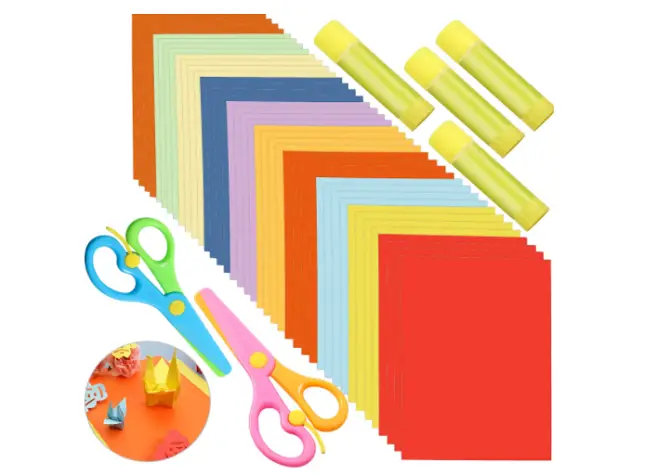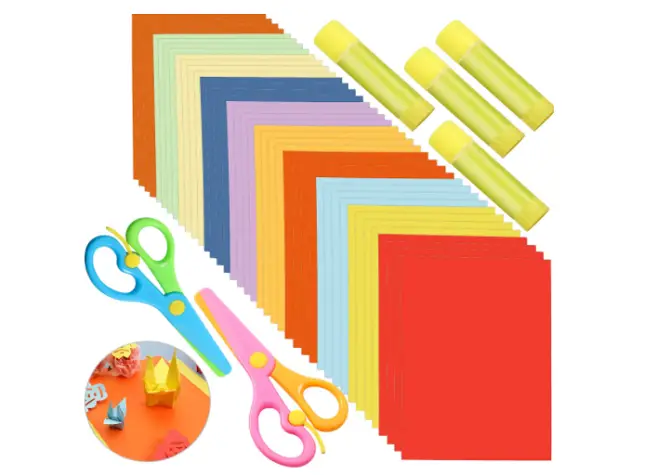 The Outus 53 Pieces Construction Paper Set has four plastic round-tip scissors, four glue sticks, and 45 pieces of colorful construction paper. The set is great for cutting and pasting. The small size of scissors makes this ideal for preschool and kindergarten. The construction paper is A4 size and lightweight. It's suitable for flower cutouts, animals, or their own creations. The glue is not edible, so an adult should make sure very young children are watched if they engage with the set. This is a great little set for children to develop hand-eye coordination.
Jump In: Do you know what anchor charts are? They make good use of markerspace materials for the best class engagement experience. I did my research and would like you to glance at it here — Your Ultimate Guide to Engaging, Interactive Anchor Charts.
Plastilina and clay
Kids love clay and so do many adults. Whether it's plastilina or the real thing, squeezing, punching and molding is a soothing and satisfying experience.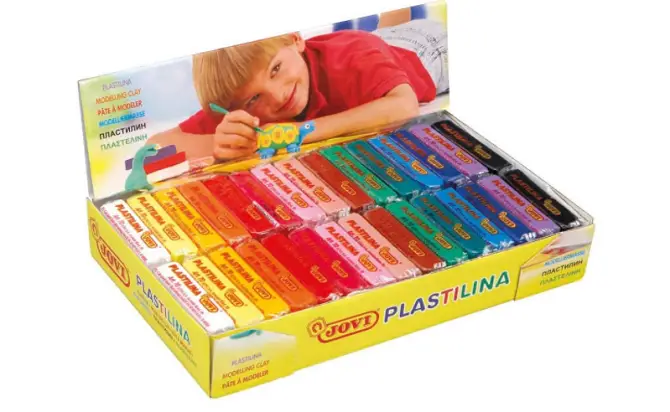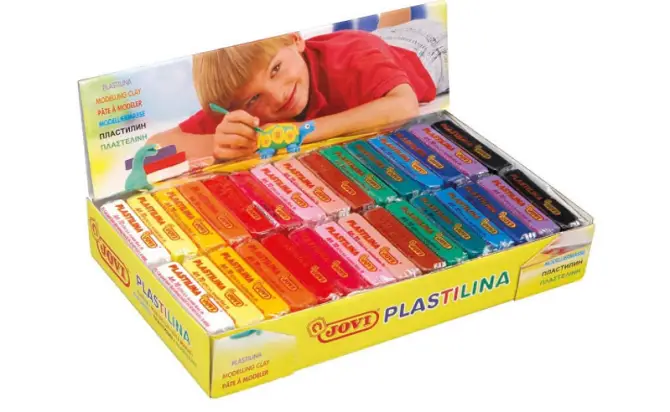 Jovi Plastilina Modeling Clay is a good place to start. Since it doesn't harden, it can be used again and again and it still holds incredible detail. It has a smooth texture and since it's vegetable-based, it doesn't have a petroleum odor. The plastilina is highly malleable and the colors don't bleed into one another. Older kids can use it to create stop-motion animations. It comes in a box of 30 bars with 15 brilliant colors. It is certified by the Consumer Product Safety Improvement Act (CPSIA) especially for children 12 years and under. An added bonus, it's vegan and contains no soy.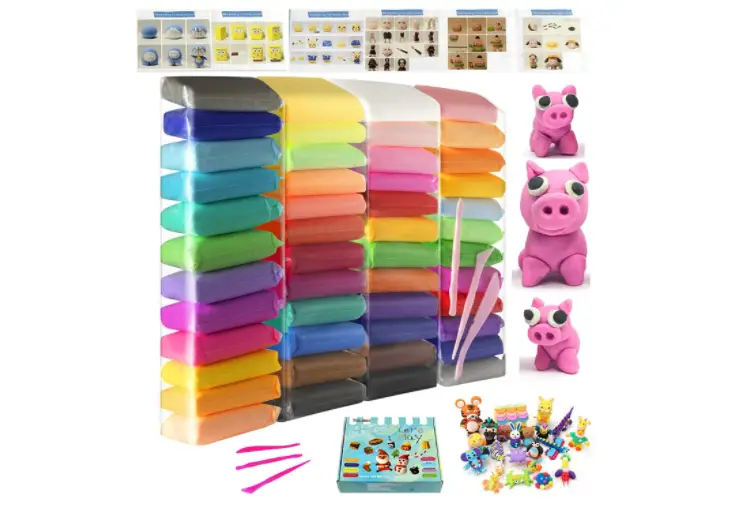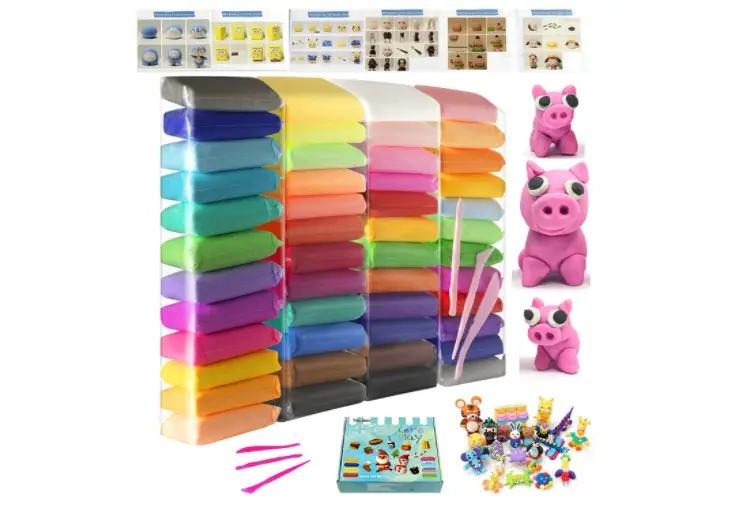 If you are looking for clay that hardens, ASYSY Air Dry Clay (48 colors) is a good one. It is non-toxic, food-grade and has a good odor. It is CPSIA and American Society for Testing and Materials (ASTM) certified safe. The texture is soft and fluffy. It dries in the air and never gets brittle. It has 48 brilliant colors and comes with zip-lock bags to keep it fresh and plastic sculpting tools. You can make new colors by mixing two colors. The included creation manual gives instructions for making many cute animals, cartoon characters and other things. This is a good choice for second, third and fourth-grade students.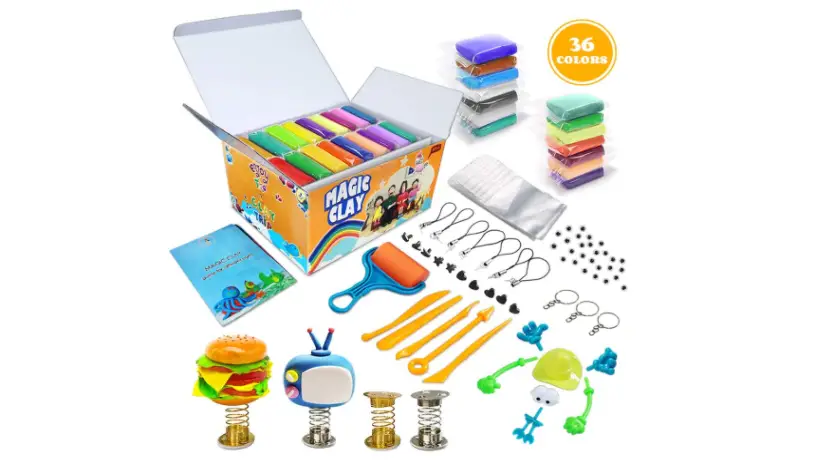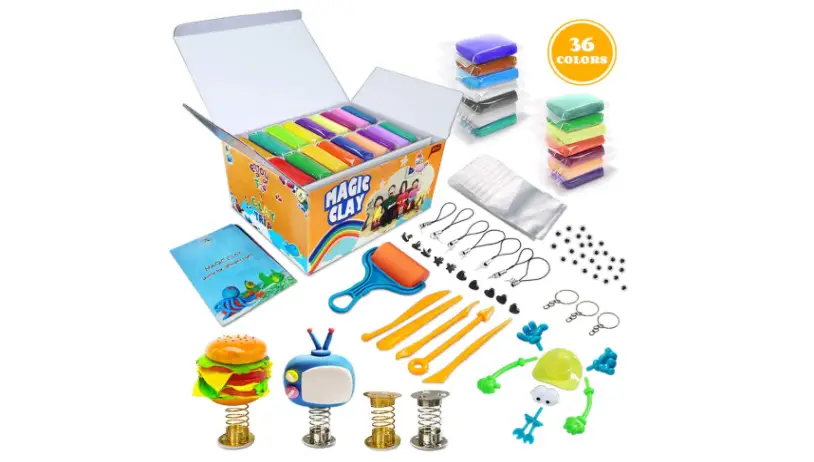 Essenson Modeling Clay Kit has all you need for kids three to 12 to have a lot of fun. The kit contains 36 different colors of clay in airtight wrapping. You also get extra zip-lock bags for storing unused clay. There are five sculpting tools, a roller for smooth surfaces, and several decorative accessories and a project booklet. The clay is soft and malleable and air dries completely in 24 hours. For the little ones, it helps develop hand/eye coordination and fine motor skill as do all clay products, but this one has a lot of added design features that kids like. The clay material is non-toxic, eco-friendly and ASTM certified as safe. It's not intended to be eaten, so for very little ones, you have to be careful.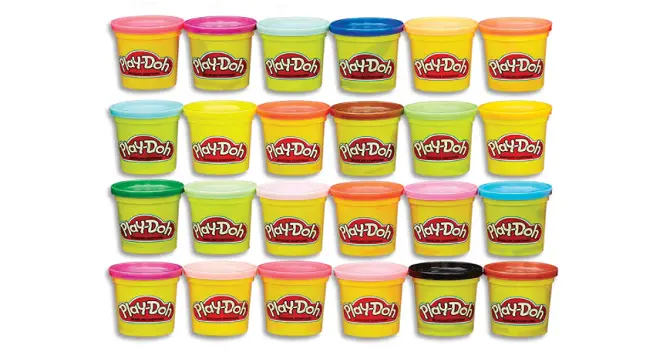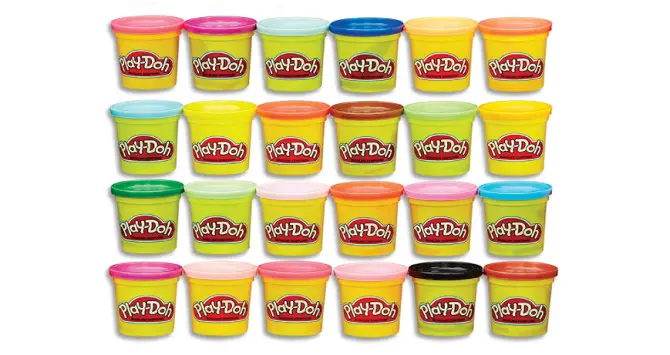 Finally, our famous and favorite Play-Doh Modeling Compound in a pack of 24 3-ounce cans of non-toxic colors that are 100 percent recyclable. The containers keep the Play-Doh fresh and are easy to open. This clay is suitable for even two-year-olds. It is non-irritating and non-allergenic. This package has only clay, but you can get packets of Play-Doh sculpting tools, cookie cutters, rollers and other design materials that are not expensive and are suitable for any type of modeling clay you choose.
Sewing and textiles supplies kits
Sewing and textiles supplies kits are perfect for fun projects to develop sewing and knitting skills, the kits available are a great way to get the students hooked.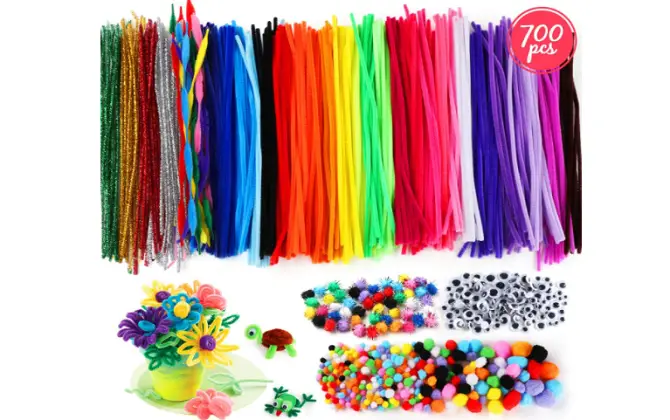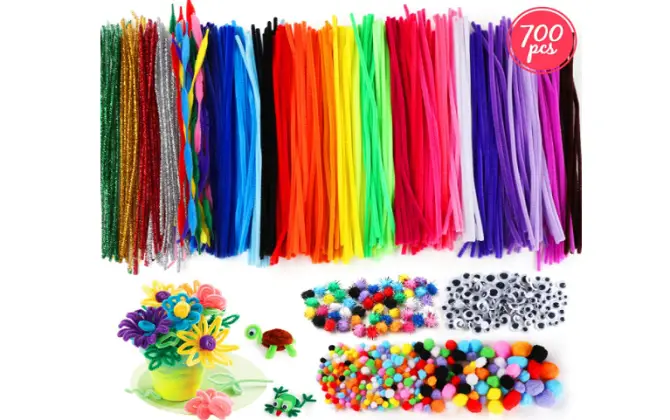 Ilauke Pipe Cleaners and Craft Supplies is a kit that has almost everything you need in a crafting makerspace. It contains brilliantly colored pipe cleaners, several sizes of googly eyes and various sizes of fluffy pom-poms. The googly eyes have pull-off strips for the adhesive on the back. This is an inexpensive set that thrills the younger ones with brilliant colors and soft material. The set contains three styles of 300 chenille stems, 250 pom-poms of two styles and 150 round and oval googly eyes. The materials are very durable and will last for years. It's good for craft projects, and some users recommend it for making cat toys.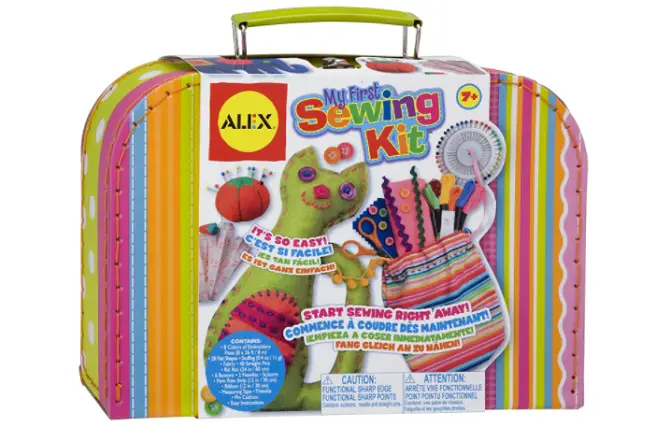 Alex Craft My First Sewing Kit is a neatly package crafting kit in a carrying case. It is designed for children seven to 12 years. It has won two awards as the best classic toy and parent's choice award. The case contains 28 felt shapes, stuffing, embroidery floss, rickrack, fabric, measuring tape, scissors, needles, pins, a thimble, pin cushion, six buttons and pom-pom strips. This kit opens the world of sewing for endless imaginative fun. They can make stuffed animals, pillows, book covers and anything else they can think of. It has a handle for easy transport and an illustrated instruction book to help children get started. The skills they learn will stay with them for years. It offers a genuine teaching and learning experience for young sewers.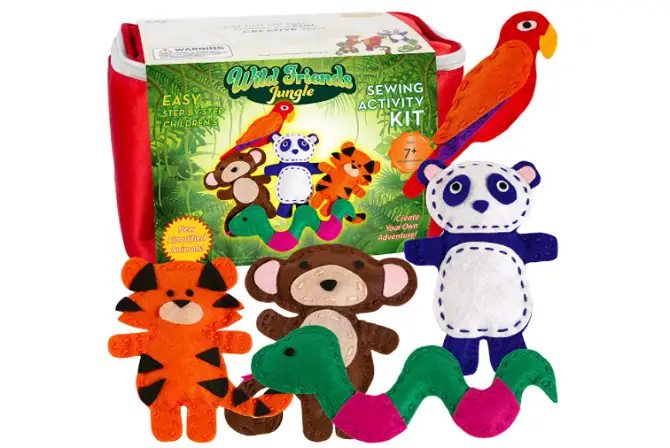 This Wild Friends Sewing Kit is designed for fun away from tablets and laptops. It is suitable for toddlers to teens to create five jungle animals. It contains thread, scissors, stuffing, safety needles and animal patterns that will keep kids busy for hours. It comes with an instruction booklet and a cute carrying case. With the different shapes and colors, it's more like a puzzle that children need to solve to create the animals. They put the proper pieces together and stitch them in place. There is something satisfying when you make your own little toy. The kit contains five, pre-cut cute animals, seven colors of thread, five kid-safe plastic needles and five metal needles, a needle threader and 40 straight pins, a pincushion, safety scissors and stuffing. The manufacturers recommend the kit for a long road trip or plane ride. Since it's a one-shot activity, it is not reusable for a classroom.
Woodworking supplies and kits
Here are woodworking kits which are STEM toys for beginner builders. They are designed to help kids develop their math, engineering and art skills.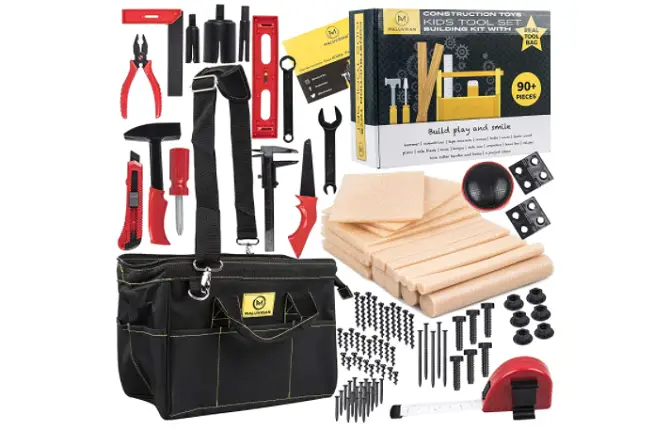 MALUVRIAN Educational Building Toys looks real, but it is designed for pretend play. The wood is dense foam and the hammer, pliers, saw, screws, nails and more are plastic. One reason kids really love this building set is that all the tools look like the real thing. It is suitable for pre-school, kindergarten and some older children. The accompanying booklet provides 10 project ideas, or the children can create their own. It comes with an attractive and professional-looking tool bag that holds everything.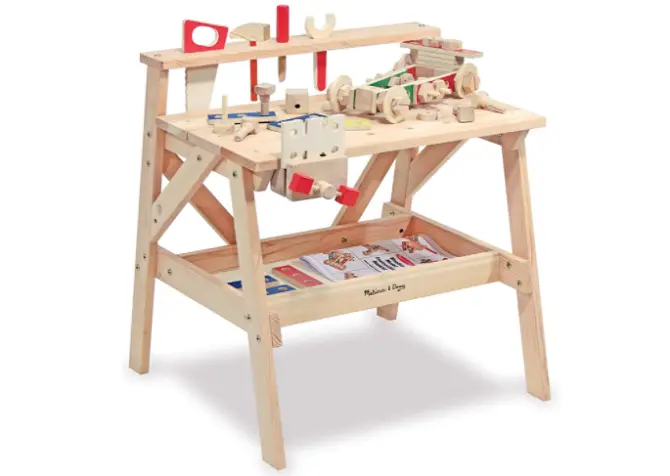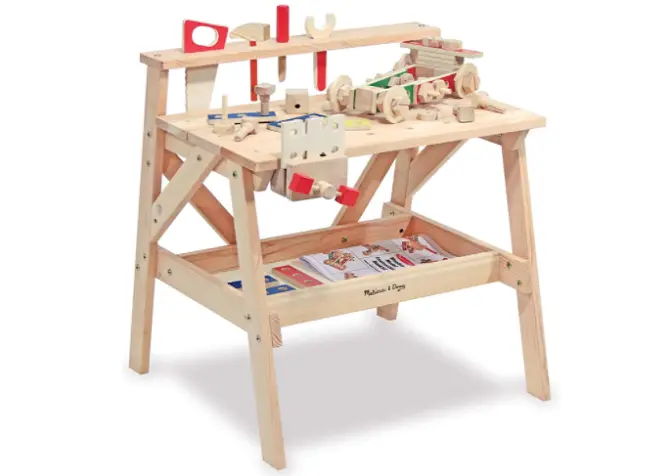 If you are looking for genuine wood, the Melissa & Doug Wooden Project Workbench is a good option. It is a solid wood workbench for kids that comes with a functioning vise, wooden tools, a tool rack and hardware. It also has a convenient lower shelf with edges so tools don't roll off the side. The included booklet gives ideas for projects to get them started. Melissa and Doug products are called the gold standard in early childhood play by NBC News and are high-quality and safe. It is suitable for young ones three to six years old. These products are specifically designed to engage kids away from electronic games and teach patience and creative thinking. It would make a good workstation at a makerspace.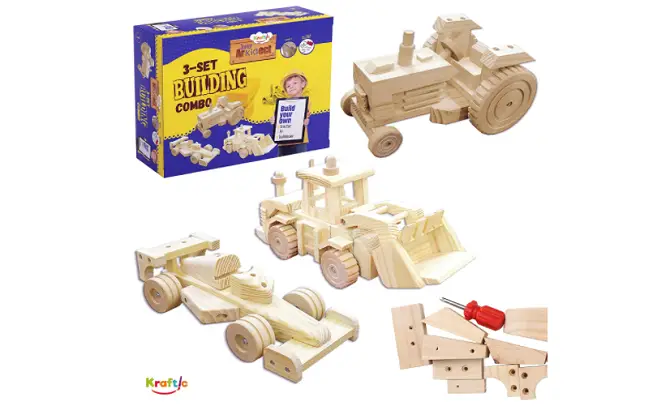 Long ago there were tinker toys. Wooden wheels, axels and platforms that children put together to make vehicles and other things, then took apart to start over. Kraftic Woodworking Building Kit is a modern upgrade that has the pieces for a tractor, bulldozer and an F1 racing car. The kit contains 46 pieces of real wooden parts, screws and a screwdriver. It comes with an instruction manual and each vehicle comes in a separate bag. Children eight years and older can build the vehicles on their own by following the step by step instructions. Once they are finished, they are ready to be painted if you want. These sets provide so much fun you will find adults building too.
LEGOs and other building blocks
LEGOs are loved by children and adults all over the world. Every makerspace needs a good set of LEGOs or other building blocks that multiple children can use.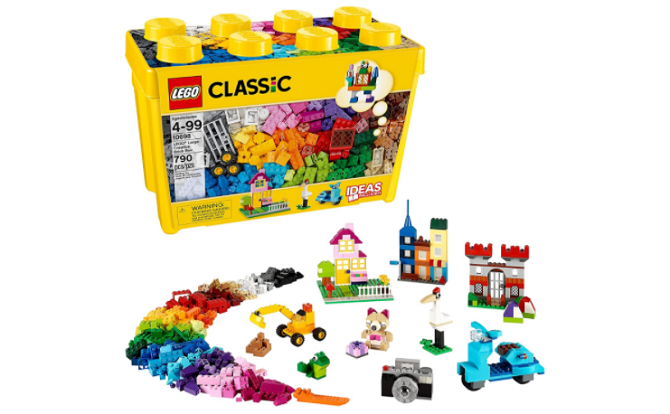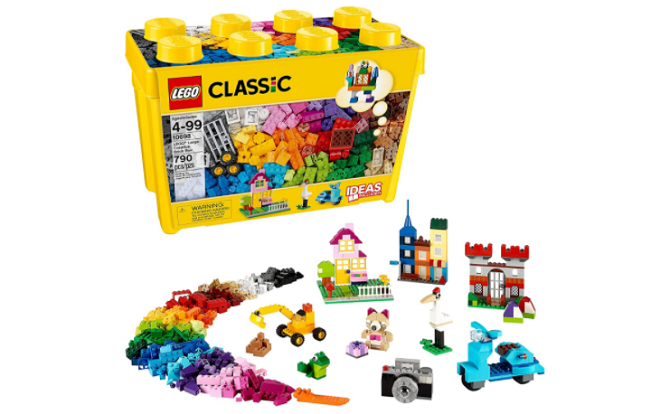 LEGO Classic Large Creative Brick Box is a classic, creative kit, this set has 33 different colored bricks, eight different windows and doors, two green baseplates and six tires and wheel rims. You may need more than one kit because kids love it, and it builds space relationship, engineering, abstract thinking and hand/eye coordination skills. It is not for children under three years, but you can get large size bricks for younger children. This kit is a starter set. If you need more bricks, you can buy them separately and choose your size and colors.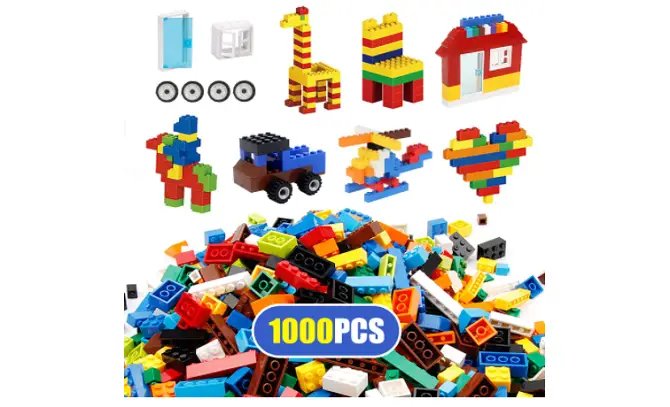 Similar to LEGOs, the WYSWYG Building Blocks kit has many more bricks but fewer windows and wheels. With 1,000 pieces, this one kit may be enough for your class. The bricks are made with BPA-free plastic and are easy for young children to connect. They are suitable for STEM early learning for space relationship, hand/eye coordination, abstract thinking and math. They are also suitable for cooperative learning. All of the above while having a great time.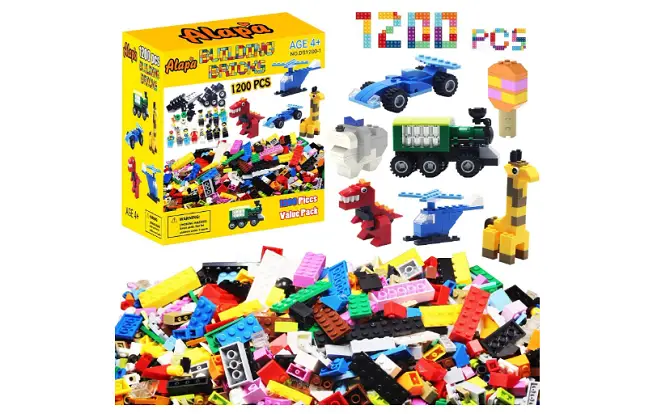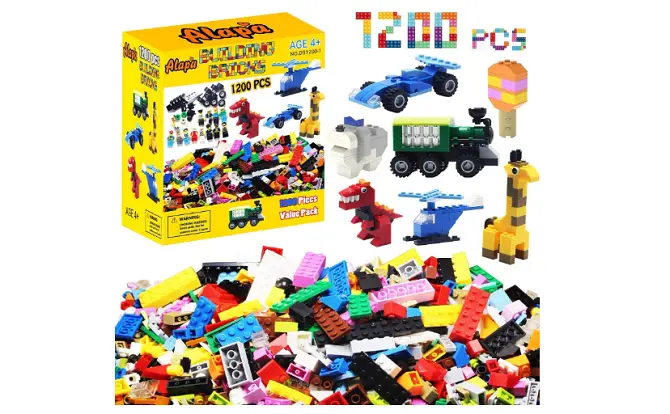 Alapa Building Bricks are similar to LEGOs, but they come in many different shapes for making animals, helicopters, racing cars and more. They are compatible with LEGOs and CSPIA certified. These are generic blocks that can be added to another brand of building blocks to increase the creative possibilities. The 1,200-block set comes with a detailed booklet of instructions that show how to build trains, cakes, a puppy, a T-Rex and much more.
STEM kits
STEM kits and homemade activities are the latest trends to keep children interested in school while teaching them the science, technology, engineering and math skills they need. STEM kits are not a fad, they have become the basis of curriculums all over the country. You don't have to buy kits, but they have the advantage of containing everything you need for a particular lesson. Here are three I use regularly.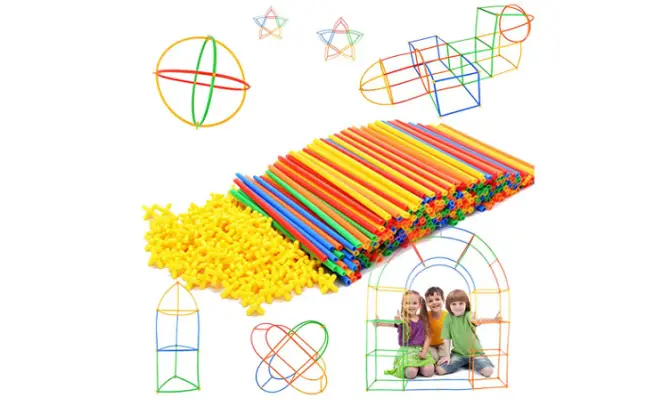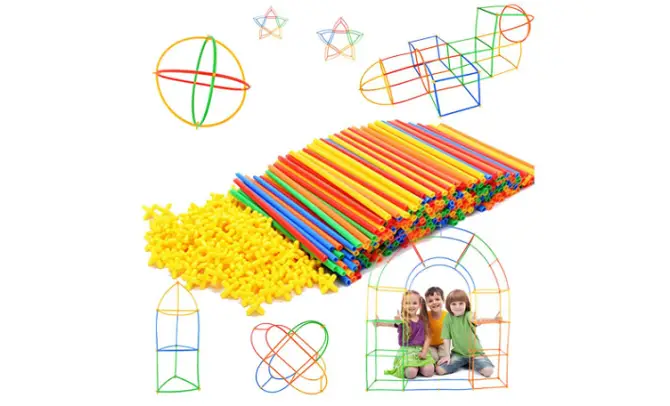 RAINBOW TOYFROG STEM Building Toys with straws and interlocking pieces. The colorful, BPA-free straws can be connected and made to outline hundreds of shapes. It's great for engineering, abstract thinking, fine motor skills and hand/eye coordination. The pieces are washable in warm, soapy water. The kit comes with a reusable bag to help keep them neat. They are strong enough to build large objects such as a cute playhouse.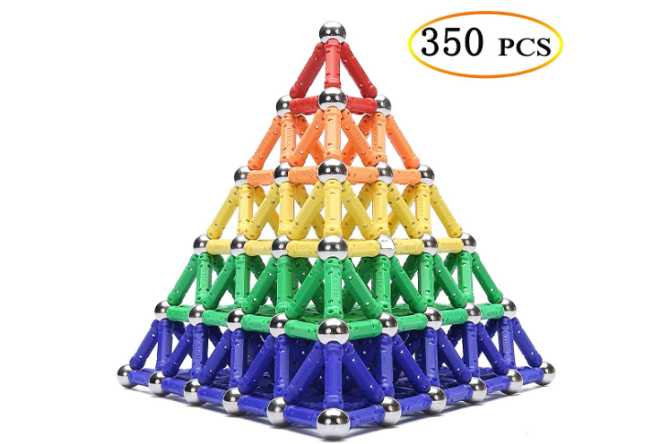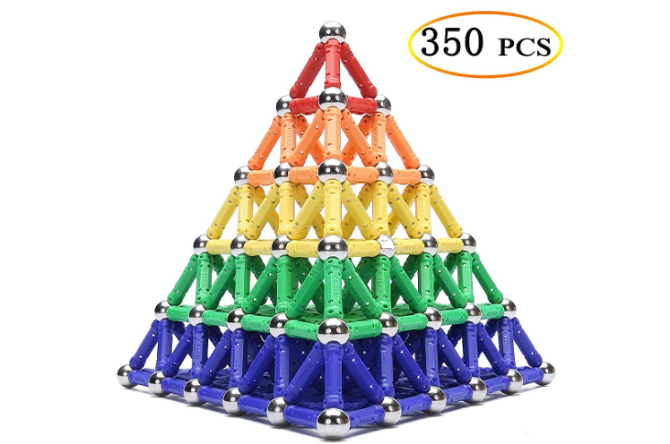 The WITKA Magnetic Building Sticks are specifically designed for brain training. It contains strong magnets that hold the colorful pieces together to create just about any object a child can think of. The kit has 186 plastic, magnetic pieces, 86 magnetic ball for the connectors, eight round pieces and 70 other shaped pieces. Children can make 3D shapes such as cubes, pentagons, trapezoids and more. Just having fun with these magnets trains the brain to plan ahead with original thinking. I have two sets in my makerspace because it is such a popular activity.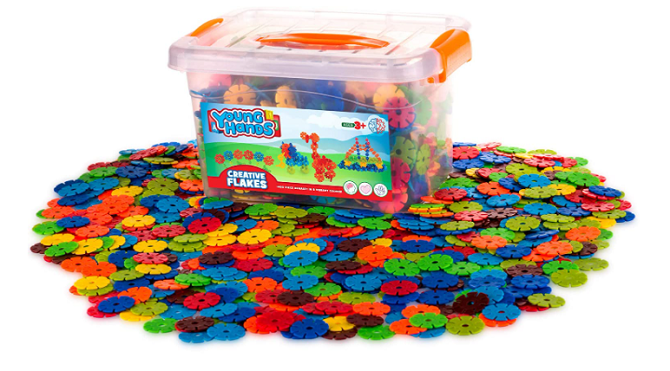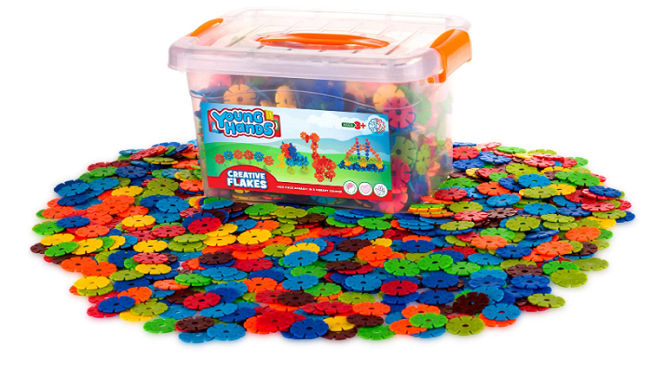 Creative Kids Flakes Disc Set has 1,400 colorful interlocking pieces that can keep children three years and older busy for hours. The plastic discs are non-toxic and can be linked together to make thousands of shapes. This is a great STEM set for the younger students because it is easy to link the pieces and the children feel free to make whatever they like. The STEM aim is engineering and architecture. It's also useful for individual fun or collaborative projects. These stimulate the imagination because they are different than the usual building blocks. The set comes with a transparent plastic box for easy storage or transport.
I have done a lot of research on STEM kits and recommend you read my article about STEM toys for elementary school children and my post about STEM kits for kindergarten. You will see how many different STEM kits are available and how they are used. The kits are extremely beneficial for students because they combine learning electronics, math, physics, and more with fun. STEM kits belong in a makerspace.
We also have an article that you should not miss for more detailed information and suggestions for activities in your elementary makerspace.

Makerspace Materials for Middle School
Educational kits and supplies are available for every age school child. As I mentioned above, some are for the very young and some are even fun for teenagers and adults. Here are a few I recommend for a middle school makerspace that won't make the students feel like they are being treated like babies.
Card making kits
Children still love to give hardcopy greeting cards. Yes, most invitations and greetings are sent online these days, but that doesn't stop children from enjoying card making.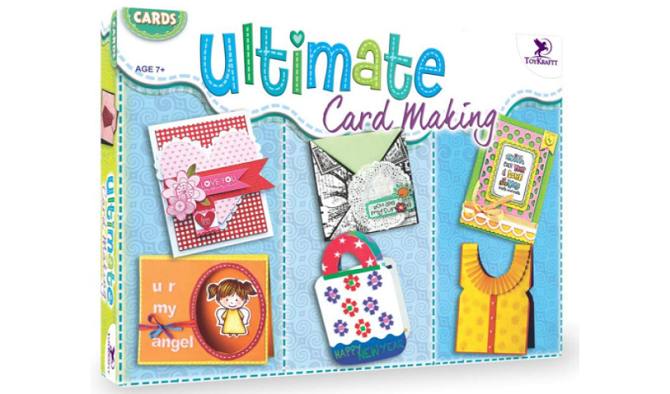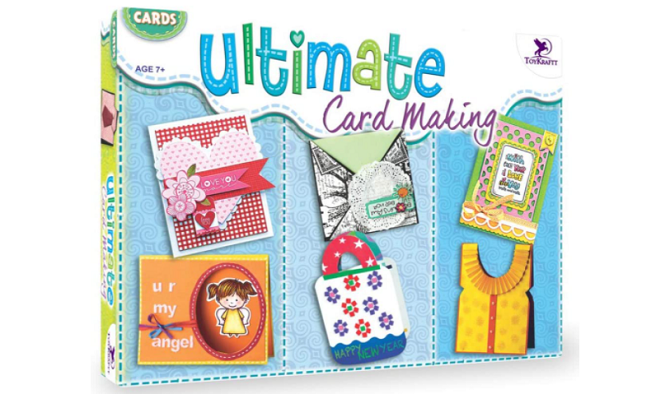 Toykraft: Ultimate Card Making is a kit that teaches children how to make original greeting cards including pop-up cards and 3D cards. They can design their own for just about any occasion. It is suitable for children seven years to adults. This kit will make eight beautiful cards. It contains blank cards, designed printed paper, envelopes, printed messages and picture cut-outs as well as buttons, ribbons, adhesive and sketch pens. An instruction booklet is also included to give ideas to get you started, but your card is unique. Children learn dexterity, reading and following instructions, understanding diagrams and material assembly.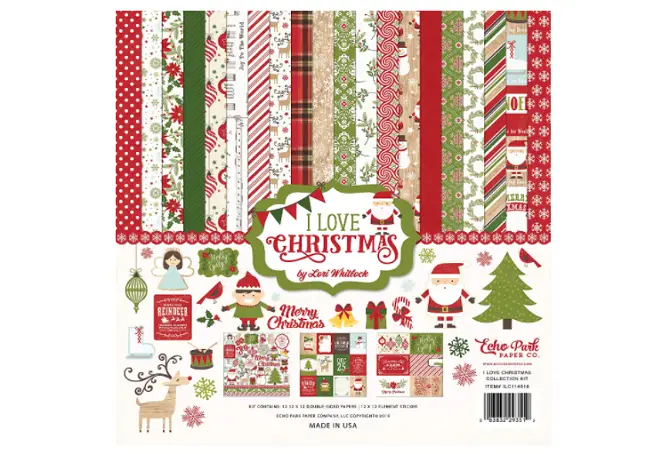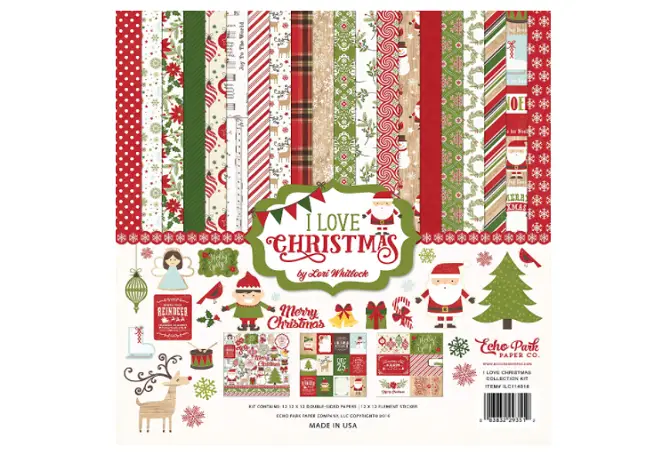 For those who celebrate Christmas, the Echo Park Christmas Collection Kit is fantastic. The kit is designed to let you create unique Christmas greetings with 12 x 12 x 12 double-sided, differently designed paper. It includes a sticker alphabet sheet and a sticker Christmas design sheet. The paper is cardstock, so it is a bit heavy, which is better for greeting cards and tree ornaments, not wrapping presents.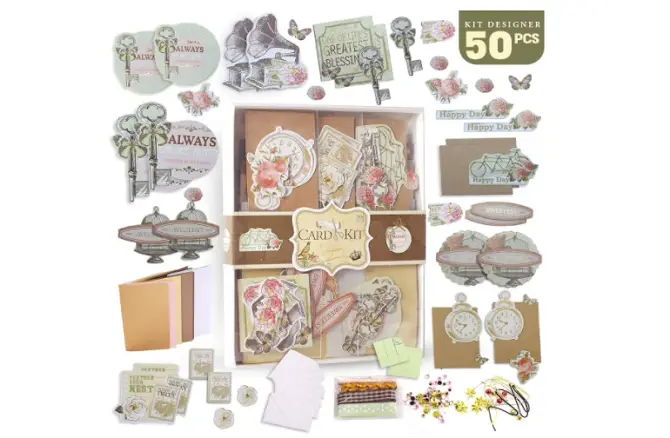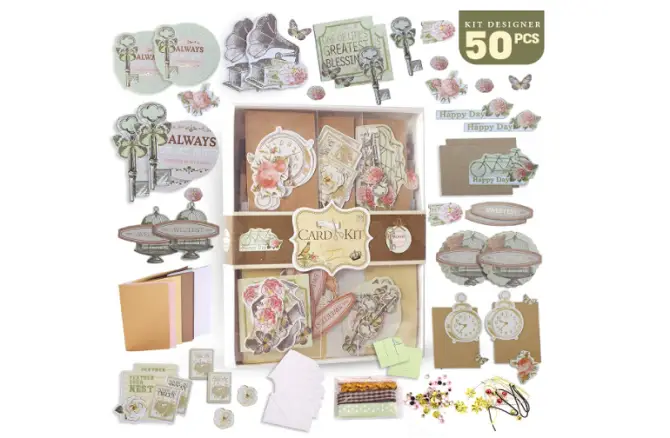 PICKME Greeting Card Making Kit provides attractive designs for just about any occasion. Birthday, anniversary, Valentine's Day and more are just a few of the occasions you can make a unique, handmade card. The kit contains colorful ribbons and beads as well as cute stickers. For adults, it's perfect if you need a last-minute card, and for children, it's just plain fun. They don't need an occasion. For a classroom, this kit would be something special and probably not a kit you would put out every day.
Woodworking kits
Here's a range of woodworking kits for middle school students.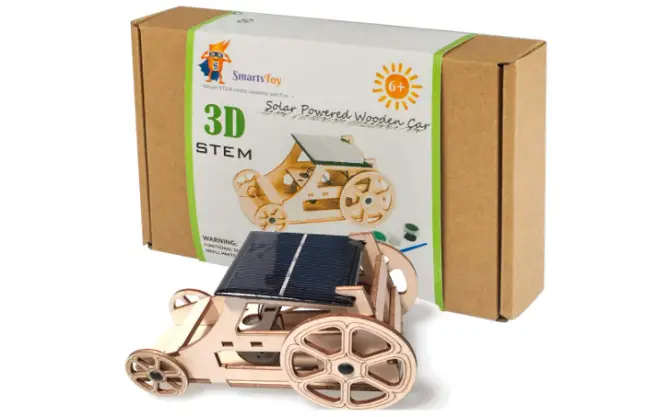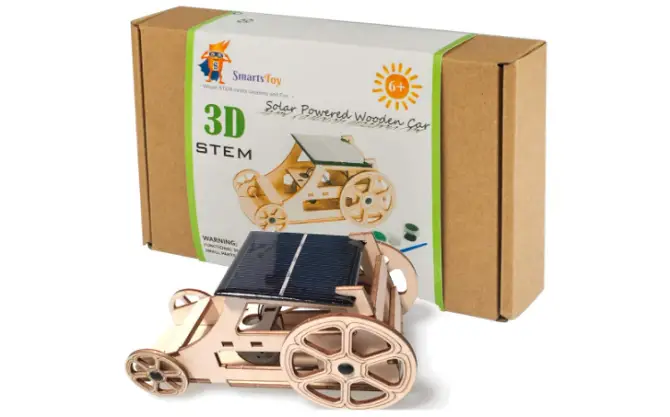 The Wooden Solar Car Model Kits rank among the best STEM kits you will find. It's inexpensive, fun and enjoyed by children from 10-years to adults. This kit teaches engineering, robotics, solar power, critical thinking and much more. It includes a solar power energy source to drive the vehicle. Like a puzzle that runs when it is completed, the kit contains three wooden parts, a solar panel and motor, a screwdriver and four screws, a rubber band, two axles and five bushing blocks. The wood and other parts are non-toxic.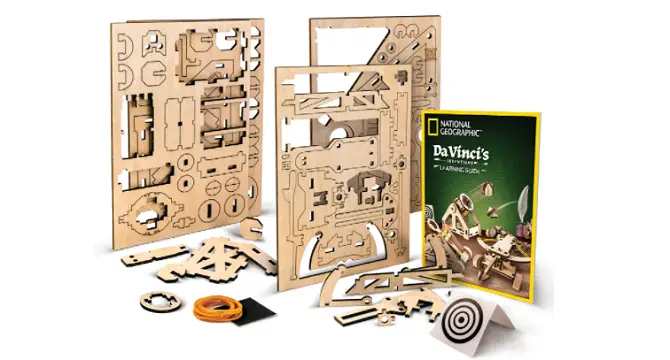 NATIONAL GEOGRAPHIC Da Vinci's Kit teaches science, math and engineering with the added bonus of history. De Vinci was one of the greatest thinkers of all time, and this kit gives children a peek into his genius while teaching a wealth of STEM knowledge. The Bombard is a medieval artillery weapon he designed in the 15th century. The pieces of this extraordinary puzzle are wood. The machine is fully functional and contains everything you need. National Geographic promises scientific and educational excellence.
STEM kits
As I've mentioned STEM kits are an amazing tool when teaching science, technology, engineering and mathematics. Here are a few of the STEM kits I found that are great for middle school students.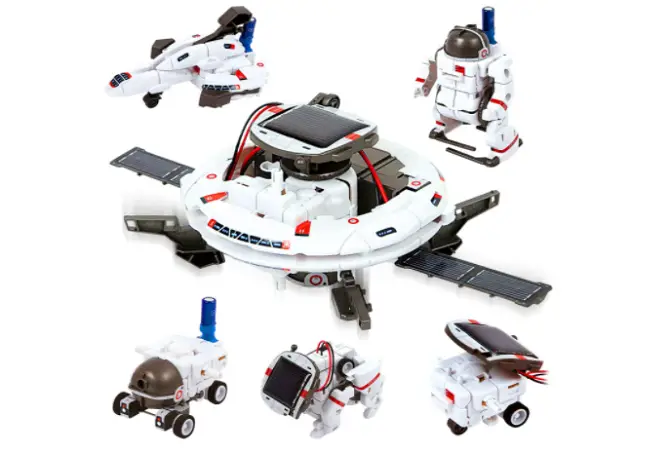 MAN NUO STEM Robot Kits include six solar-powered robots. It is great for middle school-aged children. This one kit has everything you need to create six working models. They are a Mars Rover, space station, astronaut, shuttle, Explorer and dog. It is designed to teach renewable energy, engineering, scientific principles, and critical thinking. The kit includes a micro rechargeable battery-powered by the sun.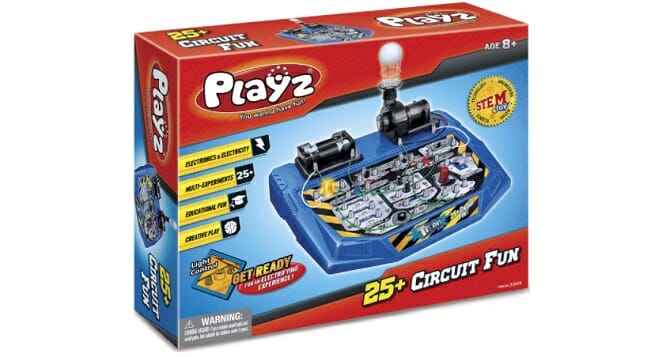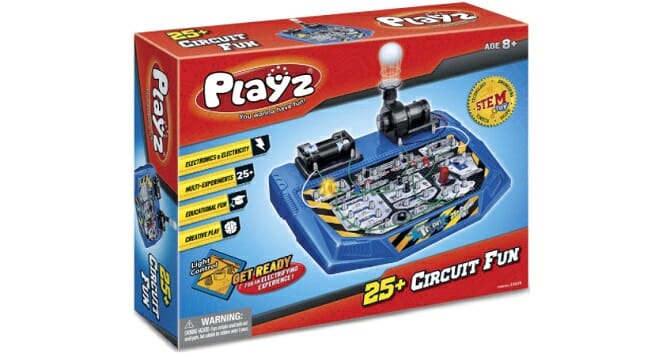 The Playz Electrical Circuit Board Kit is a certified STEM activity that teaches electricity, currents, voltage, resistance and magnetics. It is a sophisticated project for eight-year-olds to adults. You create your own circuits for lights, sounds and radios. Children can wire and build more than 25 electronic experiments.
Don't forget to check out our separate article about other amazing STEM robotic kits.
3D printers
For me, a 3D printer was new technology in the classroom, and I had to learn a lot before including one in my makerspace. I did the research, so you don't have to. There's another article that's on this site that you may find interesting to read to get an idea of what else is available in 3D printers for the classroom.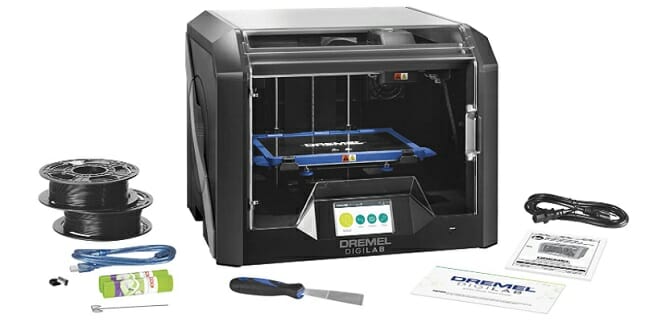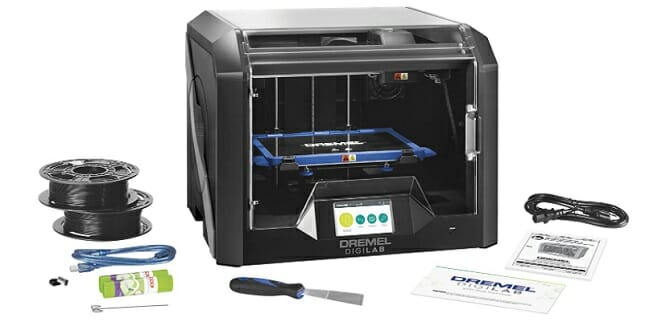 Dremel DigiLab 3D45 3D Printer is an excellent place to start for a makerspace. Today, 3D printing has reached the classroom and is the wave of the future. Every middle school makerspace should have at least one, so the students can design 3D objects and see them made. This model has won the PCMag Editors' Choice Award and the ALL3DP Best 3D Printer for School award.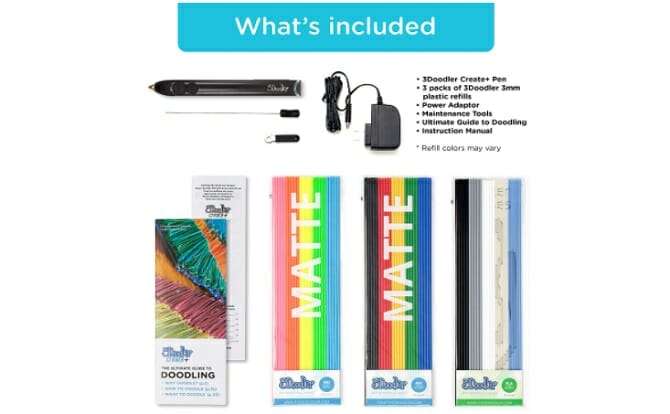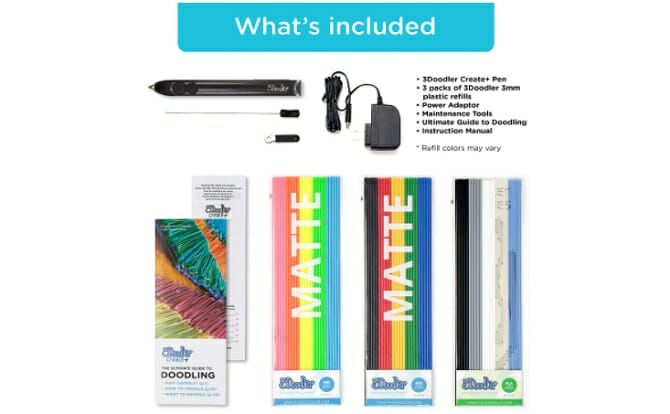 I was amazed when I saw the 3Doodler Create+ 3D Printing Pen. It claims to be the world's first dual drive technology in a 3D printer. The device is like a pen that exudes plastic filament instead of ink. You just plug it in and insert the plastic filament and wait a few minutes for the pen to get warm. It comes with 15 colors of plastic refills and a comprehensive activity guidebook. You need to use the non-toxic 3Doodler Plastic filament.
Jump In: 3D printers are expensive and require meticulous maintenance to keep them running for the duration of the school year (or even beyond)! Know how much to make full use of your state-of-the-art 3d printer here — 3D Printer Material Cost.
Makerspace Materials for High School
High school-aged students are capable of very sophisticated STEM and other kits for learning. Students 15 to 18 years need to be challenged. A simple kit like a puzzle that they can put together in a couple of hours isn't enough to keep them interested. That's not to say that the simple kits aren't fun, but for stretching the mind, more is needed.
Woodworking kits and supplies
Here are great kits and supplies that are perfect for woodworking projects in high school.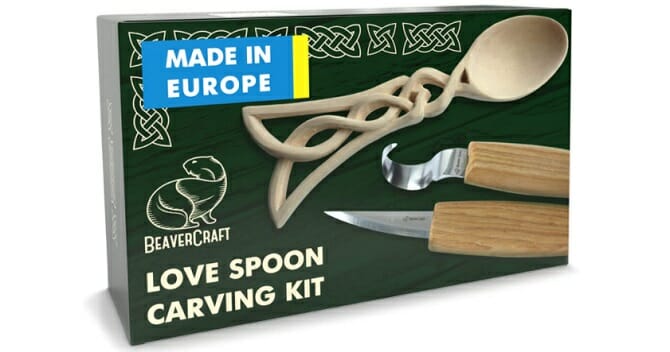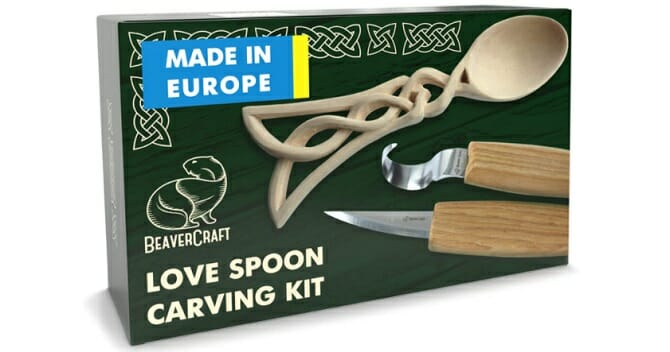 The BeaverCraft, Spoon Carving Kit for Beginners requires good hand/eye coordination and fine motor skills. It is not for a youngster still developing. That's why I included it in a list for high school students.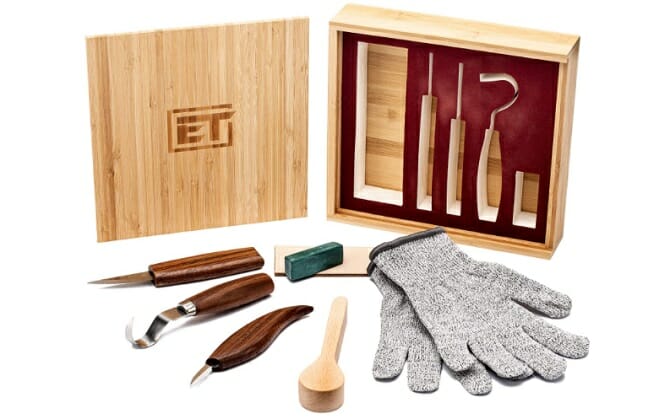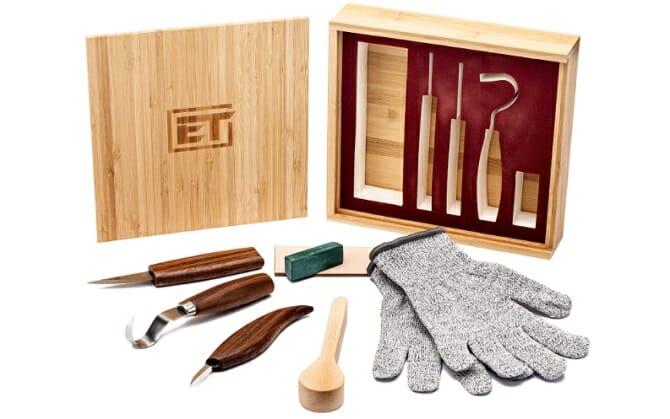 Elemental Wood Carving Tools Set is for teaching wood carving for beginners and contains a razor-sharp wood carving knife and hook knife, stropping leather, polishing compound, safety tape and a guidebook for the Celtic knot pattern.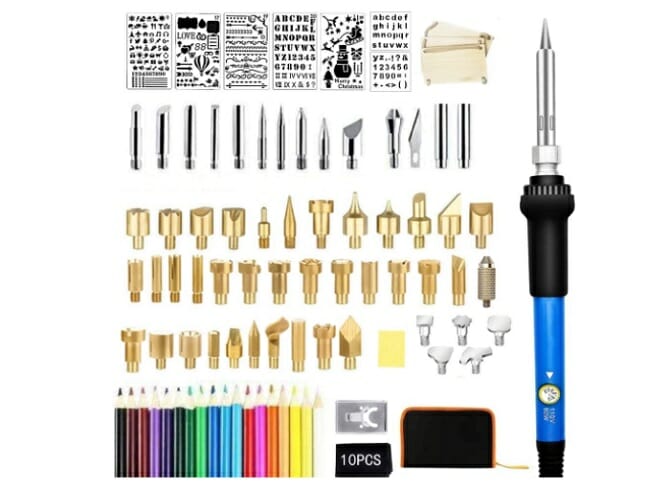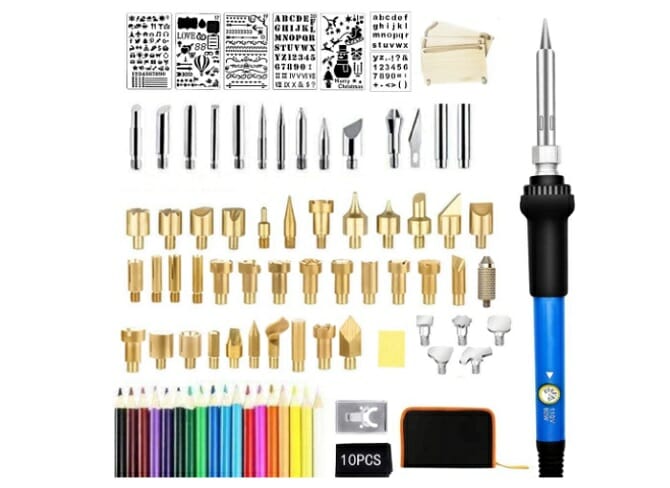 The Catnes 97PC Wood Burning Kit is an artistic tool for creating a wide variety of art through wood burning. It comes with an instruction booklet that shows you how to use the variety of burning tips for wood, leather, card craft paper and fabric. You can carve, cut, hot stamp, emboss or stencil. High school students can take turns creating personalized items such as signboards, leather belts, hats, jackets and more.
Robotic kits and electronic
These kirs are for those wha wants to build the robot and learn more about electronics.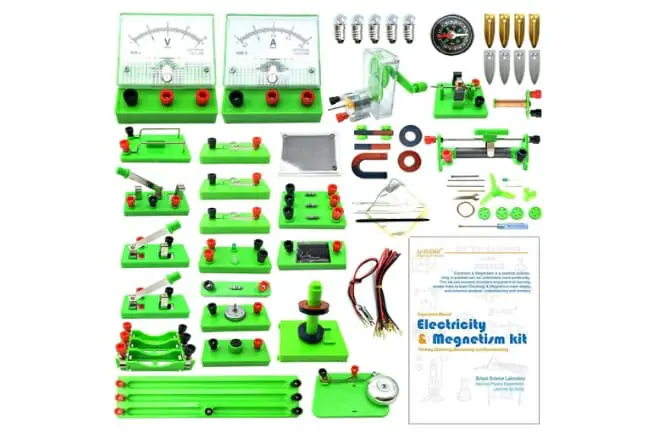 EUDAX School Physics Labs Experiment kit is a sophisticated STEM kit for high school students that teaches electromagnetism and elementary electronics. It has 56 pieces for electricity, 21 pieces for magnetism, two repair tools and a full-color manual. The required three AA batteries are not included. Students can build series circuits, fruit batteries and learn to use Ohm's Law to measure resistors.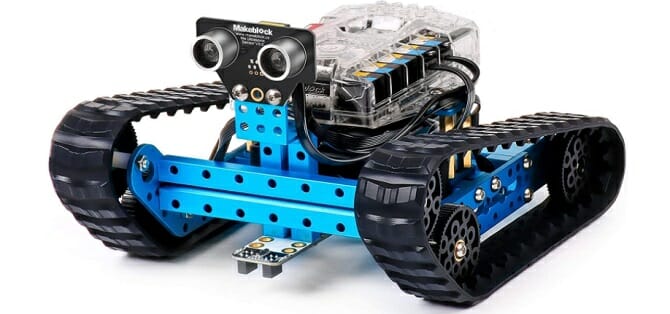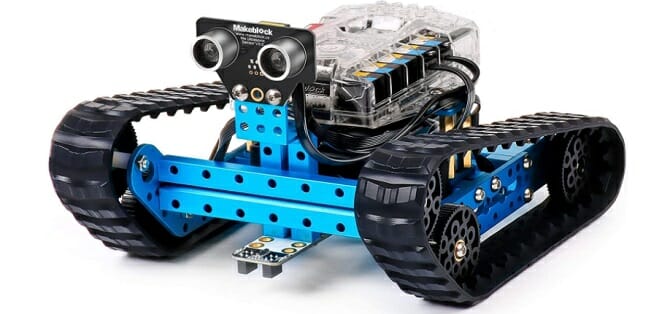 The Makeblock mBot Ranger Robot Kit provides an excellent activity for a group effort. The three-in-one kit challenges students to create innovative ways to learn the science of robotics. The robot is coded from a smartphone with the Make Block app for iOS and Android. If your students want, you can get advanced coding software too.
Shop tools
Shop has been a favorite class for decades, and today there are many more machines available to make the class even more exciting than hammers and saws. It's important to start the class with a thorough instruction session on how to safely use the equipment. Many of these machines are high-risk safety hazards and require the supervision of a trained and competent person. A few examples of equipment that requires supervision are:
Center lathes
Milling machines
Sawing machines
Lifting equipment
Wheel balancing and tire changing machines
Hot plastic welding
Casting equipment and centrifugal casting
Acid etching
Fiber testing
Final Thoughts
This is a comprehensive list of activities for all ages. Please add in the comments below the activities you have tried that were successful. It is also useful to learn about activities that weren't successful. If you have any questions, let me know.
Last Updated on August 31, 2023 by Emily