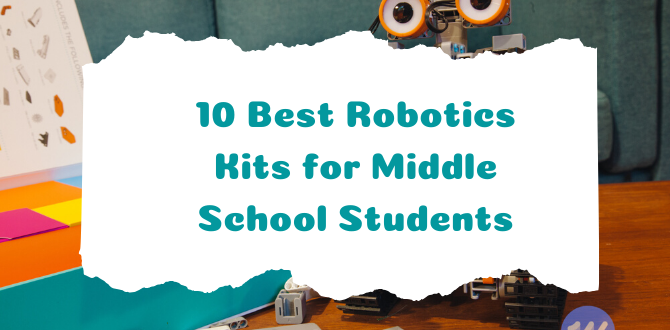 In case this is your first introduction to STEM kits, STEM stands for Science, Technology, Engineering, and Math. It is a curriculum that is designed to interest and engages children in science.
What's great…
The kits come with all the material you need for a complete lesson. I have used these kits in my classroom and with my own children, and I have seen a dramatic, positive change in my science lessons.
You can find instructions for creating DIY STEM kits on the web, but it takes a lot of time and requires a good understanding of the particular subject. For example, if you want to teach electronic connectivity, a kit would save you hours of time and possibly money.
I'm going to give you the benefit of my research on robotic kits for middle school, like the LEGO Boost Creative Toolbox which is the best one I found for my students and kids.
These kits contain everything you need for an in-depth study of the subject. They are more sophisticated and challenging for older students than the ones I previously reviewed for elementary school children and really fun to use.
Product
Details

1. LEGO 17101 Building Set

Highly Recommended

IQ Boosting
Coding
Electronics
Loops & Variables
Fun & Easy

Check Current Price

2. Remote Control Building

Encourage Teamwork

Engineering
Problem Solving
Hand/Eye Strategy
Quality Materials

Check Current Price

3. LEGO EV3 31313 Robot Kit

Program & Command

Computer Tech
Engineering
RR Sensors
17 Designs

Check Current Price

4. Building Blocks Robot

Critical Thinking

Uni-Directional
User-Friendly
Hand/Eye Strategy
Facial Expressions

Check Current Price

5. Robo Explorer 31062

Robot W/ Attitude

Posable Arms
Working Claw
Searchlight
3-1 Model

Check Current Price
Top 10 Best Robotic Kits – Reviewed
This kit includes 847 LEGO pieces to build five multifunctional robots. It includes color, tilt, and distance sensors. Students can make Vernie the Robot that dances, the Guitar 4,000, Frankie the Cat, Autobuilder, and Multi-tooled Rover 4. It comes with an instruction app that can be downloaded to a phone. It requires six AAA batteries not included. This kit can be combined with other LEGO robotics kits.
Age: 7 to 12 years
Skills developed:
Coding
Electronics
Programming
Loops and variables
Recommended video:
---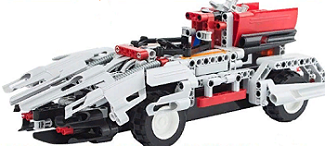 This is an official STEM robot kit that has the material to build two remote control racing cars with 326 pieces. The remote control has a USB rechargeable battery, and the cars need three AAA batteries not included.
This kit takes patience and focus to successfully build a fantastic car you can race with remote control. It is particularly suitable for two or more children to work, which encourages teamwork and collaboration. The pieces are made from non-toxic ABS plastic.
Age: 6 to 12 years
Skills developed:
Hand/eye coordination
Problem-solving
Teamwork
Engineering
---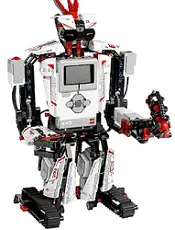 This kit contains 601 pieces to make up to 17 different robotic designs. The STEM robots can walk, talk, shoot, grab, and more. It's exciting to build because it looks like something straight out of a movie. You can download an EV3 programmer app to control the robot. It also comes with infrared remote control. The kit is compatible with other LEGO robotics kits.
Age: 10 to15 years
Skills developed:
Coding
Engineering
Using color, touch, and RR sensors
Computer technology
Recommended video:
---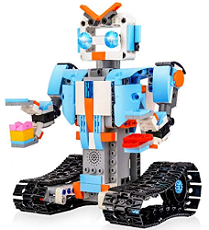 This is a remote-controlled robot that you can control from 20 meters. It comes with a downloadable app for programming four remote control modes. The features and limbs of the robot can be manipulated to create different postures and expressions. The joints, eyebrows, that's right the eyebrows are moveable and you can create various expressions on the face. It has USB rechargeable batteries. The remote needs two AAA batteries not included.
Age: 8 to 14 years
Skills developed:
Programming
Critical thinking
Creativity
Hand/eye coordination
Recommended video:
---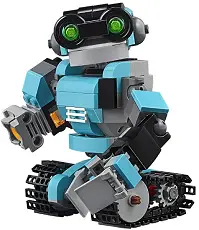 This robotics kit for juniors builds three robots, including a dog with a light-up jetpack a bird with light-up eyes, and as well as a robot with green eyes. The robot's body and head rotate, and the claws grasp things. It also has a searchlight. The tracks work smoothly and the arms are posable. That means you can have a robot with an attitude. I like this one for younger kids, but it is also suitable as a beginner kit for middle school kids who have never tried building a robot.
Age: 7 to 12 years
Skills developed:
Creativity
Hand/eye coordination
Critical thinking
Engineering
Recommended video:
---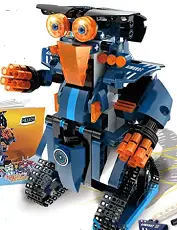 This is a STEM kit for learning about spatial perception. It is made from non-toxic BPA-free plastic. The remote works from 20 meters and the robot can move in all directions. The robot has a charging cable and the remote needs two AAA batteries not included. It also has a downloadable app for remote control with four modes, including STEM programming, path pattern, voice control, and gravity sensing operation.
Age: 8 to 14 years
Skills developed:
Hand/eye coordination
Critical thinking
Brain development
Problem-solving
---
This kit has everything you need to make a mythical FireBot. It has an app that gives a 3D and 360-degree picture of the instructions. This is one of the most exciting on the list just because the robot is so cool. A winged dragon is a favorite among middle school children. The wings are moveable and it has two sets of molded dragon wings. It also comes with three smooth-motion robotic servo motors. A lithium polymer battery is included.
Age: 8+
Skills developed:
Coding
Programming
Engineering
Spatial relationship
Recommended video:
---
This is a great engineering kit for middle school students with 387 parts that snap together, one speaker, one infrared sensor, two LED lights, and five smooth motion robotic servo motors. It has a power adapter and a guide to make a quick start.
It builds three different robots. It has an app with 3D, 360-degree building instructions and control that works with an iOS or Android smartphone. The robot can pick up objects and has sound effects as well as lights.
Age: 8+
Skills developed:
Blockly coding platform
Programming
Engineering and construction
Recommended video:
---
This is an official STEAM kit for teaching robotics. STEAM adds Arts to the sciences. The kit contains everything you need including detailed instructions to teach the basics of robotics. The required AAA battery is not included. The robot is a crab that scuttles under its own power and, when it touches an obstacle, it changes direction. It will do acrobatic tricks on a tabletop.
Age: 9+
Skills developed:
Mechanical principles
Engineering
Robotics
Integrated learning development
Recommended video:
---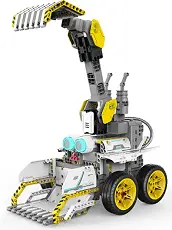 This is another official STEM kit that comes with an app. The two different robots will navigate obstacles, create color effects, carry objects, and more. The building instructions are 3D, 360 degrees, and animated, and no tools are required for construction.
It has 410 parts that snap together, two DC motors, one ultrasonic sensor and rag light, and one main control box. Recharge with a USB cable.
This is an award-winning STEM robot kit. Some of the awards it won are the Tillywig 2018 Brain Child Award and Time to Play Magazine 2016 most wanted list and the IFA awards 2015 Best of Show.
Age: 8+
Skills developed:
Blockly coding
Engineering
Software application
Critical thinking
Recommended video:
---
Advantages Of Using Robotic Kits
Today our topic is STEM robotics kits for middle school students. I have already written about the benefits of STEM kits for elementary students and thoroughly discussed STEM toys for kindergarten children.
Robotics is a branch of mechanical engineering that includes electronic engineering, electrical engineering and computer science. Robotics includes the design of the robots and then the construction, application, and operation of the robot. It also requires a computer system for information processing such as control and sensory feedback.
According to research, robotics is the number-one motivator to get students interested in science subjects, especially STEM subjects. Some people think this is because of Transformers and other movies. These kits are very sophisticated and require knowledge of coding and programming, which the kits teach.
Another benefit is that children collaborate. When students work together with robotic kits, they are actively engaged in critical thinking, communication, and collaborative skills. The robotic kits move students progressively towards understanding concepts, which will help them learn to study independently.
Successfully building robots helps a student learn technology, engineering, and software, it also helps build confidence. If they try and fail to build a robot, it may inhibit them from trying again and turn them away from the core STEM subjects. With STEM robotic kits, they need not fail. Everything they need along with explanations and instructions is included in the kit.
I'm not suggesting that every child who uses a STEM robotic kit will become a scientist or engineer. However, even children who prefer literature and the arts gain knowledge of the science subjects and gain confidence.
The kits improve creative thinking and problem-solving skills, which are useful no matter what field the child wishes to pursue.
How To Choose The Best Robotic Kit
Here are some tips for buying robotic kits:
One of the first things to consider when looking at a variety of kits is the person or persons for whom you are buying the kit. For classroom use, just about any kit is useful because it is a novel way to teach certain subjects. If it is for your child or relative, it may be useful to know their likes and interests before choosing a kit. As you will see, some kits create dragons, T-rexes, unicorns, and racing cars and some create conventional robots. In any case, they all teach science, technology, engineering, and math.
Make sure the kit comes with training material. The aim is to learn the subjects as well as create an awesome robot. For most of these, the training comes in a downloadable app. There may also be a hardcopy instruction booklet.
A video is better than a hard-copy manual for learning how to build a robot. Some kits come with video instructions that give 3D graphics for building the robot along with 360-degree views. I have included video instructions, if they are available, with my suggestions.
A manual explaining the assembly of the robot is fine, but make sure it also has technological explanations. After all, the point is to increase interest in technology and engineering.
Check if the kit includes quizzes. These are fun and a great way to assess the knowledge and attention of the student. Children learn that they can do well on a test through experiential knowledge.
Please remember that all of these kits come with choking hazard warnings for small components. If you have a toddler interested in watching the building of a robot, make sure the small pieces are out of reach.
Final Thoughts
STEM kits are available for every age and interest, and the robot kits are the most popular. The one that made it on top of my list; the LEGO Boost Creative Toolbox has helped develop several skills that I never thought they will.
Have you used any of the kits covered today? If so, I'd love to hear about your experiences in the comment section.
My Top Pick
Age: 7 to 12 years
Skills developed:
Coding
Electronics
Programming
Loops and variables
Last Updated on August 21, 2021 by Emily