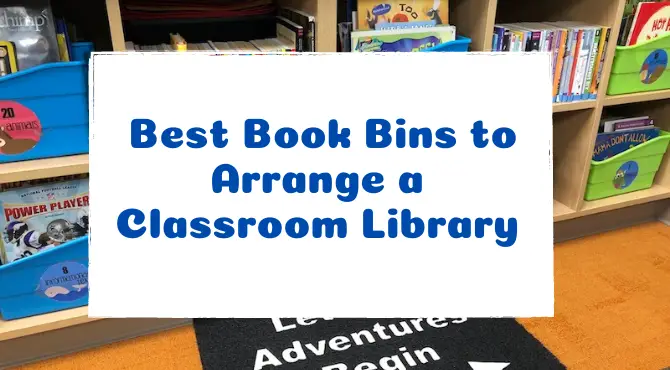 Several years ago, I was researching how to set up a library in my classroom that would help attract my students to reading. I found this video that gives a step-by-step method for organizing your books in bins. I recommend you watch it for ideas, but you can customize the suggestions for your personal needs.
In today's post, I will give you more tips and suggestions for organizing a classroom library as well as a list of book bins and other organizers for the classroom that I found useful. First, I provide a quick overview of the three best products, to give you an idea. You can get more details about these three and eight others later in the post.
My Top Pick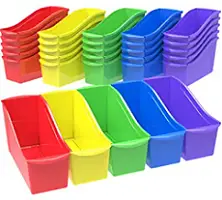 Brilliant colors for extra sorting
Suitable for magazines and large picture books
Locking sides for safety
Best for: While these are useful for any classroom, they were designed for use by the youngest students.
These bins lock on the side to make one large bin. If a child pulls one book, it won't bring the bin off the shelf. When they are locked together and full of books, the bins become too heavy to shift position. They have handles on the front and back to make it easy for you to carry from the shelf to a table. The front is flat and smooth and suitable for sticking labels. The color-coding was designed for STEM projects. For example, you could keep math, technology and engineering sets or activities in different bins.
Also Great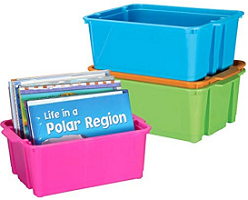 Comes in packs of 4 or 12
Lightweight
Multi-color or single color packs
Best for: This bin was specifically designed for large picture books for children or letter-size files and manuals for teachers.
These are large plastic book bins that are suitable for home or classroom and will hold anything. They can be used for oversize books for younger children and reference books for teens, but they are also useful for LEGOs, small shoes and art supplies. They can be wiped with a wet wipe for sanitation. The multi-colored bins add a second level of sorting because you can color code the books or designate a color for certain activities. For example, when you organize your books into easy-reading, chapter books, picture books or reference books, you can use the colors for sorting and young children can learn to put the books back in the right place. It may be easier for kindergarten through second grade to understand than logos.
Also Great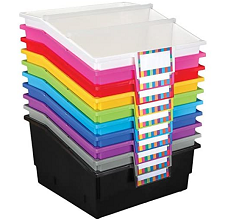 Dividers
Good for kindergarten to high school
Maximize book sorting
Best for: This bin is suitable for any classroom because of the dividers. It may also be useful for social distancing.
Teachers sort library books in different ways. For some, it usually depends on the age of the students. Some teachers sort books by genre and some by subject or author. These are the best bins with dividers. I use them when I want to keep the same subject in one place but want to sort the books by the level of English. For example, I keep biology reference books and picture encyclopedias in one section and picture books on plants and animals in another section. All the books in the bin are on biology.
Here are the best book bins reviews, with more details of the above three.
1. Storex Large Book Bins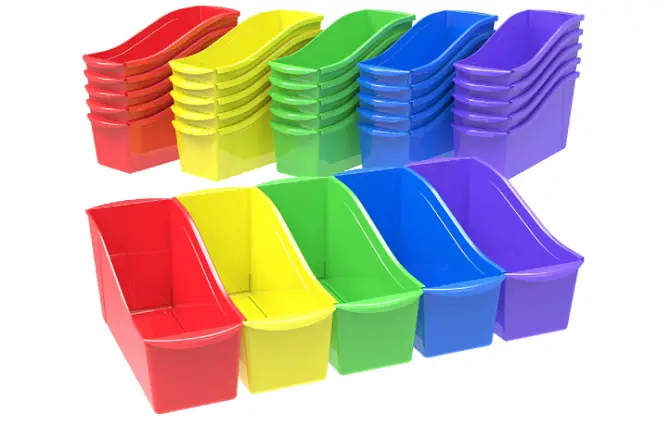 These large, bright book bins come in sets of five with each set a brilliant color. This model is a 30-pack but you can also get a six-pack. They are made of durable plastic and the dimensions are 14.3 x 5.3 x 7 inches. Each bin weighs 2.15 pounds, so they are light enough for elementary-age children to carry. This large model holds magazines, files, folders and large books. The sides lock together, which helps keep them from sliding off the shelf. The edge on the front and back have handles for easy gripping. The color-coding was designed for STEM storage. You can apply labels on the front for identification, but they are not included.
My verdict
They are designed for tall picture books, letter-size file folders and teachers' manuals, but can be used for small puzzle pieces, markers and blocks.
Watch this video by a teacher who has used these book bins in her classroom for different ideas of usage, including for students and teachers. She points out the pros and a few cons.
2. Really Good Stuff Stackable Bins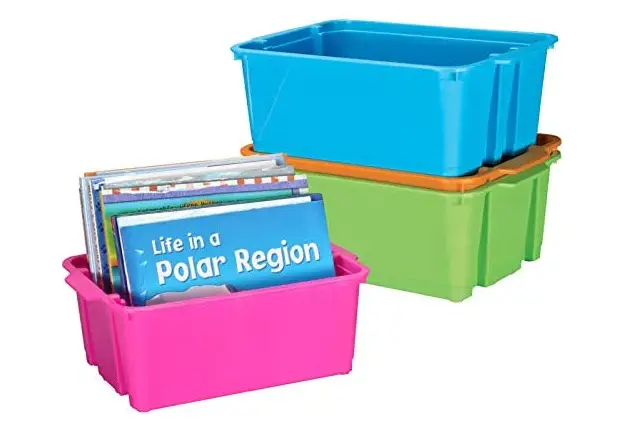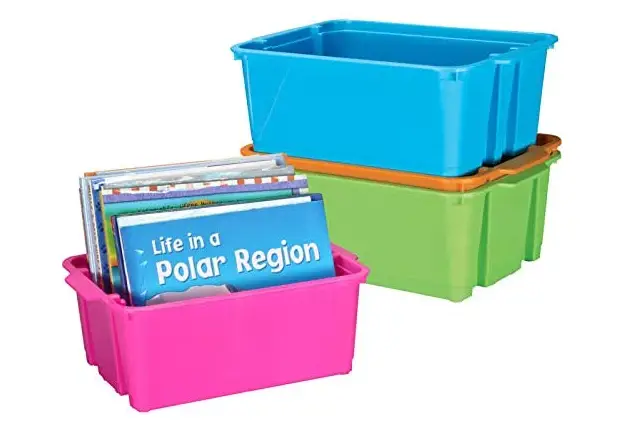 This set of four bins of four different colors is suitable for larger books especially oversized picture books. You can also get this item in 12-packs. They are made of durable plastic with dimensions of 14.88 x 10.13 x 7.75 inches and weigh 2.3 pounds. The plastic is easy to keep clean with a damp cloth. They were designed for storage of anything, but are most suitable for books. It keeps even large books upright with the cover or organizational mark easy for children to see. They come in multi-color packs or single-color packs.
My verdict
For the classroom, these bins are suitable for large books or files as well as other items such as Legos, shoes and art supplies.
3. Really Good Stuff Bins with Dividers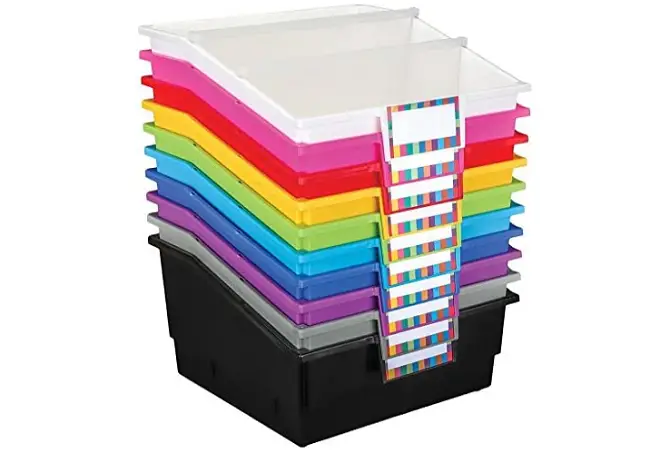 The dividers are the best feature of this book bin. It comes in a set of 12 rainbow colors that can be divided into one large or two or three smaller sections. The dividers keep even large books upright. They are made of durable plastic that is easy to wipe clean. The top dimensions are 8.25 x 13.5 x 7.75 inches. The label holder is built-in and has a protective plastic cover. It makes it easy to change labels as needed. Some teachers use the dividers to add another level of sorting. The bin may be science books, but each section will have a different level of content. Some teachers found it inconvenient to have the bottom measurement smaller than the top opening.
My verdict
Thes bins will keep large picture books and reference books upright with the covers easy to see. They are also suitable for your letter-paper size folders.
4. Really Good Stuff Book Holders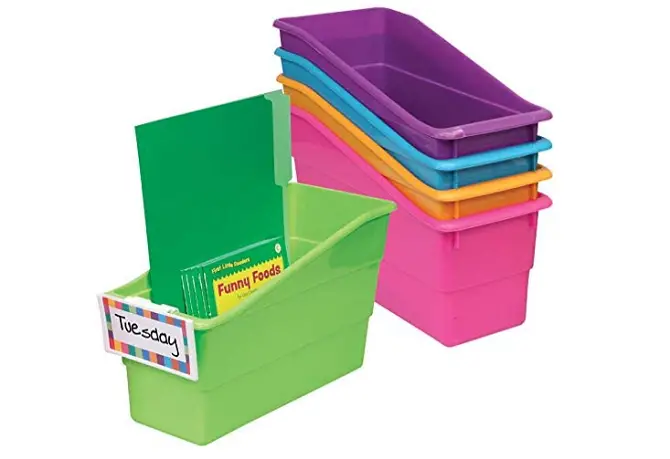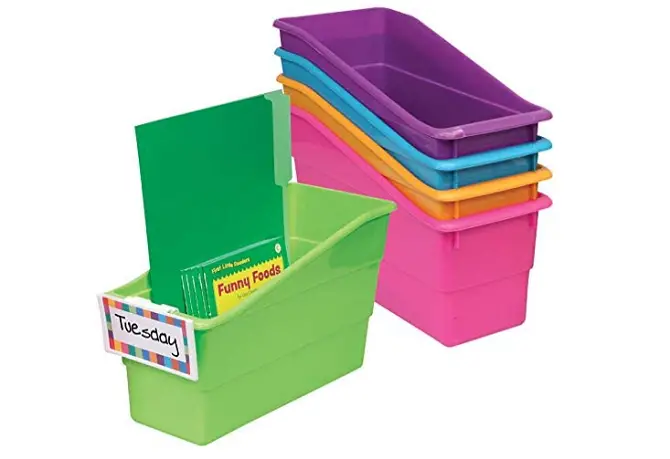 These are sturdy, plastic book bins that come in pastel colors for those of you who prefer softer tones in your classroom. It holds books and files vertically, so the cover is easy to see. For teachers, the files can be stored lengthwise with the tab at the top. The special feature is the clip-on labels. The bins will last for years and you don't have to deal with cleaning off glue when you want to change subject labels. They are long enough to hold magazines and files. The dimensions are 5.25 x 12.5 x 7.5 inches and the label holder is 4.5 x 2.5 inches. Cardstock labels are included. This is a five-bin set of five different colors for added sorting benefit.
My verdict
While these bins will hold small, paperback books, they are a little thinner than other brands and may be more suitable for teacher's files, workbooks and magazines.
This isn't the exact set described in this video review, but it is similar and made by the same company. The labels are sticky and the colors are different, but it's worth watching to get ideas about the usefulness and durability of the bins.
5. Really Good Stuff Book and Organizer Bins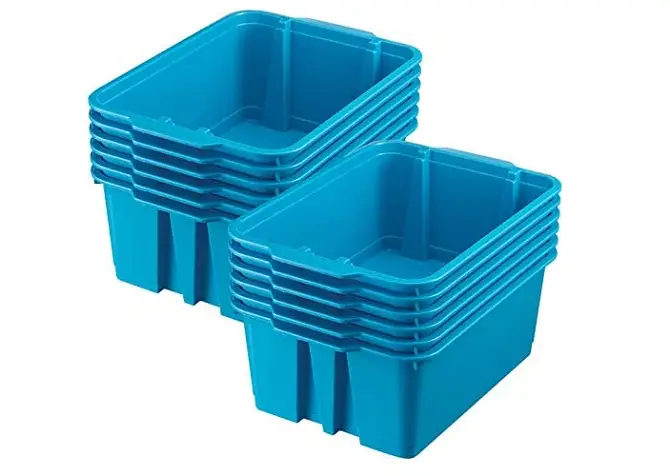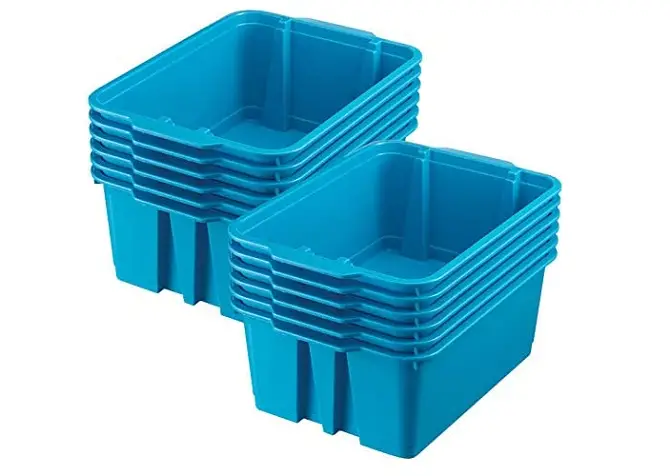 This is a set of 12 large plastic bins. You can get them in five colors, usually six bins in one color. They are more for storage than as a library for smaller books but are fine for graphic encyclopedias, files and magazines. The dimensions are 14 x 10 x 5.75 inches, which makes them large enough for LEGOs and other toys. As will all colored bins, these help students keep the classroom neat with color-coded books and toys. These are heavyweight and won't crack if dropped, and they get good reviews from teachers who prefer them to basket-type bins that allow pencils and crayons to slip through the holes.
My verdict
These are excellent bins for classroom organization in elementary school. They are big enough to hold large picture books upright as well as toys, shoes and teachers' files.
6. mDesign Organizer Bin with Handles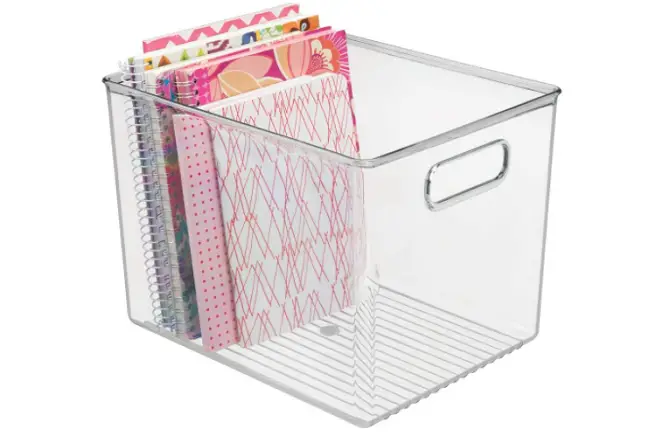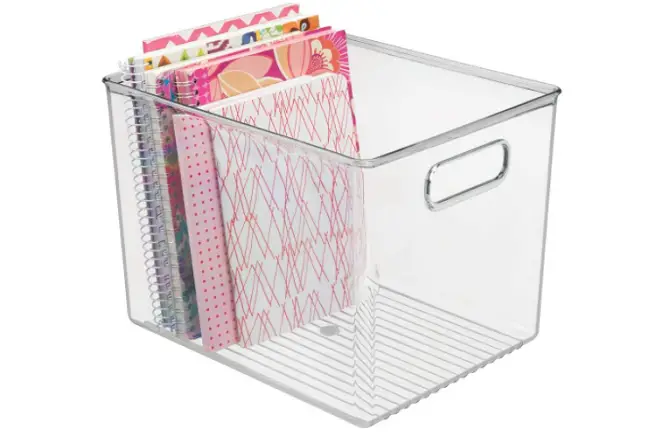 These attractive, clear plastic bins with handles come in sets of two and several sizes. The one featured here is 10 x 6.5 x 8 inches. They are great for teachers' use as they hold student files neatly. For classroom use, they are good for art supplies and books. The fact that they are clear means you can see at a glance what is in the bin without looking at a label. They are also useful for storing headphones, cell phones, earbuds and even tablets. The handles make it easy to carry them around the classroom, even for children. They are made of durable BPA and chlorine-free plastic and won't shatter if dropped. They are not dishwasher-safe but can be cleaned with warm, soapy water.
My verdict
These book organizers are promoted for just about any storage use in the house, garage or RV. For classrooms, the clear plastic is useful for older children and teachers, but younger children do better with color-coding.
This video is produced by the manufacturer and is worth watching as it's short and gives ideas for the use of these clear bins.
7. Marte Vanci Book Holder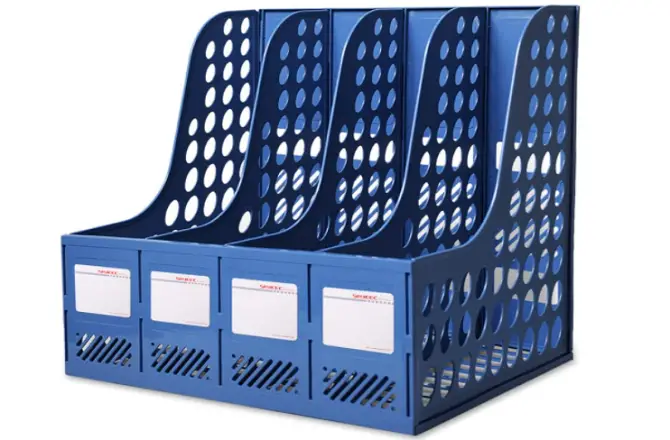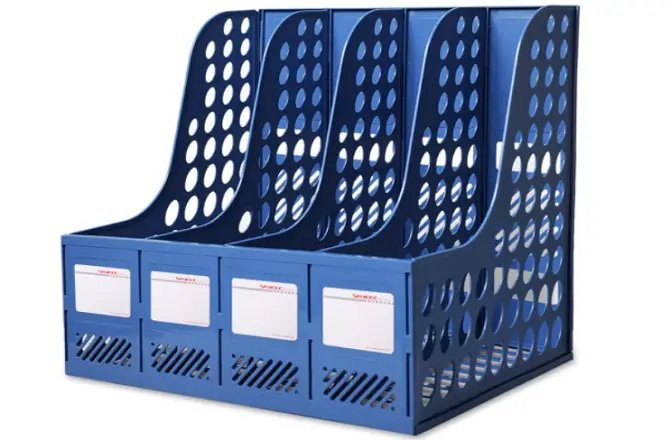 This is a classic office file holder. It will keep files, magazines and teacher manuals vertical without getting damaged. In a classroom, it could be useful for large picture books, but the children will only see the spine and not the cover. It has four labeled sections, which is great for sorting. It comes in black, blue and gray. It is made from high-quality HIPS plastic and will last for years. The four sections come disassembled for transport. The dimensions of all four sections when assembled are 12.4 x 9.8 x 9.8 inches. Each section has a blank label on the front. This is a heavy-duty bin and will hold heavy books and files.
My verdict
This holder is designed to hold large files such as folders and magazines. It is not recommended for small, soft children's books.
8. Dunwell Colored Magazine File Holder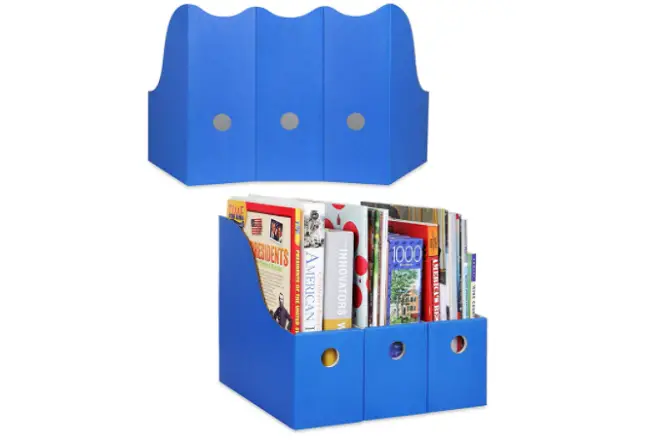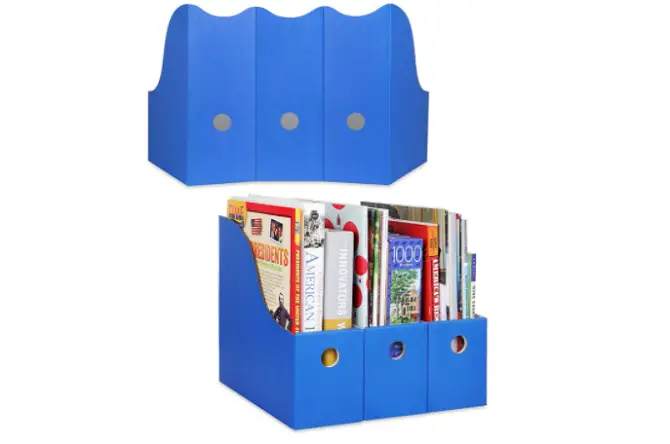 This classic office file container comes flat and can be assembled in a few seconds. It is made of extra-thick, corrugated cardboard and is very strong considering it is paper. it comes in red, dark green and blue. You can get a six, 12 or 24 pack. The dimensions are 10 x 10 x 3.75 inches. It has holes on the front and back that can be used as grips for moving it around the room. The manufacturers also show it lying on the back for horizontally storing file folders with the tabs showing on the top.
My verdict
This is best for office use or teacher's files. It may also be a useful cardboard book bin for middle or high school but is not recommended for the younger children unless you want to replace it every year. It won't stand up to rough usage for long.
This is a good, short video that shows you how to assemble the file holder as well as the difference between this one and other, cheaper ones on the market.
9. Teacher Created Resources Burlap Book Bin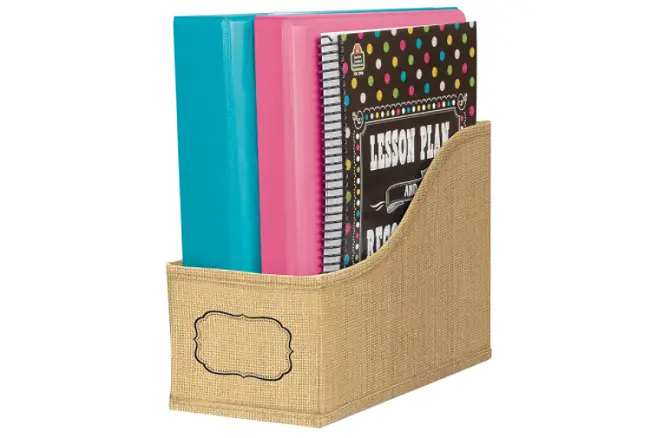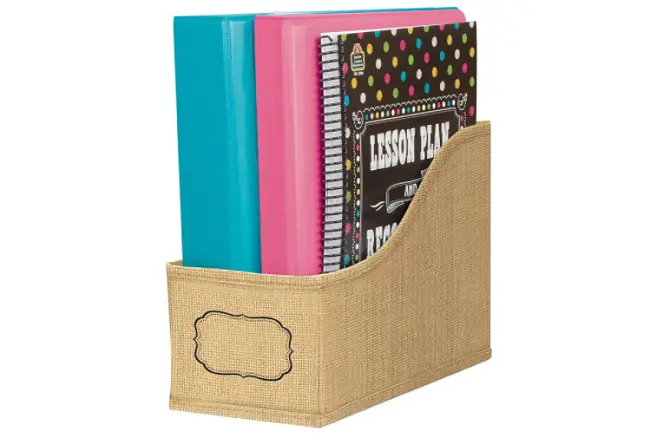 This is like a designer book bin that resembles hand-stitched burlap. It is not burlap, so you can write directly on the front in the cute label frame and wipe it off when you want to change the labeling. It's a little wider than other bins with dimensions of 5 x 8 x 11 inches and is recommended for larger books. When you don't need it, you can fold it flat for storage. While the burlap design is attractive, it does not provide color-coding unless you color code the label.
My verdict
This is the type of a book bin for classroom organization you may like if you want your bookshelves to look attractive as well as functional. The burlap surface is non-porous and can be wiped and sprayed with disinfectant. It is very durable and will last for years.
10. Really Good Stuff Storage Baskets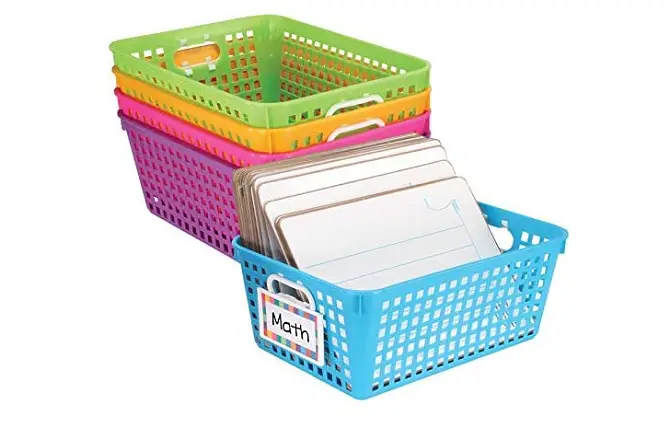 These basket-like bins come in packs of five different colors and are useful for files, books and tablets and large art supplies such as scissors and markers but not for small art supplies. Small, thin items could slip out through the holes. One benefit is the clip-on labels that make it easy to change labels occasionally. The dimensions are 13.25 x 10 x 5.25 inches with five clip-on labels of 4.25 x 2.5 inches. The labels have clear, plastic covers. The bins are very sturdy and lightweight. They have built-in handles for easy transport. Since they are stackable, they take up less space with not in use. For example, if you only need two bins, you can stack them, so you don't have to store them.
My verdict
This plastic book basket is suitable for large books and files. It's also good for the general storage of LEGOs and other toys.
11. ECR4Kids Birch Hardwood Bookcase Stand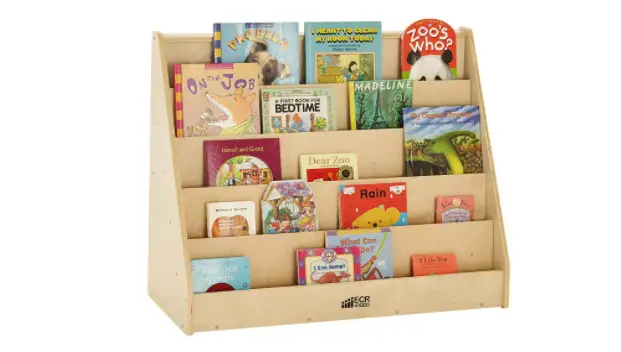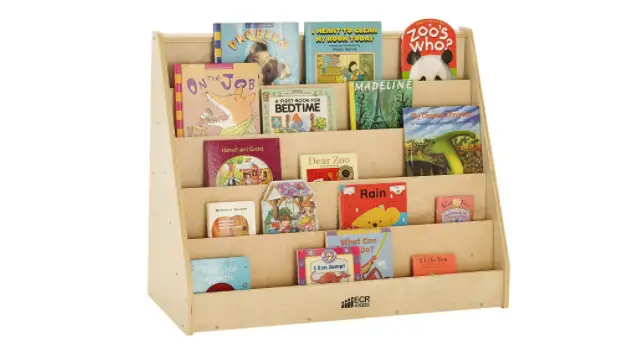 If you have space in your classroom for a small library, this is the shelf you need. It is top-of-the-line for displaying books so youngsters can see the covers and know what they are getting. The books can be organized according to the author, subject or reading level. Since you will be teaching your students how to keep the library neat, this shelf will make it easy. The bookcase is made of natural birch hardwood and is certified by GREENGUARD
Gold as a book display for healthy indoor air with no toxic emissions and CPSIA-compliant. It has five wide slots at various heights so any child can see what's available. They can see the cover of each book and make their own choice of what to read. It is 30 x 35 x 15 inches and weighs 25 pounds. It is very well-made and will last for years. It is bottom-heavy to prevent tipping. Some adult assembly is required.
My verdict
If you are serious about starting a voluntary reading program, this is your best choice. The covers of children's books are colorful and enticing for a reason and this bookcase allows each book cover to call out to a child and promote early reading.
Watch this excellent video to learn all about the construction and uses of this great little bookshelf.
How to Create an Attractive Classroom Library
Many elementary school teachers believe the success of their reading program is directly connected to a well-organized classroom library. A disorganized library leads to less independent reading, a lack of care for books by the students and possibly a poor reading program. It is often the case when students see books stuffed in shelves anywhere and everywhere they take the cue that the books are not very important.
Your library area is a good chance to use area rugs. You can define the space and children will feel free and comfortable to sit on the floor while they look at books or read.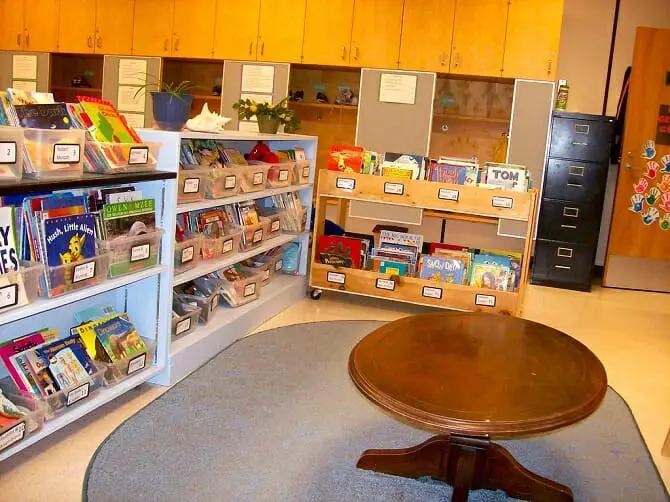 The first step is to collect as many books as you can afford and categorize them based on how you think they will be attractive to your students. The number of books you have will depend on the amount of space you have designated for the library in your classroom. Remember, you can classify many more books than you display and change them every semester or more often.
You may choose to group easy readers, picture books, chapter books, graphic encyclopedias, biographies, STEM-related topics, the author or genre. Many teachers prefer not to categorize by reading level because it could limit a child's selection. If they choose an interesting book above their current reading level, they may try harder to improve.
Once you have your books grouped in categories, make a list of each category and choose a symbol. This symbol relates to the bin where it is kept. For example, the line drawing of a star, flower or animal are good symbols. You may want to use a color-coded method, especially if you have just bought several sets of different colored bins.
In this case, just put a yellow sticker on the books that go back in the yellow bin. This is the first step that teaches children how to take care of the books and keep the library neat. Use a different color for different categories and bins.
In the video, at the beginning of this article, the narrator gives a link to hundreds of different small logos that you can print and tape to books and bins. She recommends taping the logo with packaging tape rather than using sticky labels because the tape lasts for years, but the sticky labels tend to peel off within the first year. It is also cheaper to print on plain paper than on sticky paper. For color coding, you can buy inexpensive colored sticky dots and replace them as they wear off.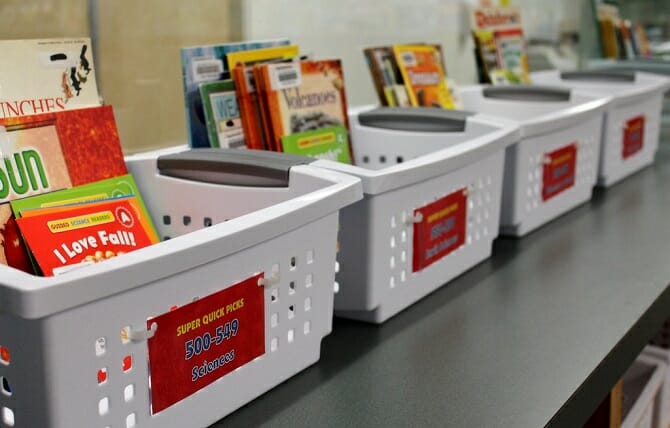 Secondly, after a week or two of watching what your students read, you can start to display books that you know will interest them. For example, you may want to emphasize one or several historical figures, robotics or fiction chapter books. If the promoted book changes every other day, children may look forward to what comes next.
Thirdly, consider a special place for graphic encyclopedias. You may have several in your classroom, and if they are all in one place they are easy for children to access even for children who can't read them yet. Many of these books are large and heavy, and may not fit in a bin. They can be kept on a lower shelf, so they are easy to pick up and can't fall on the child from above when he or she grabs it.
10 Tips About the Space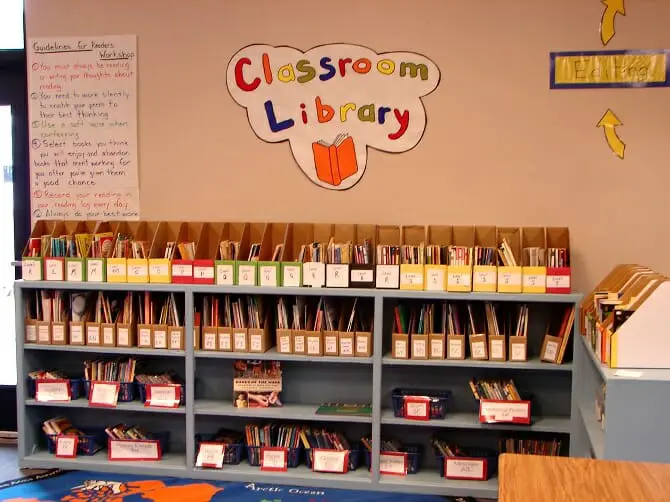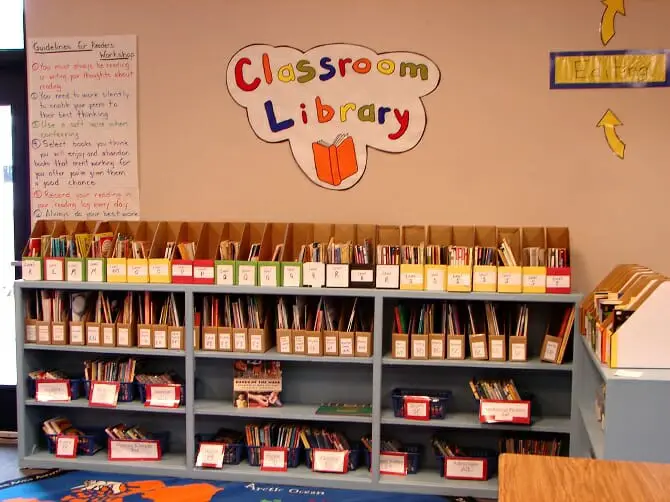 Depending on the size, windows and exits of your classroom you may not have much choice where to put your library corner. Here are a few tips to consider when choosing the space.
How will the kids move through the space? Does there need to be a path through the area or is it open to the classroom?
When you are introducing a new book or are featuring a special book while the class is studying a topic, make sure you have a prominent place for the display. The book cover should stand out and be easy for the students to see.
Separate fiction and non-fiction in a way that is easy to see. This will not only be a better organization, but it will also help teach children about the difference between the two.
Organizing by genre is a good way to help children choose their favorite type of book. For example, fantasy, mystery, history and science fiction are a few of the most common sections.
Be careful about classifying reading levels. This can stigmatize a child as only reading baby books and block him or her from ever picking up a book. I put my easy readers in with all the books, so everyone has a chance to read them. If you are not sure how to handle reading levels, this article may help.
You can put books that are read aloud in a separate place. After hearing a story, some children like to go back and read it.
It may build excitement and anticipation by changing the books every so often. So, put out a third of the books you have and change them when you think it's time to refresh.
Let children help. Students can help put stickers on books, keep track of the checkout list, and make sure the books are in the right bins and other things that not only take the burden off you but teach responsibility. One person can be responsible for reporting books that need repair. You can change the assignments every month or semester as you wish.
You may also want to think about any consequences for not treating books properly. One effective strategy is to close the library for a designated time with no check out and no choice of reading material. Teachers say this works.
Have a listening center. This is a fun and private way for children to learn to read as well as study a topic. Make sure you have a few audiobooks of the hard copies in the library, so children can read along. With sound splitters, several children can listen to the same book.
How to Get Books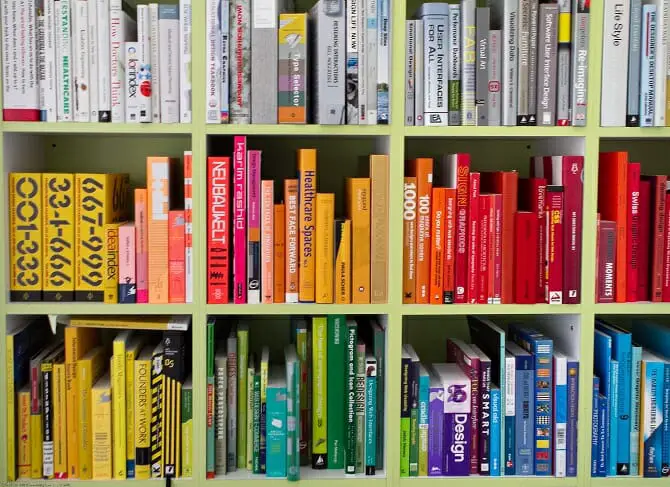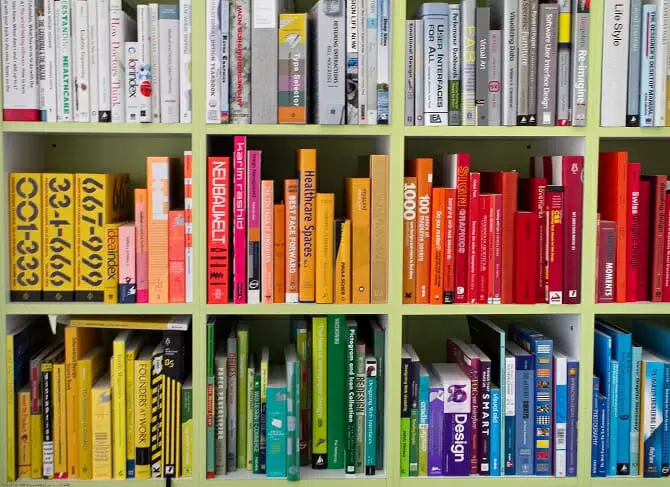 You need a wide variety of books to have a successful classroom library. Since books can be expensive, you may use up your school budget very quickly. There are several ways to get more books that don't cost much. Here are a few of the most common:
Second-hand book stores, Goodwill, garage sales and book fairs have cheap books. Some are just a few cents.
Book donations can be very helpful. Parents may want to get rid of the easy readers or other childhood books they have when their children grow out of them.
Students may also donate their own books when they don't plan to read them again.
Alumni may also be asked to donate their own books. Unless you ask, they may not think of it. High school students may be glad to give their childhood books.
Your colleagues may have several books that you don't have and vice versa. You can have an exchange system to benefit both classrooms.
How to Introduce a New Classroom Library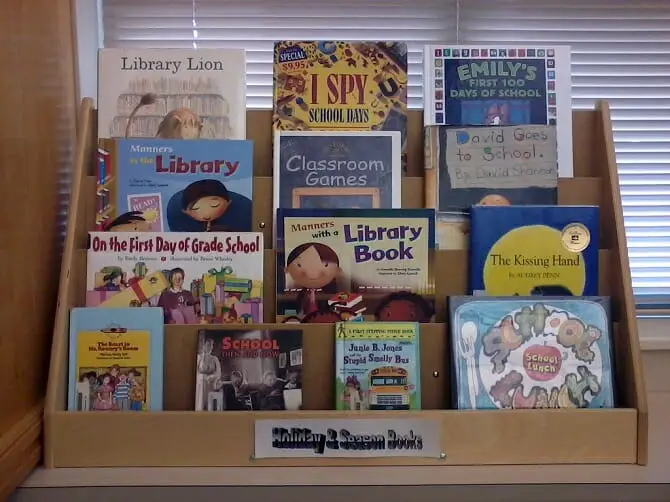 You may set the tone for the whole year in the way you introduce your classroom library on the first day of school. Children should be attracted to the selection of books and feel free to choose the ones they want, but they should also feel responsible for putting the books back where they belong and keeping them neat.
I started the first day of school with one book in each place they could sit. I use flexible seating, so when they enter the room, they can choose the place to sit.
After the usual welcoming program, I drew their attention to the book in front of them. I introduced the library space and pointed out how the books were organized and classified. Then I asked each child to put their book back where it belonged in groups of five. There was a moment of confusion with the first group, but by the time the last group had a turn, everyone knew what to do.
I then told them there would be a library time twice a week when they could take a book to their seat and read for half an hour. Also, they could get a book at any time they were through working on an assignment or project. At first, the books were only for use in the classroom, but after a month or two, they could check them out and take them home for a specified length of time.
I kept a binder with a page for each child where they wrote the title of the book they checked out and the date. You can decide how long you let them keep them but I gave them a week. For any book that didn't come back on time, I text or email a reminder to the parents.
Final Thoughts
Classroom libraries initially take a lot of time, thought, planning and attention to get set up. Once you have the books in a system, it's not very difficult to keep it going and students can help. Your main jobs will be to oversee the organization, notice which books are popular and procure books. I hope my research and experience has helped make it easier for you.
Last Updated on June 25, 2021 by Emily