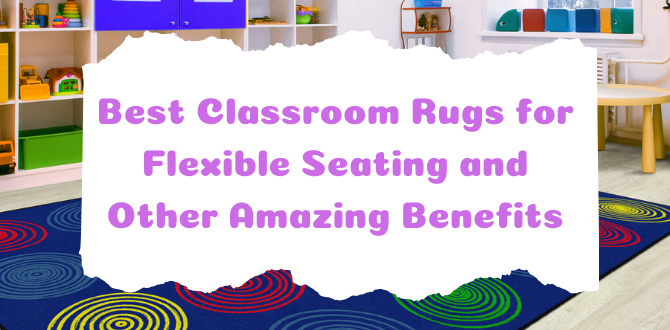 Today, I'm going to revisit the idea of flexible seating in the classroom with the help of rugs. I already discussed it in the article about bean bag chairs, but there's, even more, I want to say. Flexible seating has so many advantages for students, that it's a wonder it wasn't started decades ago.
Actually…
Easy movement allows students to move when they feel like they need to which helps send more oxygen to the brain. Sitting still for hours makes a child dull.
Flexible seating encourages community and sharing by taking turns in different locations and collaboration becomes easier as they can form groups or pairs quickly.
So now let's get to know another great idea for flexible seating with the use of rugs. This article will give you several options to choose from aside from my personal favorite which is the KC Cubs | Looney Tunes Area Rug. I'll tell you why, below!
Product
Details

1. Circles Abstract Children's Classroom Area Rug

Premium Quality

Anti-Microbial
Scotchguard
Class 1 Flammability
Hi-Density Nylon
Stainless Stain Guard

Check Current Price

2. Learning Grid Numbers And Letters Seating Area Rug

Promotes Learning

Prevents Stains
Scotchguard Stain Protector
Fire Resistant
100% Invista Nylon

Check Current Price

3. Ottomanson Jenny Collection Rug

Overlock Stitching

Soft Texture
Skid-Proof
Easy To Clean
Nylon Pyle

Check Current Price

4. Playtime Collection Space Safari Area Rug

Fun & Educational

Space-Themed
Vibrant Colors
Latex Backing
Polypropylene

Check Current Price

5. KID$Value Plus 9242 Kits On The Go

25X Stain Protection

Multicolored
KIDply® Backing
Set Of 24
Nylon

Check Current Price
Top 10 Best Classroom Rugs Reviewed
Rugs With Sitting Spots/Rows
Rugs with colorful spots, shapes, or grids are a great tool for getting the attention of wiggly kids. They are soft and comfortable and allow for, albeit limited, movement when the students first enter the classroom.
If you ask them to sit on a square or circle on the rug, you have a better chance of getting their attention. It's a good way to get them in the mood for school.
Size: 7'6″x12′
Material: High-density nylon fiber
This Circles Abstract classroom rug provides specific seating areas and allows for mobility while keeping the children in a designated area. It's more subdued than the colorful rug but may be suitable for certain classrooms.
Goodies I Found
Scotchguard Stain Protector
CRI Green Label Plus certified
Class 1 flammability rating
Force 5 antimicrobial agent against odor, mold, and mildew
My Final Verdict: I would use this rug if I couldn't get the colorful one. Some classrooms are bright, colorful and busy and a subdued rug is more suitable. This rug may have a calming influence on young, active students while still being fun.
---
Size: 5'10″x8'4″
Material: 100% Invista type 6.6 continuous filament nylon
Many school rugs are designed to teach. The Learning Grid is suitable for pre-school or kindergarten teaching the alphabet, colors, shapes, and multiplication. I like it because it makes the letters and numbers easy to see for the children.
Goodies I Found
Scotchguard Stain Protector
No toxic fumes
Fire resistant
Strong material and construction
My Final Verdict: This rug sends a more organized message to students as they have to sit in a grid, but that doesn't mean it isn't fun. Once you point out the letters, colors and shapes, children have fun finding them themselves.
---
Size: 7'6″ x 12′
Material:100% Invista type 6.6 continuous filament nylon
Dot Spots is a colorful large rug with circles and rectangles. Each row of rectangles has a circle inside and each row is a different color combination.
Goodies I Found
Scotchguard Stain Protector
Will not pollute the indoor air quality
Rated fire resistant
Durable enough for jumping games
My Final Verdict: This carpet has a magical effect on students. When they first see it they go crazy jumping on each square, circle and color. It provides a designated seating space as well as a great game board for learning to count.
---
Thematic Rugs
The best thing about thematic rugs for elementary school is they start the imagination rolling before you even start your class. Children relate to them immediately because they relate to the subject and not to the rug.
Adults may think, what a great teaching tool, but kids think, wow! I can dance around the alphabet (or something more awesome).
Size: 8'2″ x 9'10"
Material: Soft texture Nylon Pyle
The Ottomanson rug has a bright blue background with a rectangle grid. Each rectangle has a clear, white letter and two have a question mark and exclamation point. The alphabet is also around the border and each letter has an illustration.
Goodies I Found
Easy to clean
No odor
Stays flat
Durable overlock edges
My Final Verdict: This is quite a cheap rug that is a real educational tool as well as a great flexible seating tool. The reason it's not my favorite is that I prefer a rug that can be used for a variety of lessons.

This one could be adapted, but it's mainly suitable for learning the alphabet and vocabulary words.
---
Size: 8′ 2″ x 9′ 10″
Material: polypropylene with latex rubber backing.
The Looney Tunes Area Rug is like a page from a kindergarten textbook. It has the alphabet, seasons, months, and days of the week. It's an educational learning area rug for a classroom or children's bedroom.
Goodies I Found
Latex rubber backing for no slipping
Colorful, clear drawings of animals and everyday objects
Low pile for easy cleaning
My Final Verdict: For an educational rug, this one has a lot more options than the above rug. Not only does it promote learning the alphabet, but it also opens the door to creating games and stories about a variety of things like what is a newt and which season is your favorite.
---
Size: 8′ 2″ x 9′ 10″
Material: polypropylene with latex rubber backing
This Space Safari rug is great for older students studying the solar system and other heavenly bodies. It has all the planets, the moon complete with an American flag, a meteorite, the Hubble telescope, and the space shuttle.
The carpet even has a galaxy and a few constellations. It promotes creative space-related play. This is an example of a science-themed rug.
Goodies I Found
Low easy-to-clean pile
Non-skid backing
Defines a play space for Legos and other creative toys
My Final Verdict: This classroom rug has a specific purpose and is not necessarily the best for flexible seating, although it could be adapted. Who will sit on Jupiter today? Who wants to go to a galaxy far, far away?
---
Size: 8′ 2″ x 9′ 10″
Material: polypropylene with latex rubber backing
This is a very busy carpet and could be useful for several months of learning opportunities. One of the main benefits of the Sign Language Learning Rug is it teaches American Sign Language (ASL), which makes it very inclusive.
Learning ASL is a great skill for any child. The rug is colorful and has specific shapes for letters and signs that make it suitable for flexible seating.
Goodies I Found
Good, clear graphics
Non-skid
Easy to clean
My Final Verdict: Even though it teaches the alphabet it also teaches sign language, which means to me that it's suitable for children who already know the alphabet. It gives many opportunities for discussion, not just about the letters but also about the signs and how they represent words and phrases.
---
Small Personal Rugs
Small rugs that are suitable for one child can be used in several ways in the classroom. Each child can be assigned one rug or they can be up for grabs as the children enter the room.
They can be divided by color so five kids do math while sitting on a blue square and three kids practice reading on red squares. They can be arranged anywhere in the room so you can keep groups separated. These rugs are durable and can even be used outdoors.
Size: 16″ Square
Material: Nylon
These Colorful Squares are super strong to last for years. They will not skid across the floor and the edges are reinforced with durable yarn.
Goodies I Found
Fireproof
Lasts for years
Antibacterial backing
Non-slip backing
Soil-resistant easy to clean
My Final Verdict: These squares are wonderful for flexible seating. They can be arranged in a grid for certain activities or placed in strategic places around the classroom.

Children can choose their color and sit where they feel comfortable to do their work. One good thing about these squares is they can be taken outdoors for games.
---
Size: 16″ x 16″
Material: Nylon
Carpet Squares have surged edges for flexible seating. They are durable, but they do not have a non-slip backing, so they are better for a classroom with carpet.
Goodies I Found
Come with a clear, vinyl carrying bag with ventilation holes for safety
Easy to clean and store
Bright colors
My Final Verdict: These are quite cheap rugs that suitable for flexible seating for kindergarten through third grade. They don't have a rubber backing, so they're better for a classroom that has carpet.

The yellow square tends to show dirt quickly and need regular cleaning to stay bright. They may produce a chemical odor for a while.
---
Spot Markers
Spot sit markers are often considered a good disciplinary tool. They encourage a child to sit in one place and stay there. They are a good alternative for teachers who don't have a Circle Time rug. The colors can designate areas to stay put, and what I have seen is children take it very seriously.

Size: 5″ Diameter
Material: Nylon
These Carpet Markers are small, colorful spots or stars that can be used to designate places to sit around the classroom.
Goodies I Found
Velcro side that holds the spot to a carpet
Can be vacuumed if stuck flat
Durable and will last for years
My Final Verdict: These spots are suitable for designating places to sit, usually on the floor but they could be put anywhere. They are useful for teachers to organize children to maintain some control while making it fun.

The colors can designate different things such as three red spots together may mean arithmetic lessons and a few blue spots designate reading. You can also assign colors to students who need to find their color and sit accordingly.
---
More Ideas
Those mentioned in the earlier part of this article are just a few of the major benefits. Each teacher will have his or her own idea of how to enable flexible seating, of course.
And to add to that here's a video that will give you an idea of a few of the different types of flexible seating options that are available.
Setting Expectations
This article will give you more ideas about what is possible. It not only lists different types of furniture, but it also gives tips on how to organize flexible seating in your classroom and how to explain it to the students.
Students need clear explanations on how yoga balls, rugs, wobble chairs, and other things are used. It's also important that the teacher gives clear expectations for the use of the items since they're completely different from a straightforward chair.
As a part of the flexible seating environment, rugs reduce noise in the classroom.
This is beneficial for all students but especially good for children who require optimal conditions for hearing and comprehending. Plus, the indoor air quality is better than with hard flooring.
Rugs trap allergens and other tiny debris that falls to the floor. This keeps them from circulating in the air. They are removed each day when the carpet is vacuumed.
Now that you know some of the great benefits of flexible seating, and also the use of classroom rugs with it, let's discuss some activities that kids will surely enjoy.
Classroom Rug Activities
Rugs for elementary school excite young students as they see the alphabet, numbers, or graphics larger than life. At least larger than what they see in a book or activity sheet. They immediately feel a connection and want to interact.
Also, comfort helps children relax and we all know relaxed children learn better. Rugs are soft. Whether they just sit in a circle or jump from square to square, rugs feel good.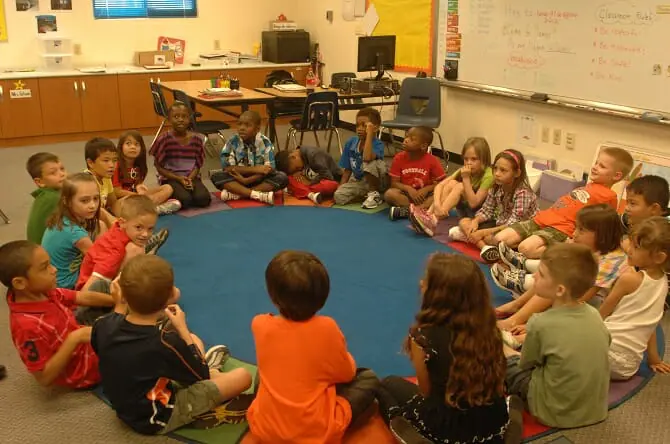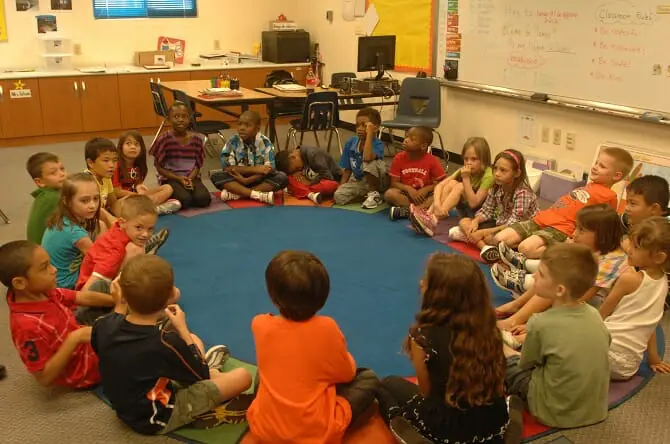 Activities With Thematic Rugs
You'll find a wide variety of thematic rugs from roadmaps through a village, scenes from under the sea, and outer space. The games you can play on these rugs are obvious and children see the possibilities immediately.
My students learned the names of all the planets just by pointing to the planets and jumping from planet to planet on my outer space rug. It inspired some students to find the planets in books and see if they match the ones on the rug.
Map reading is a skill children must learn, and they can start on a theme rug that allows them to crawl along the road and visit the places on the map. My children never seemed to tire of this and when I introduced simple maps, they already knew how to read them and find the treasure.
Alphabet and number rugs put the letters and numbers where the children can see them. We usually put them on the wall or high above the whiteboard, but children have to make an effort to relate to them.
Letters and numbers on the rug are easy to see and always in view. Spelling games are more fun when you can point to each letter. It invites movement, which is always welcome for children.
Introduction Of A New Topic On The Natural World
The best way to open a new topic is to allow the students to brainstorm about the topic before they learn anything new. They can express their questions, misconceptions, and knowledge, which will give everyone a base from which to start.
For example, if the new topic is the broad subject of animal life, let the children say what they know. They may talk about their pets, wild animals, endangered species, fish or fowl, big cats, and weird animals.
This gives you a place to start for a lesson on herbivores, carnivores, and omnivores. It's called an icebreaker. They can either write their questions and ideas or speak one at a time. My favorite classroom rug is perfect for brainstorming because it gives a bit of order to the chaos.
Another way to introduce a new topic is to tell a story. The children need not even know they will be learning something new, they will just enjoy the story. After your story, you may ask if any of the children want to tell a story.
Finally, use topics and situations from your story and others if they are suitable to start discussions about the new topic you want to introduce.
Classroom Exercise/Activity Break
Take your young students on a tour of the school. You can put paper animals, flowers, household objects, numbers, or letters at each place you plan to visit such as the bathrooms, cafeteria, principal's office, and front door.
The children get to move around, learn the layout of the school and collect items that you can talk about when you get back to your classroom.
Active Learning Games
Once you get past counting pebbles and sharing pizza, math is an abstract subject. A classroom rug that supports addition and subtraction will help children remember what they learned and commit it to memory for all time.
If you stick some tape on the small circles mentioned above, you can write a word on each circle and spread them out on the floor, preferably your great little classroom rug. Let the students take turns using spatulas to pick up circles that make a sentence.
This is also fun with numbers. They have to pick up two numbers along with the addition, subtraction, or multiplication answer. Kids have to get up and move around to see all the options.
Considerations To Keep In Mind
A study at the University of Minnesota in 2012 found that 48% of students in flexible seating environments participated more in discussions and collaborative learning than the students seated in traditional rows. They also did better on standardized tests.
But let's not forget that there are some important things to consider and evaluate before selecting a rug for the classroom, like the following:
Evaluate your classroom – how much space do you have and where would be the best place for sitting on the floor? You don't want to be shifting furniture every time your students want to sit on the rug. If you do need to place chairs on the rug, make sure you get one that is durable enough to support furniture.
Evaluate your usage – will you be using the rug to teach? If so, you may want one that has the alphabet or numbers on it. You may want a jungle or outer space-themed rug. If you are planning to use it for organization purposes, you may like a colorful grid or circles without graphics. I recommend one of each.
Make sure your rug serves your teaching objectives – Pick a rug that harmonizes with your lesson plans. You may also want to use the rug to teach social skills such as fairness, specific timing such as break time or quiet time.
Have rules that go with the rug – if students want to sit on the rug to play with a puzzle or color a picture, they need to know that it is a place for activity and not for yelling. Some teachers insist on no shouting on the number rug or jumping is okay on the rug with colorful shapes.
The rug should be durable – all of the rugs I mentioned are very durable. Some school districts insist on fireproof rugs. In some places, the colorful squares or rugs can be taken outdoors for a place to sit and stay clean.
Rugs should be properly cleaned – daily vacuuming is recommended for areas with heavy foot traffic. If a rug is only used a few times a week, it needs to be vacuumed two or three times a week. A deep cleaning by a professional should be done twice a year. Usually before school opens and during winter break.
Above all, classroom rugs should be fun and attractive. They define an area, suggest a topic or teach numbers and letters, but whatever their aim, they should be inviting to children.
Final thoughts
In regards to the idea of flexible seating arrangement in the classroom like I had already discussed with you in the article about bean bag chairs before, I hope I have given you as much enthusiasm for classroom rugs as I have in this one.
They offer myriad possibilities for creative and active lessons that young children love. Rugs are one of the best flexible seating tools and are not expensive.
Now, as I've said before, the KC Cubs Looney Tunes Area Rug is my top pick; it's your turn to tell me what's yours!

My Top Pick
Goodies I found:
Latex rubber backing for no slipping
Colorful, clear drawings of animals and everyday objects
Low pile for easy cleaning
My final verdict – Not only does it promote learning the alphabet, but it also opens the door to creating games and stories about a variety of things like what is a newt and which season is your favorite.
Last Updated on January 11, 2022 by Emily