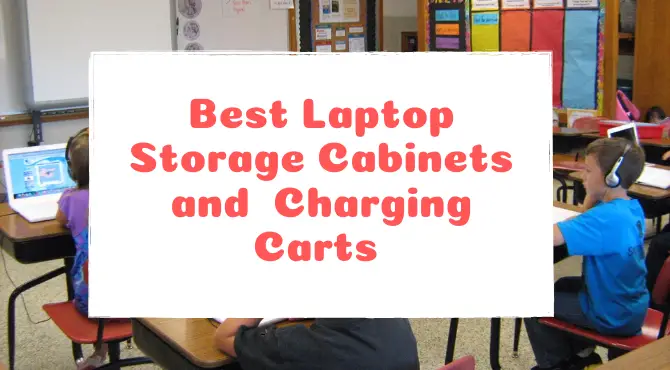 Laptops are the ubiquitous teaching tool in almost every classroom today and have been for years. If your school provides computers for classwork, you will need a place to store and charge 20-30 laptops.
And…
Since I faced this problem, I researched for a solution to do this in a convenient way. As usual, I made a review of the best options available and the Line Leader Compact Mobile Charging Cart made it on top of my list.
Soon enough, you'll learn more about these laptop storage cabinets and it will be a lot easier for you by then, to pick up your personal choice based on your classroom requirements. Continue reading for a longer list and reviews of storage and charging devices.
Product
Details

1. Line Leader Compact Mobile Charging Cart

Secured With Lock

16-Ports
Padded Top
4-Sided Ventilation
2 Back Wheels Lock
Coated Dividers
Organized Cords

Check Current Price

2. Kensington Universal AC Charge Station

Surge Protection

12 Power Outlets
All Devices
Adjustable Slots
Portable
Door Sold Separately

Check Current Price

3. Pearington Wall Mount Charging Cabinet

Moveable Power Strip

Fully Assembled
12 Internal Outlets
Easy To Mount
Great Storage
Both Doors Lock

Check Current Price

4. ECR4Kids Locking Charging Station

Multi-Lock System

32 Internal Outlets
Front Keypad Lock
Key Lock On Back
GREENGUARD Gold Certified
4-Sided Ventilation

Check Current Price

5. Line Leader 32 Unit Mobile Charging Cart

Open Cart Design

32 Power Outlets
Sloped Dividers
10-Ft Power Cord
Locking Brakes
Adjustable Dividers

Check Current Price
Best Charging Stations Reviewed
I also give tips for selecting the right device for your unique needs and a few FAQs that most teachers have asked. For those of you who prefer to do it yourself, I give ideas and instructions for how to make your own device.
Let's get started with my reviews and specs of the best laptop charging cabinets and stations.

Compatibility: laptops, tablets, Chromebooks
Internal Outlets: 16-port power strip
External Outlets: N/A
Security: doors lock with a key
This Line Leader steel mobile laptop storage cart is easy to move and has locking wheels. It's very sturdy and will not tip over. This makes it safe for children who may bump into it.
The ergonometric handle makes it easy to maneuver around corners if you need to take it to a different classroom or office. The dividers are rubber-coated to avoid damaging the devices and the top has a soft covering for the same purpose.
The side panels are ventilated. It has both front and rear locking doors. There is a bottom shelf for managing the cord to keep it neat. The dimensions are 12.125 x 23.25 x 34 inches and the space between the dividers is one inch. It weighs 55 pounds and has a 10-foot cord.
Unique Specifications
You don't need to open the door when the devices are charging. There is a cord-management hole at the bottom that you can use to plug it into an electric outlet without opening the door. This is another safety feature for a classroom with young children.
Pros
The padded surface on top
Four-sided ventilation
Four three-inch non-marring caster wheels of which two lock
Cons
Needs to be assembled on arrival
Very difficult to remove dividers
Needs a small power brick to properly close the doors when charging
Best For: This cabinet is useful if you teach in several different classrooms. It's also great for sharing with other teachers because of its ease of mobility.
---
Compatibility: laptops, Chromebooks, tablets
Internal Outlets: two power strips one surge-protected, one not
External Outlets: N/A
Security: two-point lock system
Shapes Series is a heavy-duty, 16-gauge steel cabinet. It has handles on either side to make it easy to move it to different locations, although it may take two people.
It is 20 inches high, 18 inches wide, 23 3/8 inches long and weighs 68 pounds. You can buy an optional kit that contains a baseplate and hardware to make the cabinet stackable.
You can also get a set of wheels if you plan to make it mobile. This cabinet will charge 12 devices at the same time. The power cord is six feet long. The dimensions of each slot are 2 x 16 ¼ x 12 inches.
It has a grounding feature as well as an external light to tell you it is charging.
Unique Specifications
It's heavy but can be wall-mounted if you want to keep it out of the reach of youngsters without locking it in a closet.
Pros
PVC-coated dividers will not scratch screens or cases
This cabinet will last for years
It has 12 cord-management clips
Cons
Very heavy
Not easy to open the back to change chargers
Wall-mounting hardware not included
Best For: This is best for a teacher who doesn't want his or her students to use it. The cabinet is stackable if you need more than twelve charging bays.
---
Compatibility: universal compatibility for all devices
Internal Outlets: N/A
External Outlets: 12 power outlets accessible on top with a cover
Security: the door, sold separately
This Kensington Universal laptop charging station for the classroom has a metal frame that provides durability and efficient heat dissipation. It has 12 power outlets and there is plenty of space for power adapter storage.
The dimensions are 17.52 x 19.84 x 13.39 inches and the weight is 35.3 pounds. It is suitable for storing and charging laptops that are 14 inches, tablets, Chromebooks. iPad, Surface Pro, MacBook, and more.
The front is open, which is fine for older students, but it leaves tablets exposed to younger students. You can get a security door to lock at night or when you are not there.
Unique Specifications
I like this one. It is small enough to keep on a desk or a standard AV cart if you need portability. It has a lockable security door that is sold separately.
Pros
Slot dividers are easily adjustable
Sturdy metal frame
Industrial-grade surge protector
Built-in cable management
Cons
A padlock is not included
iPads need to be charged six at a time because the power plug is too big
Charging ports are in the back, so it is inconvenient to place it against a wall
Best For: This cabinet is very strong and suitable for any classroom. I think it's a good choice if you have an AV cart because you need access to the back for charging.
---
Compatibility: iPads, laptops, Chromebooks
Internal Outlets: 12
External Outlets: N/A
Security: both doors lock
This is the best laptop charging cabinet you can mount on the wall for storing and charging laptops, tablets, and other devices. The Pearington Space Saving power strip can be moved to either side of the cabinet to facilitate the use of your power outlets.
It's only seven inches deep because the laptops are stored at an angle. This means it doesn't take up much space in your room. The wall mounting brackets are attached to the back of the cabinet, so it is easy to hang.
Unique Specifications
The device has two doors that can be opened separately. One to reach the laptops and one to access the charging ports. This is a great safety feature for an elementary classroom.
Pros
Fully assembled on delivery
Surge protection power strip
Cable management feature
Cons
Does not come with individual charging cords for devices
Best For: This is a very good selection for a small classroom. It is wall-mounted and only seven inches deep, so it won't take up much space but does the job.
---
Compatibility: laptops, tablets, netbooks
Internal Outlets: 32
External Outlets: N/A
Security: programmable keypad lock on the front and a key lock on the back
This ECR4Kids Chromebook charging cart is made with a durable, powder-coated steel frame. All four sides have ventilation holes. It has four non-marking wheels and two of them lock in place.
The handle makes it easy to move from classroom to classroom. It holds 32 devices, which makes it useful for two or three teachers to use at the same time. The top has a non-slip surface where a computer could be safely placed.
The dimensions are 25.2 x 21.7 x 36.1 inches and the weight is 80 pounds. It has a 200-pound weight capacity and needs to be assembled by an adult. During assembly, you can leave out the middle shelf if you need more space.
The charger does not need to be plugged in for the battery-operated keypad lock to work.
Unique Specifications
This charging station is GREENGUARD Gold Certified for low chemical emissions into the classroom indoor air during charging.
Pros
It comes with four extra keys
It has rubber-coated dividers
 If the keypad batteries are not charged, it has a 9V rescue battery to open the door
Cons
Assembly required
The one-inch slots are not conducive for iPads with cases. They fit, but it's not easy
The door shuts and locks on its own, which may or may not be a con
Best For: This is the best Chromebook charging station you want if you need to share it with other teachers. Students cannot have access to the devices until you want them to.
---
Compatibility: tablets, iPads, Chromebooks, laptops
Internal Outlets: N/A
External Outlets: 32
Security: open cart, no security
This Line Leader 32 cart has a solid steel frame that holds electronics safely and is durable for everyday use in a classroom. The shelves are padded to protect devices from scratches. It has handles on either end for easy maneuverability.
The outlets have surge protection. The casters move smoothly and two are locking casters, so it won't roll around while you are plugging or unplugging it. The dimensions are 14.75 x 27 x 30 inches and it weighs 37 pounds. The power cord is 10 feet long.
Unique Specifications
It has a small footprint, so it doesn't take up much space in a classroom.
Pros
Dividers are easy to remove for eight devices
Dividers are sloped for easy access
Cord-management clips keep cords in their place
Cons
The tray of separate chargers is small, so the chargers don't have a neat fit
Not a good choice if you restrict the use of the devices
Best For: If you allow your students to take a laptop and return it as well as plug it in, this is the best laptop charging cart for you. The devices are easy to grab and return. If security is an issue, you may need to lock it in a closet at night.
---
Compatibility: Chromebooks, tablets, laptops, iPads
Internal Outlets: N/A
External Outlets: three ports
Security: a padlock and a U-hook
This cart charges 42 devices at the same time. It has an eco-efficient charging system that charges low-power devices first while still charging the others. The Pearington Premium comes fully assembled.
Removable dividers on three pull-out shelves dimensions are 40.5 x 24.25 x 35 inches. The cart has a cable management system with clips integrated into the dividers. The five-inch caster wheels can be locked with a foot lock and release. They won't leave marks on the floor.
The top of the cart has an inset design to prevent devices from sliding off. It even has a cup holder if you need to bring your coffee with you while heading to another classroom.
Unique Specifications
The padded drawers slide out and have slanted dividers, so it is easy to pull out a device. This is a good computer cart for a school as each shelf could be assigned to one class and all the devices would have excellent security.
Pros
It has a cable wrap feature for easy storage and portability
It has vents on all sides
The back opening allows for easy organization of power adapters and cords
Cons
There are no cons to this cart. The manufacturers thought of everything
Best For: This is definitely the Mount Everest of the best laptop charging carts for schools. It is for sharing among classrooms as 42 bays are many more than one teacher will need.
---
Compatibility: multi-device, tablets, laptops, smartphones
Internal Outlets: five
External Outlets: N/A
Security: no security
This is a faux leather multi-device MobileVision organizer and charger. The dimensions are 10 x 6.5 x 9 inches, and it weighs four pounds. There are 2.5 inches between the dividers.
You can use multiple USB plugs and there is plenty of room inside for connections. It has three large bays that will hold laptops and one in the front for smaller devices. The USB ports are in the base and the bays are held in place with strong magnets.
The cables go out the bottom through an opening in the back.
Unique Specifications
This is a small charging station that would be great to have at home or for the teacher in a classroom. It will charge five devices, but most teachers need more than that, although if you had 10 or 15 devices, you could charge them at different times.
Pros
It has USB charger ports
It comes with a multiple port USB charging strip and power cord
It hides power and charging cords
Cons
The front wall is a little low for laptops but is fine for smartphones
Best For: This is best for a teacher who doesn't have many devices to charge. For a school, it may go well with the above charger that can hold the student's devices and this one could be on the teacher's desk.
---
Things To Consider When Choosing A Classroom Laptop Charging Station
There are many options for features of laptop storage and a charging cart for education. The first thing to consider is what devices you need to charge.
Do you need a cart that only holds laptops, or do you want one that also holds tablets and smartphones? What capabilities do you need?
Here are a few things to understand before you make a selection:
Construction Material: you will find steel, wood, and laminate finishes. Steel will last for years and most likely have a locking device. Wood looks good and will match wooden classroom desks and chairs. It is more affordable than steel. Laminate is also less costly than steel but may not have a lock.
Security System: if security is a major issue for you, your best choice is a steel computer storage cart with a good locking system.
Recharging Capabilities: some devices will recharge your laptops while they are stored. If your students take their laptops home, you may not need this feature.
Electrical Outlet Access: the electrical outlets can be in the back or front. I like mine in the back because I don't want my students to have access to them. This may not be a problem for high school students.
Ventilation To Disperse Heat During Charging: you will need vent holes in the device to give the hot air an escape route. Overheating can damage laptops and carts. If you need the best laptop carts for schools only for storage, you may not need ventilation.
Wheels For Mobility: it's always good to have wheels on any large or heavy piece of furniture in your classroom. For younger children, it may be good to have wheels that lock in position.
FAQs on Classroom Charging Laptops
Here are the answers to some frequently asked questions about storing and charging laptops at school:
✔ Is it bad to leave a laptop plugged in overnight?
Laptops are designed with battery protection. You cannot overcharge them by leaving them charging overnight. This is good to know because teachers need to leave their devices charging during the night to be ready for the students the next school day. For tablets, make sure you use a charger with battery protection, and you can leave it charging all night.
✔ What percentage should I charge my tablets?
The most common answer is to keep your device topped up after 50 percent. It is recommended to keep it between 50 and 90 percent. You shouldn't charge it to 100 percent every day. Check out our pick for the best tablet for online classes in case you're looking for one.
✔ Where is the best place to locate a charging station?
Charging stations can be placed on a desk or table, mounted on a wall, or stacked. Smaller ones can fit on an AV cart. If you like to change the configuration of your classroom furniture for flexible seating, you may want a mobile charging station or at least one that isn't too heavy.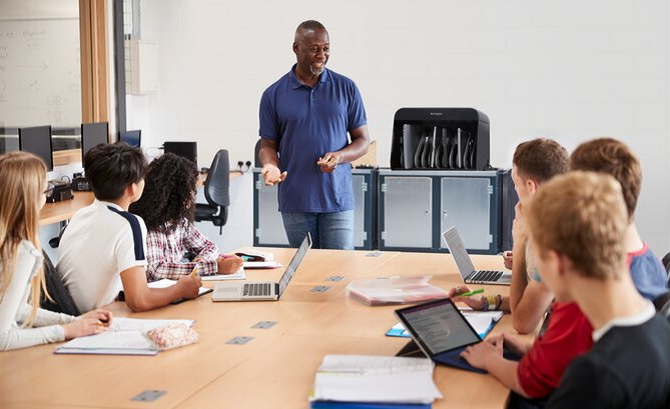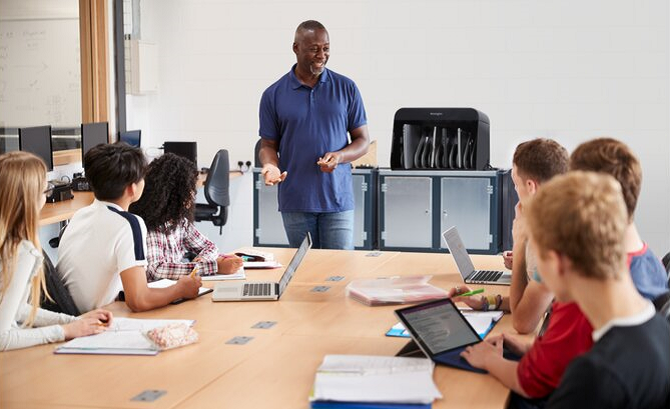 ✔ Is it worth getting a charging station with a cable management feature?
The short answer is YES. If your device doesn't offer cable management, you could waste a lot of time keeping cables straight and neat. This could even result in damaged cables.
✔ Is DIY really a good idea?
If you or your school doesn't have the budget for a proper place to store and charge the devices you use in your classroom, then I recommend you look at the above sites to make one yourself. A charging station or a laptop cart; even a messy-looking DIY project will save you a lot of time in the long run and protect your classroom devices when they are not in use.
✔ Is a surge protector needed?
While electricity may be stable most of the time, it can spike or surge and damage any device that is plugged in at the time. Several models have surge protection built into the charging ports. If you choose one that plugs directly into an outlet, I recommend you get a surge protector and plug it into that.
✔ What are the workstation features?
Some of the best laptop charging carts for schools have tops that are suitable for putting a projector, camera, or computer. One even has a cup holder. A solid worktop also protects the devices from accidents such as spilled liquid or rough use. External outlets are also useful for plugging in a monitor, projector, or other equipment.
DIY Storage And Charging Stations
If you have the time and inclination, you can make your own charging and storage stations for tablets, laptops, and other devices. These pins give you a wide variety of DIY possibilities and may even inspire you to do it yourself even if you haven't thought of it before.
You may think DIY will look tacky in your classroom, but this is not necessarily the case.
Look at this video to see a neat-looking and functional DIY Chromebook charging station:
If you do decide to try your hand at making a DIY charging station, here are some tips for hiding the wires and cables that look great:
Final Thoughts
Whether you make it yourself or purchase the best laptop charging station for the classroom, it's definitely worth the time and money.
Now, based on my requirements, my best pick is the Line Leader Compact Mobile Charging Cart because of its portability and security features.
You will always have a safe place to store devices and lock them up while charging them. No more tablets and laptops left around the room and being knocked off shelves and counters.
My Top Pick
Easy to move around
Has two lockable wheels
Good security
Best For: Teachers who need to take a Chromebook to several classrooms.
This is a very strong, steel, and the best laptop charging station for a classroom with front and back locking doors. The casters provide smooth rolling, and two of them lock, so the cart can't be easily tipped over. The wheels will not leave dark lines on the floor.
This storage and charging cart protects devices with rubber-coated dividers and a soft top, including your Chromebook. These features are very useful if the tablets or laptops are used by several different classes because the soft covers protect the devices from careless handling.
The 10-foot cord can be neatly stored on the provided shelf at the bottom of the cart. If you need to make more space between dividers, you will require a screwdriver and need to disassemble part of the unit in the back.
Last Updated on February 24, 2022 by Emily