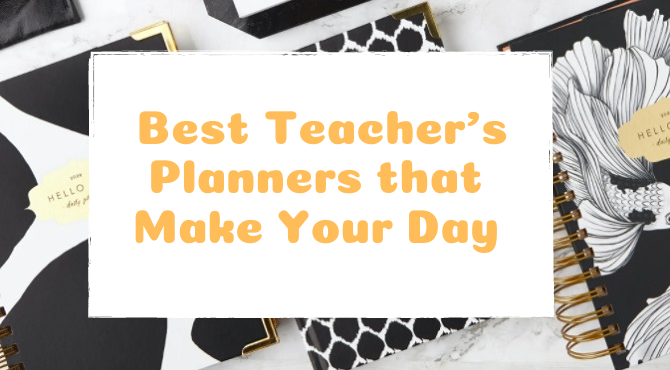 Lesson plans are the structural bones on which good teaching grows. Experts agree planning is essential for a teacher's enthusiasm, quality of teaching, and personal mental health.
Plus…
Your school may require a special book or form for lesson plans, but you may have the details of activities in your mind. How you plan may be unique as each of us has individual preferences, but mental planning is not enough. There are huge benefits from writing it all down, including the ideas you never use or use later.
Since planning is one of the most important things a teacher can do, I have given my top three planners first to help you get started. You can see more details on these 15 teacher's planners we reviewed in this article that'd surely help you pick the most suited for your needs.
Also, find out why the Excello Global Deluxe Teacher Planner made it on top of my list and has become my favorite!
Product
Details

1. Excello Global Deluxe Teacher Planner

Greatly Organized

Undated
Color-Coded Stickers
Guaranteed Quality
5 Attractive Designs

Check Current Price

2. Bloom Daily Planners Undated

Lesson Plan Format

Undated
Frosted Cover
100 GSM Paper
2 Floral Designs

Check Current Price

3. Blue Sky Academic Planner

Julian Dating

Dated
Frosted Cover
Monthly Tabs
Weekly Guide

Check Current Price

4. Me & My BIG Ideas The Happy Planner Box Kit

634 Stickers

Undated
Comes W/ Free Items
Inspirational Quotes
Plastic Binding

Check Current Price

5. AT-A-GLANCE Academic Planner

Useful Front Pocket

Dated
Bleed Resistant
Monthly Tabs
Double-wire Binding

Check Current Price
15 Best Paper Planners For Teachers Reviewed
This Excello spiral-bound planner comes in five attractive cover designs and has everything you need to keep track of your class and lessons. Some teachers say it has too many headings.
The exact number of pages isn't mentioned, but it has pages for weekly and monthly planning, attendance, grades, seating, and more. It comes with eight tabs, seven subject topic columns, and color-coded stickers to make it even easier to find what you want. It weighs 2.6 pounds and is very durable to last for one year.
The un-dated feature means you can start in August and aren't bound by January to December. You can have your whole school year in one book rather than two calendar-year books. However, his model does come with a dated feature if you prefer. It will fit in any bag that holds a laptop, but not a smaller purse.
My Verdict: I like the undated aspect as it can be started at any time. School dates vary all the time, so a January to December dated teacher planner isn't very convenient.
---
This Bloom undated planner comes in two colorful designs. It has 12 months and 60 undated vertical weekly planning pages.
Supplemental pages include a personal info page, a how-to-use page, which is great because you get other teacher's ideas, two student information pages, two contact logs, a page for website log-ins, and a lot more. It has a back pocket and this planner comes with a link to free teacher printables.
Even the designs that border the top of the pages change every month. This may seem immaterial but it does help you find what you need quicker. The planner is designed to help teachers organize their thoughts and records.
My Verdict: Again, I prefer an undated planner. This one has a protective plastic cover. It has a huge list of supplemental pages, so just about everything you need to know is at the tip of your fingers.
This review is not done by a teacher but is worth watching for a detailed account of how to use this Bloom Daily planner.
---
Blue Sky is another attractively designed planner that has a translucent protective cover. The dates are from July to June so it coincides with your school year. It has a weekly and monthly calendar and a list of major holidays.
You can get it in small size 3.6 x 6.1 x 5.8 inches that will fit in a smaller bag but naturally doesn't have much room inside for each day's information.
Teacher reviewer's like the large spaces inside for writing, so they don't have to squeeze in the information. It has a page for writing your goals, which is unique in planners as well as weekly and monthly calendars. The spiral binding is slightly smaller than other planners. It weighs 1.08 pounds.
My Verdict: If you want a simpler planner, this is a good one. It doesn't have all the headings of the above ones, which overdo it according to some teachers.
This is a good video to see all the features of the Blue Sky Planner. The narrator walks you through the planner and gives information on how she uses it.
---
This is a "Teachers Change The World One Child At A Time" themed planner. This means that the Happy Planner is specifically designed for teachers with a vertical layout and a 12-month undated format. It has 13 dividers and a whopping 634 stickers with three sticky note pads.
The binding is plastic, not metal, but the pages can be removed and put back in a different order, which is not the case with metal spiral binding. The kit also contains one pen and one highlighter as well as a pocket folder. It weighs 2.7 pounds, but it's all worth it.
My Verdict: This is a good planner, especially for those of you who like to decorate and put your personal stamp on your belongings. It has beautiful photographs throughout the book as well as inspirational sayings.
This is the first impression of a person who has never used this type of planner. It gives you a detailed idea about the features and how to use them or decorate the pages of the Happy Planner to suit your style.
---
AT-A-GLANCE Academic is a sturdy, spiral planner with a transparent pocket in the front. It has tabs for each month where you will find a monthly calendar as well as pages for each week.
It has a contacts page, several blank note pages, a major holiday list, and an event calendar in the back. For those who are just starting to use paper planners, this one has suggestions and instructions.
You have a choice of blue or rainbow cheery stripes on the cover. The calendar is from July to June with the bonus of the next July at the end. The durable twin-wire binding is polyester covered and the paper is thick enough so a marker doesn't seep through the page and show on the other side. The planner weighs 1.25 pounds.
My Verdict: This is a very simple, but a useful planner. No artistic stickers, just the alphabet, or beautiful artwork but it's attractive and functional.

The front pocket is very useful for stuffing notes and papers when you are in a hurry or displaying a meeting schedule or special event.
---
The Artfan Academic Planner is the lowest-priced on this list. It has an academic calendar that starts in July and ends in June. It has 53 weekly pages and a two-page monthly spread. It has a holiday list and a yearly overview. It even has inspirational quotes.
The colors are vibrant and lively. It has high-quality paper that doesn't leak ink or fray from erasing. The cover and twin-ring binding are strong even if you spill coffee or water on them.
The acid-free paper is environmentally friendly and it claims the manufacturing uses completely vegan raw materials. It weighs 11.7 ounces.
My Verdict: This is a very durable paper planner that will last all year. You may be disappointed that it starts in July, but if you want a good, inexpensive planner, you can manage for June in your previous planner or the back. It does have a June calendar.
---
This is much more than a daily planner. It is organized for lesson plans for eight periods as well as grade records for 35 students, seating charts, phone numbers, email addresses and websites, emergency procedures, special duties, and much more. It even has pages for parent conference notes and a two-sided back pocket.
This Elan HARDCOVER Combi planner comes in six attractive cover designs. It weighs 11 pounds. This seems quite heavy but if you consider it is several books in one, it seems reasonable. The 36 two-facing pages are enough for up to nine classes in a four, nine or 10-week marking period.
My Verdict: This is the best lesson plan book for teachers who need to make plans for several different classes. The days are across the top and the periods are down the side.
---
This is a simple, inexpensive planner that is spiral bound with a softcover. The Schoolgirl Style is an academic planner, which means it has no dates, but it does have months starting in July. It provides yearling, monthly, and weekly planning pages. It comes with 46 stickers for tabs, to-do lists, and color coordination.
The planner has a rainbow motif throughout. There are pages for contacts, substitute teacher instruction, notes, and checklists. It also has graft pages for seat charts. Teachers may find the fact that it starts in July inconvenient, but it goes through the next June.
My Verdict: It's a nice little planner, but I need one that starts at least in June. If you don't mind that it starts in July, it has every topic you may need.
---
This is the planner for people who like graphics and decorate their pages. It's designed by Scholastic for teachers. It has Monday at the top of the weekly page and Friday at the bottom, but it is undated.
It is a very basic planner, which means you can use it as you wish. It's also a coloring book, which makes it fun for teachers who have time to enjoy it. The coloring pages are quite detailed, but you can copy them and give them to any of your students who love to color those tiny spaces. It weighs 1.25 pounds.
My Verdict: It's a good planner, but I don't need extra activities such as coloring or decorating my planner. However, many teachers like their planner to do double duty with planning and entertainment.
---
The Teacher Created Resources planner has 40 weeks of daily lesson plans. It also has space for substitute teacher instructions, student attendance, and 12 monthly calendars. It does not have subject headings.
This planner comes with 340 stickers to help organize your data. Some of the stickers are tagged with little sayings or reminders and some are blank for color coordination or your own label. It also has stickers for the main holidays. It weighs 13 ounces. Most reviewers recommend this planner for homeschooling very young children.
My Verdict: This is a no-frills planner that puts more emphasis on its artwork that the planning organization. But it is a good little planner if you have one class and don't need several different classes that require different lessons.
---
This is an undated academic planner that has yearly, monthly, and weekly pages for lesson plans. It also features communication logs, substitute instructions, contact pages, notes, and checklist pages. It has graph sheets for seating charts and even sketches plans. The layout changes.
There are 16 tab stickers and nine to-do stickers as well as 21 color coordinating stickers. One special feature of the Carson-Dellosa Academic Teacher Planner is the corners are perforated, so you can tear off the corners of pages that are no longer relevant or tasks that are completed. I haven't seen this on any other planner, but it can be very useful.
My Verdict: This is a good choice. It's undated, has the requisite number of stickers and focuses on the organization rather than artwork. Having said that, it is attractively designed and the colors help make it easy to find what you want.
---
This planner has 12 monthly and 12 months of weekly planning pages. The dates are printed on the weekly calendar. The cover design is your choice of stripes or dots. It has holiday lists for every imaginable holiday and designated days and months that aren't holidays. It has a birthday tracker and an interior pocket, which is also unusual.
The Blue Sky Academic Lesson Planner has a twin-wire binding. It has the elapsed and remaining days feature. It does not have a page for grades The tab dividers are coated for durability. It weighs 1.17 pounds.
My Verdict: This planner is designed for teachers with every possible topic needed for the organization. I prefer a simpler style, but if you want your whole teaching style in one book, this is a good choice.
Watch this short video to learn about all the features of the Blue Sky Academic planner as well as some pros and cons. It is last year's planner but is very similar to the latest version.
---
This Peter Pauper Press is a simple, inexpensive planner that will help you keep track of attendance, grades, and weekly lessons. It has pages for 45 weeks for seven classes as well as seating charts. You can keep track of data for up to 35 students for seven classes for 180 days.
The planner contains acid-free paper that will not leak ink through the page. It weighs 14.7 pounds. Some reviewers say the boxes are too small for all the lesson information and the lines distract the eye from finding information quickly.
My Verdict: This is a good planner for a first-year teacher who hasn't settled on a format for lesson plans or saving data. It has a simple layout and you can use it as you wish and may find a more complex format for the future.
---
This planner provides 40 weeks of lesson plans. It comes with 340 planner stickers to help prioritize events, highlight weekly reminders, and color coordinate activities and pages. It is spiral bound. The planner includes pages for substitute teacher instructions, attendance and has inspirational quotations throughout the book.
This Teacher Created Resources has a rustic, distressed wood design that is supposed to bring the atmosphere of home sweet home. It is an academic planner with no dates. The pages are a bit thin and a highlighter may show a shadow on the other side of the page. The weight is 13 ounces
My Verdict: This is a good planner and I would use it. It is mostly recommended for homeschooling even though some of the stickers don't apply to homeschooling.
---
This planner is designed for teachers to keep track of hundreds of lesson plans and dozens of students. The Stephanie Embrey Planner has two pockets and three organizational tab dividers.
You can use the seating charts, calendars, birthday tracker, and parent conference records, and it has a place for substitute teacher's instructions. This is the only planner on this list that comes with a CD for forms to help you track lessons and students on a computer.
My Verdict: This is the planner for you if you want your information on your laptop or a school desktop. Even as a paper planner it is useful and is organized for all the information you need.
---
How To Choose A Paper Planner
There's no one-size-fits-all teacher planner. The wide variety of paper and digital planners available means you can get one that best suits your organizational style.
Even with the abundant planning apps online, many teachers actually prefer a paper planner. Paper planners are simpler. They are always handy, work anywhere, and you only write what you need. If you need reminders, just write them a few days ahead.
Some studies show that writing things by hand makes you think more clearly. This may not be true for all, but it certainly helps me. If you want a paper planner, just make sure it is a good size for your bag.
You would think that a planner is a planner with blank pages for days, weeks, months, and years. But there is so much more information a teacher needs at her fingertips from a paper planner that there is a huge variety of planners available.
I've got some tips to help you decide which planner would work best for you.
But before I get it started, I would just like to say if you are a first-year teacher or a homeschooler, I recommend you start with the simplest planner you can. After your first year, you will have a good idea of the features you need and the ones you don't.
Dated Or Undated
A dated planner has the dates of the year printed on the pages. Regular planners start in January and end in December, but some have a bonus of the next January at the end. If it's an academic planner, it may start with May or June.
However, that's the extent of the date and some don't even have that. You add dates to the lesson planning pages and calendars. It's good for any year. If you really like one, you can buy several and use them for many years.
A dated planner can only be used for the designated year.
But it's convenient to have the dates already there, especially if you need lesson plans for several different classes.
Sections
The sections are the basis of your organization. With tabs and stickers, you can identify information to access it quickly. When you are looking at different planners, look if it has the sections you need.
Some have more sections than you need. For example, your school may have a required attendance book, so you don't need an attendance section. The same could be true for a seating chart, especially if your class has flexible seating.
There are several types of formats for sections. Some have tabs for subjects, some for periods, and some for months. The right format is a personal choice.
Paper Quality
If you write on one page in ink, you don't want to see it on the back of that page. To avoid this, look at the quality of the paper. Thicker is better, but for permanent markers, almost all paper will bleed at least a little.
If you use a pencil, you can use thinner paper, but be sure to use a soft eraser so you don't tear the paper.
Digital Planners
For those of you who can't bear the thought of a paper planner, a digital planner is an answer.
You can organize your lesson plans and save them online. It is great for sharing information and plans with other teachers. Some think that pooling lessons and other information is the future of teaching and for them a digital planner is essential.
It may also help students who miss class. With everything you need on your phone or laptop, you don't need to carry around a planning book.
Digital planners are useful technology that helps use less paper and ink. They are customizable, so you can add or subtract the sections you don't need. You can also add personal sections such as personal and professional goals, recipes, social events, and meal planners.
Most planners have an interlinked structure where you can go to a different page in just one click.
Some Benefits Of A Digital Planner
Once you learn how to use all its features, it should save you time
You can print any page if you need a hard copy
It can contain more information about a subject than just the individual lesson plan and be shared with other teachers who will share their suggestions in return
It can be used as a lesson planner and a record keeper
You can add websites, videos, and graphics to your lessons that can be shown to your students straight from your device
You can easily and quickly find state educational standards online
You can have cloud backup
Here is a good resource where you will find examples and templates of digital planners.
What Most Digital Planners Have
Divider tabs
Matching lesson plan templates you can type on the form
Meeting notes and messages pages
Customizable calendars you can type on
Custom cover art
To get a better idea of the possibilities, watch this video. It gives a very detailed description of the many ways to use a digital planner. It may look a bit complicated at first, but once you get your personal method, it will go quickly.
DIY Teacher Planners
Even with all the above ideas for a paper or digital teacher planner, there may not be one style that resonates with you. No problem. You can make your own custom planner.
From the cover design that most inspires you to the exact pages inside you need, you can choose and print a paper teacher planner and put it in a light, plastic, or card stock binder in the order you find useful.
Having your planner in a binder is a big advantage to a spiral-bound planner because as you accumulate important papers throughout the school year, you can just punch holes and keep them neatly in your binder.
Tips For Creating A DIY Planner
Start with a 3-ring binder that is about 1.5 inches thick. It will allow you to add pages as needed and, more importantly, remove pages you don't need. This will keep your planner at a reasonable weight for carrying in your bag. You can buy card stock tab pages.
Put a clear envelope in the front where you can slip your preferred artwork cover with your name printed on it.
You can also use a coil binding machine if you prefer a book that opens flat. This can be done at most office supply stores.
Print the pages you want and insert them in the binder. You can add pages and section titles as the school year progresses.
If you select the pages you want while you are still at the office supply store, you can save on ink by having them printed on the spot.
You can keep your planner even thinner if you only keep a month at a time and use brad paper fasteners.
I recommend you read this article for more details.
Some Common DIY Considerations
Calendars: Weekly, monthly, and yearly calendars are all useful but you may want different sizes and locations for the different calendars. For example, a full week on two pages as with ready-made planners may not be enough space for your lesson plans and you want just two days on a page.
Layout: Do you want your plans to be vertical on the page or horizontal across two pages?
Template: Do you only need enough space to write your lesson plans or do you need a template that is specifically for lesson plans?
Grading: Do you need to keep track of students' grades or does your school have a required format for that? If so, there is no need to have a grading page in your planner
Seating Chart: It's good to have a map of your classroom especially if you have flexible seating. A piece of graph paper is usually enough for this.
Blank Pages: These can be inserted wherever you need them and not just relegated to the back.
Final Thoughts
The best advice I ever got was to have a customized, whether paper or digital, teacher planner and not depend on the ones that are aimed at the general public. Some of the above ready-made planners above are great, I admit, especially if you are a beginner, but a customized planner is a way to go in the future.
Having said all that, my favorite pick comes to mind; the Excello Global Deluxe Teacher Planner because it totally spells out all the features I need, as mentioned.
So, what's yours?
My Top Pick
Undated
Color-coded stickers
Durable
Best For: This undated planner is good for any teacher, but especially elementary school teachers.
The Excello was specifically designed for teachers. It has special pages designated for schedules, communication logs, student lists, seating charts and grids, grade and attendance pages, and weekly, monthly, and yearly overall plans. The cover comes in five attractive designs and is made from laminated cardboard. Included are five sticker sheets, a bookmark, and a pocket folder. It has nine tab sections.
Last Updated on July 25, 2022 by Emily