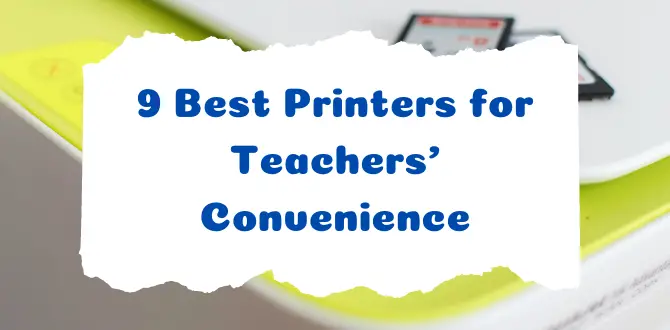 Whether you're teaching your students in the classroom or virtually through distance learning, there's no denying the benefits associated with printed materials.
And that's because…
Print materials are easy to reproduce to make sure each student has a copy. They are also inexpensive compared to many other resources you might use in a classroom or for distance learning. They also offer flexibility for teachers.
I'd love to share my picks for the best color printers with you. One of these models can help you prepare printed materials to use with your students for in-classroom or distance learning.
As I narrowed down my final list, I finally came up with 9 printers for teachers' convenience! Among all of them, the HP OfficeJet 250 made it to the top of my list and is definitely my favorite! You'll soon find out why.
And here are the 9 best models that I talked about at the beginning.
Product
Details

1. HP OfficeJet 250

Premium Features

All-In-One
Works With Alexa
Compact
Portable
Wireless Tech
Quiet Operation

Check Current Price

2. Brother HL-L2315DW

Easy-Setup

Monochrome
Good Quality Print
Auto Duplex
Easy To Use
Wireless/USB

Check Current Price

3. Color imageCLASS MF644Cdw

Fast Print

All-In-One
Auto Duplex
Touchscreen Panel
Cost Efficient
Wireless

Check Current Price

4. HP OfficeJet Pro 9015

Voice-Activated

All-In-One
Remote Printing
Cloud Print Enabled
2-Sided Feeder

Check Current Price

5. Epson EcoTank ET-2760

Cartridge-Free

All-In-One
Ehternet/USB
Affordable
Auto Duplex
Only 10.5 Pages/Min

Check Current Price
Top 9 Best Printers For Teachers – Reviewed
If you're looking for a portable option, you really can't beat this all-in-one model from HP. The OfficeJet 250 is compact enough to put in your school bag to bring back and forth between your classroom and home to allow you to get your printing done wherever it is most convenient.
All you'll need to do is wirelessly connect to the printer using the HP Auto Wireless Connect or Bluetooth, and it will be ready to print.
This model offers a 10-page document feeder. This is one of the few downsides of this color model since many of the other products on the list can hold up to a full ream of paper.
In addition to working as a printer to help you prepare materials for your student, this is also a copier and a scanner. So, you can duplicate pages to use with multiple students or scan documents to add to your virtual or in-classroom lessons.
Pros
This model offers portability with its compact design and rechargeable battery.
You can wirelessly connect to the device using Bluetooth or the HP Auto Wireless Connect.
The pick also scans and copies documents.
Cons
Document feeder only holds 10 pages.
If you'd like to learn more about all of the features offered by OfficeJet 250, I found this video very informative!
---
My next pick is this Brother Laser Printer. As a laser model, it offers a faster print speed than the inkjet models on my list and can print up to 36 pages per minute.
The fast printing speed coupled with the 250-sheet capacity paper tray makes this a highly efficient option for printing numerous copies at the same time. The large capacity paper tray is definitely a selling point over the HP Office Jet 250 I reviewed above.
In addition to copying, you can also use the flatbed scan glass to make copies or scan documents. This model is also compatible with mobile devices for copying and scanning. You're even able to print and scan to different online Cloud services.
Pros
You can wirelessly print items, print from the cloud, or print from your smart devices.
It can print up to 36 pages per minute.
The paper tray holds 250 sheets of paper to increase productivity.
Cons
The touchscreen is smaller than some other laser products.
Check out this video of the Brother Laser Printer to learn more about how this color laser model could simplify your prep time!
---
Print, scan, copy, and fax with the Canon Color Image Class Laser Printer. This model can print up to 22 pages per minute, making it fast, but not quite as fast as the Brother model I reviewed above. However, it is also ready to start printing nearly right away, and after sending a document to the device it can begin printing in as little as 10.3 seconds.
This Canon Laser model offers a larger 5-inch color touchscreen, giving it an edge over the Brother in this category.
The printer uses a high-capacity all-in-one cartridge to help you reduce your overall costs. It also only stores documents in the short-term memory as a security measure if you use it to print anything confidential.
I also really like that this model offers a Wi-Fi direct hotspot; you can connect a mobile device to it without needing an external router!
Pros
Offers 2-sided printing.
Prints up to 22 pages per minute.
Has a Wi-Fi direct hotspot to easily connect mobile devices without using an external router.
Cons
This is a more expensive model than some other options.
If you're thinking this may be the perfect pick for you and your classroom needs, watch this video to learn about the many other features the Canon Color Image Class model offers.
---
The HP OfficeJet Pro is designed to be a space-saving and time-saving model. It features a compact design that is 37% smaller than its predecessor from HP, so it won't take up much space on your desk.
This pick can also print up to 22 pages per minute. It has a 35-page document and a 250-page input paper tray to help you complete your tasks without constantly stopping to refill the paper.
You can connect to this device for remote printing with a smartphone using the HP Smart app. The app also allows you to monitor the ink levels and even scan, copy, and print when you're away from your desk.
Another feature that I really liked about this model is that you can scan your files to create searchable documents; I can see a lot of ways this could come in handy when organizing student work and assignments.
Pros
This model offers voice-activated printing.
You can print up to 22 pages per minute.
It is compatible with the HP Smart app, which allows you to print remotely and check on the device's ink levels.
Cons
Since the LCD screen is small, you may find it a bit hard to use than some other models.
Want to learn more? Watch this video that highlights the features of the HP OfficeJet Pro.
---
Tired of dealing with cartridges? Take a look at the Eco Tank Wireless Printer. Unlike the other inkjet options on my list, this color model uses large-capacity refillable ink tanks instead of expensive cartridges that never seem to last long enough.
You'll easily save a ton of money by not having to purchase as much replacement ink.
This pick also features a high-resolution flatbed scanner for copying and scanning and auto-duplex printing. You can even print using voice commands thanks to voice-activated printing.
While this model offers a lot of really cool features, one downside is that it only prints up to 10.5 pages per minute, making it slower than many other options.
Pros
The Eco-Tank, cartridge-free, design can save you a lot of money on replacement ink purchases.
The ink tanks in the box can last for up to 2 years.
This model includes a high-resolution flatbed scanner for scanning and copying.
Cons
It only prints up to 10.5 pages per minute.
Watch this short video to learn more about Eco-Tank and decide if it is right for you!
---
I also like this HP 3830 Wireless model. It allows for copying, scanning, printing, and faxing. You can even use the AirPrint feature to print from your smart devices. Plus, with the HP Smart app, you can scan using your smartphone, print from the cloud, or order ink when your supply is low.
While this is an inkjet model, it allows for laser-quality images, similar to the Brother and Cannon laser options I reviewed above.
If your students are working, and you don't want to disrupt them, use the optional quiet mode to reduce the noise made while printing. This is also a more compact model, so it will take a lot less space on your desk than a laser model.
Pros
You can turn on the quiet mode to reduce the noise.
With the automatic wireless connection, setup takes no time at all.
The HP Smart app allows for printing from smart devices, ordering of ink, and scanning from mobile devices.
Cons
Does not offer scan to email as some other models do.
If you purchase the HP 3830 model, be sure to check out this video that goes over how to unbox and set up this product; it will definitely simplify the process for you!
---
The HP 2622 is another great option to consider. This all-in-one model allows for printing, copying, and scanning to help you fulfill a wide array of your duties as a teacher.
However, unlike the OfficeJet 3830 above, it does not allow for faxing, so if that is a feature you'd like, this may not be the best choice for you.
This device is also compatible with the HP Smart app. With the app, you can easily print from your smartphone, including your social media accounts and camera roll, scan from smartphones and tablets, and monitor ink levels, and order replacements.
One of the things I like about this model compared with some of the other products I reviewed, is that it is very compact. I don't know about you, but my desk is always full, so finding a device with a small footprint was one of my priorities.
Pros
This model offers a compact design to save space on your desk.
You can print, scan, and copy using it.
The HP Smart app allows you to monitor ink levels and order replacements so you never run out.
Cons
Unlike many other all-in-ones, this model does not allow you to send or receive faxes.
This short video walks through unboxing the HP 2622 and shares more about some of the features it offers.
---
Another product that made my list one of the top options is the HP Pro 8025. This is HP's upgraded version of the older Pro 6968 model that offers faster printing speeds of up to 20 pages per minute and a space-saving design that is 14% smaller than the original model.
With this device, you can print, make copies, scan documents, and sent/receive faxes.
The self-healing Wi-Fi helps ensure that the connection between the device and your computer remains intact to prevent the frustration of having to reconnect your devices when you need to print something. This model also comes equipped with security measures such as password protection, encryption, and protection of your documents.
It offers a 35-page document feeder and a 225-sheet input tray that is just a bit smaller than the HP OfficeJet Pro 9015 and Brother Monochrome Laser Printer's 250-sheet capacity.
Pros
With the self-healing Wi-Fi, you won't need to worry about the connection between your computer and the printer being dropped.
It has a 225-sheet input tray.
The compact design won't take up as much space in your classroom or work area.
Cons
Compared to other models, this color model takes longer to set up.
Interested in learning more about this top contender? Watch this useful video review of the HP Pro 8025 's features and benefits.
---
Last, but definitely not least, you'll want to consider the EcoTank ET-2750. Like the Epson ET-2760 I reviewed earlier, this model also offers Epson EcoTank's design to help you save on the cost of ink.
In addition to helping you save money on the cost of ink, this model also allows for wireless printing. You can print from your smartphones, tablets, and other mobile devices to help you get the most out of your purchase.
The product offers an LCD screen for using the copying and scanning features.
However, be warned, that the LCD screen is pretty small, and definitely nowhere near as easy to use or read as the large 5-inch screen on the Canon Color Image Class Laser Printer.
One of the best things about this color model is that it prints very quickly. It can print up to 33 pages each minute, making it one of the fastest options on my list!
Pros
You can save up to 90% on ink costs thanks to the special EcoTank feature.
This pick can print up to 33 pages per minute.
Wireless printing from your smartphone or tablet is possible with this model.
Cons
The LCD screen is smaller and not as easy to use as some other models.
I think you'll like this option too! Take a look at this unboxing and setup video that highlights more of the top features offered by the EcoTank ET-2750 model.
---
How You Can Use Printers In The Classroom
I honestly can't imagine teaching without access to a printer in my classroom. I use mine every day for so many different tasks.
Creating your own worksheets and assignment to match your curriculum for students can be easy with your computer or laptop and a word processing program, but you'll need a reliable printer to get those materials printed and ready for use.
Some models also work as a copier to allow you to duplicate the materials you'll need. Additionally, many offer scanning functions to let you upload your printed materials onto the slides you'll share during virtual instruction.
If you're unsure about the logistics and benefits of using printed materials with distance learning, consider the experts' thoughts on how these resources can benefit students. Also, keep in mind that printing your worksheets and resources in color, rather than in black and white, could have a positive impact on your students' attitudes towards learning, so choosing a quality color printer is important.
Printing classroom worksheets and assignments are probably the tasks that give my model the most use. I find it so convenient to make up a quick practice worksheet for my students and print it out to be ready to give them.
Another way I use my printer regularly is to print out newsletters and other notes for parents. I find that having the device in my room keeps me better about staying on top of this essential parent-teacher communication.
Printing out lessons to use with my students has also been really helpful. If you use the ESL library too, the video below is super helpful in describing how you can print out the lessons on the site to share with your students.
I've found some real gems on this site that have been great for my English language learners and being able to print them out for use has made teaching that much easier!
Here are some other ways you might find to use your model in your classroom:
Print homework or extra practice for your students
Create grade sheets to help you monitor student progress
Print images to use as visuals for ESL learners
Print historical images or documents to share during social studies lessons
Print large color diagrams for science lessons
If your students have laptops or other devices, and you'd like to allow them to print to your computer, you may be worried about the logistics of getting it all set up as well as monitoring what students print to make sure they aren't printing unnecessarily.
This resource on classroom and library printer management offers some great pointers that can help you.
The HP OfficeJet 250 is my top pick, and I think you'll love it too. This color model is compact and easy to transport, making it a great choice if you need the flexibility to bring your device between home and school or other locations.
It offers a rechargeable battery and Bluetooth and wireless connectivity, so you'll even be able to print without needing to be near an outlet.
You can also use this color option for copying and scanning, making it an even more versatile option to consider.
Other Essentials For Online Teaching
Cartridges and photo paper are a few other essentials you'll want to pick up if you're looking for the best printer for teachers. Check out some of my top picks for these two categories below.
Cartridges
Purchasing a printer to help you with online teaching (or in-person teaching), won't do you much good if you don't have ink for printing.
While most models will come with some ink, many will only include lower-capacity cartridges that likely won't last very long, especially if you're printing for your whole class.
When shopping for ink cartridges, you'll need to know the model number of the printer you purchase as cartridges are designed to fit with specific models.
I've found that choosing the cartridges from the manufacturer, as opposed to off-brand options, is the best choice. They just seem to last longer and provide the best printing quality.
This XL cartridge allows you to print up to 600 pages (2x as many as a standard cartridge). It is compatible with HP OfficeJet 200, 250, 258, 5740, 5741, 5742, 5743, 5744, 5745, 5746, and 8040. It is also compatible with HP ENVY 5540, 5541, 5542, 5543, 5544, 5545, 5547, 5548, 5549, 5640, 5642, 5643, 5644, 5660, 5661, 5663, 5664, 5665, 7640, 7643, 7644, 7645.
---
The PG-245 is compatible with Canon iP2820, MG2420, MG2924, MG2920, MX492, MG3020, MG2525, TS3120, TS302, TS202, TR4520, this cartridge features a day-based ink to produce clear printed pages.
---
This Tri-Color cartridge offers cyan, magenta, and yellow ink for many HP Printers. It yields about 165 printed color pages. Use it with HP OfficeJet models 200, 250, 258, 5740, 5741, 5742, 5743, 5744, 5745, 5746, 8040 and HP ENVY models 5540, 5541, 5542, 5543, 5544, 5545, 5547, 5548, 5549, 5640, 5642, 5643, 5644, 5660, 5661, 5663, 5664, 5665, 7640, 7643, 7644, 7645.
---
This HP 65 black ink cartridge will allow you to print about 120 pages. It is compatible with HP DeskJet models 2622, 2625, 2635, 2636, 2652, 2655, 3720, 3722, 3752, 3755, 3758, 5025, 5055, HP ENVY models 5010, 5012, 5020, 5052, 5030, 5032, 5034, 5055, and HP AMP models 100, 105, 120, 125, 130.
---
This Black HP 934XL cartridge works with HP OfficeJet models 6812 and 6815 and HP OfficeJet Pro models 6230, 6830, and 6835. It can yield about 1,000 printed pages.
---
Photo And Printer Paper
Paper is another essential you'll want to have on hand. After all, without paper, what will you be printing on? I recommend purchasing a few reams of good-quality printing and copying paper, such as HP's BrightWhite 24 LB 500-sheet ream.
I feel like there is a definite difference in quality between different types of copying and printing paper, and I love how text and images stand out clearly against this bright white paper.
I'd also recommend picking up some photo paper. Whether you want to be able to print out photographs of your students for a classroom bulletin board or higher-quality images for a science lesson, there will surely be times when you're glad you have photo paper ready and waiting in your desk drawer.
The Photo Paper Plus is perfect for printing photos for use with your lessons. Photos will look clear and vivid. The pack includes 50 sheets of paper.
---
BrightWhite is sourced from renewable resources and optimized for use with HP models. It also features Colorlok technology to offer vivid colors and fast drying times.
---
How To Choose A Great Printer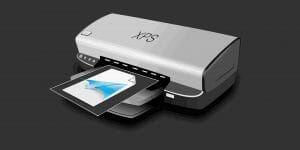 What things do you need to consider before buying a model for your work? Below I've listed some FAQs that may be useful for you

Do I need a printer with a copier and a scanner?
While copying and scanning won't impact the printing capabilities, they can also be a huge asset for teachers. If you just need to make a few copies, having a copier in your room can save you from having to get in line for the school copier.
It can also be a lifesaver if the school copier isn't working one day; this way you'll still be able to make sure you have the materials you'll need for your students.
How many pages per minute should a printer be able to print?
Printers vary in how quickly they can print documents. To find one with a print speed that meets your needs, consider how you'll be using your device and the types of documents you'll want to print.
Many picks on this list can print 20 pages or more of black and white text/images per minute, which should allow you to print a class set of material in a pinch in just a few moments for your class. Keep in mind that the color printing speed is generally slower than the black and white speed.
What types of paper can a printer hold?
Different models can hold different types of papers. Most all models should be able to hold standard letter and legal-size sheets of paper, but if you want to be able to print on special paper sizes, photo paper, or envelopes, you'll want to look at the product specifications for each device you're considering.
Also check for the weight of paper a device can handle. If you want to be able to print on cardstock, for example, you'll want to confirm that the device you're looking at is compatible with cardstock.
Is Wi-Fi connectivity important?
Yes, Wi-Fi connectivity is an important feature to look for. Models that offer Wi-Fi connectivity make it possible to print from any of the devices that are connected to the Wi-Fi.
This means if you're scrolling through Pinterest on your phone and find a worksheet you'd like to try with your students you won't need to save it and log on to your computer to be able to print it out.
What other features should I look for?
There are a few other features to consider before purchasing a printer. These include:
whether the printer can print two-sided pages,
if it has a document feeder,
the capacity of the input and output trays,
and the size of the touchscreen/how easy it is to use.
You will also want to pay attention to the ink cartridges and about how many pages you can print before you'll need to replace them.
Take a look at the cost of purchasing new ink cartridges for each model you're considering and make sure the cost to do so won't be prohibitive.
Some printers offer extra-large capacity ink tanks and other manufacturers offer subscription programs that can help you reduce the amount you'll spend on purchasing ink.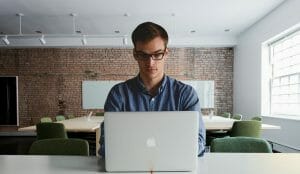 Useful Resources
Final Thoughts
Every teacher should have a reliable printer to help them print the various materials they create to use with their students. Many models also offer copying and scanning functions which are also incredibly useful for teachers.
I think any of the devices I shared above would make a nice addition to a home office or a classroom; they'll help you maximize your productivity as you tackle the many items you're responsible for as a teacher.
But as I mentioned earlier, the HP OfficeJet 250 is my personal favorite; and I'm sure you already know why, by now.

My Top Pick
Goodies I Found
Compact and easy to transport
Wireless and Bluetooth connectivity
Rechargeable battery
Fast, 90-minute recharging
Allows for copying, scanning, and printing
Color touch screen
Best for: Teachers looking for portable printing options since this model is compact and features a rechargeable battery.
Last Updated on August 13, 2021 by Emily