Imagine your students' eyes lighting up as they watch a three-dimensional model of a lung or brain literally print before their eyes. 3-D printers can help bring this sense of wonder and amazement to every teacher's classroom. With these next-generation devices you are limited only by your own imagination and creativity. Thousands of patterns already exist that will enable you to print human anatomy, animal models, chemical compound representations, and other interactive learning tools. You can also develop and program your own patterns in the event that the instructional aid you need does not currently exist.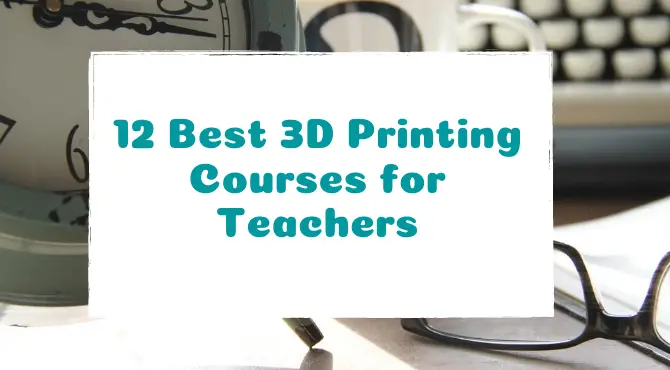 You're probably wondering whether it is really worth it to invest in another tool for your classroom. Teachers spend so much of their own time and money outfitting their classroom, and a 3D printer will be yet another investment. If you decide to make this investment, you'll quickly come to realize it was money well spent.
Adding a 3D printer to your classroom will help engage your students in the learning process.
You can have students design their own projects to be printed with the 3D printer, and they'll be excited to see their designs come to life. When students are more engaged and active in the learning process, it is only natural that they will be learning and retaining more of the information they learn, setting them up for future success.
With 3D printers, students can explore their interests and may discover a future career path they want to pursue. They may discover a love of design or decide they want to take the additional steps that are needed to bring their 3D projects to life and make them fully functional and usable.
If you are interested in sharing the benefits of a 3D printer with your students, you'll find a variety of courses that can help you learn more about these powerful tools, how they can help you in the classroom, and other useful information that you can pass on to your students. We've compiled a list of 12 3D printing courses for teachers to help you decide which course(s) is right for you.
Best 3D Printing Courses for Teachers
1. The 3D Printing Revolution (Coursera) →
2. 3D Printing Applications (Coursera) →
3. 3D Printing from Zero to Hero in Blender — 3D Design (Udemy) →
4. Getting Started with 3D Printing (Udemy) →
5. 3D Printing & Modeling Household Parts (Lynda) →
6. Learning 3D Printing (Lynda) →
7. Additive Manufacturing: Materials for 3D Printing (Lynda) →
8. Foundations of 3D Printing (CSU Online) →
9. Master of Engineering in Additive Manufacturing and Design (PennState World Campus Online) →
10. Additive Manufacturing Track (The Ohio State University) →
11. Additive Manufacturing: From 3D Printing to the Factory Floor (MIT Professional Education) →
12. The MakerBot 3D Printing Certification Program (MakerBot) →

Online Courses
Online courses will help you gain new knowledge without leaving your home. This is very convenient as it saves time and gives you a professional development certificate simultaneously.
Price: $59 
Duration: 2 weeks
This course is a great option for those who are new to 3D printing. It provides learners with an overview of 3D printers, how they work, and the different ways they can be used. By the end of the course, you'll have a deeper understanding of not only 3D printing but how the technology can be put to use to make deep changes in our ecosystem. As an online-only course, the instruction is comprised of a mixture of video lectures, hands-on learning, and interviews with experts in the 3D printing field.
You will learn:
What 3D printing is
How a 3D printer works
Different types of objects that can be made with a 3D printer
How to create your own designs for a 3D printer
The potential 3D printing has to change our economy and business as we know it
Best for: Beginners who are looking to gain a deeper understanding of what 3D printing is and how it can be used and applied in the classroom.

Price: $79
Duration: 4 weeks
This online course is designed to help learners understand the various business applications of 3D printing including design, retail, self-assembly, and customization. Information is also included about the potential 3D printing holds for helping people find and create their own solutions to a number of problems. It is offered to provide students the opportunity to build on the information shared in Coursera's "The 3D Printing Revolution" online course. This course offers flexibility to accommodate different schedules; learners will have the ability to modify deadlines based on their time constraints.
You will learn:
How business and individuals can turn their design ideas into 3D printed objects
The ways 3D printing can be applied for customizing different product options
Intellectual property issues related to 3D printing
The promise 3D printing holds to revolutionize education
How 3D printing can be used in the future to provide resources to developing countries
Best for: individuals who are looking to deepen their understanding of 3D printing and learn more about the different applications and potential benefits of 3D printing.


Price: $134.99
Duration: 3 hours and 44 minutes
Intended to provide students with hands-on learning with practical applications, this course highlights the different steps needed for designing 3D models and turning them into printed products. It provides instruction around using the 3D printing program, Blender, which allows users to create models for 3D printed items. After completing the course, students should feel comfortable using Blender to design a variety of items including artwork, 3D games, 3D architectural models, and more.
You will learn:
How to use Blender to create 3D models
How to use Blender to create artwork
How to identify and fix flaws in a 3D design
How to export the 3D models you create into Shapeways for printing in 3D
How to move from the design process to a 3D printed object
Best for: Design students or other individuals with an interest in 3D printing and its applications.


Price: $49.99
Duration: 44 minutes
This short and focused course is designed to provide attendees with an overview of 3D printing and CAD (computer aided drafting models). A large portion of the instruction will center around OpenSCAD basics including creating, connecting, combining, and rotating shapes. You'll learn how to design your own product prototypes and how you can use 3D printing to make functional objects for use around the house or at work. Instruction is broken down into nine different lectures across four sections.
You will learn:
How to make your own prototypes for product ideas using 3D printing
How to design and print objects to fulfill a need at home or the office
How to use OpenSCAD to create and connect shapes
How to use OpenSCAD to move, combine, mirror, and rotate shapes
Best for: Anyone interested in learning more about 3D printing and how to use 3D CAD models.

Price: $29.99/month (includes access to all of Lynda's expert-led courses)
Duration: 31 minutes
This course is designed for intermediate learners who have some prior knowledge of 3D printers and how to use them to create and print various designs and models. The course focuses on teaching learners how to design and print their own replacement parts for household objects. You'll learn how to use SketchUp to create and print prototypes of the parts you need for your items. Attention is also given to using Shapeways to print your designs in industrial-grade materials, such as metal.
You will learn:
How to print your own replacement parts
How to create models of your parts using SketchUp
How to verify that the part you design will fit the object it is intended for
How to install your 3D printed parts into their objects
How to use Shapeways to take your designs and print them in metal or other industrial materials
Best for: Individuals with some knowledge of 3D printing who would like to find practical ways to use 3D printing to solve common problems

Price: $29.99/month (includes access to all of Lynda's expert-led courses)
Duration: 1 hour and 16 minutes
This course will walk you through all the essential elements of creating your own 3D printed products. Whether you're new to the world of 3D printing or already have some experience, you'll benefit from the information shared through this course. Some of the topics addressed include selecting the right 3D printer to meet your needs, how to use 3D modeling, scanning, and other design tools, and how to make modifications and repairs to your designs.
You will learn:
What 3D printing is
Different applications for 3D printing
What the different 3D printing technologies are
How to create 3D models
How to repair 3D files
How to export your 3D design files
Best for: intermediate or novice students who want to learn more about 3D printing and how to create their own designs for printing.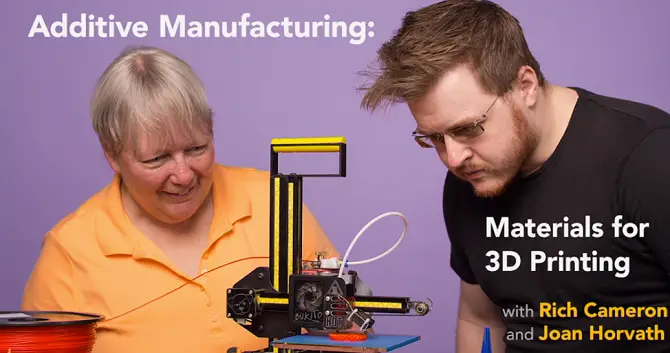 Price: $29.99/month (includes access to all of Lynda's expert-led courses)
Duration: 1 hour and 22 minutes
Instruction in this course focuses on how to select the ideal materials to use for printing a 3D design. The instructors will walk you through the different materials that can be used for 3D printing and which materials are best for different project types. You'll also learn how to evaluate different elements of design, including strength, color, and surface finish, to help you determine which material to use for printing.
You will learn:
How to choose appropriate materials for 3D printing
Making designs for use with both resin printing and filament printing
Information about using nylon, metal powders, and other industrial 3D printing materials
How to optimize the turnaround time for your 3D printing projects
3D printing applications in short-run manufacturing
Best for: Students who already have an understanding of 3D printers and designs who would like to learn more about how to determine the ideal material to use for different design types or printing methods.

University Online Courses in 3D Printing
Many colleges and universities also offer courses in 3D printing. These course options will likely require more time on your part, but will also provide you with college credits and the opportunity to take a deeper dive into 3D printing. Some of the courses outlined below are part of a degree program related to additive manufacturing and 3D printing. These would be a great option to consider if you are looking to add even more knowledge and experience to your arsenal.

Price: Basic Principles I: $165, Basic Principles II: $165, Additive Processing I: $185, Additive Processing II: $185, Mastery Bundle: $650
Duration: 1 week per course badge (Quest Badge), 4 weeks to complete all four courses (Mastery Badge)
Colorado State University offers this Badge Program on 3D printing. The program is comprised of four courses (Basic Principles I, Basic Principles II, Additive Processing I, and Additive Processing II) that can be completed individually or all together through the Mastery Badge option. Completing all four courses in the program will help you learn more about 3D printing and how you can use it to transform your design ideas into reality. Upon completion of each course in the program, you'll be awarded a digital badge which you can add to resumes, portfolios, social media profiles, and other documents to showcase the learning you have completed.
You will learn:
Different types of 3D printing technology
What you need to do before completing a 3D printing task
Pros and cons of the different 3D printing methods
How to use the various software programs and tools necessary to complete a 3D printing task
Various applications for 3D printing and the promise it holds for technological and economic advancements
Best for: Individuals in a variety of professions, including education, engineering, and art, who are looking to integrate 3D printing into a business endeavor or use it in a classroom.

Price: $1,121/credit hour
Duration: 30 credit hours
PennState World Campus offers this online program for individuals seeking a Master of Engineering and Additive Manufacturing and Design degree. This 30-credit program is designed to help you obtain knowledge about 3D printing and enhance your problem-solving, creativity, and critical thinking skills as they relate to creating prototypes and printed objects. Since this program follows a 100% online format, you'll be provided with the flexibility to work around your schedule and current career.
You will learn:
The additive manufacturing processes
Engineering principles of additive manufacturing
Creating designs for 3D printing
Manufacturing 3D designs with metallic materials
Hands-on skills/experiences related to additive manufacturing
Best for: Individuals with a bachelor's degree in engineering or other related technical fields who already have experience using 3D printing hardware and software. The program is designed for people who are currently employed but are looking to advance their careers and add new skills related to 3D printing/additive manufacturing and design.

Price: $13,004 ($1,067/credit plus $200 fee per semester)
Duration: 12 credit hours
The Ohio State University's Additive Manufacturing track is offered through the Department of Materials Science and Engineering. There are five different courses offered in the track, and students can choose to take four of these courses. The five courses offered are: Welding 7027 Introduction to Additive Manufacturing, MATSCEN 5193.02 Additive Manufacturing for Bio-Medical Devices, ME 6194 Design for Additive Manufacturing, WELDING 7115 Computational Modeling of Additive Manufacturing, and ME 6194 Science and Engineering Foundations of Additive Manufacturing. Each course is three credit hours.
You will learn:
Various applications and limitation of 3D printing
Additive manufacturing materials for medical research and clinical use
Experimental design related to 3D printing
Systems integration in additive manufacturing
Theories of deformation, phase transformation, and stress-related to welding and additive manufacturing.
Best for: Learners who are looking to pursue a more advanced career-related to additive manufacturing and 3D printing.

Off-line Courses
It is a great idea to visit it if you want to touch the materials and to communicate with other teachers to share your experience

Price: $5,500
Duration: 5 days
This course, from MIT is offered as part of their Certificate Program in Innovation and Technology and Professional Certificate Program in Design and Manufacturing, but it can also be taken as a stand-alone course by anyone interested. The class is designed to help learners take a deep dive into additive manufacturing (3D printing), how it can be used, and what it may bring to future endeavors. The lectures for this course are very technical, so students should be prepared to cover a lot of information in a short amount of time. Hands-on lab activities are also incorporated into the course where students will have the opportunity to investigate different types of 3D printers.
You will learn:
Information about design tools, scanning, file formats, and other workflow capabilities of additive manufacturing
How additive manufacturing is similar to and different from more conventional manufacturing methods
How to use different types of 3D printers
How to determine whether additive manufacturing is a good fit for a given problem
How 3D printing is being used across different professions and industries
Best for: Engineers, designers, research scientists, product developers, and others who want to learn more about additive manufacturing and its applications.

Price: $99 (Teacher Certification Online Course 1); $800 (Student Certification Program)
Educators who are looking to learn more about 3D printing and become leaders in their field should consider MakerBot's 3D Printing Certification Program. Through this program, teachers can learn new skills that they can share with colleagues and students. MakerBot also offers the Certification Program for Students. This program is designed for students in middle school or high school who would like to build on their skillset and learn more about 3D printing and design. Each of the certification programs include a variety of interactive lessons, quizzes, projects, and exams.
You will learn:
How to operate a 3D printer
How to create designs that will be printed in 3D
Creating curriculum to instruct students on 3D printing
Troubleshooting potential printer problems
How to integrate 3D printing technology into the classroom.
Best for: Educators looking to build on their knowledge and experience with 3D printing and those who would like to teach students 3D printing basics.
Useful Resources
Final Thoughts
A 3D printer can transform the learning experience and make abstract concepts clear and engaging for students. When choosing a 3D printer for the classroom, it is important to choose a model that will be easy to operate for both you and your students, will allow children a clear view of the object being printed, and is within your budget.
The ways you'll be able to use a 3D printer with your students are practically endless. There are some exciting projects and ideas that will help bring learning to life for your students.
If you're looking for other exciting ways to make learning fun and engaging for your students, this article about laminating paper and cards can provide you with some inspiration.
Last Updated on May 13, 2022 by Emily