Our solar system is a fascinating lesson topic. I remember being so awed the first time I learned that there are other planets from a dusty encyclopedia in our house. I spent hours and hours reading that book for a few days.
How about you?
How do you foster this same curiosity about the solar system and the vast unknown in your students? Through creative solar system science projects of course!
Here are 27 solar system projects for kids that curious little minds will love!
1. Solar System Balloon Stamps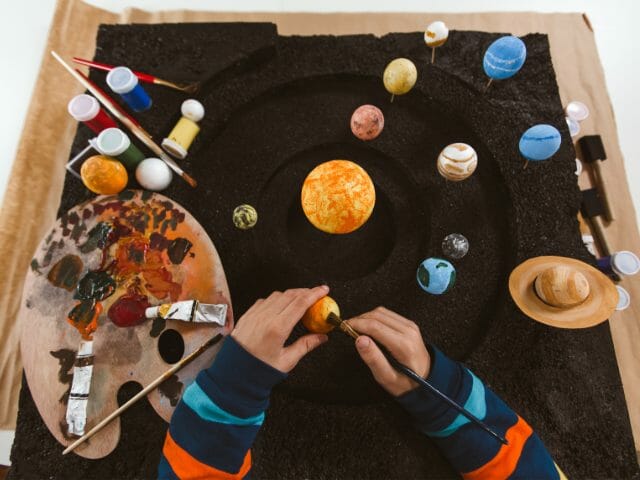 This solar system project is a fun way for children to learn the planets' colors and they'll have a lot of laughs trying to blow up some balloons too.
You'll need black construction paper or cardstock, tempera or poster paint, balloons, paper plates, Q-tips, and old toothbrushes for this craft.
Learn more about this solar system craft here.
2. Create Your Own Solar System Model
This solar system project will stimulate your students' creativity.
They'll need to use their playful minds to create their solar system model using a variety of objects, providing lots of sensory stimulation.
You can use clay or small toy balls for the planets, a big ball for the sun, rocks, or aluminum foil for the asteroid belts. The possibilities are endless for this science project. Show a solar system model picture. Toss all materials in a box and just ask them to get creative as long as the model resembles the solar system model.
Kids learn to get creative and inventive when given lots of freedom.
Learn more about this solar system craft project here.
If you have higher-level students, ask them to accurately depict the planets' sizes in their solar system model through this website.
3. Solar System Sensory Bin
If you have very young students, they're going to love this sensory solar system science project! To create the solar system sensory bin, you'll need dried beans, pompoms, any other round objects to represent the planets, some star-shaped toys, and a large bin.
Design the sensory bins with your students, give them cups and scoops, and let them explore the contents of the bins.
Learn more about this solar system project here.
4. 3D Solar System Ornament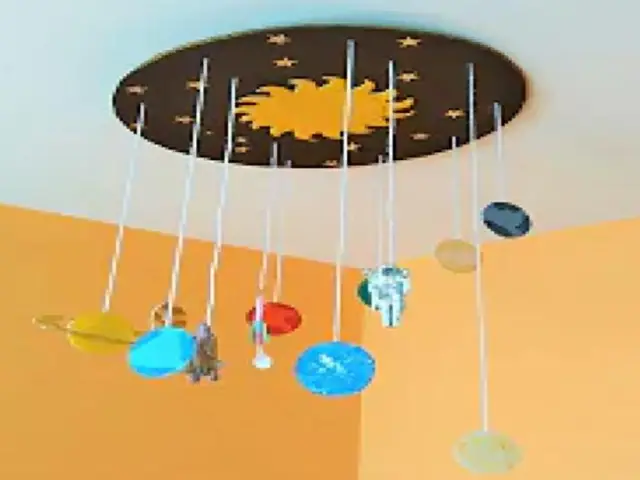 This paper-based solar system craft will also make a pretty classroom ornament!
You'll need craft paper, yarn string, glue, scissors, and a long stick for this project for kids. Explain the features of the planets as you guide the students in crafting them and this will surely be a fun, unforgettable lesson.
Read about this solar system project here.
5. Solar System Planets Dunk
Are you struggling to explain the density and composition of the different solar system planets?
This solar system project will help you explain those using fruits and other food items. By dunking different items in water, kids learn that even huge planets like Saturn can have low density.
Learn more about this fun science project for kids here.
6. How Scientists Study the Solar System
How do scientists know what's inside the different solar system planets? This solar system project for kids ages 10 to 13 will help students investigate the composition of materials they can't see using a variety of tools.
This will mimic how actual scientists conduct planet studies using cameras and other space instruments.
Watch a demo of this activity here:
7. Solar System Mobile
Are you looking for solar system activities that are quick and easy to make and prepare?
This kids' solar system project comes with a free template that students only need to color and then link using paper clips.
This craft will help your students memorize the order of all the planets in the solar system.
Learn more about how to create this beautiful science project here.
8. Cute Solar System Booklet
Young readers and crafters will love this cute solar system project. You'll only need craft paper, glue, and scissors for this science project. How easy is that?
This easy solar system project will teach kids roughly what the planets look like and their distances from the sun.
Simply follow the tutorial here:
9. Solar System Snack Edition
This adorable science snack idea is such a delicious and healthy way of studying our solar system.
To do this solar system project, prepare dark blue paper plates and then ask your students to bring a variety of fruits, veggies, cooked meats, and cheese. Show them a solar system model. Divide them into groups and ask them to recreate the perfect solar system snack using the different foods they've bought.
Get more detailed instructions here.
10. Rocky Solar System Project
This is an active science project for kids that you can do outdoors! Ask students to collect different sizes of rocks in the school garden or a nearby forest or beach.
Show a solar system model as a guide and let the kids have fun painting their rocks into mini planets. Turn this solar system science project into a game by having the kids compete by arranging the planets in their order of distance from the sun.
Check how to create the project here:
11. Solar System Planets Mask
Want to throw a solar system-themed party? Then you'd love this solar system science project from the National Aeronautics and Space Administration (NASA). It comes with free planet printables! This is a hilarious way to learn about all the planets.
You could ask students to master facts about the particular solar system planet mask they are wearing and then talk to others about their similarities and differences with other planets.
Get the printable and the instructions here.
12. Solar System Bingo
Looking for solar system science projects with entertainment value and friendly competition? Then this solar system bingo will do the trick!
You'd need bingo markers (which can be rocks, coins, beads, or pom-pom balls) and some free bingo card printables.
Instead of calling out the names of the planets, describe them instead and ask the students to find the planets that fit the descriptions in their bingo cards.
Download the printables here.
13. Solar System Key Chain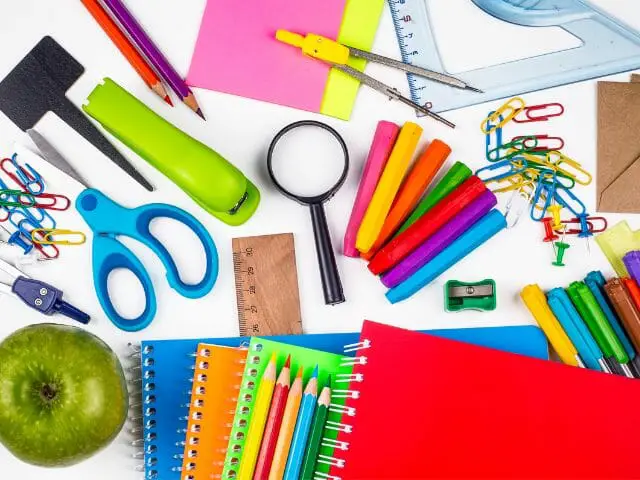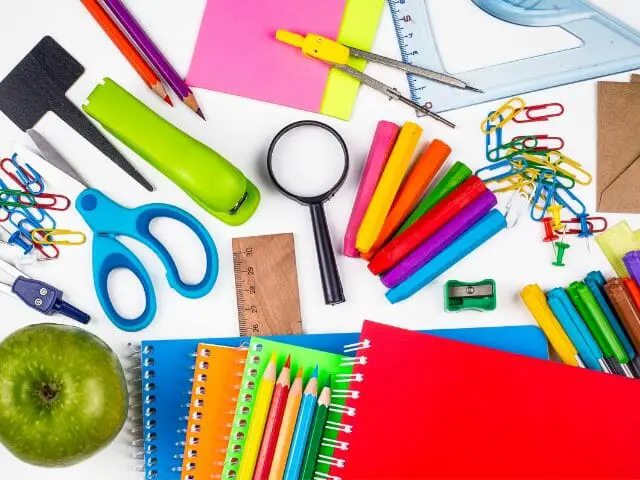 Most solar system project ideas are easily disposable after use and then forgotten, but here's one that kids can use all year round.
For this solar system keychain project, you'd need to download and print the free printable template. Ask your students to decorate them using crayons and then have them write facts about the solar system planets using colored pens on the templates. Ask them to use adhesive tape to make the paper sturdy and waterproof.
Learn more about the craft and download the free printable here.
14. Planets Revolution Craft
If you need solar system projects that will touch on planet rotation and revolution, here's one that's both quick to do and easy to understand.
For this, you'd need to download and print a free printable template that students can cut out and assemble into a solar system model using brad fasteners.
Learn more about this solar system craft here.
15. Solar System Board Game
Here's a fun one that you can add to your list of solar system activities for very young learners. This is an entertaining yet educational way of familiarizing kids with the planets as they learn about colors and shapes.
Download the board game printable and instructions here.
16. Solar System Chandelier
If you have creative learners that need complex and motor skills-stimulating solar system projects, then this project is for them.
Challenge them to use various materials to decorate different solar system planets– beads, strings, sequins, pom-pom balls, glitter, pipe cleaners, etc., to make their chandeliers stand out.
Watch how to create this here:
17. Solar System on a String
This is a great project for kids who love Math. For this, you'll only need a yarn string and 9 beads or buttons.
Help the students to convert the actual planet distances to the sun into your string scale model using the formula on the website. Use the beads to plot the planets on the yarn.
Learn more about how to create it here.
18. Solar System on a Sidewalk
You'll only need chalk for this one, how cool is that? This walkable scale model makes a great group outdoor project for kids.
Simply calculate the scale distances again using the formula on the website. Draw the Sun on the ground and then draw the planets at their scale distances. Make it more challenging by also calculating the planet sizes compared with each other to give the planets drawing the correct diameter.
Learn how to do this solar system project here.`
19. Create a Solar System Chart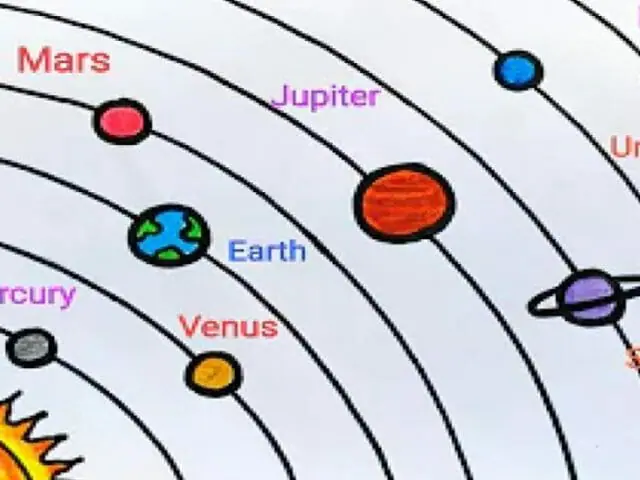 This is a bit complex, but your students will enjoy learning about how long a day lasts on the different planets.
Divide your class into groups and challenge them to create colorful, creative charts on how long one day takes on the different planets using the figures on this website.
20. Solar System Art
If you're asking the universe for inspiration for your art class, here's one literally about the universe.
Using cardstock paper, paint, a spray bottle, and a bunch of crayons, encourage your young artists to express their creativity in creating this solar system-inspired art.
For detailed instructions, visit this link.
21. Solar System Salt Painting
Here's another unique craft to add to your solar system project ideas, painting the solar system using salt! This is a great activity for very young learners. They'll love the mess and the colors while learning about the planets' names.
Learn more about the activity here.
22. Solar System Window Clings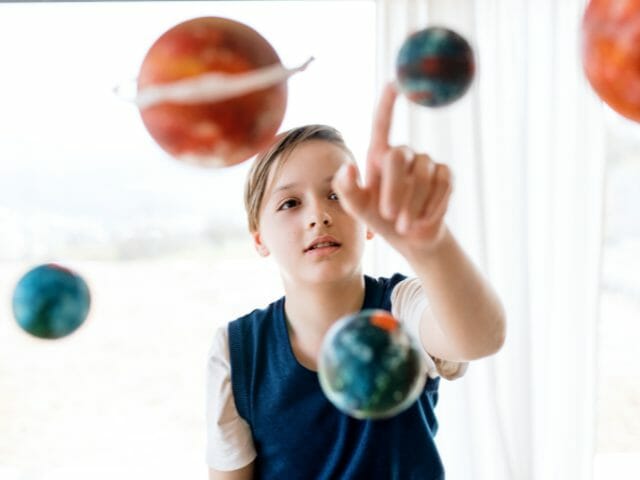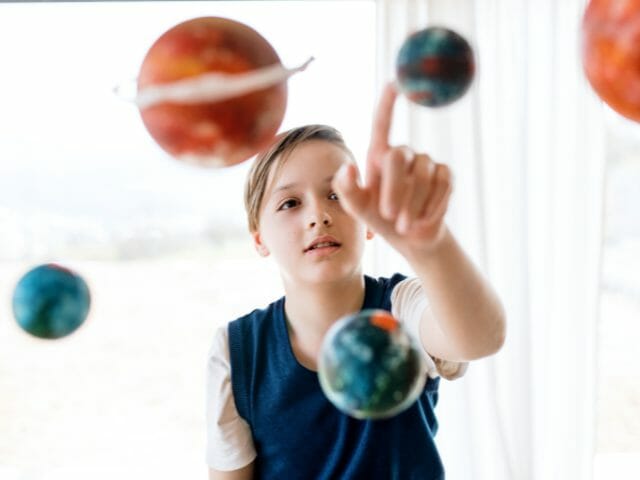 This messy project is great for very young learners too. For this, you'll need some puffy paint, some planet cutouts (you can use the ones from the masks project), and a window.
Let the kids have fun painting over some planet cutouts overlayed with wax paper. Once the paintings dry (this may take a few hours or even overnight), peel them off and stick them to the window glass.
Read more about it here.
23. Paint a Solar System Planet Ornament
Add this to your list of solar system activities to do during the Christmas holidays. Print out the template of an icosahedron (a sphere-like shape with 20 triangular faces) on white cardstock.
Ask students to decorate the shapes using the colors and patterns of their favorite planet. Challenge them to use different art materials (especially shiny ones) to make their planet ornament more festive.
Learn more about the project here.
24. Solar System Hat
Here's another party-themed craft to add to your solar system project ideas. This hat craft adorned with planet cutouts is an enjoyable way for young learners to memorize the planet names and order.
Watch the tutorial of this craft here:
25. Solar System Planets Suncatcher
In this craft, students will make window suncatchers using melted crayons and wax paper. Your students will love the novelty of using a hair blower or flat iron for this craft! Make sure to supervise very young children to prevent burns.
Check out the tutorial of this project for kids here:
26. Solar System Foldout
Here's another fun craft for artsy students. You'll need only black cardstock paper, white paper, scissors, glue, and crayons. Challenge the students further by asking them to deviate from the pattern and create unique designs.
Watch the tutorial here.
27. Cute Pipe Cleaner Solar System Planets
This is a cute solar system craft that kids will enjoy doing. Seriously, the pipe cleaner planets are so adorable, I'm sure your students will never forget their names. You'll need lots of pom-pom balls and pipe cleaners for this activity.
Follow the tutorial here:
Related Questions
Where can I find reliable solar system resources to use alongside the activities?
You can check out NASA's solar system page for free, reliable resources about the planets.
Where can I find actual pictures of the solar system to show my students?
Here's a gallery of actual solar system pictures and videos taken by NASA.
Final Thoughts
As a final tip, while doing these crafts, encourage your students to ask questions about the universe, tickle their young minds with awesome planet trivia, and open their eyes to the endless worlds beyond their home planet.
I hope you and your students will be able to capture the wonder and beauty of our solar system through these creative projects!
Last Updated on July 25, 2022 by Emily