Are your students tired of drab worksheets and boring lectures? Capture the attention of your class with an interactive computer-based learning game called Blooket!
Blooket? 
It's a fantastic online resource for educators.
Capture the attention of your students by hosting an engaging online! Students can choose from a variety of adorable characters, create personalized nicknames, and even earn points all while competing against their classmates and learning the educational subject matter that they select.
Read on to learn how to play and use Blooket in your classroom today!
What Is Blooket?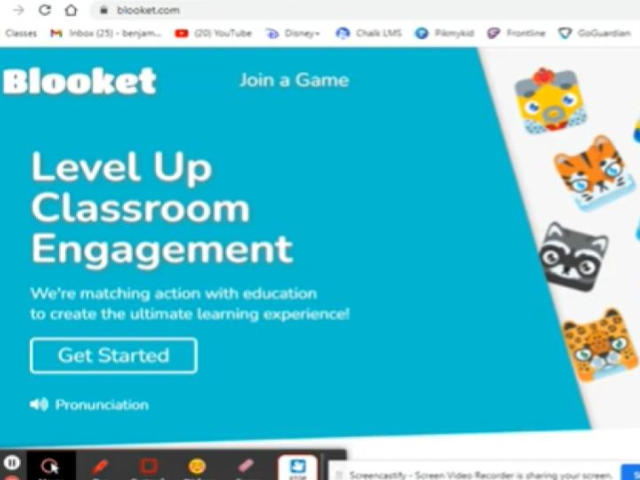 Blooket is a fun and interactive way to engage students in your classroom. If you have internet access and your students have access to a device such as a Chromebook or a tablet, then your class can play!
Blooket is a website that teachers can use to create multiple choice quizzes on topics of their choice for their students.
For instance, if a fourth-grade teacher wants to review weather instruments for an upcoming science test, he or she can create or find a quiz to review the content.
A Blooket game can be used for a fun review or to assess students. Since you can view your students' scores at the end of the quiz, you'll be able to determine how well they understand the content. Use this feedback to guide your future instruction and remediation needs.
How To Use Blooket
Go to the Blooket website and use your Google account or create a new account to get started.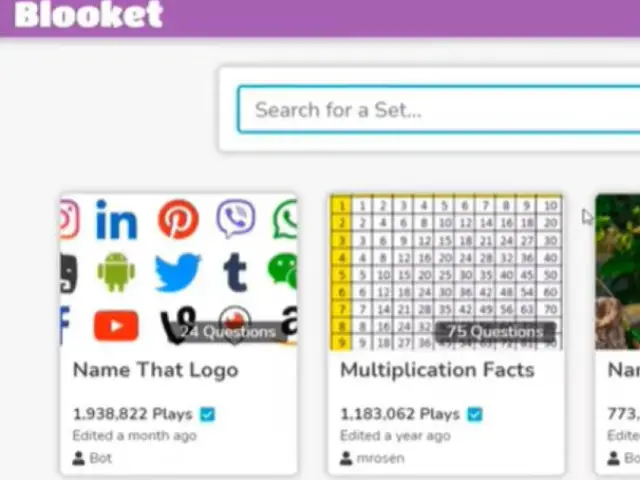 Once you are logged in, you'll be prompted to create or find a set.
This means, you'll be able to design your own material or you can choose from a wide range of content that is already available.
Consider what you want your students to learn about. Are you reviewing previously taught information to prepare for an upcoming test?
Blooket can be used to check for prior knowledge in the form of a pretest before planning new instruction. Once you find out what your students already know and need help with, you can customize your instruction to meet the needs of your class.
Either way, your class will enjoy playing Blooket!
Discover Sets
When you go to Discover Sets, you can search for content that has already been created. In the search bar type anything from fractions to plants or animals to American history- you name it!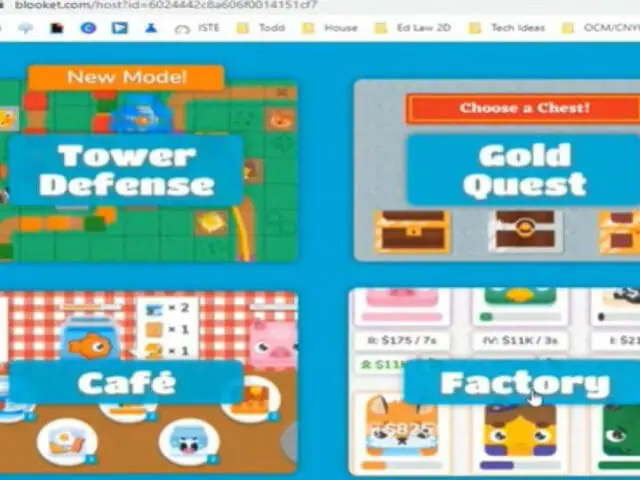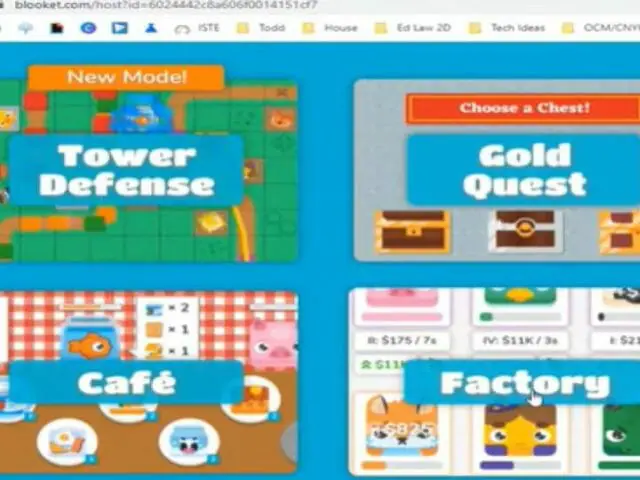 Browse the content already created and look at the grade level, the number of questions, and the date the game was last edited. You can even see how many times the game has been played.
Once you select a topic on Blooket, you can click on Host or Solo. Host allows you to launch games for your students to join.
If you select Solo mode, you can use Blooket individually without a team or other participants.
Game Modes
Now that you have chosen your Blooket topic, you can choose from over 12 game modes.
The game modes offer various themes including:
A Classic game
Fishing Frenzy
Deceptive Dinos
Crypto Hack
Gold Quest
Factory
Battle Royale
Racing
Tower Of Doom
Crazy Kingdom
Blook Rush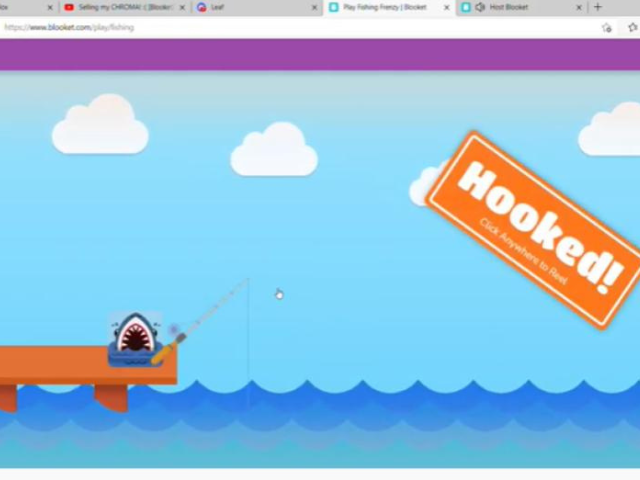 Game Mode Examples
Each game mode offers unique game play making every game of Blooket new and exciting.
For instance, when students answer questions correctly on a Fishing Frenzy game, they are catching fish to earn prizes.
When playing Blooket on the Crypto Hack mode, kids can answer questions and try to secretly hack points from their opponents.
In Deceptive Dinos, players find fossils and answer questions to make sure no one else is trying to cheat.
Players earn gold in the Gold Quest game mode, but they must watch out because their opponents are working to steal gold!
For an added bonus, you can let your students select the game mode, or allow the previous winner of your online games chooses the game mode.
Students use strategy for the Crazy Kingdom trying to meet the needs of hilarious guests by answering questions correctly.
Features
Now, host your fun arcade games online for your class. You can select the number of minutes students have to answer each question, if students can join the game later, and if students are allowed to create custom names.
Most students really enjoy creating fun and unique game names that are displayed visually on the board for the entire class to see.
Using creative names might be an effective classroom management tool that will encourage your students to follow directions. Students will work hard to have the opportunity to select the game mode used for playing.
When you click Host Now the Blooket game begins and a code is displayed. Students will enter that code into their devices to begin the game.
Create Sets
If you prefer to create the content specifically for your own trivia and review games you can create a set from scratch.
Instead of discovering, or searching for sets that have already been created, you can create your own! By creating your own quiz, you can ensure questions and answer choices align with your instructional standards.
Blooket will prompt you to add an image, a title, and a description. For example, if you are creating a quiz on the parts of cells for a High School biology class, you can include an image of a cell diagram.
In the description, you can explain what content is included in the game, and what age group or grade level you recommend for this multiple choice game.
Next, determine if you want your game to be used privately or if you are open to sharing it online publicly. If you select public, other teachers can host games created by you.
Adding Questions
Teachers can manually enter their own questions and answer choices or they can upload them directly from a spreadsheet or Quizlet.
When creating sets on Blooket, you have the power to save games.
Set a time limit for answering questions, and decide how many correct answers are available.
Teachers can add the question and the four multiple-choice answer options including math symbols, images, diagrams, and other visual representations to support their content.
Blooket even allows teachers to add audio or images to answer choices. I think this comes in really handy when preparing content for students who may need additional accommodations or support such as English Language Learners or students with disabilities.
Add and answer questions until you are ready to host your finished quiz on Blooket!
How To Play Blooket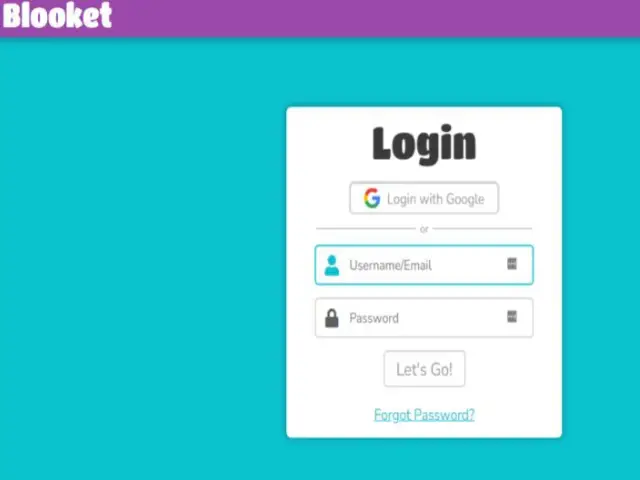 Blooket offers competitive games for students of all ages. You can select different game modes and have your students join on their own devices.
Once you begin a set, Blooket will display a game ID code. Your students will need to enter the unique game ID on their computer to join Blooket games.
One great feature of Blooket is that it is free for teachers to use, and students do not have to create their own accounts to play. You can even assign lessons for students to work on at home or independently.
Blooks
Once students join they can create their own nicknames to use and choose from a wide assortment of critters called Blooks that will serve as their avatar during their classroom games.
The selection of common Blooks is automatically generated for beginning players, but once students start earning Blooket tokens from review games or playing Blooket they can purchase rare Blooks with points they have earned by answering questions correctly.
The Blooks assortment includes many cute characters such as animals like frogs, bears, and rabbits. As students earn money, they can pay to unlock new categories of Blooks that include dinosaurs, outer space, or even breakfast-themed Blooks!
Hosting A Game
Once you find a game mode to use, your students are ready to join your game. All they need is just a code displayed or presented from your Smartboard or View board to play Blooket.
Blooket game settings allow you to play solo games or with a group. Most teachers want to host Blooket games for their class to play using their own devices. This is a fun way to keep students engaged in learning activities that are enjoyable and interactive.
When students join, the game begins and the questions and answer choices are displayed on the student's computer screen. Students select their answers and earn tokens, or Blooket money, for answering questions correctly and quickly.
Blooket is competitive, so students are motivated by their peers. If another student earns points for answering a question correctly, it will be displayed for all to see. Students continue to work independently to answer all the questions until they complete the game or time ends.
Stats
After a group session of Blooket, teachers can view statistics for each game.The enhanced game reports provide information including student participation, points earned, and the total number of questions answered correctly and incorrectly.
Once your class has completed at least one game on Blooket.
You can look at your statistics and view class-wide information such as a history of student scores, tokens earned throughout the gameplay, and how many Blooks were unlocked.
Dashboard
Your Blooket dashboard provides easy access to any sets that you have already created. In addition to your sets, you can view Blooket news and updates, a history of games played, and your favorites.
Utilizing the dashboard feature is helpful because you can also assign homework assignments for your students.
Homework
A neat feature of Blooket is that teachers can create or assign a quiz for students to do later. This option is great for virtual instruction, distance learning, or simply independent practice.
To set up a homework assignment on Blooket, you must select or create a question set. Once you find the test that you want your students to work on, you'll select "Host" and choose one of the following game modes:
Tower Of Doom
Factory
Crazy Kingdom
Tower Defense
Café
Once you click on "Assign Homework" Blooket will generate a link for you to use. You can then copy and paste the link for your students to access on their own in Google Classroom or other online learning platforms.
Plus, students can participate from home without creating an account.
Fun Fact 1: You could introduce this game to students via Zoom. Additionally, you can check my post regarding other interactive games using this platform by going here — 31 Exciting Games to Play On Zoom With Students That Foster Community and Collaboration.
Fun Fact 2: Try to create a balance between online-based games and non-online games. If you sense that your students are spending more time playing with technology, then revert back to the good ol' classroom games like freeze dance or pass the message! Read my post — 30 Brain Breaks For Kids.
Frequently Asked Questions
What is a code for Blooket?
When it comes to hosting a Blooket session each game, whether created or selected from the already created games, will generate a code of several numbers that you can display for the class. Students can enter this code on their devices to make sure they join the correct quiz.
How is Blooket different from Kahoot?
Blooket and Kahoot are similar in terms of infrastructure and usage. The biggest difference that I notice when using Blooket is that students earn Blooket money and they can shop online for new Blooks.
Kahoot also offers an interactive gaming mode with lots of premade quizzes, however, there are not as many themes to choose from. Students are awarded by rank based on scoring, but they do not buy prizes online as they do in Blooket.
What is Blooket?
A Blooket is a type of online-hosted game that has become increasingly popular. Kahoot and Quizlet are well-known interactive gaming platforms that educators use for engaging practice, lesson review, and test preparation.
Blooket is easy to use. Teachers can sign up and create or use quizzes that are created to play a competitive learning game with their class. Students love to play online games, and using Blooket allows them to have fun while learning.
Final Thoughts
Blooket is a surefire way to excite students of all ages. Young or old, students love to play online games and interact with their classmates in friendly competition.
When the fastest correct answer wins, your students will want to see their names displayed on the screen. A group competition game such as Blooket also balances the playing field by allowing each student to read and respond to questions at their own pace.
So toss those boring worksheets out and host a Blooket game in just a few minutes. Your students will thank you!
Last Updated on July 24, 2022 by Emily