English as a Second Language, ESL, represents a group of students who receive additional educational support due to having Limited English Proficiency, LEP.
Also…
Bilingual or multilingual, ESL students are considered ESL when English is not their primary language. Generally speaking, these students are also newcomers to our country and may experience a wide range of cultural challenges in addition to having a language barrier.
There are numerous ways to support English Language Learners, ELLs in the classroom. That includes academic support and environmental, social, and cultural support. It does not necessarily mean bilingual education, but support for their new English-based learning. 
Academic Support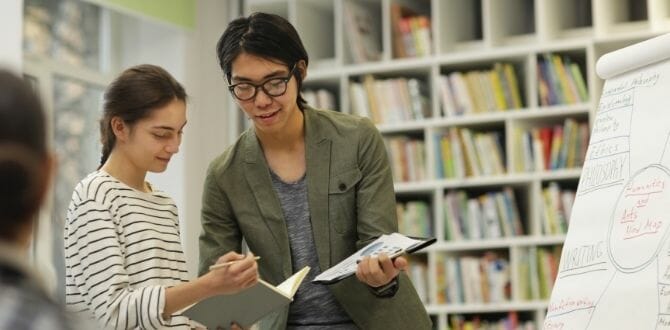 When first considering how to support ESL students in the classroom, it is essential to know as much as possible about the student and their educational background.
Try to find out what language is primarily spoken in the home and whether or not the family is new to the country.
Once you have some basic information about the child and their native language, you will better accommodate their specific needs. For instance, a word-to-word dictionary is helpful if the child can already read and write in their native language. 
Visuals
When working with English Language Learners, educators must implement as many visuals as possible to help demonstrate the skills and content needed for every lesson.
Using diagrams and charts, photographs, and even drawings can make comprehension easier for a student learning a new language.
The internet makes it easy to show images of various items, places, and things quickly throughout instruction.
I am also a massive fan of color-coding when note-taking, presenting new material or categorizing information. Create a key for the English learners to use for reference that shows them what each color represents easily. 
Scaffolding
Educators who know how to help ELL students academically are masters when it comes to scaffolding. Scaffolding is the process of segmenting a learning standard and teaching more minor prerequisite skills to build the foundational knowledge needed to reach a specific target.
For example, if you want a student to write a compound sentence successfully, they must first be able to write a simple sentence. They must also be taught the parts of speech and uses for various conjunctions.
By teaching content in smaller, more manageable portions, students can experience success, gain confidence, and progress towards their educational goals.
Pre-Teaching
Pre-teaching upcoming content, especially vocabulary, is another strategy you can use if you consider how to accommodate ELL students in the classroom.
For instance, if you plan to read a book to the class, it would be helpful to do a picture walk before reading. Stop and discuss the images, have students make predictions about the text, point out important vocabulary words, and explain their meanings.
You can also pre-teach specific standards of instruction for your ESL students in a small group or individual lessons before the rest of the class receives the instruction to give ESL students a head start and the ability to understand and apply the content. 
Classroom Environment
Another great way to support ESL students in the classroom is based on the set-up and function of the physical classroom space. New English learners will appreciate a safe and welcoming classroom environment.
ESL students often lack confidence due to their language or cultural differences, and being a new student is hard enough without these additional challenges!
By promoting a friendly and supportive learning environment, you can help your students to become more successful academically and socially. Encourage your native English speakers to be patient, respectful, and kind towards their ESL peers. 
Seating
English Language Learners may feel more comfortable if seated within close proximity to the teacher's desk or podium. Communication can be difficult when teaching English language learners, so having a new learner at arms-reach will help put you both at ease.
Seating ESL students closer to the front of the room helps teachers maintain a watchful eye on the students. Especially during the Silent Period, an English language learner may not be willing to ask for help or clarification.
Seating English Language Learners nearby while teaching ensures they receive your continued attention and prevents their needs from being overlooked.
Peer Collaboration
Providing ESL students with a non-ESL peer is another beneficial support tactic. A hard-working and cheerful student can serve as a liaison, tour guide, or even tutor for a newcomer.
High school students, in particular, can benefit from the leadership of a reliable student when trying to navigate a new campus with a multitude of programs, buildings, and events.
The students should sit beside each other, preferably in all classes, and be permitted by instructors to talk as needed. Veteran students can provide assistance and guidance for managing daily school routines, locating new classrooms, and setting an example for the ESL.
English Learners can also be favorable peer support options depending upon circumstances. If a newcomer speaks the same language as a second or third-year ESL student, they may work well in a pairing.
Many students will feel more comfortable when working with native-speaking counterparts. 
Newcomer Resources
As an ESL teacher, one of the best student support strategies I use is the implementation of initial and ongoing
family engagement
.
Working with sibling groups and multiple ESL students, I have found that getting to know their families can help me meet the individual needs of my students.
In the beginning, try to provide a warm welcome to your new ESL students. When possible, send documents home in the student's native language and express to parents ways in which they can contact you- phone, e-mail, or even handwritten notes if needed.
Thanks to modern technology, I use a translation app on my phone to communicate with my students' families. Parents feel more comfortable knowing they can reach out to me at any time regarding questions or concerns throughout the school day.
An international interpreter phone service is another tool that comes in handy when communicating with parents in another language, which helps you determine how to help ELL students. 
Frequently Asked Questions
1. What is ESL Support?
When students are learning English as a Second Language, ESL, they need additional support or help in the classroom. Learning educational standards such as reading, math, history, and science is challenging enough for many students who speak English fluently.
It refers to specific ways educators provide help to newcomers. Teachers make accommodations, provide additional resources such as computer programs or dictionaries, and often incorporate student peer collaborative groups to help ELLs in the classroom.
Watch this video and learn tips on differentiating instruction for English-language learners:
2. What is the role of an ESL teacher?
An ESL teacher is responsible for ensuring ESL students get the support needed for their learning goals. All English Language Learners are different, and their accommodations need to reflect their language proficiency levels and educational abilities.
Depending upon the school district, many ESOL teachers work with ESL students in small groups for a segment or period daily. Teachers can work with ESL students in isolated groups or in collaboration with the mainstream classroom teacher. 
Provide Ongoing Support
Ultimately, when considering how to accommodate ELL students, just remember to show your ESL learners that you care! Over time they will begin to gain confidence in their new environment, but in the meantime, your attitude and support can make all the difference.
Some public schools even offer a newcomer orientation for students and families that allow them to experience a private tour of the school with an interpreter. Here, they can ask questions and gain familiarity which will help them to feel more comfortable on their first day of school.
A smile on your face, unlimited patience, and cultural empathy are key players for nurturing a positive learning environment for English learner students who are acquiring another language.
Last Updated on February 8, 2022 by Emily