Inspiring students to read is one of the many jobs of educators. A classroom library is one of the most impactful ways teachers can emphasize the importance of reading with their students. Colorful displays, labels, and book bins are some ways to organize a classroom library.
But then…
Depending upon what grade and subject area you teach, class library organization can look very different from classroom to classroom. A reading corner for young students can be bright and colorful, whereas a classroom library for high school students can be warm and relaxing.
Classroom library organization can be overwhelming but if you follow these helpful tips, you'll determine the best way to organize a classroom library for your students. 
How to Organize a Classroom Library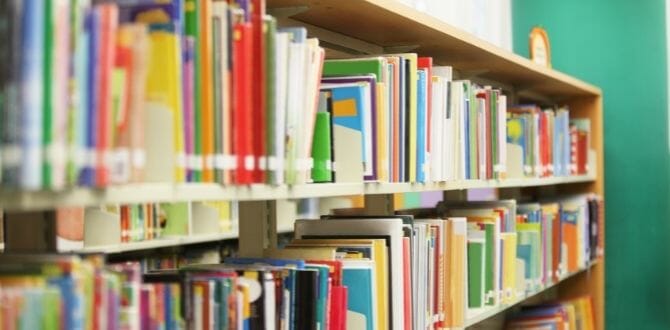 Before you begin, consider the reading abilities of your students and how you plan to allow students to use the reading space. Will students have free access to read as they please? Will students have designated time limits to use the library, or need assistance in doing so? 
Primary Learners
Classroom library organization ideas for primary-aged students usually start with a couple of short bookshelves and a bright or colorful rug. Place these items in a quiet, yet visible area in your classroom where monitoring students will be easy from any point of view.
Add a cozy beanbag chair or some soft seating, pillows, or small lounge chairs to the space. A lamp can also be added to create additional lighting, however, I typically place my classroom library near a window when possible to ensure a well-lit environment.
There are many ways to organize books for your littles, and you want to make sure that the organization is age-appropriate and makes reading enjoyable, even for pre-readers.
Display a colorful picture book or two on top of your bookshelves for an inviting look.
Older Students
When considering how to organize a classroom library for secondary students, such as middle or high schoolers, think about keeping the space well lit, visible, and easy to access.
A rug, some stools, and a standing lamp can create a welcoming feel to further encourage reading.
Older students will be drawn to a variety of seating options as well, however, if space in your classroom is limited, you can encourage students to take a chapter book back to their seats for reading time. They can easily swap books when it is time for a new book to read.
I prefer large metal bookshelves that are frame-based and transparent from all angles. You will probably have a larger variety of chapter books than trade books, so organization utilizing tubs, bins, or baskets will be helpful. Classroom library labels on a book bin is another teaching tip.
Genre, Levels, or Thematic
If your school focuses widely on Lexile levels or Accelerated Reading programs, it may be best to organize your books based on reading level. 
Organization by Level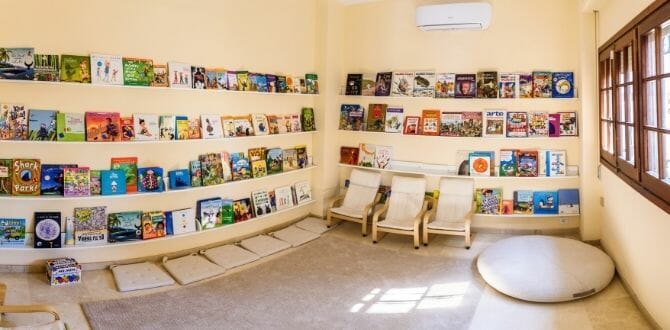 I prefer using baskets or bins in my classroom library for several reasons. First of all, when teaching young students, I would place a specific basket on the floor to specify which bin I want my students to select from.
Small children need to be taught how to select a book appropriate for their reading level, so until they have mastered this skill, I would place books on the floor that were appropriate for the students based on their reading ability, the topic we are currently studying or seasonal choices.
Organization by Genre
Especially in the upper elementary and secondary classes, organizing a classroom library by genre can be the best way to go. For example, classroom organization in a 5th-grade class will incorporate more challenging reading texts than a primary class.
As older students begin to develop a deeper understanding of the literary genres, they know what types of books they like to read.
Based on the content area subject of your classroom, high school language arts, for example, you may prefer to organize books on your bookshelf by genres such as realistic fiction, historical fiction, nonfiction, sci-fi, or fantasy.
Kids can grab a fiction book from the tub with the label "fiction" listed on the front.
Some teachers choose to categorize books by the author, especially if there are specific authors covered in the grade level's standards-based studies. 
Organization by Topic
When I taught first grade, I liked to organize my classroom library books by theme. I had bins for each holiday and season, as well as book bins for back-to-school, end-of-the-year, and other categories such as career-based, science-based, and even by the author.
This type of organization made it easy for me to find specific books when I wanted to do a class read-aloud, and it also helped the students access books based on the subjects they liked reading about. If a student wanted to read about bugs, they could find a book in the science bin.
You may also choose to group texts based on the topic studied in your classroom.
If you teach American history, for example, you can organize books based on the era including the American Revolution, the Civil War, World War I, World War II, and so on.
Your lesson plan can even include the books you will read during various guided reading lessons, for specific events and holidays, or to accompany a particular skill.
Here are more tips for classroom library organization for young readers:
Frequently Asked Questions
1. How do you keep track of books in a classroom library?
It is amazing how classroom library organization has improved over the years with the availability of technological resources right at our fingertips!
If you have been teaching for a while you might remember when we used to put a little pocket on the back cover of each book, and students would write their names on an index card when they "checked out" the book from the library. Well, times sure have changed since then!
There are a wide variety of apps you can download on your phone or tablet that can help you scan and keep track of the books you have in your classroom library. QR readers and barcode scanners help you to easily categorize, record, and find books that will help you know how to organize a classroom library. 
2. How many books should I have in my classroom library?
Depending on who you talk to, some teachers like to have roughly thirty books per student in their classroom libraries. I would suggest focusing on quality over quantity. While you do need a variety of books, sometimes having too many books can be overwhelming for students.
Instead, think about which types of books your students will enjoy, use and value. Think about the topics you will cover in your instruction throughout the year and be sure to include books related to these themes.
Especially for new readers, reading the same text several times is beneficial for reading development and fluency. Now that's some good stuff!
Before we wrap this up, here are some tips and ideas I want to share with you:
Organization Tips and Ideas
Lastly, check out some ways to organize your classroom library and keep it that way! If your school uses Accelerated Reading or Lexile levels, you can use stickers on the book spines or baskets to color-code student levels.
Students will be issued a specific level, or color, making it easier for them to find books on their appropriate reading level. This way, students can even help by organizing your classroom library and they will know where to return the books when they are finished reading.
Most teachers simply label the bins or shelves by category, genre, or author. You can old-school write labels on your plastic bins with a marker, or get creative and use your Cricut machine for cutting out labels in a variety of fun fonts and colors.
It is important also to think about using images or pictures to label book bins for your younger students or nonreaders.
For example, a book tub featuring books about animals should have an image of an animal on the front of the basket along with the label.
You should also list the print, words, levels, or genre on your baskets or shelves as well, even if your students are not reading yet, this is a great way to begin text exposure, ensuring a print-rich learning environment.
Last Updated on July 25, 2022 by Emily