As you know, I'm passionate about the uses of technology in the classroom. One item that seems to be left out most of the time but has a major role in the classroom is the humble pencil sharpener. It comes in the simplest hand-held design to a high-tech electric machine. There may come a day when we are a paperless society, but it isn't today, and our students still need to learn how to write on paper.
Trial and error is a significant part of learning at any age, but it's vital for elementary school children. Hence, the pencil and eraser. Keeping all the pencils in your class sharp can require strategic thinking. One sharpener in a classroom often becomes the proverbial water cooler in an office and is a place children congregate to whisper and share gossip.
In the past, students are given a small plastic or aluminum sharpener, which half of them promptly lose. So they borrow their friend's or ask the teacher. Both scenarios are disruptive to the class, so I conducted deep research to find a solution. Here I'm going to address this problem with recommendations of different types of pencil sharpeners and some classroom organizational suggestions.
For those of you who need a quick overview, here are my top three recommendations for different uses. Below, I give detailed descriptions of seven sharpeners including more details about these three.
My Top Pick
Bostitch EPS11HC
Replaceable cutter
Suitable for colored pencils
Regulates the timing for sharpening
Quiet
Best for: If you only get one pencil sharpener for your classroom, this is the one to get. It regulates the timing for sharpening a pencil, which is a great advantage in a classroom because the students tend to over-sharpen pencils or just continue grinding to waste time and talk to their friends waiting in line.
This is my top pick for several reasons, but the two main reasons are the blue light signifies the pencil is sharp, so children can't stand there forever, and it's quiet. This is important to me because some electric pencil sharpeners are so noisy they cut the concentration during a lesson.
Also Great
Bostitch MPS1-BLK
Can be permanently screwed in place or held in place with a clamp
Accommodation for 8 pencil sizes
Tip saver prevents over-sharpening
Best for: This is a good pencil sharpener if you don't want the sound of an electric sharpener in your classroom. I prefer the electric model because it is fast, provides a sharp point and I can control it, so the sound isn't a problem.
This is basically a traditional manual pencil sharpener with a few added features. The best part for classroom use is the ease of removing the blades and cleaning. This is important for sharpening colored pencils, and I don't think there is any point (no pun intended) in having a pencil sharpener that has a problem with colored pencils in a classroom.
Also Great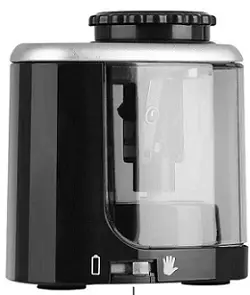 Pencil Sharpener, Manual and Electric
Switches between electric and mechanical sharpening
With three blades
The body is durable
Sharpens very quickly
Best for: I recommend this for normal math or writing lessons but not for art projects.
This sharpener is small, portable and safe for a classroom of very young children who are still learning how to sharpen a pencil. It stops automatically when the pencil is sharp, so children can't sharpen the pencil down to the end at one time. The shavings are easy to remove.
If you want more information about pencil sharpeners before making a choice, read on. I will give details about these sharpeners and others:
Why Are Electric Pencil Sharpeners so Useful?
Pencils, erasers and sharpeners are all an important part of a schoolchild's life. Pencils and erasers are about the same as they have always been and don't really need to be any different. But, pencil sharpeners are a different story. They have been upgraded by technology to make life easier for both students and teachers. Here's proof:
They save time – Electric pencil sharpeners are very fast. Some will sharpen five pencils in the time it would take to sharpen one manually. In an office, time may be money, but in a classroom time has a different value. Children will waste time sharpening pencils, making a mess and take even more time cleaning it up. All of this reduces the amount of time they have with you.
They save money – How can a pencil sharpener save money? First of all, you only need one. You may have to buy small plastic or aluminum sharpeners throughout the year as they go missing. Also, since electric sharpeners work more efficiently, they save pencils. The point won't break when you pull it out leaving a blunt edge that needs to be sharpened again.
They are efficient – You can set the sharpener and it will sharpen each pencil the right amount and stop. This stops students from reducing the pencil to the nub trying to get the perfect point.
They are easy to maintain – Most electric sharpeners have replaceable parts, so you can replace the blade when it gets old and dull. With a conventional sharpener, you have to discard it and buy a new one.
They collect the shavings – With a collection chamber that holds up to 50 pencils' dust, you only have to empty it once in a while and you never have shavings on desks, the floor or mixed with supplies.
Here are the results of my research into the best electric pencil sharpeners for teachers that are available today. My focus, of course, is in the classroom, but each of these is suitable for home or office.
1. Bostitch QuietSharp Glow Electric Pencil Sharpener
This is an electric pencil sharpener that has some great features. It has a ring around the sharpener's face that glows blue when the pencil is sharp. This tells the teacher and the students waiting in line that the pencil is sharp. The cutter can be removed for cleaning without any tool. It has a large capacity shaving tray and you don't need to replace the sharpener after years of service, you can just replace the cutter. The sharpener is suitable for multiple pencil sizes. It weighs 4.34 pounds and the dimensions are 10.6 x 6.1 x 9 inches.
Pros:
Will sharpen a lot of pencils without overheating
Long cutting life with an extra hardened helical cutter
Auto-sharp prevents damage when removing the pencil
Suction cups on the bottom for stability
Cons:
It's big and heavy, but the suction cups keep it anchored
Unique specifications: Antimicrobial protected – Children (and adults) tend to put pencils in their mouths. Some pencils are covered with teeth marks. As we have learned in the past few months, this can actually be very dangerous. Antimicrobial protection is truly unique and a great addition.
Best for: The fact that this heavy-duty sharpener will cut colored pencils is a big bonus. Other products may claim to cut colored pencils and end up with sticky color on the blades that is difficult to remove. With this sharpener, the blades are very easy to remove, clean and replace making it great for colored pencils. This is important in my class because we use a lot of colored pencils instead of costlier sketch pens.
This is a short demonstration video without talking. The pencil sharpener is easy to use with no set-up required. Just watch this video and you will be on your way.
2. X-ACTO School Pro Electric Pencil Sharpener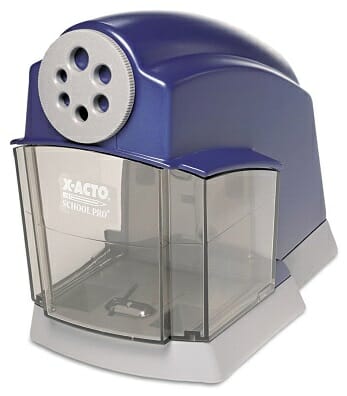 This device was designed for the classroom. The life of the blade is 33-times longer than conventional sharpeners. It is the most powerful on the market and easily sharpens a high volume of pencils and stands up to wear and tear. The motor is quiet. The sharpener is suitable for high-quality colored pencils. It has a patented system that stops the machine when the pencil is sharpened. The pencil points are slightly rounded to be safe for young school children. It is adjustable to six pencil sizes. The weight is one pound and the dimensions are 8.5 x 8 x 5.7 inches.
Pros:
Auto-reset prevents overheating
Will does not work when the shaving receptacle is removed
Cons:
Does not sharpen low-quality colored pencils
Several reviews say it tends to break down within a year
Unique specifications: When this device is plugged in, it has no electrical draw until it is used. This is a safety feature for a classroom. Environmentally-friendly power saver.
Best for: This heavy-duty sharpener is suitable for sharpening a huge batch of pencils at a time. If you have several boxes of good-quality colored pencils for your next art project, this is the machine for you.
This is a short video that explains the features and benefits of this sharpener. I recommend you watch it because this device was specifically designed to meet the needs of a classroom.
3. PowerMe Electric Pencil Sharpener
This device is manufactured from high-quality materials and built to last. It promises 3,000 uses without wearing out. The blade is ultra-durable stainless steel and takes only three seconds for one use. It's small and lightweight, so it easily fits into a bag and can be used anywhere as it is powered by four AA batteries that are not included. The sharpener is suitable for high-quality colored pencils. It has a large transparent shaving reservoir The weight is eight ounces and the dimensions are 3 x 2.2 x 4.8 inches.
Pros:
Will does not work with the lid removed for safety
Will sit anywhere because isn't plugged in
Cons:
Doesn't stop when the pencil is sharp
Should not be used on colored pencils with wax-based color
Doesn't work well on pencils with very dull or broken heads
Unique specifications: It has an automatic jam release system, so pencils can't get stuck
Best for: If you take your class outdoors for drawing or science projects, this is a good sharpener. It's small, lightweight and easy to carry in a bag.
Watch this short video to see the features and how the sharpener works.
4. Omitium Electric Pencil Sharpener
This is a very powerful sharpener that is portable. It is suitable for all types of colored pencils and the blades are easy to clean. It sharpens more than 3,000 times with each pencil taking five – 10 seconds. It has a large shaving reservoir and a non-slip pad on the bottom, which helps reduce the sound and keep it in place. The sharpener is heavy-duty and suitable for a large volume of pencils. It weighs 12.3 ounces and the dimensions are 5.5 x 3.5 x 2.7 inches.
Pros:
Comes with a brush to clean the blades
Auto-stop for safety
Cons:
The motor is loud
The shaving reservoir is hard to open
Unique specifications: It has optional power supplies. It comes with an AC adapter or uses four AA batteries that are not included. Has a built-in pencil holder.
Best for: This is a good device for an art teacher. If you don't use very many colored pencils in your class, you may not need this feature as it is one of its main selling points.
5. Pencil Sharpener with Switching Modes – Manual and Electric
This sharpener works automatically when you push the pencil in and works manually if you put the pencil in and rotate it. It takes three to five seconds to sharpen a pencil. When sharpening, you may need to hold on to the sharpener because it is very light and not very stable.
It requires two AA batteries that are not included. The weight is four ounces and the dimensions are 3 x 2.7 x 2.6 inches.
Pros:
Comes with two extra blades
Three sharpening settings
Stops when the pencil is sharp
Cons:
Some reviews say it has low power and doesn't sharpen well
Not very easy to clean the blade
You need to hold down the case while you are cranking
Unique specifications: It has a safety switch that blocks the sharpening hole. This makes it great for nursery or kindergarten-aged children as they can't stick their little fingers into the hole.
Best for: This small, portable pencil sharpener works on battery so you can take it with you. It is a good piece of equipment for an art teacher. It will sharpen colored pencils, but as we already know, colored pencils contain wax that may clog the blades that periodically require cleaning. This model is not so easy to clean as the above models.
What About Mechanical Pencil Sharpeners?
There is a big demand for electric pencil sharpeners because they are fast, efficient and clean. But the electric engines make noise, some less than others, and this can be a big disturbance in a classroom.
The two main types of mechanical pencil sharpeners are bladed and rotary.
Bladed – This type uses wedge technology to cut the pencil. It works like a sword or razor. The wedge transfers the horizontal push of the handle into a vertical force to shave the pencil. In a small hand-held sharpener, it haves the pencil as you turn it.
Rotary – this is the type you may have used during your elementary school days. You stick the pencil on one side and turn the crank on the other side. Two cylindrical cutting blades are at 23-degree angles to each other. They cut your pencil into a conical shape. This type is also called helical sharpeners.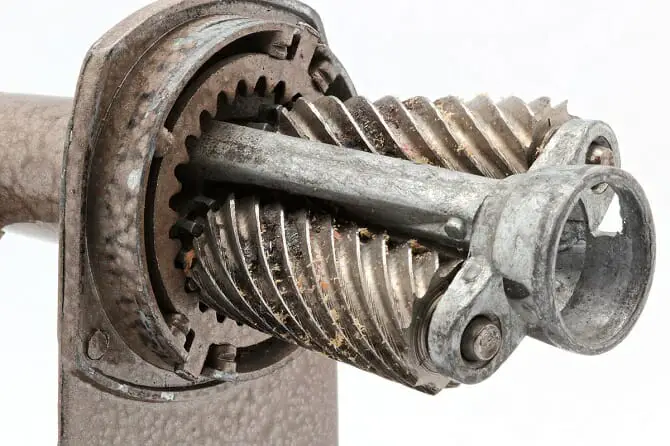 Some of the main benefits of mechanical sharpeners are:
They cost less
They are virtually silent
They can sharpen with remarkable precision
They are easy to use
Here are the results of my research into the best manual pencil sharpeners for classroom use:

6. Bostitch Metal Antimicrobial Manual Pencil Sharpener
This is an all-metal sharpener that should stand up to heavy usage in a classroom. The cutter is easy to remove without the need for a tool for cleaning. It is also antimicrobial protected.
The weight is 12 ounces and the dimensions are 5.4 x 2.7 x 4.3 inches.
Pros:
Suitable for eight sizes of pencils
The cutter can be removed and cleaned without a tool
Includes screws for quick mounting horizontally or diagonally
Cons:
The selector wheel is small and difficult to move
Sometimes only sharpens half the pencil
Unique specifications: Adjustable tip selection for a pointed or blunt tip – this is great for colored pencils. My students use a lot of colored pencils and a blunt tip is much more convenient for drawing and coloring than a very sharp point.
Best for: This is a good manual sharpener for those of you who can't stand the sound of an electric sharpener. It also has Tip Saver technology to stop the cutting when the pencil is sharp, so children can't grind the pencil to nothing in one go.
The sharpener is pretty self-explanatory, but this video gives a lively explanation of how to attach the sharpener, clean it and use it. It just takes a few minutes, and I recommend you watch it.
7. AFMAT Pencil Sharpener
This is a long-point mechanical sharpener. You may not be aware of what it is. I wasn't. It gives a needle-sharp, extra-long point for artists. It comes with instructions because it doesn't work as a conventional sharpener. It works with graphite, charcoal, watercolor pencils, colored pencils with soft leads. This means no wax pencils.
The mechanism has an auto-stop feature while you are grinding, it will become difficult and almost stop when the pencil is sharp. The pencil point is about 25mm long. The weight is 9.1 ounces and the dimensions are
Pros:
The bottom has a non-slip pad
You will need to sharpen your pencils fewer times
The point is long-lasting
Cons:
The auto-stop feature doesn't always work
Unique specifications: You can change the sharpness of the point by rotating the handle knob. Short pencils will easily come out by reversing the crank.
Best for: This is definitely for an art class. The long, sharp point is intended for sketching and shading.
This video is worth watching to give you an idea of this unusual type of pencil sharpener before you buy it.
How to Choose the Best Pencil Sharpener for Your Classroom
School children use pencil sharpeners several times every day. As already mentioned, the pencil sharpener can be a gathering spot for children to whisper, giggle and generally waste time. But, they need good tools to do their work, and a sharp pencil is one of the main tools they need. Here are a few tips to consider when you want to purchase a new pencil sharpener for your classroom.
Power – Decide if you want manual or electric. Most teachers prefer electric because it gives them more control over the device. The one I like lights up when the pencil is sharp and stops working. This is good because the student can't stand there forever grinding down their pencil.
Size – The sizes range from the smallest pocket models to large, heavy devices. The larger models will accommodate several size pencils, usually from six to eight different sizes. They are also heavy-duty and can handle a large volume of pencil sharpening. This is why the larger models are more suitable for a classroom. Small pocket-sized sharpeners are good, but as I said earlier, they tend to get lost or disappear, and you need to keep buying them. But, you can always tell your students, if they lose them, they are responsible for replacing them. However, this doesn't always work.
Safety – If your students are going to operate the pencil sharpener, it needs to be safe to operate. That's why I like one that turns off when the pencil is sharp. It also won't run when the shaving reservoir is removed. For the youngest students, they shouldn't be able to put their fingers in the hole.
Type of pencils – If you plan to only sharpen the usual No. 2 graphite pencil, you can choose any sharpener. If you are an art teacher, you should select one that will sharpen all types of colored pencils such as the AFMAT Pencil Sharpener. If you plan to sharpen conventional classroom colored pencils, you should get one that has removable blades or that is easy to clean.
FAQ
✔ What is an antimicrobial pencil sharpener?
A pencil sharpener is called antimicrobial if it chews away the outer coating of the graphite inside the pencil to release a powerful antibiotic. The antibiotic is embedded in the pencil and can kill E. coli bacteria. I think this a great invention and worth every penny. In most classrooms, pencils and fingers go in mouths, so having a sharpener that kills the bacteria is worthwhile.
✔ What is the best pencil sharpener for colored pencils?
Most ordinary colored pencils used in classrooms are made with wax. This can stick to the blades and cause them to be dull. After sharpening many colored pencils you need to clean the blade. That's one of the main reasons I like the Bostitch Antimicrobial QuietSharp Glow Extra Heavy Duty Classroom Electric Pencil Sharpener. The blade is easy to wipe clean.
✔ Can a pencil sharpener sharpen standard-sized crayons?
If there are two holes in a manual pencil sharpener, the larger hole can be used to sharpen wax-based crayons. It is meant for softer material, but oil-based crayons will clog the sharpener. You may need to use a bit of isopropanol alcohol and a toothbrush to gently brush the wood shavings that have become stuck to the blade because of oil-based crayon debris.
Final Thoughts
Pencil sharpening was a messy and time-consuming activity in my classroom before I got an electric sharpener. I had no idea there were so many types of sharpeners until I started my research. This blog is intended to save you time when you are looking for the best sharpener for your classroom.
Last Updated on June 25, 2021 by Emily