Hello readers! I hope everyone is well and enjoying online teaching. We will see our students in person again, and for that, I wanted to give you some of the best options for school chairs.
As we have seen from this article, when children, especially elementary school children are comfortable, they focus better on the lesson. We don't all have the option for bean bag chairs, exercise balls and classroom rugs, so I wanted to give you some new ideas about ordinary chairs that have extraordinary features. These chairs are designed with school children in mind.
As usual, I make it simple for those of you who plan to read the whole article later by giving you a quick overview of the best three products for different cases.
My Top Pick
Environmentally friendly
Choice of leg glides
Very sturdy
Best for: These chairs are for younger children. They are not strong enough for many middle or high school students.
This is a very safe chair both structurally and environmentally. The six colors are brilliant and it comes in sets of six. They are easily stackable for extra space in the room if you want to switch to flexible seating at any time. I recommend you buy this chair one size larger than you think you need because it is a bit small and children grow so fast. It is better to have an overlarge chair than one that is too small. The back tends to bend when pushed too hard.
Also Great
Great for kindergarten
Designed for safety
Does not damage floors
Best for: This height is for five-year-olds. It is a very comfortable classroom chair for young learners.
This is a one-piece molded chair made from polypropylene plastic. It comes in sets of six and can hold the weight of 286 pounds making it safe for high school students. It weighs 15 pounds, but children can drag it around the classroom without damaging the floor. You can get this chair in sizes for toddlers up to high school students. The rounded corners protect from scrapes or injury. This one also has a bendable back that may not give enough support.
Also Great
Attractive wooden chair
Leg rails
Very well constructed
Best for: This is a good choice if you prefer not to have plastic chairs in your classroom.
This wooden classroom chair is a classical ladder back design. It has back legs that are curved to prevent children from tipping backward. Children like the leg rails where they can rest their feet while reading or writing. You can get matching tables made from the same polished wood. The bottom of the legs has plastic glides to avoid scratches on the floor. These glides also make it easy for children to drag the chair around the classroom.
Take your time to go over the rest of the post. I give more details of the above three and add five more.
I also give you useful information about how to decide on the best chairs for your classroom. Along with chairs, I included some other seating options for elementary classrooms. Having several choices for seating in a classroom gives students power over their work because their comfort is important.

Recommended age: the 14-inch is for ages 6 to 9 years
Height: comes in 10, 12, 14 and 16 inches
Material: plastic and steel
This chair exceeds the Business and Institutional Furniture Manufacturer's Association (BIFMA) standards for safety, and it is very durable. It is also GREENGUARD Gold certified for minimal toxic emissions into the indoor air. It comes in sets of six in six brilliant colors. The seat and back are a one-piece molded shell with a vented back with no screws. The 14-inch and 16-inch chairs have a 165-pound capacity, and the 12-inch is 75 pounds, so they are not for larger adults. These chairs will withstand rough usage. The dimensions are 16.5 x 17 x 26 inches and weigh just 5.65 pounds.
Unique specifications: The leg glides are self-leveling, which makes them great for uneven surfaces or hard floors. You can also choose ball glides if you prefer.
Pros:
Very sturdy
Brilliant colors
Easily washable
Cons:
Not recommended that adults sit in these chairs.
The plastic is thin
The back bends out of shape with force
Best for: This is a good chair for an elementary classroom. If you are not sure of the size you need, it's recommended to get a larger size rather than a smaller one as chairs that are too large are more comfortable than chairs that are too small.
This video has no narrator, but it gives you a good look at the chair and all the features.
Recommended age: 13.25 inches for five-year-olds
Height: 23.5 inches
Material: polypropylene plastic
This chair was designed for safety in the classroom. It comes in a five-pack that is stackable for saving space. The company makes a plastic, height-adjustable table that works well with this chair. The load capacity is 286 pounds, so it is safe for high school students. The dimensions are 14.5 x 15.75 x 23.25-inch seat size and the back is 12.5 x 10.5 inches. The weight is 15 pounds. It comes in four colors, including brilliant green and red and more subdued blue and beige. This chair is available in sizes that are suitable for toddlers up to teenagers.
Unique specifications: With rounded corners and no metal, this chair reduces the possibility of injury for children.
Pros:
Very sturdy
Does not damage floors
Will last for years
Cons:
The back support bends a bit and does not feel secure
Best for: These chairs are very light and easy for children to move around the classroom for flexible seating.
Recommended age: six to nine years
Height: 14-inch
Material: wood
This chair has a classic ladder-back chair design. It looks attractive and sturdy, some say elegant, with a polished finish that is slip-resistant. It comes in five different sizes and will support a high school student. Children can park their feet on the leg rails. The chair and matching tables are made from solid wood, not composite or plywood. It features mortise and tenon construction and comes in packs of two chairs. The dimensions are 14 x 13.5 x 28.5 inches and the weight is 21 pounds.
Unique specifications: There are plastic chair glides on the bottom of the legs to reduce noise when being dragged around the room and prevent snagging carpet or scratching the floor.
Pros:
Easy to clean natural wood finish
Leg rails on four sides for added strength
The angle of the rear legs prevents tipping backward
Cons:
The chairs are heavy, but children can drag them easily with the plastic feet
More expensive than plastic
Best for: This is a very good classroom chair if you want to avoid plastic in your classroom. It will stand up to rough usage for years.
Watch this informative video and get answers to any questions you still have. It has no narrator, just text.
Recommended age: 16 years to adult
Height: 32 inches
Material: polypropylene seat and back with gray powder-coated metal frame
This chair comes in six colors. The frame is steel and has sled-type legs. This gives a contemporary style as well as stability to the chair. It comes in packs of five and is stackable. The weight capacity is 880 pounds, so you don't need to worry if adults sit on it. The seat is contoured with a waterfall edge that reduces pressure on the legs making it comfortable for long periods of use. The back is curved for thoracic support and the sled base is great for carpeted floors. The dimensions are 19.5 x 23.75 x 32 inches and the back is 19.5 x 16 inches. It's a heavy chair at 56 pounds.
Unique specifications: The most unique feature of this chair is the sled design legs. It is attractive and sturdy for every-day use and frequent stacking, but it is not for the little ones.
Pros:
Plastic floor glides so it won't scratch the floor
Contoured back and seat
Waterfall edges for leg comfort
Cons:
The contoured seat is not suitable for everyone especially people that are mobility challenged
Best for: This chair is best for a high school class.
This video features reviews from users. It gives pros and cons to the comfort and functionality of the chair.
Recommended age: six to nine years
Height: 14 inches
Material: chrome-plated metal legs, durable plastic molded seat and back
This chair comes in three bright colors in packs of six. It is made of molded, durable plastic, and the design supports the user's back. It saves space in the classroom by being stackable and is easy to keep clean by wiping with a damp cloth. The chair has the requisite ventilated back and strong metal legs. The dimensions are 17 x 15 x 25.7 inches for the 14-inch chair, and it is available in 10, 12 and 16 inches. This measurement is from the floor to the seat. It will support a high school student up to 200 pounds. Amazon brands tend to be less expensive than other brands with the same quality of materials and construction.
Unique specifications: The contoured seat is comfortable and it is strong enough for rugged use.
Pros:
Ball feet that won't scratch the floor
Lightweight at just under five pounds
Works well on carpet or hard floor
Affordable
Cons:
The side welds tend to be weak
Each chair has a white warning label that is very difficult to remove
Best for: This is a very good, inexpensive chair for a classroom or homeschooling. It provides the support and comfort needed so children can feel relaxed during lessons.
This video gives a basic description of all the features of this chair. It's an Amazon-produced video, so it doesn't give any cons. Still, it's worth watching if you are considering purchasing this chair.
Recommended age: for 12 years to adult
Height: 18 inches from floor to seat
Material: molded plastic seat and back with steel legs
This chair comes in packs of two in seven colors and black. The dimensions are 20.75 x 19 x 31 inches and it weighs nine pounds. This 18-inch model supports a 253-pound person. It has a vented back for comfort and provides steel lower back support. The design is specifically no-snag so hair or clothing doesn't get caught, and the hardware does not poke through the seat. These chairs can be sanitized easily with a quick wipe every day.
Unique specifications: The heavy-duty caster wheels are the unique feature of this chair. They allow the chair to be moved effortlessly and are great for flexible seating. The wheels are strong and can take rough handling up to a limit. They are not intended to be used as a toy.
Pros:
Very sturdy
Ergonomically designed contours
Ribbing in the back and under the seat for added strength
Cons:
There are no cons listed by reviewers for this chair. I would add that you may need some rules about using the wheels because it may be tempting for children to play with the chair.
Best for: This is a great chair for teachers. It makes it easy to move around the room, especially if you have a hard floor. It's also good for older children and makes flexible seating easy.
Recommended age: one to five or six years
Height: six inches on one side, then turn it over for nine inches
Material: LLPDE polyethylene
This cube chair can be used indoors and outdoors. It comes in a six-inch or nine-inch seat height, so you can get it for toddlers as well as first graders. It comes in four bright colors as well as three muted colors called woodland. It is a very durable chair with rounded corners for safety and can be easily wiped clean. The plastic is BPS, phthalate, lead-free and doesn't emit toxic fumes into the air. You can buy a single chair or set of three or four. The Edutray transforms the chair into a desk and is bought separately. The tray can be folded and stored in small spaces. The dimensions are 15 x 15x 15 inches and the floor to seat is six or nine inches. It weighs 6.89 pounds
Unique specifications: This chair can also serve the purpose of a table. Just turn it on its side and you have a play table. You can get a detachable Edutray that fits on the front and gives a nice area to eat, color, play with Play-Doh or look at books.
Pros:
Sturdy be soft plastic
Armrests help children relax
Hihh school students and dults can sit in it
Not easy to tip over
Cons:
May scratch hardwood floors
A bit costly for a plastic school chair, but with all the possible uses, it is a good option for some situations
Best for: If you are a kindergarten or first-grade teacher and are looking for chairs, I recommend this one. It's very cute, has three-in-one functions and you can get the attachable tray for activities.
This video gives you a good idea of the features of this chair as well as its many uses. It doesn't have a narrator, but it gives all the information.
Recommended age: teenagers and adults
Height: The chair is 16 inches and the table is adjustable 19 – 30 inches
Material: chrome-plated metal legs, laminate oak wood top, plastic
This is a great set, a classroom chair with a desk, that has been designed for social distancing With CDC guidelines. It is for a single student. The legs on the table are adjustable and easy to assemble with pre-installed receiving brackets. The top is easy to sanitize and it has a t-molding navy edge to protect the wood. The chairs are stackable if you plan to have more than one set. The legs have ball glides that make it easy to move the table or chair and the feet will not scratch the floor. The chair is molded plastic with air ventilation in the back. The dimensions are 30 x 18 x 30 inches, and the weight is 43 Pounds.
Unique specifications: This set was specifically designed for homeschooling or social distancing as it only became available in July.
Pros:
The table is easy to assemble
The table is roomy for one student
The chair comes in three sizes, 12, 14 and 16 inches
Cons:
You can adjust the height of the table, but not the chair, so if you want to use it for younger children you will need a lower chair.
Best for: This is best for high school students who need to sit at a desk and listen to a lecture. It is sturdy and adjustable, but not suitable for flexible seating in an elementary classroom.
Comfortable Classroom Seating
The learning environment has a clear impact on student achievement. Studies show that students with collaborative group seating participate more in discussions and activities in the classroom. See this post for more information.
From specially designed rugs to stability balls, there is a wide selection of flexible seating options. These different styles of seating support better performance on tests and improve student engagement in their education.
Not all classrooms have the option to create flexible seating arrangements and need standardized chairs as a major part of the classroom furniture. That doesn't mean the chairs have to be little torture chambers. As you have seen, there are many designs, materials and models that have been created to be comfortable, safe and healthy for children's backs and legs.
Except for the wooden chair on the list, most classroom chairs are made of a polypropylene shell. This is a type of soft plastic. That doesn't mean it is like sitting on a cushion, but it isn't hard either. Hard plastic chairs are stronger, and if you expect plenty of rough handling that is the best choice.
As I mentioned above, chairs that are too small are uncomfortable and cause the student to wiggle and shift unnecessarily. The rule today for the measurement of classroom chairs from the floor to the top of the seat is:
Kindergarten to first grade 12 inches
First and second grade 14 inches
Second and third grade 16 inches
Fourth grade to high school 18 inches
Also, watch this video to learn how to measure a classroom chair.
Color is another important consideration. Most schools have maroon or navy blue chairs, but there are many more options, and bright colors liven up a classroom. You will find sky and teal blue, yellow, light and dark green, red and orange as well as black. Wooden chairs are usually the natural wood color, but most of them can be painted.
Adults may sit for hours at a desk in an office, and many of them have ergonomic chairs to help prevent backache, headache and swollen feet. Children at school move around a lot more, but when they are sitting in chairs, they should be healthy and comfortable. Here are three signs of a healthy chair.
Muscle support
Children are no longer expected to sit bolt upright on a hard, straight-back chair like they did most of the last century. Sitting like that caused many children to twist and squirm actually developing poor posture because of poor muscle exertion. Ergonomic furniture is designed to encourage the body to sit in a healthy position and when children do move it is usually proper muscle exertion.
Better posture
Seating alternatives such as stability balls and wobbly stools make children sit with good posture. If they slump or try to lean back, they may fall on the floor. The body is working to maintain balance and the back remains straight. Stability balls and wobbly stools force children to shift their muscles in a good way to stay seated and this leads to good posture.
Focused attention
Good ergonomic chairs are not only healthier, but they are also more comfortable. This is the beginning of paying attention in class. Children don't feel pain or discomfort in certain parts of their bodies that distract their attention away from the lesson. With more focused attention, memory works better and retention is also better.
Flexible Seating at Its Best
Flexible seating is here to stay for a very good reason. In fact, there are several good reasons. It enhances learning from kindergarten to 12th, and when students are comfortable and focused, teachers teach better. Here are three more popular reasons that flexible seating is here to stay:
Control over their environment
Students feel empowered when they have a choice of where they work and with whom. This also means they can choose different locations in the classroom for different projects. They may sit on the floor to listen to audiobooks or sit around a table for group discussions. Flexible seating also allows them to sit alone if they want to read or think.
New classroom management
Children of any age don't automatically know how to properly take advantage of flexible seating. They may think it's a free-for-all at first. You have to give the rules and explain how the rules benefit the students and their learning experience. Students will need to understand problem-solving and conflict resolution to work well with their classmates. It is extremely beneficial for children to learn patience, sharing and taking turns, and this can be taught naturally through flexible seating and not as a set of rules that relate to nothing.
Collaboration becomes easy and natural
Working harmoniously with others is an important lesson for any person. When a child grows up in a classroom with flexible seating, he or she gets the benefit of this lesson without much effort on the part of the teacher. This kind of group interaction is not possible in a classroom with rows of desks where each student is an island.
There is no one-size-fits-all when it comes to flexible seating. Look here to see how some teachers do it and get ideas for your classroom. You can see the different types of seating arrangements, shelves and rugs and how they are arranged. The site gives lists of ideas for implementing flexible seating in your classroom and how to manage your classroom with procedural checklists.
A Few Options for Flexible Seating
Below I'll give you four different types of seating that have been tried and tested by other teachers with good results.:
Stools
Stools come in a wide variety from traditional stools to wobble stools and something in between. You may want a variety of styles for different activities. Wobble stools lean with the child and allow for healthy wiggling. Some stools have compartments where students can keep a book, workbook or art supplies.
Check out 7 best classroom stools to facilitate learning →
Bean bag chairs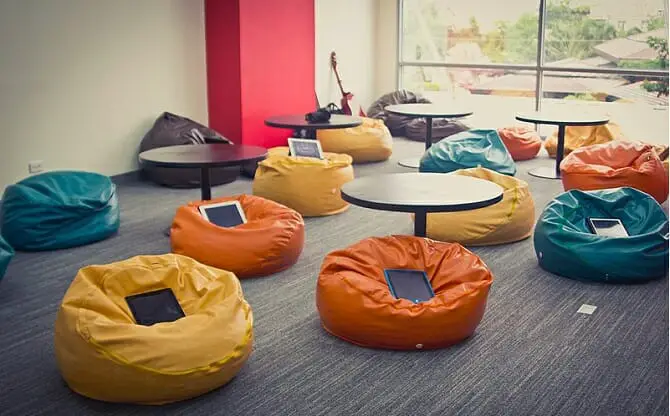 Bean bag chairs may not pop into your mind when you first start to think about flexible seating. They are so popular in homes when children do a variety of activities such as watching television, using a tablet, reading, and more that it is only natural to consider the chairs for the classroom. Even bean bag chairs come in several different styles and forms. They are washable and are double stitched so the tiny plastic balls don't escape.
Check out 11 best bean bag chairs for classroom enhancement →
Classroom rugs
I love colorful classroom rugs because they are a great organizing tool for a flexible seating classroom. For starters, classroom rugs reduce sound in the classroom. This is helpful for everyone, especially children that are hearing challenged. Rugs also absorb toxic allergens that would ordinarily circulate in the air. The toxins are removed every day when the rug is vacuumed. I also ask my students to remove their shoes when they sit on the rug. There is a wide variety of classroom rugs from the alphabet, farm scenes and the solar system, to simple rectangles or circles to designate seating areas.
Check out 10 best classroom rugs for flexible seating and other amazing benefits →
Stability balls
Stability balls are hugely popular in classrooms from kindergarten to college. They promote good posture while allowing young children to bounce, twist and wiggle to use up energy during the day. They come in different sizes for all ages and some even have feet and rings for extra stability, which may be necessary for younger children.
Check out 7 best stability balls for awesome classroom flexible seating →
Final Thoughts
This blog is about classroom chairs and how they fit into a flexible seating classroom. Today, classroom chairs are designed to be ergonomic, so they provide comfort, health and relaxation that supports and enhances the learning experience. They are a far cry from the hard, straight-backed chairs of yesteryear. I know, like me, you are all hoping to get back in the classroom, but for now, stay safe.
Last Updated on January 11, 2022 by Emily