Teachers know the value and functionality behind the use of timers in the classroom. For years educators have utilized these handy tools for transitions, classroom management, timed reading practice, and so much more!
After searching for highly ranked classroom timers available today, I compiled this list of my top 5 favorite classroom timers for teachers.
Here's the deal:
Multiple timers are available today. Whether you prefer an egg timer or a tech-savvy online timer, the possibilities are tremendous. Based on my experience, the number one best classroom timer for teachers is the TIME TIMER Original.
The Top 5 Best Classroom Timers Reviewed
1. TIME TIMER Original 12 Inch 60 Minute Visual Timer – Best Overall
Not only does this timer function as a countdown timer, but it also boasts a large 12-inch clock-like display making it easy to see from anywhere in the classroom.
There is a red disc behind the clock, which is revealed upon setting the timer.
As the minutes pass, the red disc slowly disappears, making it easy for children to see the decrease in the time remaining.
The concept of telling time is a challenge for many students, and the idea of elapsed time is too abstract for many young children to understand. The TIME TIMER Original 12 Inch 60 Minute Visual Timer is the best classroom timer.
Pros
Visual display

Clock-like appearance

Optional sound (on/off)
Cons
Takeaway
As an educator, I know teaching elapsed time is one of the most complicated skills students must learn in elementary school. Using the TIME TIMER Original allows students to read an analog clock while benefiting from the timer itself.
---
2. KADAMS Time Tracker Visual – Top Of The Line
The KADAMS Time Tracker Visual Timer is a fun, and unique timer made especially for kids. This tall standing classroom timer takes up about as much surface area as a large coffee mug, but it looks like a traffic light! What kid wouldn't like that?
The LED lights wrap entirely around the timer with green on the bottom, yellow in the middle, and red lights at the top. There is a digital display at the bottom for setting up to 24 hours of countdown use.
You can keep the sound turned off, or you can choose to include an auditory beep at the end of each color cycle, with a long beep at the very end.
Pros
Visual

Easy-to-interpret colors

Silent option
Cons
It does not display a time when in the upright position
Takeaway
The KADAMS Time Tracker Visual is an excellent classroom timer option for younger students or children with disabilities. The visual colors signal the decrease in time quietly and calmly. This timer also has a pause feature allowing you to pause time and continue as needed.
---
3. Teacher Created Small Sand Timers – Best For Differentiation
You may be surprised to see sand timers on my review of best classroom timers, but hear me out! These bad boys have been around for ages, and there is a reason the Small Sand Timers are so well-loved.
In the classroom, sand timers are visual and silent, and they will not cause any distraction to children around them with noise or flashing lights.
What I love most about this particular bundle of sand timers is the combination of varying times. You can purchase 8-pack sets of timers in times varying from 30 seconds, 90 seconds, 1-minute timer, 2 minutes, 3 minutes, 4 minutes, 5 minutes, and even 10 minutes. 
Pros
Inexpensive

Silent

8-count set for ranging uses
Cons
Not digital 

No alarm or sound
Takeaway
The Teacher Created Resources Small Sand Timers are just right for differentiation in the classroom. Students on various levels or working in different groups or on other assignments can use these countdown timers to help keep them on track.
---
4. Learning Resources Handwashing Timer – Best For Quick Tasks
The Learning Resources 20-Second Handwashing Timer made the list because kids are notorious for spreading germs, and young children especially have to practice proper handwashing. What better way than to use a fun timer to help students wash their hands.
This compact timer can be hung up or placed beside the sink in your classroom.
Students tap the timer before washing their hands to activate the light. The light will stay on for 20-seconds while students wash, then when the light turns off, a beep will signal the end of scrubbing time.
Pros
Light up display

Sound signal
Cons
Takeaway
You can use this timer for anything requiring 20-seconds. Still, the Learning Resources 20-Second Handwashing Timer was explicitly created to help teach students the proper time scrubbing is necessary for effective hand washing.
---
5. Uigos Digital Kitchen Timer – Most Affordable
The Uigos Digital Kitchen Timer comes in a 2-pack set of digital magnetic timers perfect for use in the classroom. These are nearly identical to the original timers I used when I first started teaching in 2008.
This digital timer is the least expensive option in this review, and it comes in a set of two.
Easy to grab and use throughout the day when lining students up for lunch or timing fluency assessments, and place the timer back on your magnetic whiteboard when not in use.  
Pros
Magnetic

Digital Display

Stopwatch feature
Cons
Takeaway
If you are looking for a traditional classroom timer that is portable and easy to use, check out the Uigos Digital Kitchen Timer. Set the timer and place it on a student's desk as a queue to finish an assignment, or put it at the end of the lunchroom table, so students know when to clean up.
---
Factors To Consider When Buying A Classroom Timer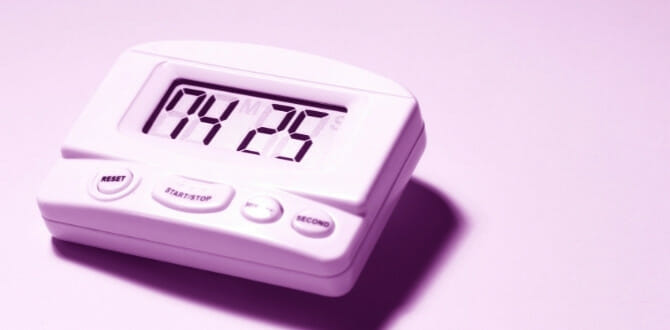 When buying a classroom timer, you consider all the possibilities and ways you plan on using your handy timing tool.
From specific student learning or behavioral needs or timed testing and establishing routines, timers help teachers and students be more efficient.
The kitchen timers we had over a decade ago when I started teaching have been revamped and upgraded by modern, student-friendly classroom displays. Think Timer Tab online or a timer app on your smartphone. 
Student Needs
If you have students with disabilities or special needs, you need to consider a timer that will be most effective in your classroom.
For example, if you have a deaf or hard-of-hearing child, you should think about purchasing a visual timer.
Some children have a difficult time with sudden changes, flashing lights, or loud noises. A small sand timer might be the best option for these students to monitor their time without feeling overwhelmed gradually. 
Usage
Do you plan on using your classroom timer for a whole-group assignment? Will you need a variety of timers to use for multiple small group projects? Once you identify your needs, you can determine which classroom timer is suitable for you.
The TIME TIMER Original and the KADAMS Time Tracker are large enough to be viewed from anywhere in the classroom. I would use these for whole-group time or independent learning centers.
While working independently, students learn that when the timer turns yellow, they must start cleaning up. When the timer changes to red, everyone stops and switches to the next station. 
How Are Timers Used In The Classroom?
Classroom timers are used in so many ways. Set a timer to show students how much time they have left to work on a project before lunch to stay on schedule. Use timers for tracking progress for reading or math-fact fluency and also for classroom management.
My First-graders loved to "beat the clock" when it was time to clean up or line up. I would set the timer, and my students raced to clean their area before the timer went off. Every day we would work to beat our speed from the previous day. It was a fun team-building competition! 
Why Are Visual Timers Good?
Visual timers are handy when you need silent cues to monitor time. Young children especially have a limited concept of time, so seeing a color change or a dial moving gives them a concrete example of passing or remaining time.
Visual timers also help reduce noise distraction. Classrooms have enough distractions without adding a loud buzzer or ticking stopwatch to the mix. A graphic timer helps keep everyone on track and warns kids who may need some notification before moving to a new activity.
Check out this video from TIME TIMER explaining the development and use behind this visual timer for kids:
The Bottom Line
Based on my review, the TIME TIMER Original 12 Inch 60 Minute Visual Timer is the best option for classroom educators. It offers a visual display as well as an optional auditory alarm. This countdown timer uses an actual analog clock-face, building familiarity for telling-time.
Available in 8 and 12 inches, this large timer is visible from a distance and lightweight, and easy to move around as needed. For whole-group lessons, use this timer in front of the class, or use it with a student working on the computer to signal the end of their turn.
You will be surprised by the versatility timers have in the classroom. Students of all ages and even adults benefit from using timers to help them stay on task, focus on assignments, and manage schedules. Try one of these classroom timers right away- time is ticking!
Last Updated on January 21, 2022 by Emily