Today I'm going to help you simplify your life. This is super important for everyone but doubly so for an elementary school teacher. The year starts in good order but as things get hectic, papers either get lost or take forever to find.
So…
If you have ever wondered where in the world is that notice, letter to parents, flyers for the school picnic, or yesterday's homework because you're sure you put it somewhere safe, you'll love what I have to say.
School mailboxes are the ultimate organizing tool, so you and your students can get your hands on anything in a matter of seconds.
That's why we're doing a comprehensive review of the best mailboxes for teachers to help create an organized system in the classroom. Among them is my personal favorite, the Seville Classics Letter File Organizer. Read on as we discuss how it earned the top spot on my list!
Product
Details

1. Seville Classics Letter File Organizer

Strong & Functional

Steel Net Shelves
10 Slots
Full Open View
Clip-On Labels
Silicone Feet

Check Current Price

2. Safco Products 9430BL Onyx Mesh Literature Organizer

Fully Stackable

W/ Connector Clips
Easily Portable
Place Anywhere
Powder Coated

Check Current Price

3. Amazon Basics Kids Vertical Storage Cubby

Kids Friendly

Wall Mountable
Smooth Edges
Wooden
Big Cubbies

Check Current Price

4. 30 Pocket Storage Pocket Chart

Hangs Flat On Walls

5 Steel Grommets
30 Pockets
Versatile
Full Money-Back

Check Current Price

5. Bankers Box Decorative Eight Compartment Literature Sorter

Easy Assembly

Soft Shelves
8 Compartments
Inexpensive
Cardboard Material

Check Current Price
Best Teacher Mailboxes Reviewed
The following paper sorters and mailboxes are examples of the different types available. Hopefully, you will find a style that suits your organizational goals.
Here are the best classroom mailboxes to keep students organized. Read, compare and choose the best fit for you

The COMPONO Storage Chart has 30 standard-size pockets for 8.5" x 11" paper made from high-density nylon. It has five steel 3/8" grommets at the top for hanging.
Each pocket is 13.5" wide and 6.5" deep and has a 5" x 1" clear vinyl window so you can see inside the pocket or stick a label on it.
Goodies I Found
Six additional pockets for often-used classroom materials such as pens, pencils, rulers, and erasers.
Removable, multi-colored heavy-duty Manila cardboard files.
My Final Verdict
This mailbox is useful if you don't have much space in your classroom because it hangs flat against a wall. You just need to make sure all your papers are neatly stacked before you put them in or they will get crumpled.
This takes a little more time to keep everything in order than other styles of mailboxes but is better than no mailbox. It may be more useful for older children who can insert a paper in the file carefully so it doesn't get crumpled.
Little hands may tend to stuff the paper in, which means at the end of the day, you have to neaten up each bulging file.
---
Seville Classics is made up of steel net shelves that have 10 slots including five spaces on each side with six if you include the top. Everything in the organizer is on display, so while it keeps things in their proper places, if neatness counts for you, this one may not be your choice.
Each shelf will hold a tablet and a few thin storybooks but nothing very big like a binder or children's encyclopedia.
Goodies I Found
Clear silicone feet to prevent scratching surfaces.
Comes with clip-on labels.
Stackable up to three racks.
My Final Verdict
I'm a neatness freak and while this makes a great classroom mailbox, I prefer my plastic drawers, as discussed above, because they look good. This mail sorter is functional and strong, but not particularly attractive.
---
It's called Banker's Box Decorative because it is intended to sit on a desk and hold letters and receipts. The box arrives flat and needs to be assembled but it is easy and doesn't require glue, scissors, or staples.
Each box has eight compartments, so you may need three or four for a classroom to have a shelf for each student.
They're very user-friendly and keep the papers from becoming shuffled and crumpled.
Goodies I Found
The attractive black and white design go with all classroom decorations.
The shelves are soft on little hands.
If you are worried about longevity, you can strengthen the joints with decorative duct tape.
My Final Verdict
The banker's box is an inexpensive solution to a paper problem in the classroom. Even though it is a cardboard mailbox, it is very strong and will last for several years if it's not handled roughly. It may start to look shabby after three years.
---
This wooden Oak classroom mailbox is made of industrial-grade ½" wood substrate with laminated and durable Melamine. It will last for years even when handled by little children. The center comes in five colors, blue, black, white, oak, and mahogany.
The shelves are wide enough for a binder and large books. 
Goodies I Found
Self-adhesive 2" x 5/8" cardstock labels.
It's good for storing and charging tablets.
Can be assembled with just a screwdriver.
My Final Verdict
This is a beautiful piece of furniture that resembles natural wood and is a great addition to any classroom if you have room for it. It's not easy to transport as it weighs almost 50 pounds, so may not be the best classroom mailbox if you often change classrooms and want to take it with you.
---
I like the Bankers Box Cubby Storage mailbox because it fits beautifully on a shelf so it's easy for children to reach and the shelves are bigger to hold books and tablets as well as paper and files.
It's strong enough to hold one heavy book like an illustrated encyclopedia or several smaller library books or textbooks.
Goodies I Found
Lightweight and easy to transport.
A good system when space is less.
The bright blue color adds vibrancy to the classroom.
My Final Verdict
This is a cheap mailbox that will last for a few years, but cardboard does deteriorate especially when it's used by many children and it may start to look a bit worn. You can reinforce it with duct tape, but this tends to look shabby too.
If your classroom is centrally air-conditioned and maintains a regular temperature, this paper mailbox may last longer.
---
This Rubbermaid organizer makes a good classroom mailbox. It has 12 drawers that slide easily and can be removed.
The back is barred so the drawers cannot be moved from the back.
Children can keep their drawers at their desks if they want to store activity sheets, homework, or books and put the drawer away at the end of the day. If you have the room, you can stack them and have 24 mailboxes.
Goodies I Found
A flat surface in front for labeling each drawer.
You can see what is in each drawer.
Drawers hold 8 1/2" x 11" paper.
My Final Verdict
If appearance is important in your classroom, this mailbox is classy-looking. It looks very professional and kids seem to like that feature. It's also a good organizer for homeschooled work.
---
This is a very attractive paper organizer and makes a good classroom mailbox. This Safco box holds 10 x 12 paper so not great for craft supplies. The best place to put it is on a desk or shelf.
You will have to be creative about labeling if you're going to use it for the children in your class as it doesn't have a front.
Goodies I Found
Has connecter clips so you can stack units.
It comes as single units with five drawers each.
You can use magnetic labels for each drawer.
My Final Verdict
One thing nice about these 12 drawer mailboxes is you can put them on opposite sides of the room. They don't all have to be in the same place. If you travel to different schools, this one isn't too heavy to travel with you.
Rather than assigning one drawer to each child, you can assign one to each assignment, so when they hand in homework or classwork it goes in the right place and is automatically organized.
---
It's an inexpensive solution as a sorter or classroom mailbox. The SimpleHouseware Magazine File Holder comes with 12 units that have different colors so you can color-code the contents.
If you need fewer than 12 or 24, you can put out the number you need and save the rest as replacements. This is the only type of classroom mailbox on this list that has individual boxes. If a box is assigned to a child, if you dare, you can let them put their box wherever they want, within reason.
Goodies I Found
The colors are attractive and useful for sorting.
Clear label area for easy identification.
Best for book storage.
My Final Verdict
As with all the cardboard items on this list, these sorters will last about three years with careful handling. If children are rough on them, they won't look nice that long. This product is great for books, workbooks, and stiff files, but it's not suitable for individual sheets of paper, notices, or flyers.
Paper will flop over and fall out or become crumpled. However, this organizer can make a perfect mailbox for a teacher.
---
This is an attractive organizer that looks great for an office. It would work in a classroom of older students but is a little too sophisticated for elementary kids.
The SimpleHouseware 6 Tier makes it easy to grab folders and organize them according to content, but there's no place for labels and my kids really love to see their names on their mailboxes.
Goodies I Found
It can be mounted on a wall or stand on a desk or shelf.
It's easy to assemble and can be broken down for transport.
My Final Verdict
Wall mounting is better for classroom use, but you will need several, so you need a long stretch of wall. They can be mounted one above the other, but not stacked. It works well for file folders and papers but is not suitable for large textbooks. 
---
The Safco 8 Sort organizer is sturdy and will hold binders, large textbooks, and files without tipping over. It's very stylish, looks professional, and won't detract from the appearance of your classroom.
Goodies I Found
No assembly is required.
Very durable and will last for years.
It's an attractive addition to a classroom.
My Final Verdict
It's a great piece of equipment to keep your desk or office files organized, but I don't see this working as a classroom mailbox for youngsters.
It could be a place where older students turn in their homework or find activity sheets, homework instructions, flyers, or notices to take home. For that use, one unit would probably be enough for one classroom. It will hold binders and tablets.
---
This AmazonBasics wooden mailbox is much more attractive and durable than shelves made from particleboard. It takes about 45 minutes to assemble. The cubbies are large enough to hold regular-sized paper, but children may put large books, tablets, and toys in their compartments.
It can be used as a support for plastic storage bins. Children can keep their bin with them or on their desks and put them in the cubby at the end of the day.
Goodies I Found
It is wall-mountable.
Comes with non-tip hardware brackets for safety.
Easy on the hands with rounded smooth edges on the shelves.
My Final Verdict
I like this item because the cubbies are big and there is space to put a name tag. It's very sturdy and can be used by young children for years. This mailbox is also stackable to save space in a classroom. It looks a bit inviting for children to climb on, but this should be avoided as it was not designed for sitting.
---
Tips For A More Organized Classroom
There are a thousand ideas for keeping an elementary classroom organized from storing puzzle pieces in a pencil box to hanging homework on the wall. Each one of you has your own ideas of what you consider organized. Here are a few and by no means, all of the things I do that have made my classroom more efficient and thereby increased my students' confidence in me and themselves.
Student Portfolio Holders
I just fold a large-size piece of cardboard in half and write the child's name on the front. It's large enough to keep drawings on chart paper as well as ordinary pages of activity sheets and homework.
Portfolios make it easy to see how the child progresses over the year. The handwriting improves, math worksheets have fewer eraser marks and book reports become more sophisticated.
You just have to put the latest page on top or, if you prefer, stuff it at the back and you will have chronological examples of the child's development. I use a giant-sized rubber band to put around the middle of the portfolio to stop pages from sliding out.
It's very DIY, but it's also very effective. I have a vertical portfolio holder but they can be kept in a cupboard.
Drawers For Crayons, Colored Pencils & Sketch Pens
Just like the classroom mailboxes I love, you can get smaller drawers to hold coloring supplies. Label each drawer a color and children quickly find what they want without yelling "where's the pink".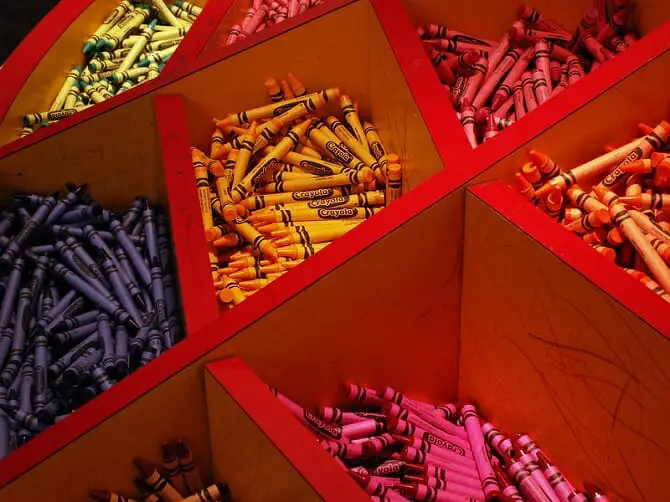 It also makes it easy for them to put the crayons back so others can use them and keep the area neat. Instead of dividing the crayons by boxes, they are divided by color. It's an unusual idea but it works.
A Lazy Susan
This is another art and craft trick that works wonders when you have a group of children sitting at a table. You can glue small baskets or boxes to the lazy Susan that hold glue, pens, rulers, erasers, scissors, staplers, and any other item they need for their projects.
You can't believe how beautiful it is to see them spin the Lazy Susan to get to what they want instead of quarreling and complaining about people who don't share.
Added Factoid:
The Lazy Susan was invented by Thomas Jefferson in the 18th century for his daughter. She complained that she was always served last and didn't get enough to eat. They were called dumbwaiters at the time. Another version is it was invented by Thomas Edison, however, they predate his lifetime.
Bins
Bins are the go-to organizational tool for everything from art supplies to sporting equipment. They are usually made of plastic and come in all shapes and sizes. They are open at the top, so it is easy for children to put supplies in and take supplies out.
However, in my classroom library, book bins are for large items such as teaching tools that won't get lost in any case. If you have math cubes, dice, puzzle pieces, and other small items, bins with lids are essential. They may take a bit more time to use as they have to be opened and closed, but it's worth it.
This article will give you examples of many ways teachers organize the paperwork in their classrooms.
For me, the video below gave me the best solution. It's neat and clean, keeps everything together, and is easy to use.
The teacher shows the plastic, stackable drawers and explains how she labeled them. I especially like that she gave herself a drawer.
It gives each child a chance to communicate with the teacher privately if they want, give her a birthday or other holiday card and feel like she is one among them, creating an even closer relationship with her students.
I've organized my classroom with mailboxes like the ones in this video and it has cut my searching hours dramatically. Add in a decent label maker to your supplies and you can have these created in no time.
Final Thoughts
It's easy to say an organized classroom provides more efficient learning, but it's not so easy to do. You may have great plans and have an organized classroom when the new school year starts, but it's downhill from there.
When I feel disorganized and my desk is cluttered, I tell myself, "It's OK I can handle it", but when my children feel my disorganization is affecting their school day it's not good for anyone.
The Seville File Organizer offers the advantage of letting each child feel valued. I mean the individual mailbox with their name on it, not just a file sorter.
But if my favorite doesn't suit you, my recommendation is to get one of the above file sorters for you and the individual school mailboxes for your kids. I know you are off to a good start at the beginning of the year, and I hope I have given you some ideas on how to keep it up throughout the year.
My Top Pick
Goodies I Found
Clear silicone feet
Comes with clip-on labels
Stackable up to three racks
My Final Verdict: This mail sorter is functional and strong, but not particularly attractive.
This is a mailbox for the classroom with 10 separate compartments. It comes with labels to identify each compartment, but the open design lets you see what's what immediately. When it's full, it tends to look a bit messy, but it is a great organizational system made of industrial-strength steel wire. The dimensions are 20.25 x 13 x 16.75 inches. It has rubber feet so it won't scratch any surface.
Last Updated on December 13, 2021 by Emily