Laptops, Chromebooks and tablets that are used in a classroom are subject to rough use, especially in an elementary school. They are dropped and neglected, and the rule that if everyone is responsible then no one is responsible applies. Since acquiring electronic devices for each student in a school is an expensive proposition, every possible care must be taken to protect the devices, so they will function properly as long as possible. With durable laptop and Chromebook cases, you can significantly reduce the extent of any type of damage.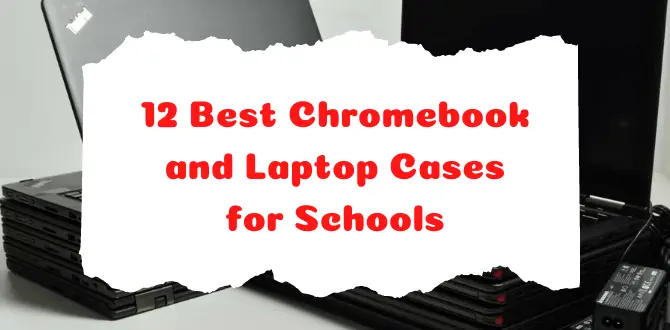 Chromebook and laptop cases come in a variety of styles, colors and designs. Some give more protection than others. They can be perfectly functional or be a bit trendy. Here is a list of twelve really good cases that I recommend for the four sizes of Chromebooks currently available. First, I have given a review of the top three. You can read more details about these three and the rest when you have more time.
My Top Pick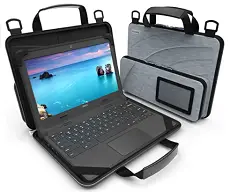 It has a pouch
It has a shoulder strap
It has a perfect fit
Best for: A good case for high school and college students who change classrooms several times a day.
Teachers and college or high school students often need to open their computers at odd times when they are traveling or in a cafe. This case will make their lives easier. The Chromebook fits tightly in the case and is protected by soft rubber edges. It comes in gray or black nylon gray nylon that is easy to keep clean. The case is 11.8 inches and will not serve for a laptop that is larger than that. The large accessory pouch is useful for storing necessities, so you can open your computer and have all you need at hand. You will never have to take it out of the case while you are traveling or changing locations for work. It is a work-in case. It has an elastic band on each corner of the keyboard and clips that hold the monitor in place especially when you open it.
Also Great
Water-resistant
Drop-proof
Rigid design
Best for: A good choice for students who need to have their computer protected in a larger bag but require quick access in class.
This is a case designed to fit a case that does not exceed 13.6 inches. It has clips at the top of the monitor and elastic bands on the corners of the keyboard that hold the device securely and safely even if it is dropped. It has padded handles for easy portability and comes with a shoulder strap, but you may also need to carry another bag for accessories, your phone, lunch or shoes. A work-in case had advantages for a classroom. The students never need to take the device out of the case to do their work or play their educational games. This means it's protected 100 percent of the time.
Also Great
Laptop stand included
Two adjustable angles
Fits a large variety of devices
Best for: Great for students of any age who use their computers for several hours in class.
This is a very durable, shock-resistant sleeve that comes with a stand and a mouse pad. The stand is ergonomically designed with two angles to protect your neck and shoulders from constant bending. It is made of polyurethane (PU) leather and is water-resistant. It is lined with sponge flannel to protect your device from scratches. It comes in gray and is easy to keep clean with a damp cloth. You can put this case in a larger bag or carry it as is. Both ways it will protect your computer. This is another model that will keep the case with the computer, so children don't have to search for a case when they are finished using the device.
Below you will find detailed descriptions of different size laptop and Chromebook cases, including the three above. There are several types of cases that address different issues. Bumper cases for drops, padding for travel, carry-all bags, clip-on covers and more. After accessing the types of damage your classroom devices may face, from drops to scratches, you can choose the right protection.
Cases for Chromebooks 11.6 inches
From stickers and sleeves to purses and bags, you have a wide variety of cases for 11.6-inch Chromebooks. You will find them with or without zippers and straps and with a huge selection of colors and designs.
1. UZBL 11-11.6-inch Work-in Chromebook Case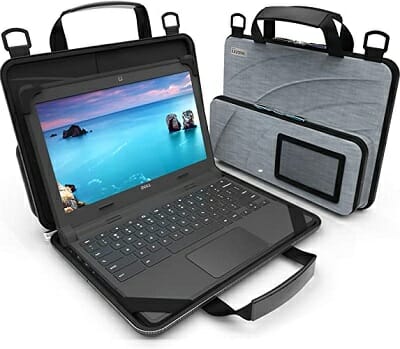 This gray nylon case has a large accessory pouch for connectors, cables and USB sticks. It is a very attractive case and the built-in rigidity keeps your cables from putting pressure on your accessories. It has handles and connectors for a shoulder strap. This is a work-in pouch, which means you don't need to take your Chromebook out to use it. You can open it on your desk or lap and it remains in the case. It will protect against drops and falls with the soft rubber edges around the screen. It also comes in black. Even if you grab it off a table by the handle without closing, your Chromebook won't fall out.
Pros:
Accessory pocket
Easy to clean
Dropping protection
Slim design
Cons:
Plastic holding clips at the top are very tight
Low-quality zipper
Best for: This case is best for people who need to travel and keep working or for students who walk from class to class.
Watch this video to get a clearer idea about the safety features of this case.
2. Alapmk Protective Case Cover
This case is specifically designed for the DELL 11.6 Chromebook. It has a unique liner that helps vent your laptop and keep it cool while you use it in the case. It comes in black and red and three designs. Before ordering this case, check the model and size of your Chromebook to make sure you get the right one. Since the computer fits snuggly in the case, size is very important. The case is made of PU leather microfiber including soft microfiber inside. Some reviewers say this is not a very strong case, but if you want one that you work in that you can quickly stuff away in a bag, this is a good choice.
Pros:
Unique liner cools the device
Two elastic bands hold the computer in place
Attractive hand stitching
Waterproof
Cons:
Not compatible with DELL Latitude
Not quite durable
Best for: This is a good case to protect your device if you are always stuffing it into a backpack or tote.
This video doesn't give much information, but it does show you the case in detail, so you can make your own decision about the quality.
3. Gumdrop Cases for Lenovo Chromebook 500e
This is a rugged, shock-absorbing case that is the most drop-resistant on this list. If you need serious protection of your devices in an elementary classroom, this is the case for you. The case is made of thermoplastic polyurethane and polycarbonate molded together for drop protection. It is thin enough to fit most charging carts or stations. All the ports are available when used with the correct device. It's easy to install on the Chromebook with a snap on/off feature. This case has two transparent windows where you can put a name, school logo, photographs, stickers, list of users or whatever you want.
Pros:
Sturdy bumper frame
Two transparent panels
Shock-resistant
Flexibility
Cons:
Make sure you order the right size as the only con was receiving the wrong size
Best for: Toddlers to fourth grade
Watch this video to learn about the features of the Gumdrop case. This is the only one on this list that offers the strong bumper frame that protects from drops of four feet.

Cases for Chromebooks 13.3 inches
Believe it or not, all 13.3-inch devices are not the same size. If you are looking for covers for this size, make sure it is compatible with your manufacturer.
4. UZBL 13-14 inch Protective Laptop Sleeve and Case
This is a very strong case and the bungee straps hold the computer tightly inside. When you open it to use, the top screen clips will hold the laptop in place no matter what the angle. The material is ethylene-vinyl acetate (EVA) and provides shock-absorbing protection and protects from scratches when put in a briefcase or backpack. It is designed to be slim and fit easily into a bag. It's called 'always on' because the clips and straps hold in the computer whether it falls off a table, you forget to zip it shut or you accidentally drop it. It has strong-grip handles and a shoulder strap. Although it is a little too large, it will work fine with a MacBook pro.
Pros:
Tough EVA outer shell
Shell grips surfaces
Shoulder strap and handles
Water-resistant
Cons:
Only holds a computer, not any accessories
Need to remove from case to charge
Best for: This is a good case for people who need to put their device into another bag.
This video will give you an idea of how different users like the case. It should cover any question you have.
5. SUPGEAR Laptop Sleeve Case for 13-13.3 Inch Notebook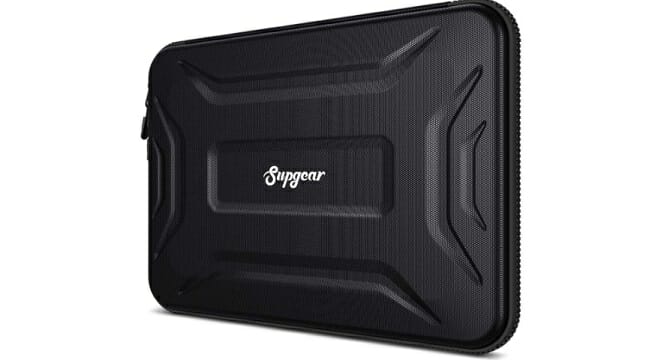 With four levels of protection, this is a very secure case. It has a hard outer shell for shock and drop protection that is also waterproof and dustproof. Inside it has four sleeve type pockets where you can carry a phone, mouse, pens, notebook, USB sticks and more. The zipper is hard plastic and very smooth. Some people prefer a metal zipper for durability, but others prefer a plastic zipper because it is less likely to scratch the monitor accidentally. The four layers of protection include a soft-touch coating layer, a PU leather layer, a heat-molded crush-proof layer and a shock-absorbing inner layer. The inside pockets may seem small, but they are very convenient if you don't want to carry another bag.
Pros
Waterproof
Four inside pockets
Durable plastic zipper
Drop-resistant
Cons:
No handle
Not crush-resistant
Best for: This hard case is a very good choice for students 11 years and up.
6. imComor 13 to 13.3-inch Laptop Sleeve
This model comes in three sizes. It is a sleeve configuration that fits any device that is the right size. It has an ergonomically designed handle and shoulder strap along with several pockets for accessories such as phones, pen and notebook, adapters, cards, power banks and more. The handle and strap are made from premium microfiber leather. This case has a slim design and will fit neatly into another bag. The interior is lined with a soft flannelette that protects from scratches and bumps, and the exterior is made of waterproof canvas. It comes in medium gray color.
Pros:
Exterior sleeve pockets
Classic design
Waterproof
Lightweight
Cons:
Small outside pockets
Cheap construction
Best for: This is a good bag for people who want everything they need handy without carrying a large tote or backpack.
Cases for Chromebooks 14 inches
Sleeves are a favorite case for 14-inch Chromebooks. The most popular is made of vegan leather and is water-resistant.
7. SIMTOP 14 Inch Laptop Sleeve
This case is compatible with any 14-inch device. It offers three layers of protection starting with an environmentally-friendly waterproof exterior with shockproof material under the cover. It is lined with soft fabric. Even with a zippered sleeve pocket on the outside, it is very slim and lightweight and easy to slip into a briefcase or backpack. The handle is easy to grip faux leather. The exterior sheds water and dirt. This case can be cleaned by hand and should not be put in the washing machine. The case comes in light and dark gray.
Pros:
Corner Air Bag design
High-quality zippers
Lightweight
Waterproof
Cons:
No shoulder strap
The outside pocket is tight
Best for: This is a good case for a high school student because it is slim and attractive, but offers a lot of protection from accidents.
This video is for the 13-inch model, but the features are the same as for the 14-inch model.
8. DOMISO 14 Inch Laptop Sleeve
This is a very sturdy case with a faux leather exterior and attractive contemporary design. The grooves in the PU leather and EVA material help prevent slippage from a table or vehicle seat. It has a mesh sleeve pocket inside where you could keep a smartphone, iPad or other small necessities. With multiple layers of padded foam, your device is well protected from accidental dropping and spills. The Velcro lock holds the device in place when you open the case, so it won't slip or slide out. Be aware if you like this case, it is soft. The thick padding protects the device, but it is not a hard case even though the photos make it look hard. If you want to use it alone, you need to be careful when you open it because the items in the pockets could slide out. It comes in black.
Pros:
Shockproof
Waterproof
Fits easily into other bags
Smooth zipper
Cons:
Doesn't fit every make of computer
Opens from the bottom
Best for: This case is good for keeping in another bag while traveling.
This video is about the larger model, but the features are the same. The case review starts at 4.0. The first part of the video is about a computer.
9. Civoten Laptop Sleeve Case
This sleeve case is made of blue polyester material. It's compatible with most devices. Just check the size before you purchase. It has five layers of protection starting with the water repellent polyester outside. The zipper opens on the side, which makes it easy to slip your computer without completely opening the case. Under the cover is a neoprene foam layer of padding and inside is a fluffy fleece fabric lining. It has two extra pockets on the front with enough space for a smartphone, earbuds, and other necessities. The description says the fabric is water-resistant, but reviewers aren't sure how effective it is.
Pros:
Slim handle
Lightweight
Protective ridge around the zipper
Accidental dropping protection
Cons:
Low-quality fabric
No space for the charger
Best for: This is a good case for carrying while going from class to class or school to school. It would be better if it had a shoulder strap.
This is another video that covers user's reviews. I will give you an idea of how other people like this case.

Cases for Chromebooks 15.6 inches
For larger Chromebooks, a thick case with a handle is often preferred. You can get them in a variety of designs from vintage to sleek and modern.
10. Nillkin 15.6-inch Laptop Sleeve
This is a gray faux-leather sleeve that fits any device that is 15.6 to 16 inches. It has a folding cover and no zipper. Some people don't like zippers because there is a possibility it can scratch the monitor when the device is removed from the case. It turns into a laptop stand when you open it and take out the computer. The stand provides two ergonomic angles to help protect your shoulders and neck from strain. For this reason alone, it is a good case for older students. The PU leather is very soft and spongy and provides shock absorbance if the device is accidentally dropped. The inside lining is a sponge flannel to protect your monitor from scratches.
Pros:
Stand with two angles
Folding design with no zipper
Includes a mousepad
Dropping protection
Cons:
No shoulder strap
No handle
Best for: This is a good sleeve for a high school classroom that needs a case for each device.
This review has no narration but clearly shows the features of this case.
11. Arvok 15-15.6 Inch Laptop Sleeve
This neoprene fabric case comes in 17 colors and patterns. It fits any device that is the proper size, but you should check the measurements of your device before purchasing it. For example, it is too large for a 15-inch Macbook Pro. The outside is really water-resistant. It has a sleek design with no handle. Some people like this style, but I prefer a handle or shoulder strap. It easily slides into another bag and protects your device from scratches, spills, dust and jolts. This case has three protective layers with the surface layer, a shockproof sponge inner layer and plush padded lining inside. The zipper opens on the top for quick access to your computer. The zipper can be folded away to help prevent it from scratching your computer. Neoprene has a distinctive odor. If you turn the cover inside out for a few days, the odor will dissipate.
Pros:
Very lightweight
Ultra-thin
Bright colorful choices
Smooth steel zipper
Cons:
No handle
No drop protection
Best for: This is a stylish case for someone who wants a unique design. Your device will get the best protection when this case is inside a bag.
This video goes into detail about every safety feature.
12. Tomtoc 360 Protective Sleeve
This is an inexpensive sleeve that has a lot of good features. The manufacturers claim it has corner protection from dropping, but reviewers say it doesn't work well. It does have padding around the zipper to prevent scratching and soft bubbles inside for added dropping protection. It comes in five colors and one fabric design. This cover is highly recommended for the MacBook Pro. It also has convenient zipper handles, which are unique to this list. You don't have to search for the top of the zipper. The outside accessory pocket is very convenient and has a zipper.
Pros:
Corner armor
Internal foam lining
Outside pocket
Fits any device
Cons:
Zipper not strong
No drop protection
Best for: Carrying in another bag. Preferably one with a padded laptop section.
This video reviews several things, but the first one is the Tomtoc case. You can get a good idea of what you are buying.
Things to Consider when Choosing Chromebook Cases for Kids
If you need to make a report on the best cases for Chromebooks and other devices, the first things to consider are the manufacturer, size of devices and the age of student users. Second graders will have different issues than high school students. Here are some things to look for.
Is it water-resistant?
If the Chromebooks never leave your classroom, this may not be a big issue as you won't allow students to eat or drink while using the device. If the devices do go outdoors, they could be in the rain and if they go home, someone could spill water, juice or coffee on them.
Is it padded with foam or have a hard shell?
These features are designed to protect the device if it is accidentally dropped or banged against a door or desk. Hard shells are made of polycarbonate material and clip on to the Chromebook like a lid.
Is the device stored when not in use?
Sleeves are considered the best for holding the Chromebook snugly and protecting it from dust. This may be all you need if your devices remain in the classroom at all times. A sleeve won't help if the device is dropped. Skins are also enough protection if dropping isn't likely. They stick to the device to protect it from debris and dust. You can also get keyboard skins for the same protection.
Is a separate carrying case required?
If your children take their laptops home, it is safer if they have a case with a strap that is water-resistant. Since the shoulder strap is optional, the computer can be put inside a waterproof backpack that provides dropping protection.
Most important points to remember:
Durability – will the case last throughout one school year or several?
Size – As I have already said, before making a purchase measure your Chromebook if you don't know the measurement and make sure you order the correct size. This is one of the biggest problems reviews have. They don't receive the correct size and have to send it back.
Additional storage – some cases have small sleeve pockets that you can use for accessories, but most don't. This means you may be carrying another bag.
Protection – for elementary school children the bumper frame is almost a necessity. All cases have protection from scratches and water, but don't offer enough drop protection for children.
Portability – You will want a case with a handle or shoulder strap if your children take home their Chromebook. The case should fit nicely in a backpack.
FAQ: How to Buy Chromebook Cases for Schools
Is zipper or flap closing best?
It depends on the usage. For classrooms, especially with younger children, a flap case may be the best. It will protect against drops and spillage, and be easy to use. Young children can struggle with zippers. When they remove the Chromebook from the case, they need to make sure the monitor doesn't rub against the zipper edge.
Some cases have zippers that you can fold away from the opening to prevent possible scratching, but this is a bit too complicated for little hands. I think it's better just to avoid this problem and use sleeve models for elementary classrooms.
Are Chromebook cases expensive?
A Chromebook cases have various prices from relatively inexpensive to costly. It depends on the material it is made of and how much protection it gives. If you need cases for 10 or more devices, you may be looking at the least expensive sleeves. Before you start shopping, I recommend you ask your manager what the school or district is willing to spend on cases. There's no point in buying cheap cases that don't do the job.
Other than the right size, how to choose a case that fits my needs?
If possible, you should look for a case that the manufacturer claims will fit the model of your Chromebook as well as the size. If you're still not sure about the size of the case you need, watch this video to find out how to properly measure the laptop.
You may like the appearance of one, but if the port openings don't line up with your computer, it will mean you have to remove the computer from the case to insert a USB stick, headphone or earbuds or a charger. Since you can leave your computer inside many styles of cases even when working, you need the ports in your computer and the portholes in the case to match.
For classroom use, another consideration is the size of your charger. If you have a multiple-device charger, it will have slots that hold the item being charged. Make sure the case will allow the device to fit into the slot. Otherwise, you will have to remove it from the case every time you need to charge it. If this is the situation, you could use the time to sanitize and clean the case. Better yet, teach your students how to clean the case.
Does a vinyl Chromebook skin provide enough protection for use in kindergarten class?
Skin protects the electronics from water and dust as well as other random debris. It will not protect against accidents such as dropping or crushing. If you want a cheaper case to protect against damage, you may also use skin for inside protection.
Are handles and straps really necessary on a Chromebook case?

If you plan to carry your computer around with you, handles or a shoulder strap provides a big advantage. They reduce the chance you will drop the computer accidentally. If your classroom computers stay in the classroom, the case doesn't need to have handles or shoulder straps. My case has a strap, so I am hands-free when I need to carry it to another classroom.
Do rubber bumper frames really protect the device when it is dropped?
The simple answer is yes. Most   are designed to protect a Chromebook if it is dropped from four feet or lower. I have had bumpers on my children's tablets and iPods for years, and even though the devices have been dropped many times, I haven't had a broker one yet.
How to keep the cases sanitary?

When schools reopen, hygiene will still be a major factor in classroom etiquette, especially if the devices are shared among students. You may need to clean each device every day. I recommend if your Chromebooks are shared, ask your students to use the same one for the whole day and not share until it has been cleaned. If your students are old enough, they can be taught how to do it.
Start with hand sanitizer. Your hands should also be clean as you handle the case. For cleaning the case, a disinfectant wipe makes cleaning easier and more effective than soap and water.
Remove everything from the case including all accessories, adapters and other things along with the Chromebook.
Wipe the entire outside surface of the case including the thin edge, top and bottom.
If the case has any pockets, hold them open and shake out any dust or crumbs.
If the case has zippers, check each one for snagged threads or other debris and wipe the zipper.
Wipe the inside of the case including each pocket and make sure you clean out each corner and seam.
After you have thoroughly cleaned the case with a disinfectant wipe, wipe every surface inside and outside with a damp microfiber cloth to remove any disinfectant that may cling to the case.
You can dry the case with a dry microfiber cloth or open it and allow it to air dry
Final Thoughts
Chromebook cases can be very stylish, but even if they aren't, they are essential. With your personal devices, accidents may happen. Just imagine how much worse it will be in an elementary classroom. If your students have Chromebooks, tablets or laptops, you should strongly recommend that your school district providing cases with protection from dropping and water or at the very least, covers. Be sure to check the exact size of your computer because some of the cases have a tight fit.
Last Updated on June 25, 2021 by Emily